Is the Polynesian Cultural Center Worth It? + Tips for Getting the Most Out of Your Day
This post may contain some affiliate links, which means I'll make a little money on anything you choose to purchase. But of course, I only recommend my absolute favorites to you. Thank you for supporting the brands that make the Lincoln Travel Co possible.
The Polynesian Cultural Center on Oahu's north shore is arguably one of the island's most popular attractions, but it's also one of the most debated. Is it really worth it? Is it the best luau? Should we go for the day, but go to a luau somewhere else? Is there really no alcohol??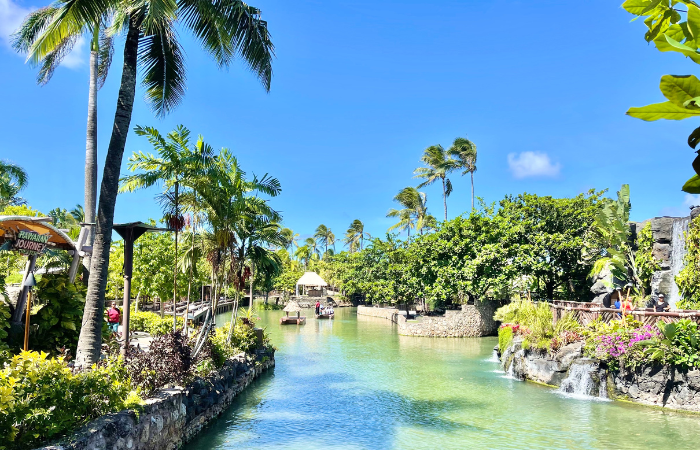 It had been a while since I'd been out to the Polynesian Cultural Center, but on my last trip to Oahu I planned to spend the day there and do ALL the things so I can answer all of your questions.
First of all, here's a run down of what they offer at the Polynesian Cultural Center…
There are three big components to the Polynesian Cultural Center:
1) Exploring the 6 island villages during the day. It's a bit like Disney's Epcot World Showcase. The park is sprawling and lush and each island village has been built in a pretty authentic way. You'll experience shows, activities, and cultural demonstrations from the islands of Hawaii, Fiji, Samoa, Tahiti, Tonga, and Aotearoa/New Zealand. This part of the PCC opens at 12:30 and most everything is wrapped up by 5:30.
2) The traditional luau with buffet, Imu ceremony (unearthing of the pig), Royal Court procession, and dinner entertainment. This is the part that's comparable to other luau events on the island. If you don't want to do the full luau, but still want dinner, they have a place you can go just for a buffet dinner plus there are several restaurants, food trucks, etc just outside of the island villages.
3) The big finale "Ha: Breath of Life" show. It's a Broadway caliber production that blows any other luau show you've seen out of the water. It's 90 minutes long and performed in a separate amphitheater from where they host the luau.
Prices & Packages
You can mix and match your own ticket package to see it all (a full day from 12:30 to 9) or just the parts that interest you. Here's a breakdown of all of the options:
Islands of Polynesia: $70/adult ($56/child) gets you access from 12:30-5:30 to the 6 island villages. This is somewhat comparable to visiting a theme park at your own pace. Each island village features natives from the island that perform cultural demonstrations and there are many activities to participate in.
Islands of Polynesia & Ha: Breath of Life: $120/adult ($96/child) gets you access to the 6 island villages plus general admission seating to the Ha: Breath of Life show. This package does not include any dinner options.
Gateway Buffet Package: $140/adult ($112/child) gets you access to the 6 island villages PLUS a dinner buffet with live music and general admission seating to the Ha: Breath of Life show.
Ali'i Luau Package: $185/adult ($148/child) gets you access to the 6 island villages PLUS admission to the Ali'i Luau (luau buffet and dinner entertainment) AND luau seating at the Ha: Breath of Life show. You also have the option to join a tour to explore the island villages.
Super Ambassador Luau Package: $243/adult ($195/child) gets you a private guided tour through the 6 island villages including a reserved canoe ride and reserved seating at the shows PLUS the Ali'i Luau (luau buffet and dinner entertainment) AND premium seating at the Ha: Breath of Life show.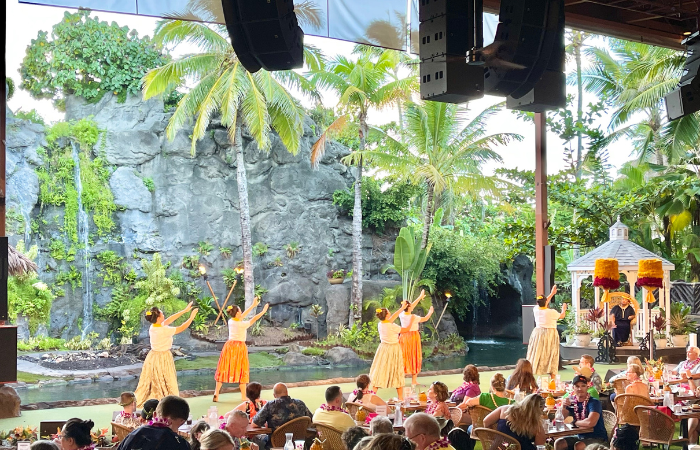 It's nice that there are so many options, but it's also a little overwhelming. Depending on your specific circumstances (if you've been before, where you're staying, if you have kids, etc.) different options may be better than others.
But for 90% of people, I would recommend the Ali'i Luau Package. I don't think the Super Ambassador package is necessary unless you just really like private tours and VIP treatment.
And if you're going to stick around for Ha: Breath of Life (you should!) you might as well do the full luau (instead of just the Gateway buffet). And if you're coming out to the PCC to do the villages, it just makes sense to also do their luau instead of doing a different luau.
Okay, now let's get into the nitty gritty.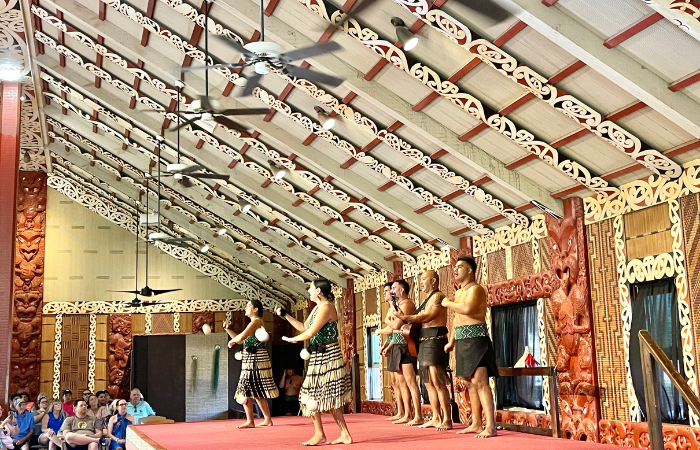 Is the Polynesian Cultural Center Worth It?
When we're talking about something being "worth it" we're usually talking about time or money.
Let's start with the money.
Let's compare it to the most popular luau on the island…at Paradise Cove it's $125/person for the most basic luau package, $150/person for the package that includes upgraded seating and a flower lei, and $210 for the full works.
So $185/person for the Ali'i Luau Package isn't entirely out of line. PLUS the PCC event offers entertainment from 12:30PM to 9PM if you take full advantage of the day, whereas most luaus max out after about 4 hours of entertainment. That's almost double the time for NOT double the money.
So on the value front, it's definitely worth the money.
But is the Polynesian Cultural Center worth the time? They could fill your day with 12 hours of "entertainment" and it still may not be "worth it" if it's a waste of time.
In general, YES. It's definitely worth the time. But you want more than that, don't you? ; )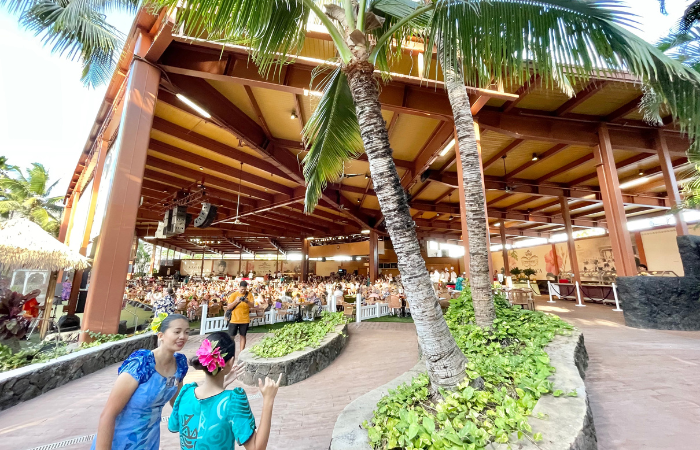 What You'll Like about the Polynesian Cultural Center
Everything about the PCC is truly world class. From the logistics of their operation to the facility itself to the way they educate about Polynesian culture in a fun and hands-on way.
While it's a big time commercial operation, it rarely feels cheesy and I have to say it's 100% the most authentic way that I've seen Polynesian culture expressed and presented in Hawaii for an audience.
A few other random observations:
It's a BEAUTIFUL drive from Waikiki to the PCC up the windward coast. Like, hands down the most beautiful drive on Oahu. Maybe anywhere in Hawaii. It sets a great scene and makes it feel like you're going somewhere special.
Everyone gets a drink in a pineapple at the luau. I've never been to any luau or event anywhere in Hawaii where EVERYONE gets a pineapple drink without a major upcharge. Heck, most luaus upcharge you just to get a fresh flower lei, which I should also mention everyone gets here.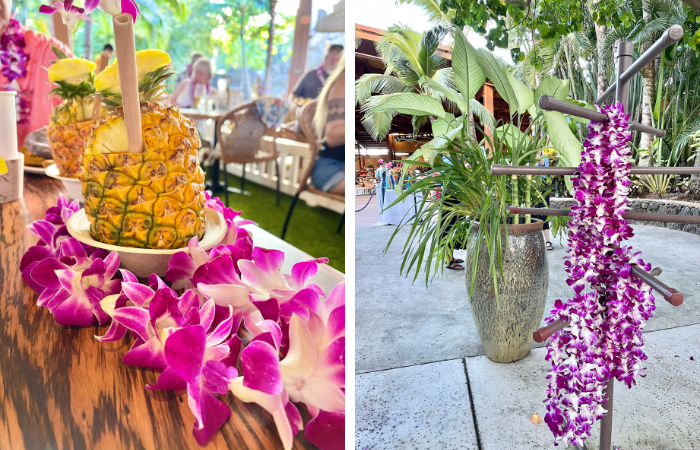 It's also the only luau I've ever been to where they have ICE CREAM. There's a gelato cart near the dessert table and they scoop up a half dozen or so flavors as you walk up. It's a really nice touch. And besides the ice cream, I would say that the dessert selection was some of the best I've seen at a luau.
The show during dinner offers a lot more historical insight than most and has quite a bit of hula dancing.
The Ha: Breath of Life show is hands down the best show I've ever seen associated with a luau. It's a Broadway caliber production with a full story performed in an amphitheater that allows for a lot of special effects. It's just in no way comparable with the show that you'll watch from your dinner seat at most luaus.
They know that they offer way more entertainment in the villages than you could possibly experience in one day so they let you come back to the villages for up to three days after your initial visit. That's a pretty big value add.
Side Note: If you're looking for a rental car for your trip, I LOVE Discount Hawaii Car Rentals. They're seriously the only company I ever use. They'll give you the very best prices, you don't have to reserve with a credit card or pay until you show up, you can cancel and re-book anytime if you find a better rate, and they usually have a special that adds additional drivers for no fee. It's a no brainer. Click here to check rates for your trip.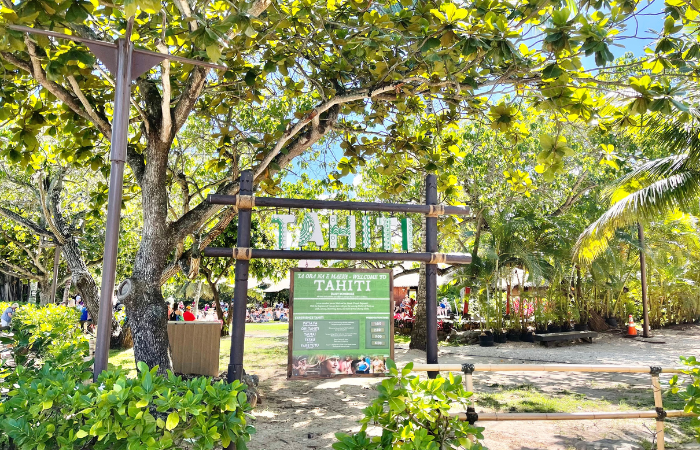 What You May Not Like about the Polynesian Cultural Center
Now let's get to the critique. Isn't it what you expect from me? These aren't necessarily all "negatives" but they could be depending on what's important to you so it's good to be aware.
Let's start with the big one…no alcohol! The PCC is owned and operated by the Mormons and they choose not to serve alcohol. That's not a dealbreaker for me (mostly because the drinks served at most luaus truly leave a lot to be desired), but I know it is for some.
And the other big one…yes, it's owned and operated by the Mormons and that sometimes makes things…interesting. For your average visitor, this should be absolutely no problem. But if you have people in your group that are easily triggered by certain behaviors or scenarios and can't just say no thanks and move on, then it could become a bigger deal.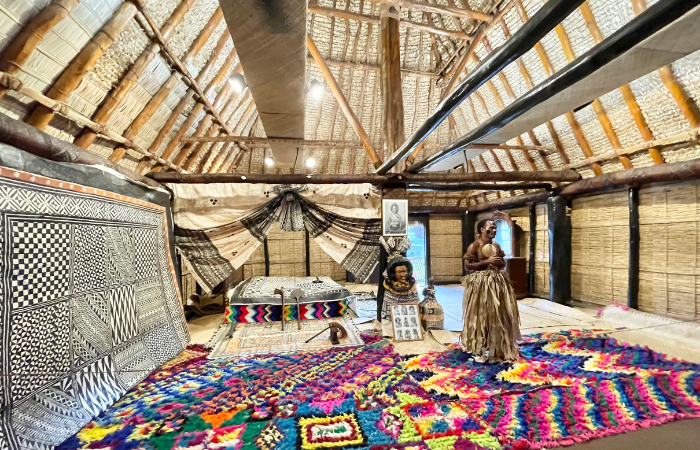 Besides the BYU campus in Laie, there's also a temple and there's a group of students (they wear different clothes than the tour guides) that approach guests as they're coming into the villages with little flyers that advertise tours of the temple.
Nobody really pushes anything, but there are little references made by the tour guides and some of the employees that hint that your being there is supporting their work and education.
Take it however you want…nobody will be pressuring you into doing anything, but if you've had a negative experience with this kind of religion or group, it could become annoying. And you're paying a lot of money to be there.
Okay, everything from here on out is just about general logistics and observations:
It's far from Waikiki. Remember that bucket list beautiful drive I talked about on the way there, well you've got to do it going back. And it's long (up to an hour and 15 minutes) and very dark. You're not jumping on a highway and darting back to Waikiki. After a long day, it's kind of a buzzkill. The big show doesn't end until 9PM so it's a late night. Especially if you're traveling from the mainland and still dealing with time change. You can add transportation back to Waikiki for a fee, but it's going to add quite a bit of time to your day.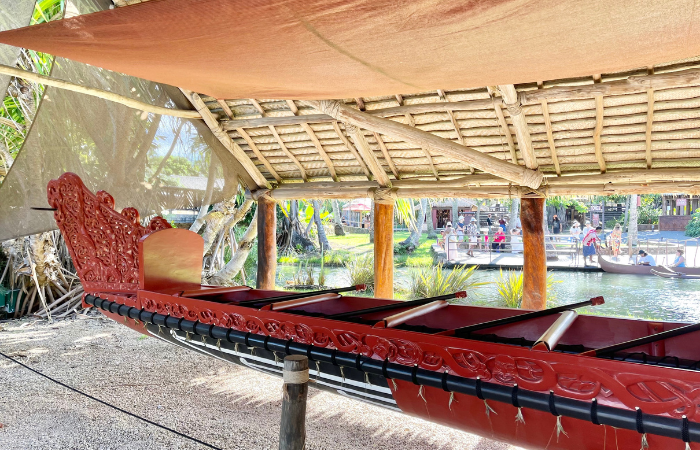 The food is only so-so, but it's pretty similar to what you'll get at Paradise Cove and other major luaus on the island. I was pretty excited when I walked it because it all looked really good, but it was just okay.
One of the big "pros" is that this is a full day experience, but that also means that you're going to go into the luau part of the evening kind of sweaty and gross from spending 4-5 hours out in the sun at the villages. This wasn't a big deal to me because I go to a lot of luaus (job perk!) and they're not special once in a lifetime experiences for me, but the vibe when we walked into the luau was more "QUICK! Find some water and let's sit down to rest because I'm TIRED" instead of "Oh how refreshing we're all here in our cute dresses and aloha shirts to have a nice evening out."
And I actually had somebody ask in my Facebook group the other day if people take a change of clothes and "freshen up" between the villages and the luau. Which made me think, if that's the experience you're looking for in your luau, you'll get that less here than going to JUST a luau where you show up in the evening.
And come to think of it, it was definitely the most casual looking crew I've seen at a luau. More shorts and tees, walking shoes, backpacks, sun hats, water bottles, etc than people wearing cute Hawaiian dresses. There definitely were some people who looked a little more dressed up, but I wouldn't say most of them.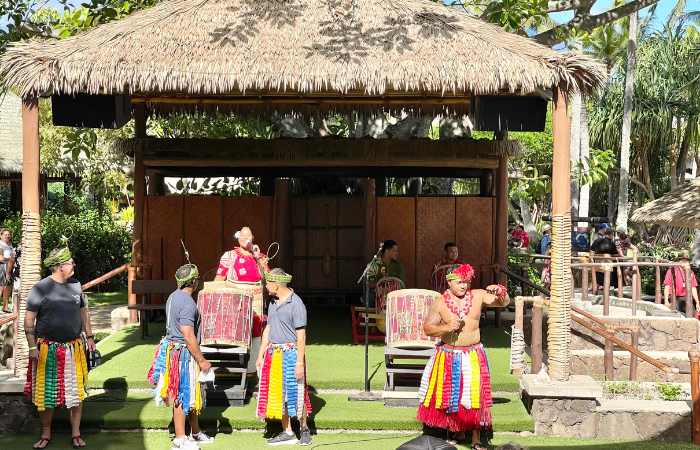 Maybe continuing on this theme…I was also surprised to notice that there were FAR fewer kids at this luau than any other I've ever been to. It's not that it's not kid friendly, but it's a lot. It's a big, long day and then you sit through it a full luau plus a 90 minute show and I think a lot of parents don't think that sounds like fun with little kids. Most of the kids I saw were definitely older (10+ but mostly teens) and when they did the part where they had all of the kids come up on to the stage for the hula, there were very few little kids.
It seemed like I saw more kids when we were out in the villages so I suspect some families may come to the PCC to see the villages during the day and then opt for a different luau (maybe closer to where they're staying) on another day when they can enjoy it more.
Let's keep rolling with this! ; ) I kind of knew the general schedule before we went and how it worked, but once the luau "ended" and I realized it was over an hour before the Ha: Breath of Life show started in the amphitheater, I had a mini mental meltdown. I was TIRED and had really enjoyed absolutely everything about the day, but I was honestly ready to be done.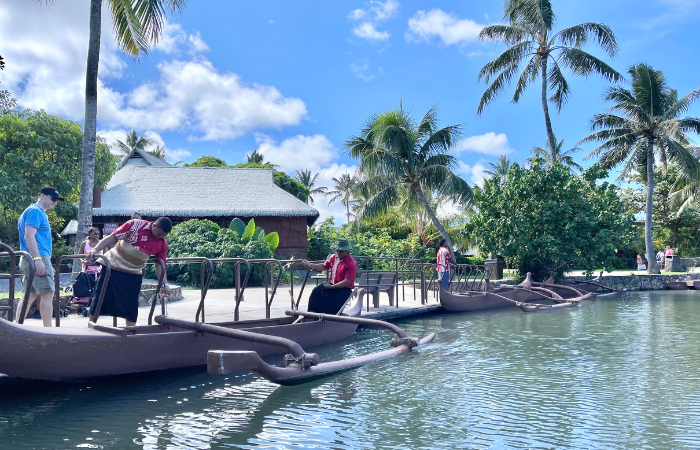 I was tempted to just call it a day and leave before the big show, but that seemed silly so we toughed it out and just sat around on a bench for an hour before it was time for the show to start. I think something that kind of irritated me here was that after the luau was over, all of the villages were closed and one of the big things they offer to fill your time is getting on a tram and taking you to tour the temple. I wasn't interested in that and all that was available was some shopping in the marketplace and just sitting around to wait.
Logistically, I know that they need some time to move the thousands of people from the two luau venues and the buffet venue over to the amphitheater and they can't do it in 15 minutes, but an hour seemed excessive.
And my last complaint ; ) There's just no possible way to see and do everything in the villages in one day. They really knock it out of the park with all of the offerings and while they publish a loose schedule of times where there's events in each village, it's not super specific and you just have to ask a lot of the tour guides questions and kind of stumble around. But remember, if you have the time of your life and want to go back for more, they'll let you come for free up to three days after your initial visit so save your tickets.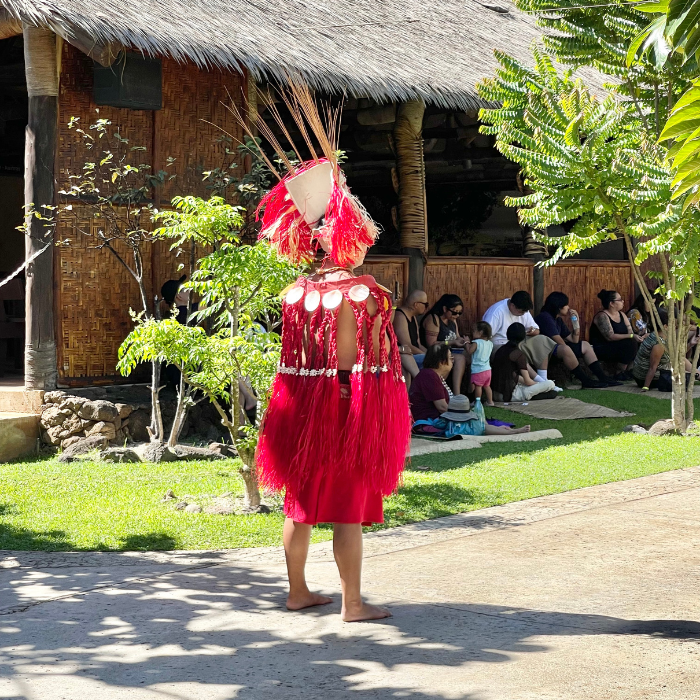 I feel like this section has been more "critique" heavy than telling you all the reasons why this is an amazing way to spend your day, but I'll do more of that when I do the travelogue of everything I did during my day in the next section.
My Day at the Polynesian Cultural Center
If you're like me and you like to know what to expect, this bit is for you.
I was really trying to cram a lot into this trip, so I did what I NEVER recommend and booked a tour at Kualoa Ranch on the same day. Seriously, don't do this! It's way too much and you won't end up enjoying everything you did as much as if you spread it out.
We wanted to eat at some of the food trucks in Kahuku, and we spent some time just winding down a bit, so we didn't arrive at the PCC until about 1:45 and started our tour at 2PM.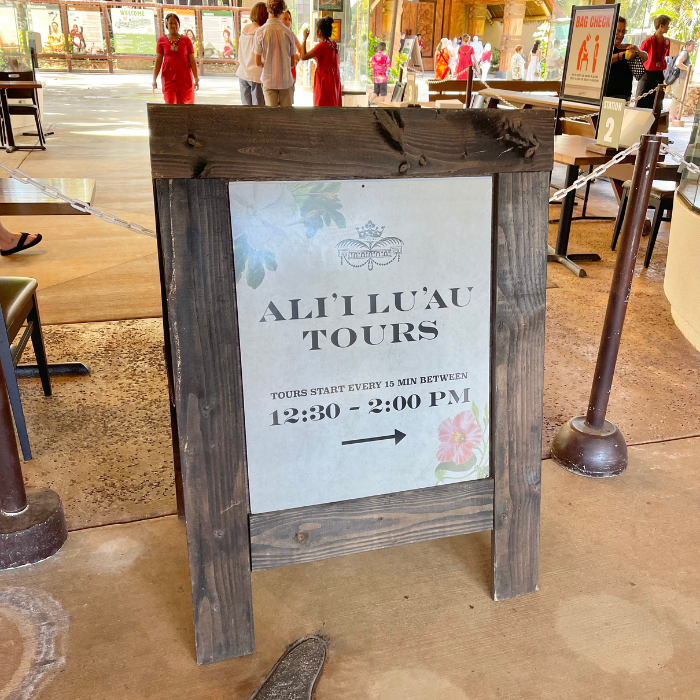 Here's what I didn't realize…if you book the Ali'i Luau Package, you have the option of joining a group tour of the villages. Well, they put you in the tour by default and I guess you're just supposed to bounce if you don't want to follow them around.
There were about a dozen or so people in our group (they just group you as you arrive) and we had a really nice tour guide from Japan.
He was pleasant and kind, but in hindsight, we should have just excused ourselves at the beginning and done our own thing.
We started at 2PM and the tours all ended at 4:30PM to give you time to get to the luau. So we already had about an hour and a half less time since we would have if we'd gotten there right when they opened and I think we could have done more on our own than on the tour.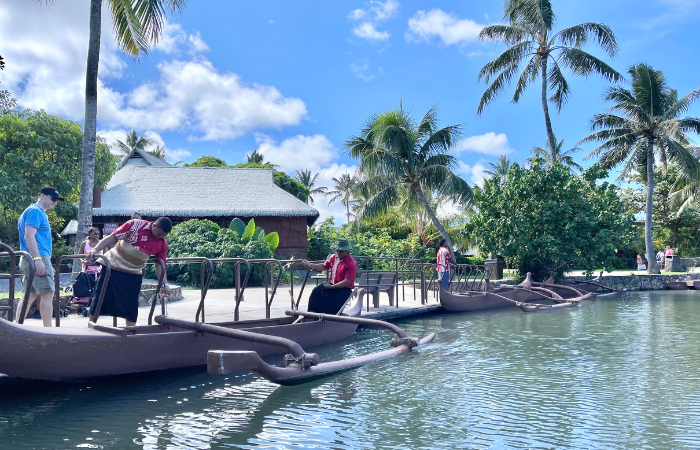 Anyways, the first thing we did was the canoe ride. Honestly, this is very skippable.
You have to wait (they don't move super fast). They pack you in tight. It's super hot. And the "tour" they give you of the villages is mostly just you repeating how to say hello in each language. It wasn't awful, but it definitely ate up a lot of our time and it definitely wasn't a highlight.
After our canoe ride, our guide took us to Tahiti right as they were starting a wedding ceremony celebration. There was plenty of space to sit on the grass, but we stood off to the side in some shade. They did an interactive bit where couples in the audience could "renew their vows" as part of the ceremony and that was a big crowd pleaser.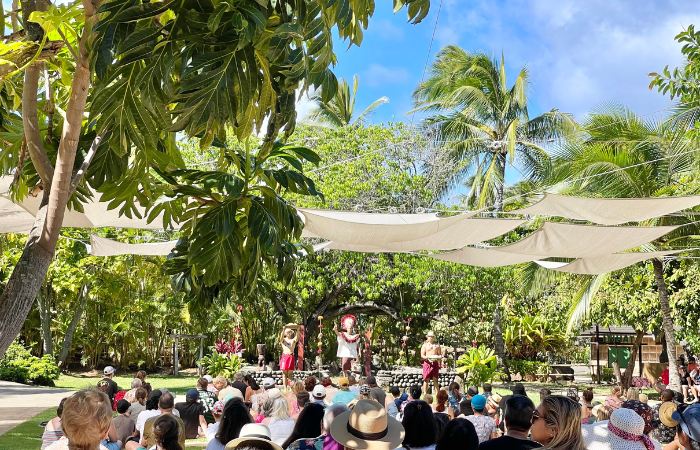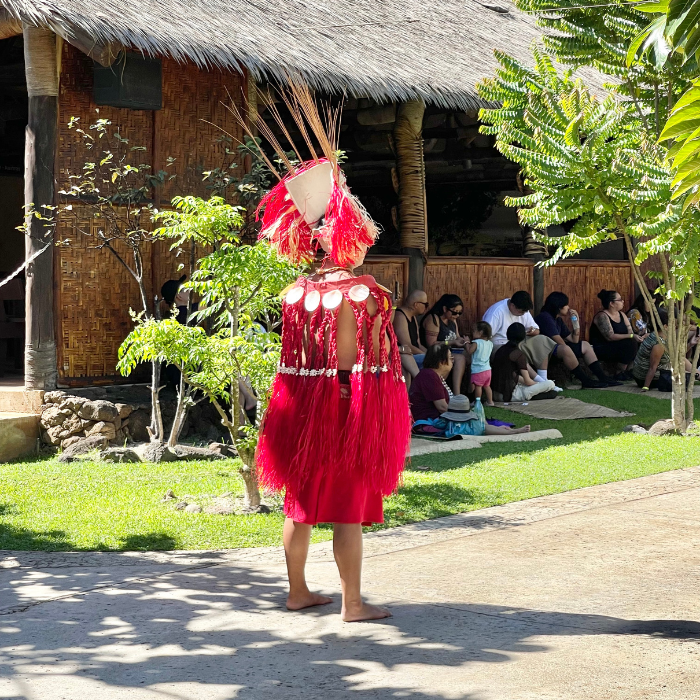 Next our guide shuttles us over to Tonga to get a seat in a little outdoor theater for a show that was starting in about 20 minutes. It ended up getting pretty crowded since it's a popular show.
It started as a drum show where they were telling different things about Tonga and then the "chief" came out and it kind of turned into a comedy show. He pulled up a few different men from the audience (my worst nightmare haha) and the antics were pretty funny. I imagine this is what everybody loves about Chief's Luau (another super popular luau on Oahu that has a famous chief/comedian).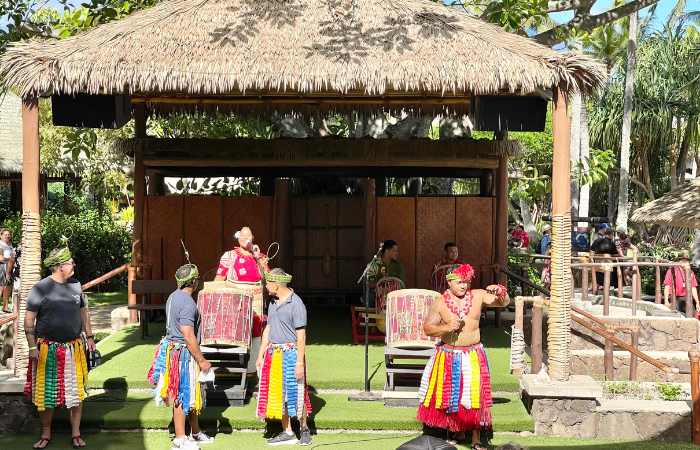 We left Tonga and walked towards Fiji where we entered the Chief's home. This was actually one of my favorite parts of the day and I'd like to see more like this. The inside of the home was very intricate and there was a man dressed as the chief. He play acted like the chief for most of the visit and then towards the end told us more about himself personally. It felt a bit like living theater and it's a neat way to learn more about a culture.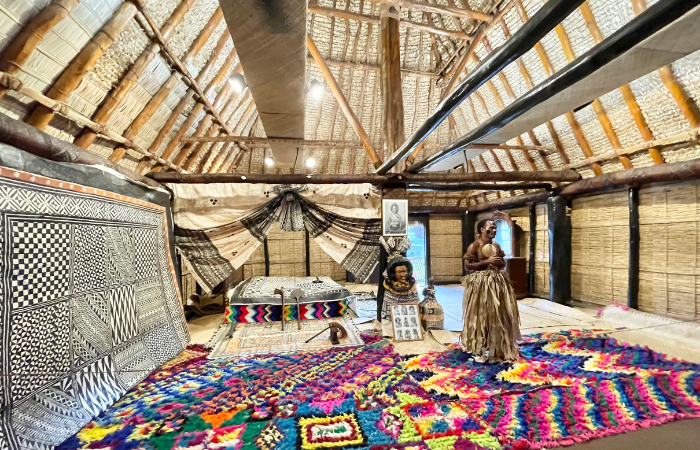 Our last stop on the tour was Aotearoa (New Zealand) for their show/demonstration. It was in a really intricately decorated building and we really enjoyed the dancing.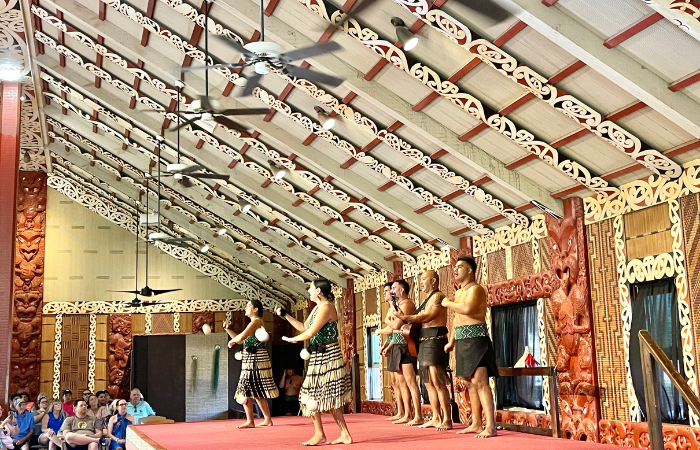 We wrapped up our tour outside of Aotearoa and our guide made sure everyone knew where to go for the luau (there are two different identical set ups and your ticket has the name of your venue). He also pointed us in the direction of Samoa where he told us we could go to their next show on our own if we wanted to.
At this point it was about 4:30 PM which they said was when the luau doors opened but that it didn't start until 5 so we could spend longer in the villages if we wanted to.
We really wanted to go to Samoa since we were right there and it ended up being by far the best bit of all of the islands. We sat under a large hut while the chief and a whole cast did a "bit" that was a lot of comedy but also telling us about Samoa and their culture. I actually thought the Samoan chief was funnier than the Tongan one, but in a more subtle way.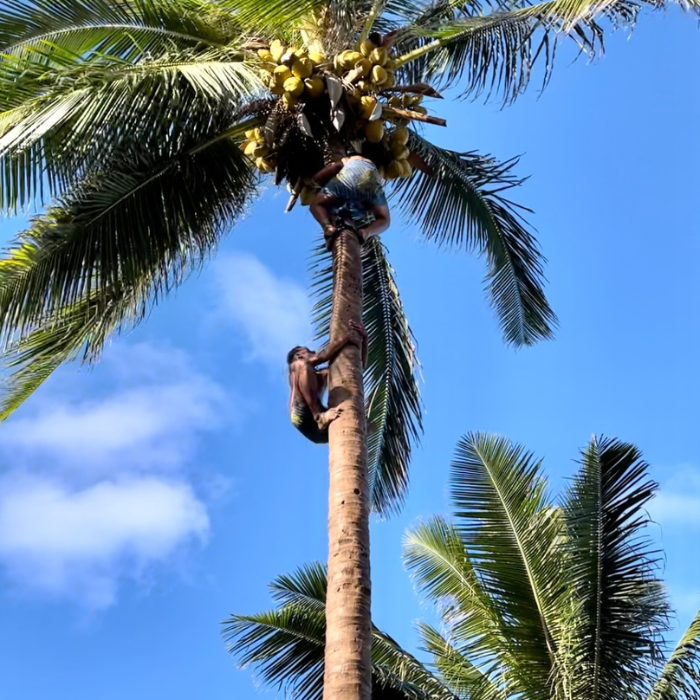 After the show in the hut, they all moved out onto the lawn where they climbed up the palm tree (I think this is the coolest thing!) and then did quite a bit of fire knife dancing. They even had some kids come out that are in training and it was so cool to see. (They put up a screen to protect you in case there are any accidents because you're standing pretty close).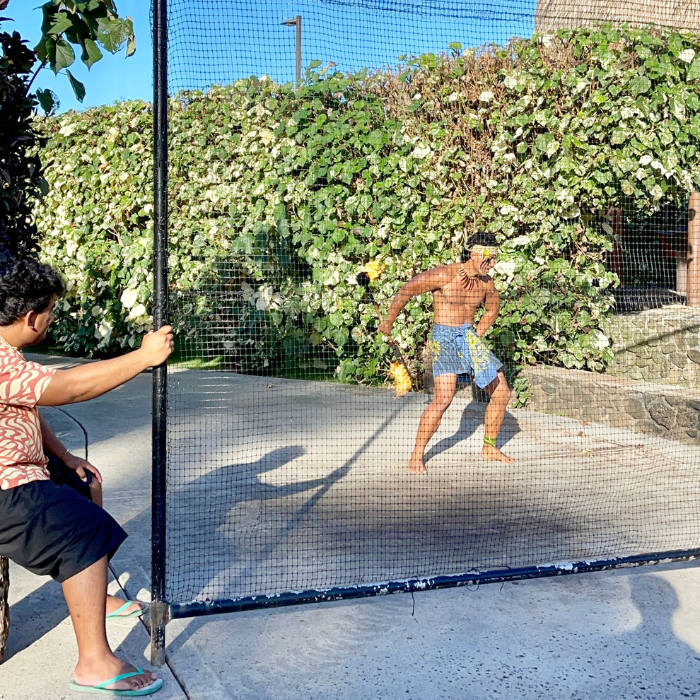 *I want to interject here to say that our guide directed us to mostly shows and presentations and maybe that was because we were a group of adults, but the last time I visited the PCC villages we had several kids with us and we spent most of the day doing more activities (hula lessons, ukulele lessons, games, palm weavings, etc.) so you can really pick and choose based on what you're interested in.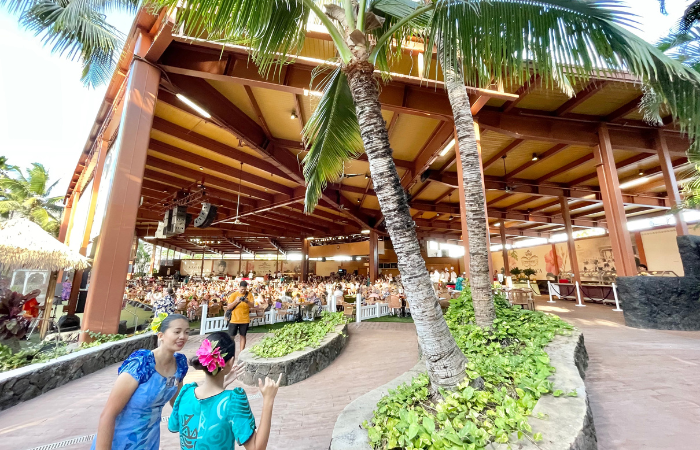 We finished up in Samoa and hustled over to the luau pavilion and it was almost 5PM. Well, turns out it was already in full swing and they were pretty much looking for us haha. We got our leis and they took our picture and showed us to our table.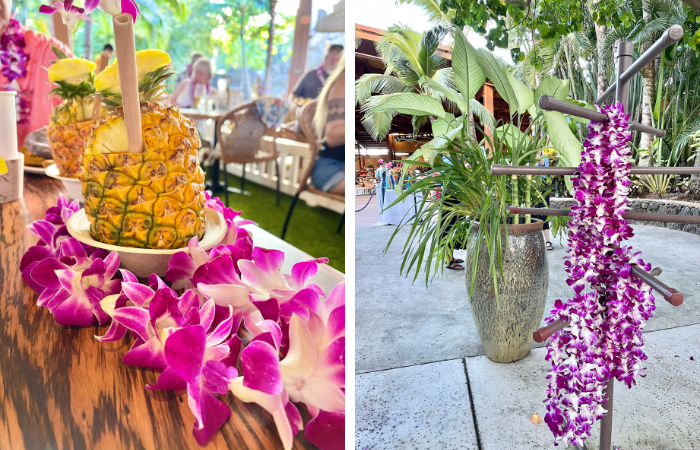 They must have done the Imu ceremony (the part where they unearth the pig) closer to 4:30 or 4:45 so get there when they say it opens if you want to see that. But I could see where they did it and it was set up really well. They have it kind of in a lawn area just behind the stage and since all of the seating is terraced, you would have a good view from your seat.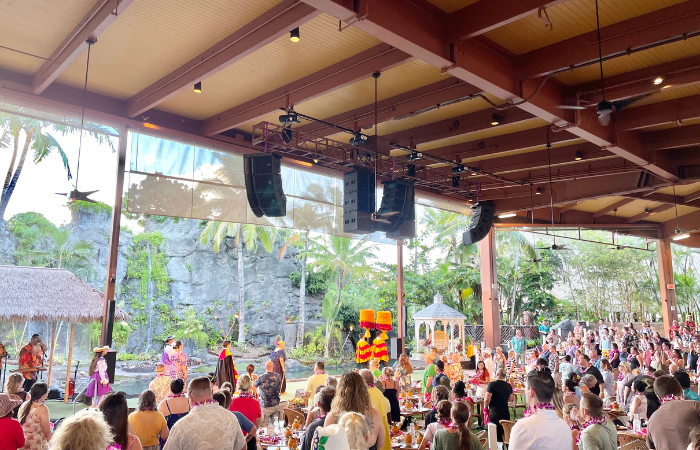 My general impressions of the luau: It was actually a lot nicer than I thought it would be. The venue where they host the luau is set up perfectly to handle the flow of people, and everyone has a great view.
I was impressed that everyone got a fresh flower lei (some places only give you a shell) AND a drink in a pineapple. I've never seen this anywhere else. The drink is a non alcoholic pina colada type drink.
They bring water to your table, but there's a self-serve drink station if you want a soda or fountain drink.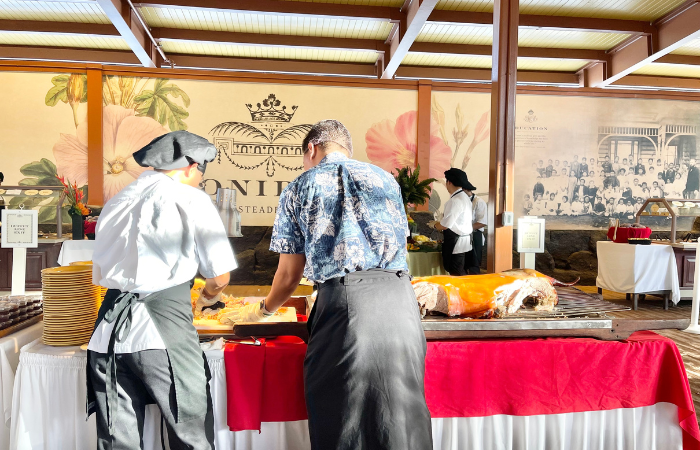 We didn't wait very long to get called up to the buffet and it was all organized really well to flow pretty quickly.
Honestly, I had pretty high hopes just from looking at the buffet, but the food was pretty average and on par with what you usually get at a luau buffet. Not awful, but nothing memorable.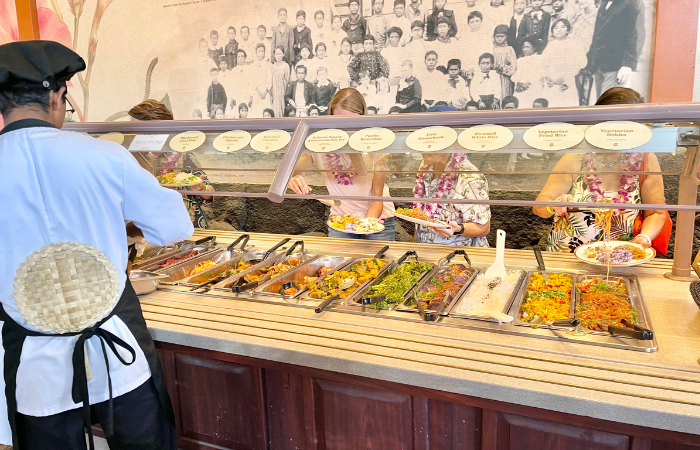 However, the dessert options were hands down the best I've ever had at a luau. Besides some good cakes and little treats, they had a GELATO CART. What a treat!
As we ate, they started the show with a royal procession and then the queen presided over the luau. Aunty (the mc) told us a lot about the Queen, the royal family, Hawaiian culture, etc. and there was quite a bit of hula.
They acknowledged special celebrations and had all of the kids come up onto the stage. It was a pleasant experience, but nothing to knock your socks off (they save that for the final show).
We were finished and people started filling out around 6:15-6:20.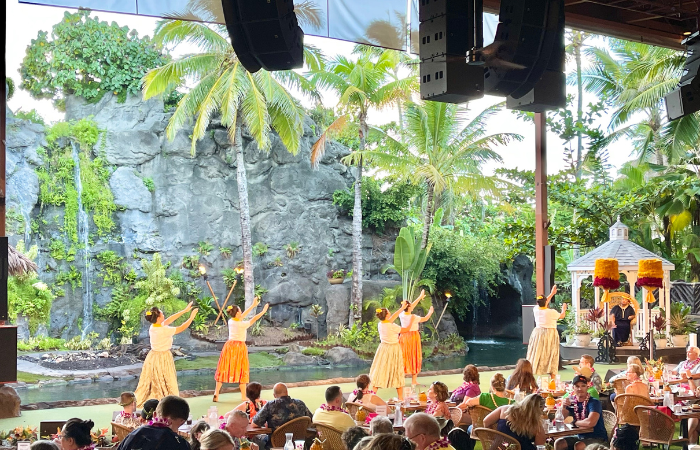 I mentioned this before, but the Ha: Breath of Life show didn't start until 7:30 and by this point in the day that seemed like a LOT of time to kill.
I know they need time to clear people out from the two luau venues and the Gateway Buffet venue and get everyone herded to the amphitheater for the show, but over an hour seemed a little excessive. It kind of felt like they wanted to give a window to get people to do the temple tours and go through the shops.
ANYWAYS, we sat around for awhile outside and then about 30 minutes before we went into the theater to find our seats. Seats with our package were assigned and we had GREAT seats.
There are no photos or videos allowed during the show to protect the show experience (the same for Broadway shows) so I don't have any photos for you, but the show was phenomenal.
And I'm not super easy to impress when it comes to luau shows (I appreciate them for what they are but for me personally it's kind of one and done).
Here's the deal: I was personally DONE before the show even started. It had been a long day and I'd had enough fun haha. And the thought of sitting through a 90 minute show (I'm notorious for falling asleep during Broadway shows) felt like more of an obligation than anything at that point, but pretty much from the moment it started it was CAPTIVATING.
The show has a plot that follows one family along their life's journey and each life phase is told through the culture of one of the different six islands. The dancing and the costumes are absolutely stunning and it's completely entertaining from beginning to end.
And that's a wrap on the day! Well, after an hour and 15 minute drive back to Waikiki ; )
On Another Note: If you're looking for a condo or vacation rental for your trip, I always book with Vrbo. They've got the largest selection of rentals you'll find anywhere and you can easily filter to find exactly what you're looking for. Need a specific number of bedrooms and bathrooms? Narrowed it down to a certain location? Want flexible cancellation terms? Need to stay under a fixed budget? Click here to search for Oahu vacation rentals for your trip.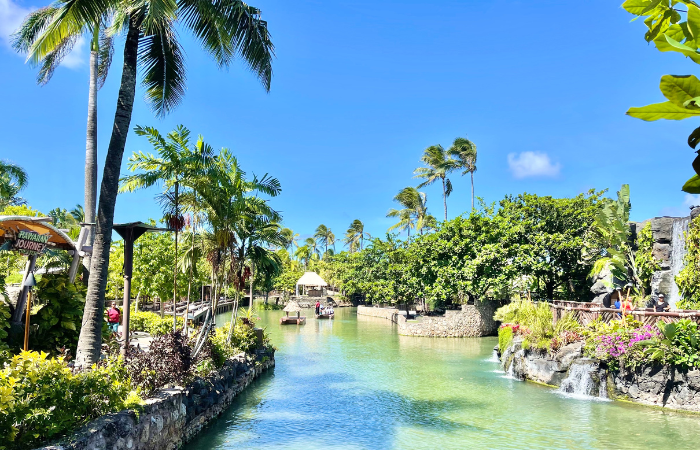 So, it's "worth it," but is it a fun day?
Let me tell you, the Polynesian Cultural Center packs a punch. Soooooo much high quality entertainment and one thing after another absolutely all day long.
There were things I absolutely LOVED about the PCC, and things that I didn't love. I think I've broken that all down for you.
It's 100% recommendable, but despite how impressive it all is, it's still not a perfect day just because of the logistics of it all and how overwhelming it is. Don't get me wrong, I really loved all of the components of the day, but like I said…when we showed up for the luau after spending several hours in the villages, we were pretty tired and just wanted to sit down. The opposite condition than how most people show up at a traditional luau. And by the time the luau was over we were just ready to go home. But Ha: Breath of Life is arguably the best part of the day.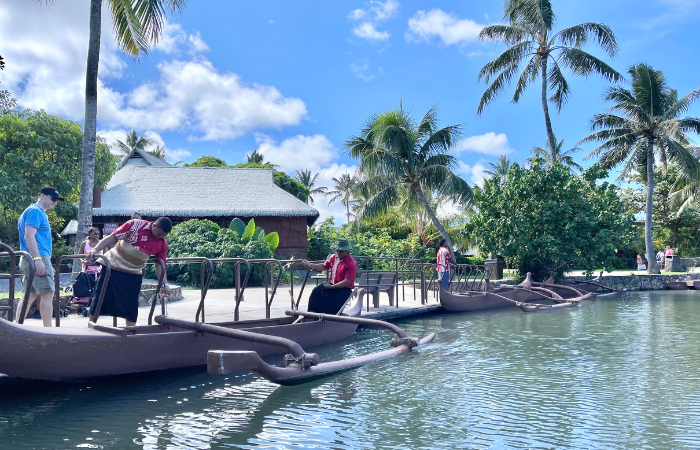 So in my mind, I spent most of the next day trying to figure out what the "perfect" way to do the PCC is so that it's enjoyable.
Of all three elements (the villages, the luau, and the final show), it's the final show that I think is a DO NOT MISS.
The villages are the second best part, but that leaves a big hole in your day if you skip the luau. If you're staying somewhere on the north shore, I think I'd be tempted to split it into two days. One day where you just come and enjoy all of the villages. And one day where you either do the luau and the show or even have dinner somewhere else (if you've already been to a luau) and just come for the show.
If you're driving from Waikiki, that's a little trickier because I don't think I would want to tie up parts of two days coming up here.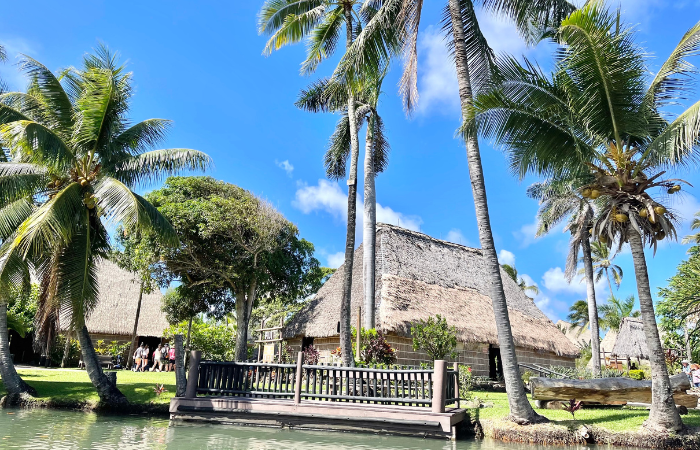 I personally (as someone who's been to a lot of luaus) would probably be inclined to do the villages from 12:30 to 5ish, leave and have dinner somewhere else (maybe at Turtle Bay) and then come back for the show.
But after weighing out all of the options, I think if you've never been (to the PCC or to a luau), I would just plan to sleep in and have a leisurely morning doing nothing much and arrive at the PCC around 1 and just spend the whole day.
You'll certainly get your money's worth and make some great memories.
When You Should Skip the Polynesian Cultural Center
Now, there are circumstances where I would say it's not worth it to do the full PCC experience. It's not that it's "not worth it" or not a good thing to do, but I think you have to do a cost benefit analysis. What are you going to give up if you spend an entire day at the PCC.
Honestly, it's such a great place and like I said, there's nowhere I've seen a better and more authentic representation of Polynesian culture in Hawaii, BUT if you have a limited time on Oahu, I might rethink it. I think I would recommend 4-5 full days exploring the island before I would devote an entire day to the PCC.
There's just soooooo much to see and do in actual Hawaii that I think I would give priority to that over this recreation no matter how well it's done. An exception to that might be if members of your group aren't super active/able or interested in a lot of physical activities like snorkeling, hiking, etc. And if your group has an above average enjoyment of living history centers like Colonial Williamsburg or even Epcot, then it might be the kind of place you would prioritize over other things.
You can book tickets for the Polynesian Cultural Center here.
Want to read more? Don't miss some of my most popular (and favorite) posts about Oahu:
If you're trying to figure out where to stay, you're going to want to look at my favorite boutique resort in Waikiki and the lowdown on where to stay on Oahu besides Waikiki. Plus I've got the scoop on how to avoid illegal vacation rentals and a roundup of where to stay in Ko Olina and reviews of the Laylow and Disney's Aulani Resort. And a LOT more on Aulani like is Aulani worth it?, tips for staying at Aulani, how many days to spend, and the best things to eat and drink at Aulani.
If you're researching luaus on Oahu, I've written quite a bit. First, I've got a full breakdown of the best luaus (and the worst) on Oahu. Then I've got complete reviews of Paradise Cove, the Polynesian Cultural Center, and Aulani's Ka Wa'a Luau. And if you've narrowed it down to the top two most popular on the island and still can't decide, here's Paradise Cove vs Polynesian Cultural Center.
If you're trying to put together an itinerary full of the best things to do, take a look at my best 5 day itinerary, and roundups of the best things to do in Waikiki, "secret" things to do on Oahu, plus my favorite things to do in Kailua and the windward coast, in Ko Olina, and on the north shore. And if you're looking for food recommendations, I've got the best restaurants in Ko Olina and where locals eat in Waikiki.
And last but not least, some of my favorite things on Oahu like Jurassic Park at Kualoa Ranch, Shangri La and the Honolulu Museum of Art, tips for visiting Pearl Harbor, easy hikes on Oahu, and the best spas on Oahu. And everything you need to know BEFORE you go to Oahu.
P.S. Thanks for sticking around and reading this whole post! If you have ANY questions about planning your trip to Hawaii, you can join my free Facebook group here. I'm there answering questions every day and there are 7500+ other friends who have a ton of Hawaii information to share!
Also, if you want to follow along on my travel adventures in real time, you can follow me on Instagram (@caitylincoln). My post captions are full of travel tips and I have a ton of story highlights and videos with great info. And please share my account with your friends that are headed to Hawaii! Your support really helps me keep this blog running!