Paradise Cove Luau VS the Polynesian Cultural Center: Which One Is Best?
This post may contain some affiliate links, which means I'll make a little money on anything you choose to purchase. But of course, I only recommend my absolute favorites to you. Thank you for supporting the brands that make the Lincoln Travel Co possible.
I've written a LOT about the best luaus on Oahu. I've got a breakdown post here of the best (and worst) luaus on Oahu plus full reviews of Paradise Cove, the Polynesian Cultural Center, and the Ka Wa'a Luau at Disney's Aulani Resort.
But if you've read all of that and you're STILL undecided, this is probably the post that you need.
Poll a group of 100 people about the best luau on Oahu and you're going to get two suggestions waaaaay more than the rest…Paradise Cove and the Polynesian Cultural Center.
So if you're trying to decide between Paradise Cove vs the Polynesian Cultural Center, this post is for you.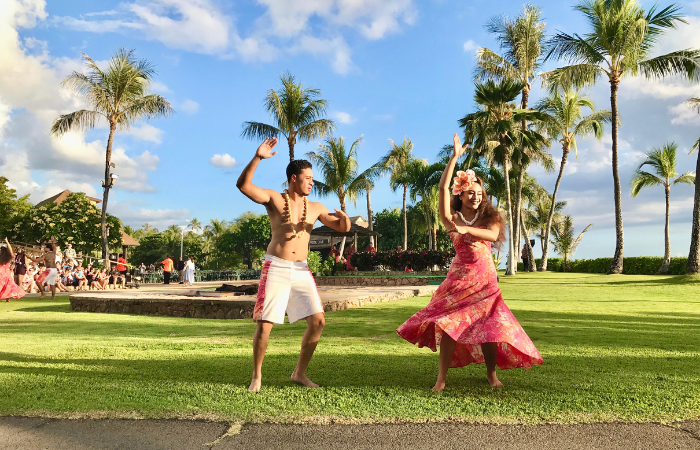 Paradise Cove VS Polynesian Cultural Center
Okay, if you haven't already done a tremendous amount of reading about these two luaus, this is where you need to start:
My Review of Paradise Cove Luau
My Review of the Polynesian Cultural Center
For starters, Paradise Cove is the traditional, cut and dry, luau that's exactly what you're expecting.
The Polynesian Cultural Center is…a lot more. But it has a lot of logistical challenges that may not make it the best fit.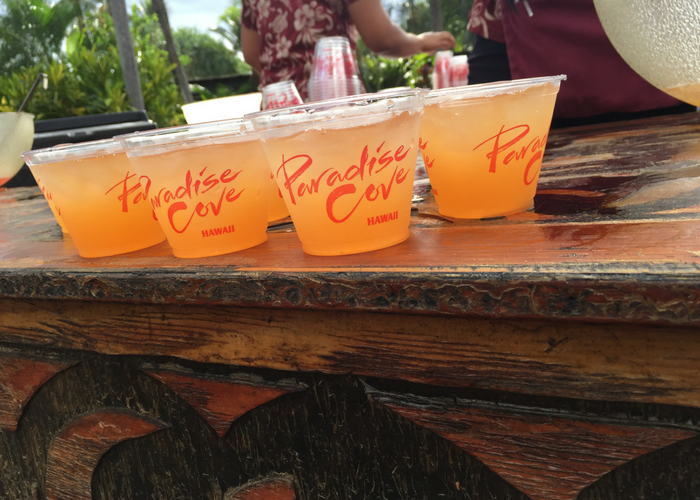 What's the Major Difference between Paradise Cove and the Polynesian Cultural Center?
While I'm going to compare and contrast and break down all the little details in this post, in many ways comparing these two luaus is apples and oranges.
Paradise Cove is a traditional luau experience. You'll show up at the oceanfront venue in the early evening, get your lei and welcome drink, spend an hour or two enjoying some cultural entertainment, do some shopping, then enjoy a huge buffet dinner, watch the show from your seat and then head back to your hotel. A four hour pleasant evening experience.
The Polynesian Cultural Center offers…all of that and a lot more. There are three big components to a day at the PCC. 1) Exploring the island villages from 12:30PM to 4:30ish. 2) Attending their luau from 4:45PM to 6:30PM that includes flower leis, pineapple drinks, a huge buffet, live music, and a little hula dancing. 3) Ha: Breath of Life, their huge nighttime spectacular show performed in a separate amphitheater from 7:30PM to 9PM.
There is a lot of overlap between what is offered at the two, but as you can see…Paradise Cove is an evening event and the Polynesian Cultural Center is an all day affair.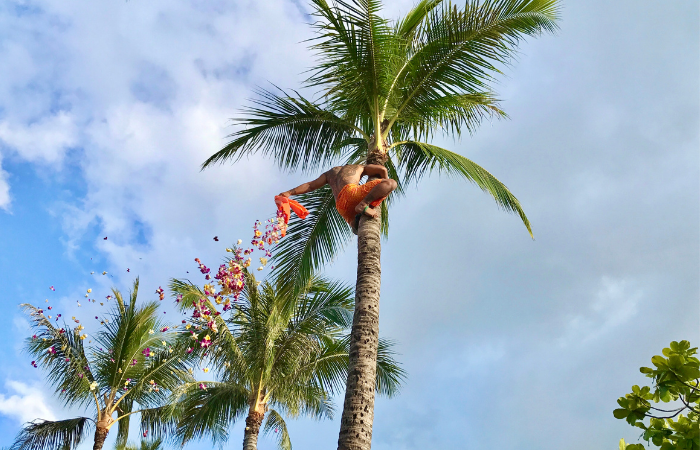 So Which One Is Better?
It depends. I really wish I had a cut and dry answer for you. And if you've read much at all on my blog, you know that's not a cop out. I am a girl with opinions ; ) And I usually have no problem telling you what's "worth it" or exactly what I recommend or don't. But these two luaus are VERY different and depending on a lot of factors one could work better for you than the other.
So unfortunately, I can't give you an official answer "this one is better than that one" verdict, but I'm going to help you a TON of details about each one and break down different categories so you can decide which one will be best for YOUR travel group.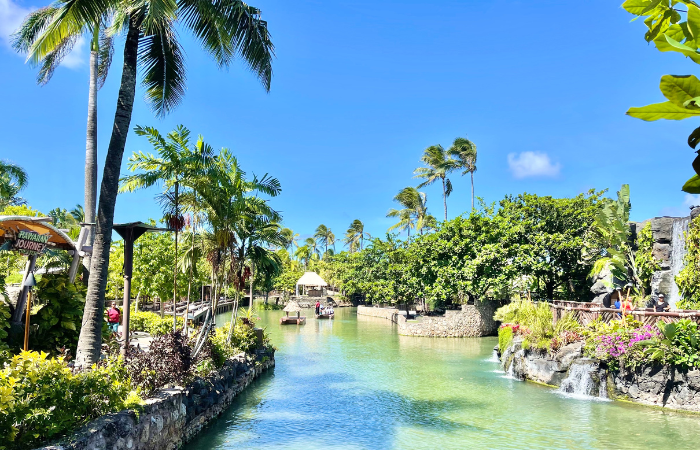 Location: Paradise Cove VS Polynesian Cultural Center
Let's start with location. Because they're radically different.
The Paradise Cove Luau is located in Ko Olina, a resort development on Oahu's west side. It's within walking distance (or a 5 minute drive) of Disney's Aulani Resort, the Four Seasons, and Marriott's Ko Olina Beach Club. And it's about a 40 minute drive from Waikiki (no traffic) on the highway.
Paradise Cove is situated in…well, a literal paradise cove. Its oceanfront setting is one of its major selling points and I'm not going to lie…it couldn't be any more idyllic.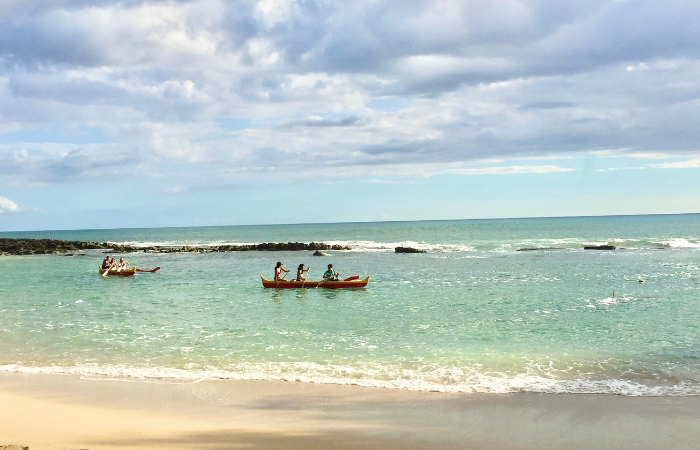 The Polynesian Cultural Center is located in Laie on the north shore. The PCC is a huge complex that feels a bit like a theme park. But in a good way. Think Disney's Epcot World Showcase. Recreations of waterfalls, volcanoes, intricately detailed Polynesian buildings, swaying palm trees, etc. Everywhere you look there's some tropically manicured landscape. It's beautiful, but it's not the beach.
Side Note: If you're looking for a rental car for your trip, I LOVE Discount Hawaii Car Rentals. They're seriously the only company I ever use. They'll give you the very best prices, you don't have to reserve with a credit card or pay until you show up, you can cancel and re-book anytime if you find a better rate, and they usually have a special that adds additional drivers for no fee. It's a no brainer. Click here to check rates for your trip.
Price: Paradise Cove VS Polynesian Cultural Center
Nobody just has a straight price for their luau nowadays. They all have "packages."
Paradise Cove has three packages:
Hawaiian Luau Package: $125/adult ($90/child). This is the standard package that includes a shell lei greeting, a $12/adult ($8/child) "Cove Card" ($$ to be spent at the cash bar or gift shop) and "wing" seating (off to the side).
Orchid Luau Package: $150/adult ($110/child). Includes an upgrade to a fresh flower lei, a $16/adult ($12/child) "Cove Card," and centered middle seating.
Deluxe Luau Package: $210/adult ($160/child). This package includes the fresh flower lei, a $20/adult ($16/child) "Cove Card," front row center seating, table service (instead of the buffet), a complimentary arrival photo, and a souvenir from the gift shop.
I've only ever done the basic package at Paradise Cove. I just don't think it's "worth it" to upgrade for a fresh flower lei or slightly better seating. If you're not staying at a resort where they give you leis upon arrival and you want it to feel special, I can kind of see doing the orchid package. But the deluxe just seems excessive.
So let's say Paradise Cove is $125-150/person.
The PCC has a dizzying amount of "packages" offered that cover all imaginable combinations of their three main offerings, but since we're comparing luaus here, let's stick with the two that actually include the luau.
Ali'i Luau Package: $185/adult ($148/child) gets you access to the 6 island villages PLUS admission to the Ali'i Luau (luau buffet and dinner entertainment) AND luau seating at the Ha: Breath of Life show.
Super Ambassador Luau Package: $243/adult ($195/child) gets you a private guided tour through the 6 island villages including a reserved canoe ride PLUS the Ali'i Luau (luau buffet and dinner entertainment) AND premium seating at the Ha: Breath of Life show.
I think the Ali'i Luau Package is the way to go at Paradise Cove. We couldn't have had better seating at Ha: Breath of Life and I don't need or want a private tour guide. I like to do my own thing.
So let's say the PCC is $185/person.
That means the PCC is either $35-$60 more expensive per person than Paradise Cove. But you're getting 8ish hours of entertainment at the PCC for that price versus 4ish hours at Paradise Cove.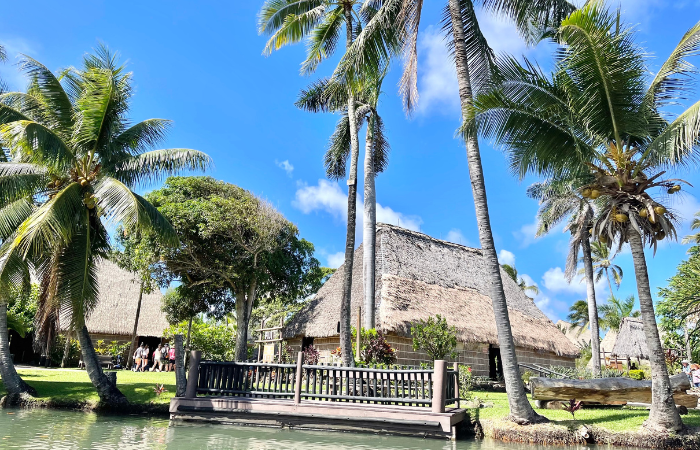 Value: Paradise Cove VS Polynesian Cultural Center
Let's stick with that line of thought.
Going with the cheapest price at Paradise Cove of $125/person and four hours of entertainment, that means you're paying roughly $31.25/hour.
At the PCC paying $185/person and getting about eight hours of entertainment, you're paying roughly $23.12/hour.
So clearly you're getting a better bang for your buck at the Polynesian Cultural Center.
But that's IF you value a full day spent at the PCC. Not everybody wants to spend 8-9 hours (not including transportation time) on a full day activity when they're in Hawaii. Especially if you're paying to stay at a nice resort and are enjoying the beach and pool.
To figure out if a full day at the PCC is going to be "worth it" for you, read this post.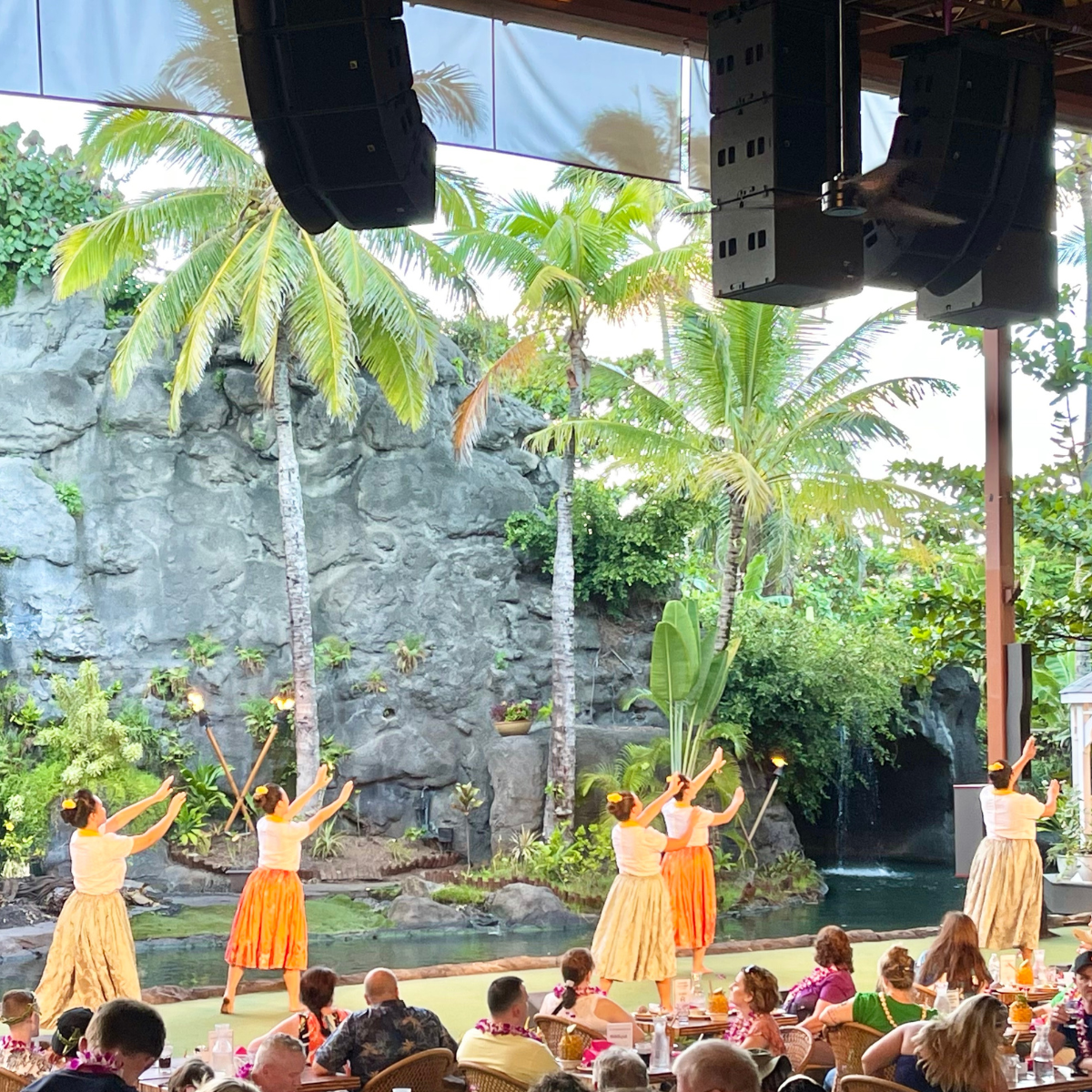 Most Authentic: Paradise Cove VS Polynesian Cultural Center
Everybody wants to know about the most authentic luau. First of all, no commercial luau is ever going to be really "authentic." Traditional luaus are like backyard BBQs enjoyed by friends and family. But some commercial luaus definitely do a better job demonstrating and sharing certain aspects of Hawaiian and Polynesian culture than others.
Overall, I think both luaus are fairly good on that front, but the Polynesian Cultural Center definitely feels more authentic. From the activities and demonstrations presented during the day in the villages to some of the traditions shared during the luau to the dancing and costumes in the final show, everything just feels so high end and well done. It's extremely high quality, and even though it's all done on a large scale, it manages to feel fairly personal. I think it's because the villages are staffed with people from those islands and they do a good job of sharing their personal connections to their Polynesian culture.
Despite the whole environment being very "built" and man made, nothing about the day ever feels cheesy.
And I can't necessarily say the same about Paradise Cove. While it is far and above better than some other popular options, there are definitely moments where it gets an eye roll from me (usually when it comes to crowd participation).
Bottom Line: Paradise Cove doesn't feel "inauthentic" by any means, but the PCC goes so above and beyond in terms of presenting culture in a respectful and compelling way that they're the clear winner here.
Best Food: Paradise Cove VS Polynesian Cultural Center
It's pretty much a draw here. Both luaus serve fairly unremarkable mass produced food that tends to vary depending on where exactly you fall in the buffet line and when pans of food get refreshed. Neither is awful by any means, but I also couldn't call either one "good." But that's par for the course at most luaus.
I was however highly impressed with the ice cream cart at the Polynesian Cultural Center. It's the first time I've had ice cream at a luau!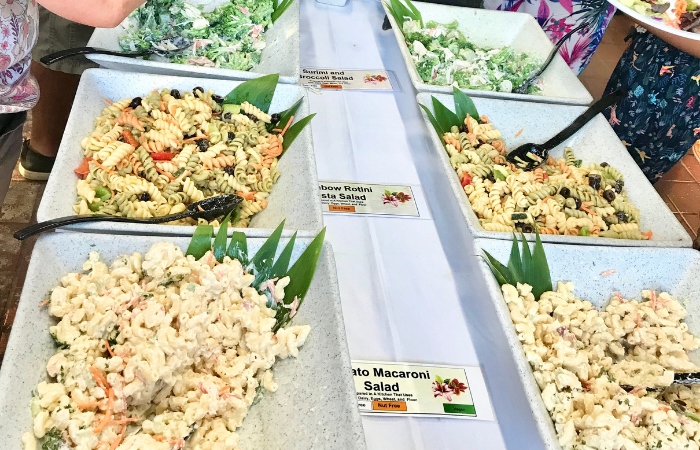 On Another Note: If you're looking for a condo or vacation rental for your trip, I always book with Vrbo. They've got the largest selection of rentals you'll find anywhere and you can easily filter to find exactly what you're looking for. Need a specific number of bedrooms and bathrooms? Narrowed it down to a certain location? Want flexible cancellation terms? Need to stay under a fixed budget? Click here to search for Oahu vacation rentals for your trip.
Best Show: Paradise Cove VS Polynesian Cultural Center
Here's the deal…the show at Paradise Cove is very, very good. But the one at the PCC is great. Honestly, I've been to a LOT of luau shows and even though I enjoy most of them in the moment, very few are memorable after I've moved on to the next one. But Ha: Breath of Life is truly something special.
Here's a rundown on how the shows work, because they're very different.
At Paradise Cove, they have kind of a hula-lite show during dinner. After most tables have been to the buffet, the MC takes over and does a bit of a variety show while everyone is eating. They have several different hula dances, they acknowledge all of the special celebrations, they bring the kids on stage, etc. This is when all of the audience participation happens (i.e. the part that tends to be cheesy).
Once everyone has finished eating, they clear the plates away, dim the lights, and that's when the main show starts. It's about 45 minutes of high quality, exciting dancing (including the fire knife dancers) and you watch the whole thing from your dinner table.
At the PCC, it works a bit differently. The first part is the same…aunty is the MC and she entertains while everyone is eating, introduces different hula dances, and tells a lot about Hawaiian history and culture. They recognize special occasions and bring all of the kids on stage.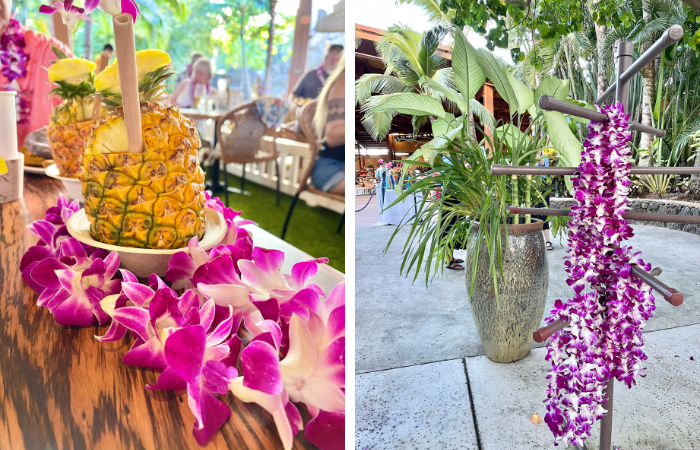 But once everyone is finished eating, the luau winds down and everyone is dismissed. That's usually around 6:15 to 6:30. Then there's an hour or so break where everyone makes their way from the luau venue to the amphitheater where Ha: Breath of Life is performed.
And that's where the real magic is. There's just no comparing Ha: Breath of Life to the main show at Paradise Cove. Ha is a full on Broadway style spectacular with a plot that follows one family's journey. Each phase of life is told through the cultural style of one of the six island villages (Hawaii, Fiji, Tahiti, Tonga, Samoa, and Aotearoa).
It's unlike anything that I've ever seen associated with a luau.
Best Venue: Paradise Cove VS Polynesian Cultural Center
I've already described a lot about both luaus and their settings, but here are some more details: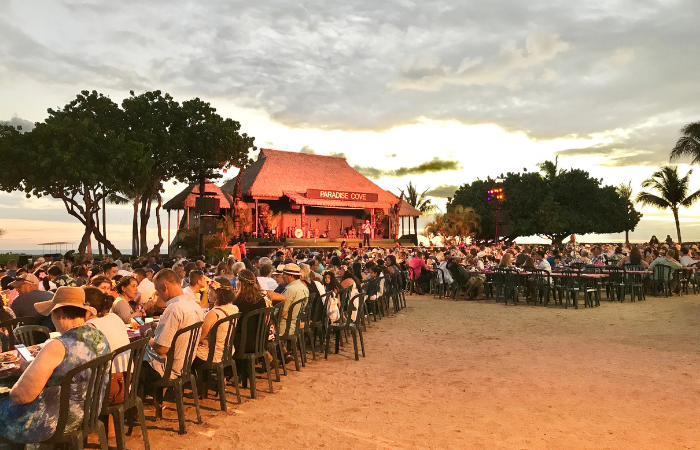 Paradise Cove is overall one of the better luau venues I've been to. It accommodates a LOT of people (usually 700+ each night). There's a big stage and folding tables and chairs are set up fanning out in front of it. Over to the right of the stage (right on the ocean) is a small amphitheater that they've built around the imu pit (where the pig is) so that when they do the ceremony where they unearth the pig and tell you about it, everyone who wants to can see. This is so much better than other places where everyone crowds together and struggles to get a view.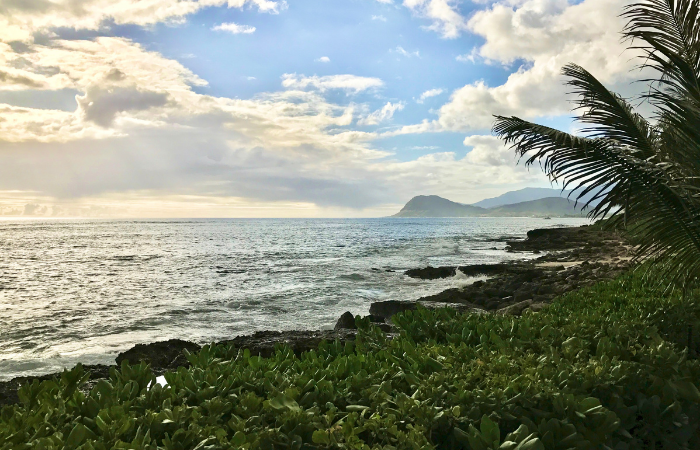 To the right of the stage is where they host a lot of the cultural demonstrations that are part of the pre-luau entertainment. They do a group hula lesson, a hukilau (where they pull the fishnets in from the sea), and the shower of flowers (a guy climbs to the top of a palm tree and showers the crowd below with flower petals) plus there are a ton of activities (some that require an additional fee) like braided hakus (flower crowns), etc and a lot of little shopping venues.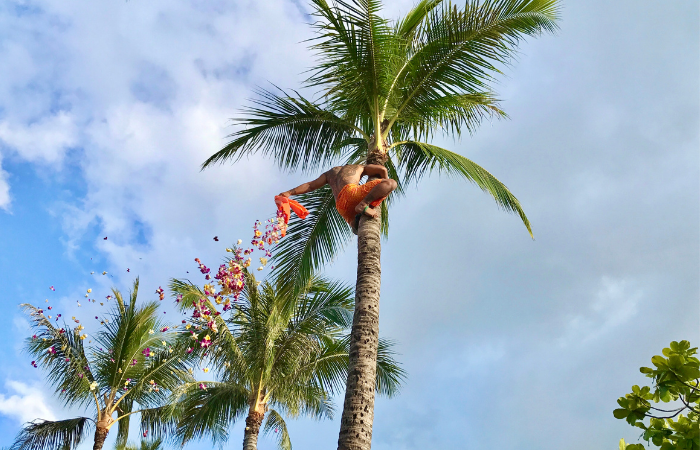 And the entire thing is outdoors. Since Ko Olina is usually dry and sunny and it doesn't rain as much as other parts of the island, it's not a major problem. But they don't always cancel shows just because it's raining. If it's a light rain, they may just carry on. And if they do end up canceling, it may be hard to find another luau last minute.
I've described a lot about the set up at the PCC, but regarding the luau venue specifically, I was actually pretty impressed and remember thinking that it was a lot nicer than I thought it would be.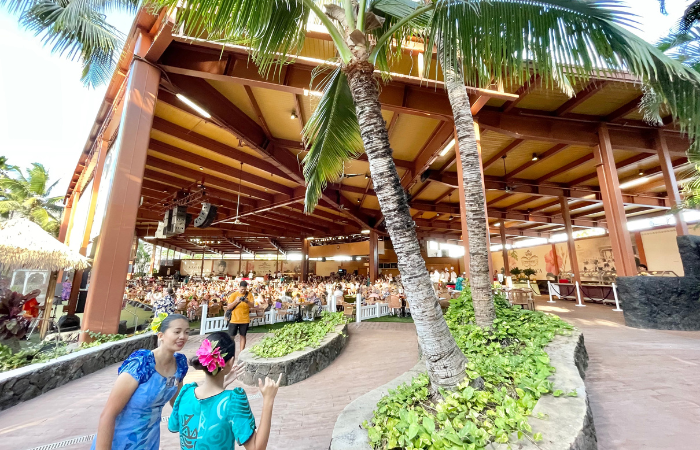 For starters, there are two identical luau venues (your ticket tells you which one to go to). The entire venue is covered (but open air) which is really nice. Also, the tables are terraced so each table has a great view of the stage.
And there are buffet tables set up on each side of the venue so you don't have to go far and there are fewer people waiting in each line. The flow of people here is really good.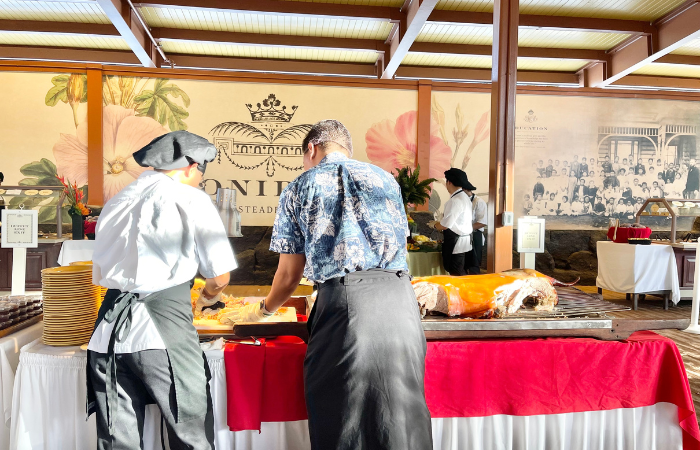 The separate theater for Ha: Breath of Life adds a layer of complications logistically (they add an hour "intermission" to move people from the luau venues to the theater) but it allows them to deliver a magnificent show experience.
Best for Kids: Paradise Cove VS Polynesian Cultural Center
Overall, I think Paradise Cove is the better option for kids. And I'll tell you…I saw very few kids at the luau at the PCC and most of the ones that were there were older kids or teens. It's just such a long day that I think it's a bit much for most kids.
Plus Paradise Cove is a lot closer to where a lot of families are staying in Ko Olina. Although if we're talking kid friendly luaus in Ko Olina, I've got to throw the Disney one out there because honestly, it's one of the best.
Overall
Well, I hope you can see now that these are two pretty different experiences. Depending on where you're staying, how much of a day you want to make of it, and if you're looking for a pleasant evening out or a deeply immersive cultural experience, you're probably leaning in one direction or another. So I would just say…go with your gut!
These are both great luau options.
Want to read more? Don't miss some of my most popular (and favorite) posts about Oahu:
If you're trying to figure out where to stay, you're going to want to look at my favorite boutique resort in Waikiki and the lowdown on where to stay on Oahu besides Waikiki. Plus I've got the scoop on how to avoid illegal vacation rentals and a roundup of where to stay in Ko Olina and reviews of the Laylow and Disney's Aulani Resort. And a LOT more on Aulani like is Aulani worth it?, tips for staying at Aulani, how many days to spend, and the best things to eat and drink at Aulani.
If you're researching luaus on Oahu, I've written quite a bit. First, I've got a full breakdown of the best luaus (and the worst) on Oahu. Then I've got complete reviews of Paradise Cove, the Polynesian Cultural Center, and Aulani's Ka Wa'a Luau. And if you've narrowed it down to the top two most popular on the island and still can't decide, here's Paradise Cove vs Polynesian Cultural Center.
If you're trying to put together an itinerary full of the best things to do, take a look at my best 5 day itinerary, and roundups of the best things to do in Waikiki, "secret" things to do on Oahu, plus my favorite things to do in Kailua and the windward coast, in Ko Olina, and on the north shore. And if you're looking for food recommendations, I've got the best restaurants in Ko Olina and where locals eat in Waikiki.
And last but not least, some of my favorite things on Oahu like Jurassic Park at Kualoa Ranch, Shangri La and the Honolulu Museum of Art, tips for visiting Pearl Harbor, easy hikes on Oahu, and the best spas on Oahu. And everything you need to know BEFORE you go to Oahu.
P.S. Thanks for sticking around and reading this whole post! If you have ANY questions about planning your trip to Hawaii, you can join my free Facebook group here. I'm there answering questions every day and there are 7500+ other friends who have a ton of Hawaii information to share!
Also, if you want to follow along on my travel adventures in real time, you can follow me on Instagram (@caitylincoln). My post captions are full of travel tips and I have a ton of story highlights and videos with great info. And please share my account with your friends that are headed to Hawaii! Your support really helps me keep this blog running!