Is It Worth It to Stay at Aulani?
This post may contain some affiliate links, which means I'll make a little money on anything you choose to purchase. But of course, I only recommend my absolute favorites to you. Thank you for supporting the brands that make the Lincoln Travel Co possible.
Being in the biz, I get the same questions a lot. And when it comes to picking a place to stay on Oahu, if people have kids, they want to know about Aulani.
It's by far the most recommended place to stay with kids, and people are usually sold…until they see the price.
So that's when I get this question…is it really worth it to stay at Aulani?
Well "worth" is pretty relative depending on the price and your financial situation so I can't say for sure, BUT in this post I'm going to tell you a LOT about Aulani and what to expect so you can decide for yourself.
Plus I've also got some tips on how to save a few bucks if you really want to stay at Aulani but the $$$ is a bit much.
Is It Worth It to Stay at Aulani?
If you know Disney at all, you probably have pretty high expectations. Disney is known for top-notch theming, world-class service, and that sprinkling of pixie dust, which is hard to describe, but you know it when you see it.
Well, good news folks. Aulani won't let you down! But it's a different kind of magic than what you're likely used to experiencing at the Disney parks and on the Disney Cruise Line.
First things first, there are obviously no theme parks in Hawaii so it's hard to make a direct comparison between a trip to Walt Disney World or Disneyland and Aulani. The big draw to Aulani is simply BEING in Hawaii.
And honestly that's not enough for a lot of mega Disney theme park fans. But for those who enjoy a more laid back vacation (or who have simply always wanted to see Hawaii), Aulani has a lot to offer. Namely, this:
It's a world-class resort located in PARADISE. Hawaii has a reputation as being among the most beautiful places on earth and it's not unfounded. It's easy to say that all beach destinations are similar or that there are good beaches closer to home. Until you've been to Hawaii. There's a magic to the islands, the people, and the culture that makes it like no place on earth.
For being some of the most remote islands in the world, Hawaii is a relatively convenient destination coming from the mainland. Of course being a state helps with this greatly. There's no shortage of flight routes available (and it's only 4-5 hours from California) making it much more accessible than places like Fiji, French Polynesia, the Maldives, or the Seychelles.
It's Disney and that means it's familiar. You just know what to expect to a certain extent when you're dealing with Disney.
It has the very best theming and atmosphere of any resort in Hawaii. I stand by that statement. A lot of people say they don't want to stay at Aulani because they didn't come to Hawaii for Disney. They want the real Hawaii. I hate to break it to you Jack, but you're not going to find another resort in Hawaii that has more authentically or respectfully incorporated Hawaiian culture into the property or the guest experience. Most guests are impressed by the property in general, but it's the locals that really appreciate what Disney has done with the details. I'll be honest…you can find more luxurious resorts in Hawaii, you can find cheaper resorts in Hawaii, and you can find more adult oriented resorts in Hawaii, but you can't find a resort that represents and integrates the culture of Hawaii any better than Aulani.
It's really fun! Aulani basically has an entire waterpark complex. Family pools, adults only pools, infinity pools (and hot tubs), water slides (even tube slides!), a lazy river, a kids splash area and playground complex, AND a man made snorkel reef not to mention a tranquil and almost completely protected BEACH LAGOON. That's enough to impress even the most jaded traveler. Add in Auntie's Beach House (the kid's club), character meet and greets, and a billion other activities and it's possible to come and stay for the week and never want to leave the property.
It's located on Oahu, which is the Hawaiian Island with by far the most things to "see and do" especially when it comes to attractions. Pearl Harbor, Kualoa Ranch (Jurassic Park), the Polynesian Cultural Center, the famous North Shore, and Waikiki are all top of most people's don't miss list in Hawaii and they're all on the same island as Aulani.
But….its location in Ko'olina means that it's waaaaay less crowded than staying in Waikiki. Waikiki is a busy city on a beach (albeit a beautiful one) and that's not the vibe most people come to Hawaii for. Staying in Ko'olina means it's possible to see and do all the things on Oahu (which can be a very crowded island), while returning to the respite of a laid back resort community at the end of the day. Everything in Ko'olina is walkable (or there's a shuttle). The four lagoons are connected with by a walking trail. There's an upscale shopping center with plenty of restaurants across the street from Aulani (including a market), and there's a Four Seasons and Marriott vacation club resort nearby for added amenities. You've got golfing, tennis, a marina, and the number one rated luau on Oahu all within walking distance. AND you feel like you're approximately 5000 miles away from busy Waikiki.
Aulani is a Disney Vacation Club resort (Disney's version of a timeshare) meaning in addition to the regular hotel rooms, you can also rent studios as well as one, two, and three-bedroom villas with full kitchens and washers and dryers in room.
If you're 1) traveling with kids, 2) a Disney fan, or 3) not the most frequent traveler, Aulani is 10/10 going to be the resort I recommend (assuming you're staying on Oahu).
Is Aulani a Luxury Resort?
I get a lot of questions comparing different resorts and people asking if certain things are "worth it" and quite frankly this just all comes down to your expectations.
If you are a seasoned Disney traveler, you will likely find that Aulani is like a "deluxe resort" on steroids. Imagine the Grand Floridian or Animal Kingdom Lodge but a larger property with more entertainment. IN HAWAII. The rooms are what you'd expect from Disney as is the service. If you're a Disney traveler that normally stays at moderate or value resorts or (gasp) off property, your mind will probably be blown by the Aulani experience and how nice it is.
If you're a seasoned traveler in general (not just Disney) and you've experienced true luxury resorts (Four Seasons, St Regis, etc.) you should go in knowing that Aulani is not that.
The theming is incredible and the staff are extremely friendly and helpful but this property (like all Disney resorts) is designed to be more serve yourself style to accommodate the sometimes high number of guests.
Concrete examples: 1) At the pool you'll get your wristbands and towels from a kiosk after showing your room key, 2) Pool chairs are first come first serve and you do your own set up, 3) Food and drink service poolside is spotty at best. Sometimes I've noticed servers occasionally going around with menus but most often not, 4) Nobody is going to bring you water or complimentary snacks to your chair, 5) If you're standing in the lobby it's unlikely that a staff member is going to approach you to ask you if you need anything, 6) While there are sometimes rumors of turndown service, I've never experienced it, 7) Rooms are nice but not overwhelming.
None of this translates to bad service or amenities. It's just the way this place is designed to work. And whether you're happy with that or not is largely determined by your expectations.
If you've never stayed at a resort where 1) you give your name at the pool podium the first day and they remember you for the rest of your trip, 2) someone follows you around the pool until you find the perfect spot and then they set your chairs up with covers and towels, or 3) someone regularly comes around to fill up your water glass or hand you slices of pineapple, then YOU'RE GOING TO LOVE AULANI. And if you're used to that level of service, you're not going to get it at Aulani.
While Disney is not usually considered a luxury brand, they do have a reputation for high levels of service and the price point at Aulani is definitely in the ballpark as other luxury resorts in Hawaii (it's comparable to the Four Seasons next door) so I don't want anyone to get confused about what to expect or not to expect.
Speaking of the Four Seasons next door, here's the best way I can think to explain the difference between the two. If you're visiting the area for the first time, walking around and taking it all in…a lot of people respond to Aulani with "what do I have to do to be able to stay here." While the same people are more likely to respond to the Four Seasons with "we're not the type of people who stay at places like this." Hope that makes sense…often the price between the two is on par, but the vibe is VERY different.
Is Aulani Good for a Honeymoon?
I also get this question a lot. Here's what I usually tell people: Would you go to Walt Disney World or Disneyland on your honeymoon? A lot of people would (and do) and a lot of people wouldn't (and don't). I'd honestly use the same rule of thumb about Aulani. It's a lovely resort and it does attract a lot of honeymooners (DIsney fans more likely than not), but there are also a LOT of kids and noise and at the end of the day it's a family resort. It depends on your personality and the vibe you like on vacation.
How Do You Afford Aulani?
I get some version of this question whenever I post about staying at a fancy resort. Yes, it's expensive.
In my experience, when high end resorts come up, people fall into one of three categories 1) money is no object so it's not a decision factor. Let's book the best! 2) I would/could never in my life pay that much money to stay at a hotel. That's obscene and not possible for me. 3) Wow…that's a lot of money, but it's a once in a lifetime trip for us and we'd like to splurge on the best…so if this is really it then we'll book buuuuut how do we get the best deal and how do we stretch our dollar while we're there?
The next bit of this post is for those that fall into category 3 (categories 1 and 2 don't need any tips or explanations ; )
Split your stay: Most people that are traveling all the way to Hawaii, while wanting a beach vacation, also want to SEE Hawaii. If this is you, I suggest splitting your trip and spending the first part of your trip at more affordable accommodations while you do the majority of your activities and exploring. Stay in Waikiki and do all the big attractions at the beginning of your trip, and then move to Aulani for the end of your trip so you can spend several days just relaxing and laying around the resort and taking full advantage of the beach and pool and nearby activities. It's no fun being off trekking through the jungle, swimming under waterfalls while regretting how much money you're paying for a resort that you're NOT EVEN AT.
Pick your dates strategically: The price of any hotel can change pretty drastically throughout the month and even the week. While September is pretty much the cheapest you'll find rates at any resort in Hawaii, there's still a lot of variation at other times of the year.
If you're at all flexible, I always recommend using Google's monthly price calendar (where they show you the price every night on the calendar) and looking for pockets where it's a bit cheaper.
This post breaks down that process.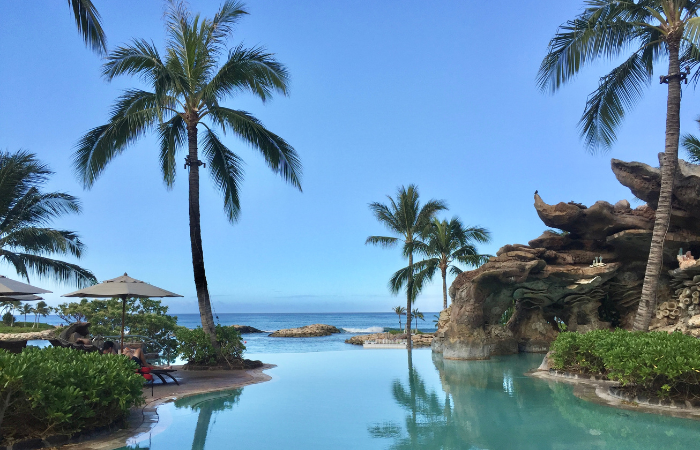 Watch for Discounts & Packages: Because Aulani is Disney, they tend to run better specials than a lot of the other resorts (or they just publicize them better). It's not unusual to find 30% off offers in the fall, bonus nights on longer stays, and even WDW/Disneyland Annual Pass discounts!
Rent "Points" Through Disney Vacation Club: Just like most timeshares, members can rent out their weeks or "points" at a muuuuuuch cheaper rate than if you're paying cash. If you know a Disney Vacation Club member, you could broker a private deal. Otherwise there are several reputable companies who will work out the logistics for you. If you're willing to plan far enough in advance (usually at least 6 months), you can often get rooms at Aulani at least 50% off if you go this route. Try Dave's DVC Rentals.
Still Looking for a Place to Stay?
Here's one more really important thing you need to know before your Hawaii trip…
Reservations You Need to Make BEFORE Your Hawaii Trip
You've got your airfare, hotel, rental car and your big activities booked, so you should be good to go, right? Wrong!
Travel is BOOMING in Hawaii so a lot of state and national parks used the closure and reopening to institute reservation systems at some of the island's most popular spots to make things a little more sustainable.
That means that there are now over half a dozen sites (beaches, trailheads, etc.) that require advance reservations. And some sell out well before you arrive on the island so you really need to have some sort of a plan.
I recently saw somebody in a Hawaii travel group post in a panic that they didn't know they had to make reservations for things in advance…they thought they could just show up and "go with the flow." I was tempted to say, well, "as long as the flow doesn't take you somewhere that requires reservations, you can!" ; )
But I don't want YOU to be that person, so I've pulled together a list of all the places you need to reserve entry in advance (plus all the details on booking windows, price, links, etc.) and a handful of popular tourist hotspots that book out really far in advance too.
Haleakala National Park (Maui)
To visit Haleakala National Park for sunrise at the summit, you must make reservations in advance here.
Reservations are required to enter the park gates between 3AM and 7AM (sunrise hours).
Online reservations are $1 per reservation/vehicle PLUS you'll pay the park entrance fee of $30/vehicle when you arrive (National Park annual passes are also accepted at the gate).
The reservation booking window opens 60 days in advance at 7AM HST. There are also a limited number of tickets released two days before.
You can make one reservation every three days with the same account. So if you want to make reservations for back to back days (in case of weather/conditions), you'll need to do so with separate accounts (email addresses).
If you can't get reservations for sunrise, you can enter the park anytime after 7AM without reservations. The summit is spectacular during the day and you don't need reservations for sunset.
I strongly recommend creating an account before and making sure you're logged in at 7AM HST because it's not uncommon for reservations to sell out quickly.
Waianapanapa State Park (Maui)
To visit Maui's famous black sand beach at Waianapanapa State Park on the Road to Hana, you must make reservations in advance here.
Reservations are required to visit the beach and are distributed in windows from 7AM-10AM, 10AM-12:30PM, 12:30PM-3PM, and 3PM-6PM. And they are pretty strict about exiting by the end of your window time (you can arrive anytime within your window).
It's $5/person to enter plus $10/vehicle to park and those fees are paid when you book your time slot.
Reservations open up 30 days in advance.
Iao Valley State Park (Maui)
To visit the lush, green mountains and hike at Iao Valley State Park, you must make reservations in advance here.
Reservations are offered for 90 minute time slots beginning at 7AM and ending at 6PM. They ask that you arrive within the first 30 minutes of your time slot.
Entry is $5/person plus $10/vehicle to park.
Reservations open up 30 days in advance.
Diamond Head (Oahu)
To hike to the top of Waikiki's famous Diamond Head, you must make reservations in advance here.
Reservations are offered in two hour increments beginning at 6AM (6AM-8AM, 8AM-10AM, etc.) and ending at 6PM. If you're parking onsite, they ask that you arrive within the first 30 minutes of your reservation window.
Entry is $5/person plus $10/vehicle to park.
Reservations open up 30 days in advance.
Tip: I recommend booking one of the first two time slots because there isn't much shade on this hike and it gets pretty hot.
Hanauma Bay (Oahu)
To snorkel at Oahu's pristine Hanauma Bay, you must make reservations in advance here.
Entry times are staggered in 10 minute increments from 7AM to 1:20PM with roughly 1000 slots being assigned in advance every day.
Reservations can be made two days in advance and they open at 7AM HST. They're usually gone in minutes (if not seconds).
If you're unable to get an advanced reservation, you can try for a day of, walk in ticket. They open at 6:45AM and they only have a limited number available. Everyone in your group needs to be present when you purchase your tickets in person.
There are no reservations for parking and it's first come, first serve. $3/vehicle.
It's $25/person to snorkel at Hanauma Bay (12 and under, active military, and locals with HI ID are free).
The Hanauma Bay Nature Preserve is open Wednesday through Sunday (CLOSED MONDAY AND TUESDAY) from 6:45AM-4PM. Last entry is at 1:30PM, the beach is cleared at 3:15PM and you have to leave the facility by 4PM.
Jellyfish patterns can also affect whether or not the bay is open so double check the day before/day of.
USS Arizona at Pearl Harbor (Oahu)
If you want to take the boat tour at Pearl Harbor out to the USS Arizona, it's recommended to make advance reservations here.
Online reservations are guaranteed a specific boarding time to go out to the USS Arizona. If you're unable to get an advance reservation, you can wait standby when you arrive. The line could be short (15 minutes or so) or long (hours) and it just depends on the day (if they're having problems with the loading dock sometimes they don't take many from the standby line) and the time of day.
Reservations are supposed to open up 60 days in advance, but keep an eye on your exact dates, because lately they've actually been opening up about 57ish days in advance???
They also release a small batch of tickets the day before.
The boat ride out to the USS Arizona is free, but it's $1 to make the reservations online.
They recently started charging $7/vehicle for parking at Pearl Harbor.
Haena State Park / Kalalau Trail (Kauai)
If you want to hike Kauai's famous Kalalau Trail, you must make advance reservations here.
You've got three options here:
1) Parking & Entry: This is the most flexible option and also the most limited. THESE RESERVATIONS SELL OUT IN LESS THAN A MINUTE. There are three time slots available: 6:30AM-12:30PM, 12:30PM-5:30PM and 4:30PM to sunset. You can purchase multiple time slots if you want to stay longer. It's $10/timeslot (parking) plus $5/person and you have to reserve every person when you initially book. Everybody has to arrive in the same car and your ID needs to match the reservation.
2) Shuttle & Entry: If you can't get parking at the trailhead, there's also a shuttle option. Shuttle reservations are $35/person (16+), $25/person (ages 4-15), 3 and under can ride free. The shuttle runs every 20 minutes 6:20AM to 6:40PM.
3) Entry Only: If you're a Hawaiian resident (with HI ID) or someone WITH a Hawaiian resident, you can purchase entry only for $5/person with no advance reservations. Also, if you're walking or biking to the trailhead you can do this option. But there is NOWHERE to park in the area to walk in. So this really only works for those with bikes or who are staying close enough to walk. They will tow your car if you park outside the designated areas.
The reservation window opens 30 days in advance at 12AM HST. The parking & entry option usually sells out in a minute, but the shuttle availability will last longer.
There are a TON of FAQs here including the possibility of snagging a canceled reservation.
Other Things to Book in Advance
Hawaii is a busy place these days! Besides the state and national parks above, here's a handful of miscellaneous things you should make reservations for in advance (if they're on your radar):
Mama's Fish House (Maui): The iconic spot is the most popular restaurant in Hawaii and they've been opening reservations (and selling out) 4-6 months in advance. You can call and get on the waitlist for one day or you can set notifications on OpenTable to alert you for cancellations every day of your trip. Most people have pretty good success on OpenTable.
Old Lahaina Luau (Maui): Honestly, any luau you're planning to attend you should book early, but most people are usually shocked how far out the Old Lahaina Luau books out. Book it as soon as you know your dates (I think they open at the six month window). They also have a waitlist.
Kualoa Ranch UTV Tour (Oahu): Everybody loves Jurassic Park so getting to ride UTVs where they filmed the movies is very popular. The ranch offers a lot of different tours but the UTV tours usually book out a couple of months in advance.
Spa Reservations: If you're staying at a resort with a spa (or planning on visiting one), don't wait until you arrive to make your reservations. I'd make them at least a month in advance.
Tee Times: Same for golf, reserve your tee times well in advance.
Dining Reservations: Any "fancy" or resort restaurant is likely to be booked up these days so if you like having a nice dinner every night, make your plans in advance.
Want to read more? Don't miss some of my most popular (and favorite) posts about Oahu:
If you're trying to figure out where to stay, you're going to want to look at my favorite boutique resort in Waikiki and the lowdown on where to stay on Oahu besides Waikiki. Plus I've got the scoop on how to avoid illegal vacation rentals and a roundup of where to stay in Ko Olina and reviews of the Laylow and Disney's Aulani Resort. And a LOT more on Aulani like is Aulani worth it?, tips for staying at Aulani, how many days to spend, and the best things to eat and drink at Aulani.
If you're researching luaus on Oahu, I've written quite a bit. First, I've got a full breakdown of the best luaus (and the worst) on Oahu. Then I've got complete reviews of Paradise Cove, the Polynesian Cultural Center, and Aulani's Ka Wa'a Luau. And if you've narrowed it down to the top two most popular on the island and still can't decide, here's Paradise Cove vs Polynesian Cultural Center.
If you're trying to put together an itinerary full of the best things to do, take a look at my best 5 day itinerary, and roundups of the best things to do in Waikiki, "secret" things to do on Oahu, plus my favorite things to do in Kailua and the windward coast, in Ko Olina, and on the north shore. And if you're looking for food recommendations, I've got the best restaurants in Ko Olina and where locals eat in Waikiki.
And last but not least, some of my favorite things on Oahu like Jurassic Park at Kualoa Ranch, Shangri La and the Honolulu Museum of Art, tips for visiting Pearl Harbor, easy hikes on Oahu, and the best spas on Oahu. And everything you need to know BEFORE you go to Oahu.
P.S. Thanks for sticking around and reading this whole post! If you have ANY questions about planning your trip to Hawaii, you can join my free Facebook group here. I'm there answering questions every day and there are 7500+ other friends who have a ton of Hawaii information to share!
Also, if you want to follow along on my travel adventures in real time, you can follow me on Instagram (@caitylincoln). My post captions are full of travel tips and I have a ton of story highlights and videos with great info. And please share my account with your friends that are headed to Hawaii! Your support really helps me keep this blog running!
P.S. If you want to follow along on my travel adventures in real time, you can follow me on Instagram (@caitylincoln). My post captions are full of travel tips and I have a ton of story highlights and videos with great info. And share my account with your travel loving friends! Your support really helps me keep this blog running!