Paradise Cove Luau Review
This post may contain some affiliate links, which means I'll make a little money on anything you choose to purchase. But of course, I only recommend my absolute favorites to you. Thank you for supporting the brands that make the Lincoln Travel Co possible.
If there's one thing you've got to do in Hawaii, it's go to a luau right? Well, I'm not sure if it's an "absolute don't miss" but it's at the top of a lot of people's bucket lists and for good reason. A luau is a great way to get a taste of (albeit a very touristy version) Hawaiian culture in a very pleasant way.
On Oahu, there are a LOT of luau options, but undoubtedly the most popular is the Paradise Cove Luau in Ko'olina. I've been to Paradise Cove twice as well as having been to a pretty wide range of luaus on all of the islands so I fancy myself a little bit of a "luau connoisseur." Stick around for my thoughts and opinions on the Paradise Cove Luau:
Paradise Cove Luau Review
Location & Setting
The Paradise Cove Luau has a lot of things going for it, but the top of the list has to be the location. Located in Ko'olina, a laid back resort area on the west side of Oahu, it's miles from Waikiki and feels a world away. While a lot of luaus are affiliated with hotels, Paradise Cove is an independent operation so the grounds are a dedicated luau facility (not something that gets set up and taken down every day). It makes a big difference in how they're able to move people through the event. It's also right on the water so it's pretty picturesque.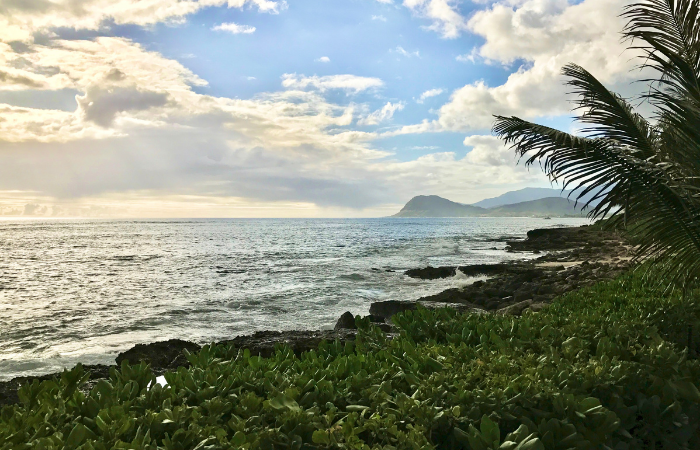 If you're staying in the Ko'olina area (at Disney's Aulani, the Four Seasons, the Marriott, or any of the condos) it's an easy walk to Paradise Cove.
If you're driving from Waikiki, make sure to account for delays due to traffic. Traffic leaving Waikiki headed west is pretty heavy around rush hour so it takes a lot longer than the normal driving time.
Prices & Packages
There are three different packages you can book for this luau:
Hawaiian Luau Package: $125/adult ($90/child). This is the standard package that includes a shell lei greeting, a $12/adult ($8/child) "Cove Card," and "wing" seating (off to the side).
Orchid Luau Package: $150/adult ($110/child). Includes an upgrade to a fresh flower lei, a $16/adult ($12/child) "Cove Card," and centered middle seating.
Deluxe Luau Package: $210/adult ($160/child). This package includes the fresh flower lei, a $20/adult ($16/child) "Cove Card," front row center seating, table service (instead of the buffet), a complimentary arrival photo, and a souvenir from the gift shop.
You can add transportation from Waikiki (they pick up at quite a few hotels/locations) for $35/person.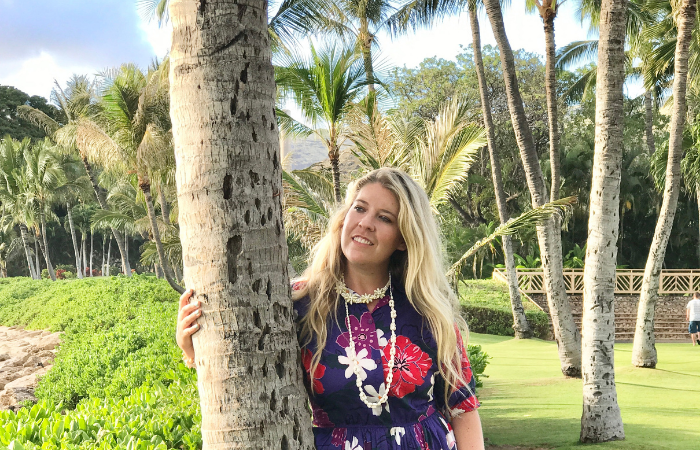 I've done the Hawaiian Luau Package every time I've been to this luau and unless you've got money to burn, I don't think the upgrades are worth it personally. I'll get into some of the specifics in different sections of this review, but the "Cove Card" is what you use to pay for drinks besides the mai tai offered at your arrival. Honestly, the drinks are pretty dismal. You can also use the money in the gift shop. Also as far as seating, the wing seating was completely fine for the casual viewer. Unless you're there to take professional photos you don't really need to be up super close. However, I will say that I'm not the type of person who really likes being front row at events so maybe that sways me. But overall, I don't think the Deluxe package is twice the experience of the Hawaiian package.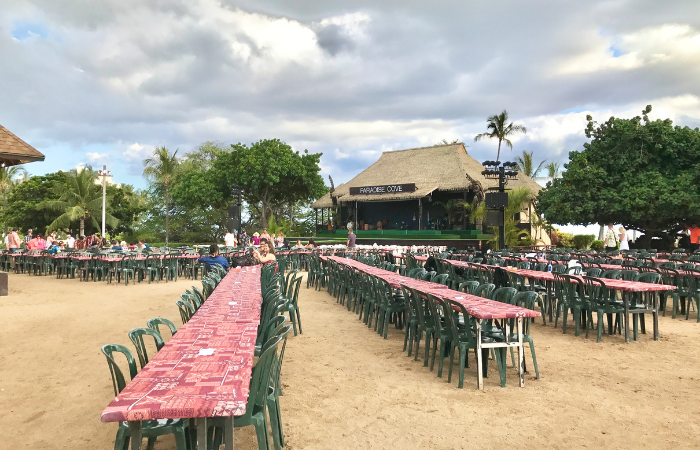 ***Want to save major $$$ on a fancy beach resort? My favorite travel hack is cashing in points to score free nights at some of the island's most high end resorts. My go to hotel brand is Marriott so I use this Marriott Bonvoy Boundless card to rack up points for a lot of my trips to Hawaii. If you pay for your monthly expenses on the card and are responsible about paying it off every month, the points add up really fast. Plus, if you sign up through my link, you'll get THREE bonus free nights to use. On Oahu, use your points at some of my favorite Marriott properties like the Royal Hawaiian, Moana Surfrider, Sheraton Waikiki, and the Laylow.
Authentic or Cheesy?
I know a lot of people want an "authentic" luau. Well, here's your first disclaimer: any commercial luau (one that you pay to attend) is NOT going to be authentic. A luau in the Hawaiian culture is similar to a backyard BBQ. Friends and family gathering to eat a big meal, hang out and visit, play games, sing songs (whatever you do at your family get togethers) and just spend time together. Commercial luaus have combined some special elements of Hawaiian culture (including hula dancing and a feasting on certain foods among others) into an event. It's not a bad thing, but just don't get too hung up on it being "authentic."
I think what most people want when they say they want "authentic" is "not cheesy."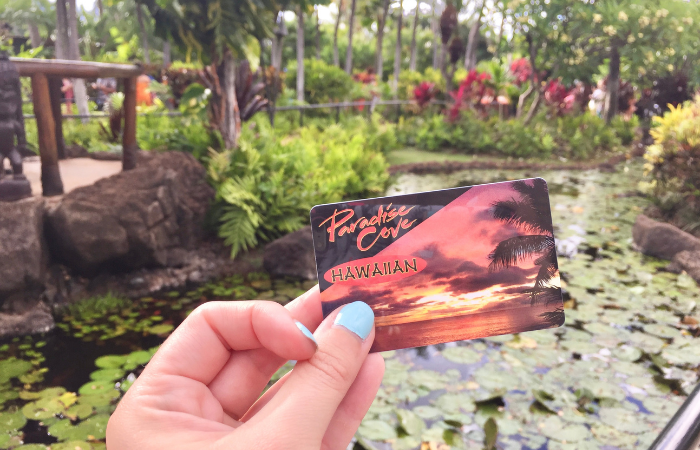 As far as where the Paradise Cove Luau falls on the spectrum, it's kind of in the middle. There are definitely cheesy moments (guests from the audience being chosen to dance on stage, participate in the hukulai, taking pictures with the scantily clad performers upon arrival and a LOT of birthday, anniversary, honeymoon celebration acknowledgements), but there are also quite a few traditions and ceremonies that they perform that I don't see too often at other luaus.
Arrival & Pre Dinner Entertainment
We arrived at 5 PM when the grounds opened and were greeted with a shell lei, a mai tai, and of course, took a photo with the greeters. Like at most luaus, I would say the complimentary welcome mai tai is almost undrinkable.
When the grounds open at 5, you'll be ushered in and shown to your table (based on what package tier you booked) and then you're free to move around. There were a lot of arts and crafts/cultural activities to try like lei making, getting a Polynesian tattoo, taking a picture with a parrot (extra $$$), and a lot of stands where you can buy things. The activities are probably fun for kids, but I didn't find anything enticing enough to stand in line. In my opinion, this was the "hokiest" part of the evening and seemed like they were just trying to sell stuff. There was a gift shop and several stands where you could buy things. We basically hung out in the shade (it was still hot and sunny at 5!), took some pictures by the ocean (this luau has the BEST views!) and listened to some of the live music.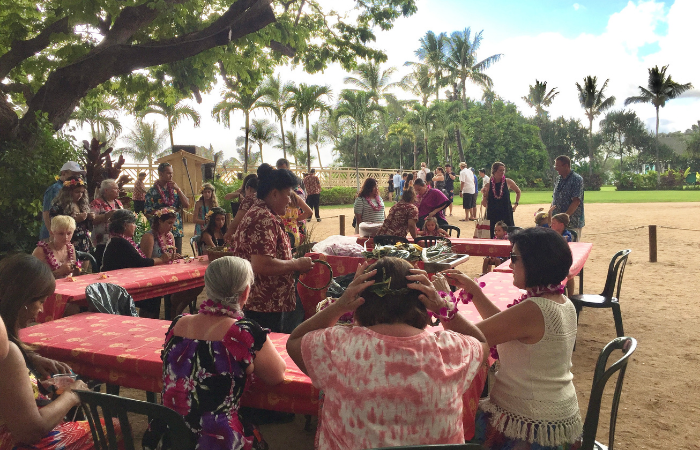 They tell you to check in crazy early (like 3:30-4:30) but the grounds don't actually open until 5 (depending on time of year), and the official events don't start until 5:45. Once the events started at 5:45 (I personally wouldn't arrive before 5:30), the whole evening moved along nicely and I never felt like I was sitting around waiting for the next thing (I have felt that way at other luaus). But again…I think that window from 5-5:45 is mostly about doing a lot of the extra paid activities.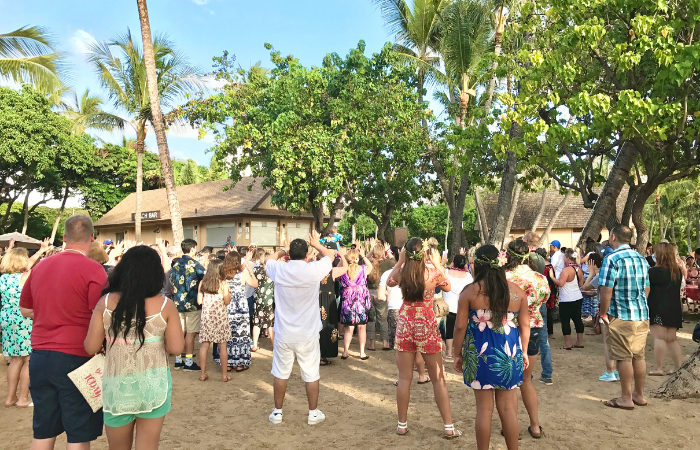 The official luau activities started at 5:45 with a quick group hula lesson (it seemed a bit chaotic) and then the shower of flowers, which was one of my favorite parts of the luau!! This is the only luau where I've ever seen this done (it is performed at the Polynesian Cultural Center in the villages though).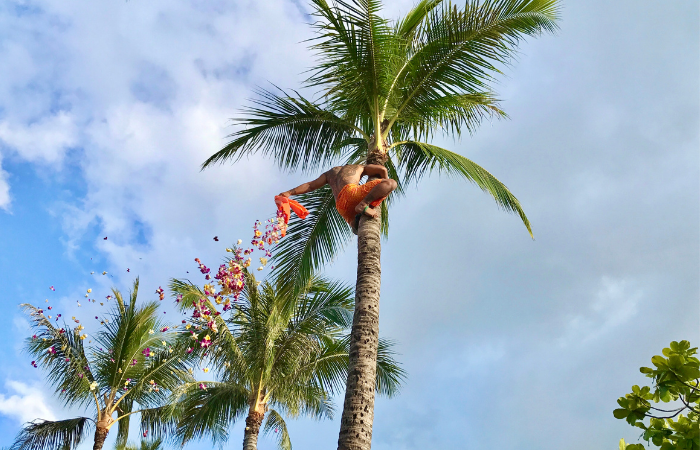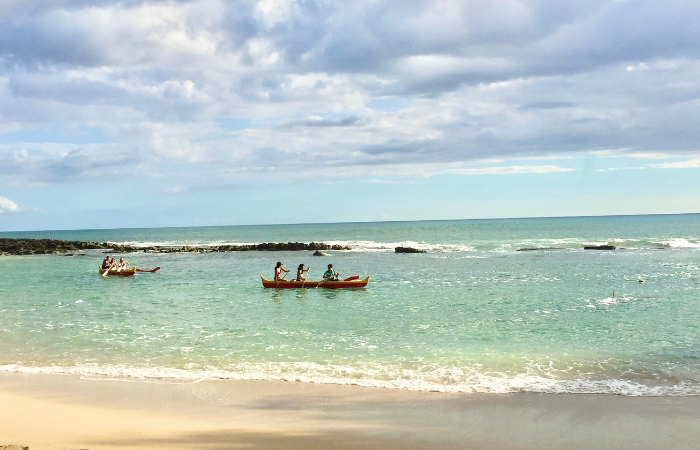 They did a hukilau next which is a ceremony where the fishnets are pulled in from the sea. This involved some audience participation by 10 or so men who had been previously chosen when they checked in. I thought it was pretty cheesy but the family members of the participants seemed to thoroughly enjoy it. This is also the only luau I've ever attended where they reenacted a hukilau.
The last event was the Imu ceremony (the unearthing of the pig). They have a little amphitheater built so everyone can see and the ceremony involved the hula dancers. This part was really well done compared to other luaus I've been to.
So overall while there are a lot of "upsells" at this luau, they offer three pretty big cultural demonstrations (shower of flowers, hukilau, emu ceremony) that make it a very attractive luau option.
Side Note: If you're looking for a rental car for your trip, I LOVE Discount Hawaii Car Rentals. They're seriously the only company I ever use. They'll give you the very best prices, you don't have to reserve with a credit card or pay until you show up, you can cancel and re-book anytime if you find a better rate, and they usually have a special that adds additional drivers for no fee. It's a no brainer. Click here to check rates for your trip.
Food and Drinks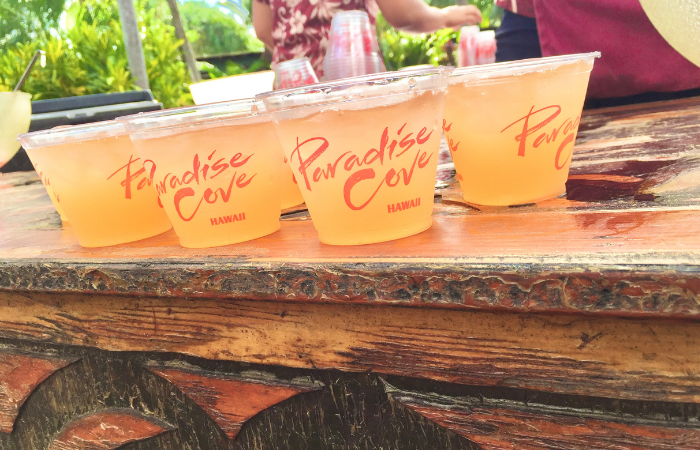 Before dinner, I got a drink at the bar (when we arrived, everyone on the standard package was given a $12 gift card to either spend at the bar or in the gift shop ). So unlike other luaus I've been to where drinks are unlimited (although rather weak), your card will probably only get you one (maybe two if you don't go premium) drinks. And honestly, it wasn't a very good drink (lava flow). So if you're a big drinker, expect to spend some money at the bar.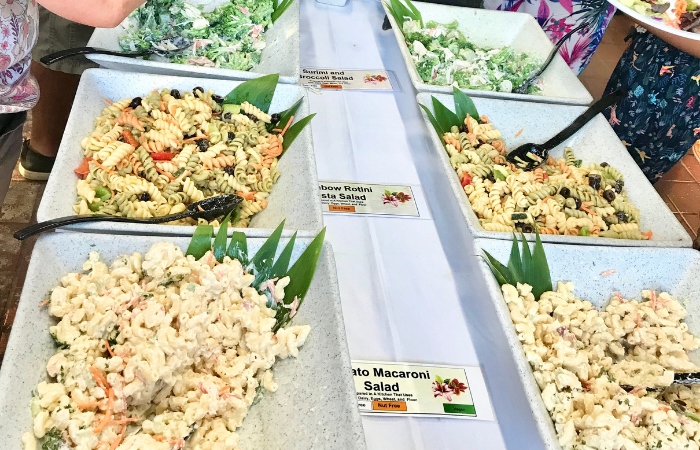 The buffet went smoothly, and dinner was pretty good. It was what you'd expect from a mass produced event. There was pork, chicken, and fish as well as a variety of sides. They also did a little show during dinner, which was entertaining. It had quite a few pretty elaborate dance routines as well as the typical military, birthday, anniversary recognitions.
The Show
After we were finished with dinner and it had finally gotten dark, the main show began. It had several traditional hula dances, as well as a Tahitian dance, and a Samoan fire dancer. I've got to say…this show had the best Samoan fire dancer and Tahitian dance routine I've seen so far anywhere! But also I will say that I tend to think that after every luau so I think fire knife dances are just impressive in general.
I didn't time the show, and it felt a little shorter than others I've seen, but honestly it was long enough (on the schedule it's supposed to be 45 minutes). I was pretty much ready to go by the time it was over. If you arrive when the gates open at 5…that's about 4 hours by the time it's over and that's a pretty long time (for me).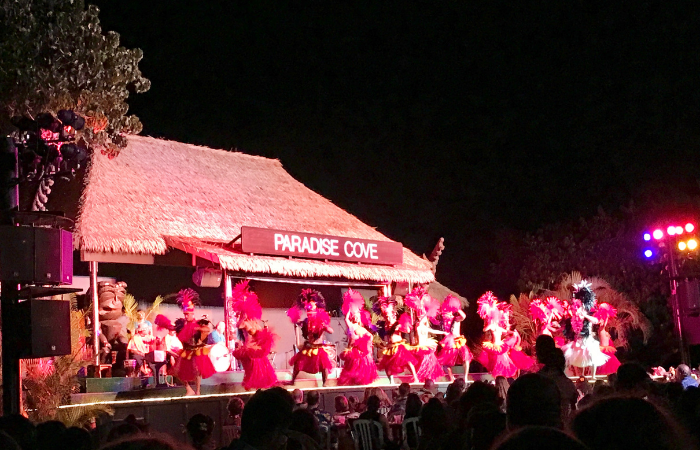 RELATED: 15 Things to Do on Oahu
25 Things to Know Before You Go to Oahu
The Overall Experience
Overall, it's a really LARGE luau (I think 700+ people per night) and they do a good job of moving people throughout the venue and entertaining them pretty seamlessly.
There's definitely more "opportunities" to spend extra money at this luau than any other luau I've ever been to. Like, by far. But they also offer more cultural activities and demonstrations than any other luau I've ever been to (a lot will have an emu ceremony and hula lessons but I've never been to one that did the shower of flowers or a hukilau).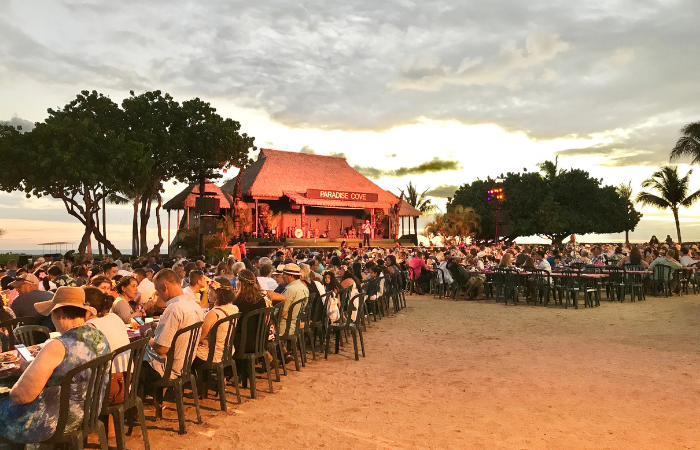 Like I've mentioned before, it definitely has its cheesy moments but it's still a very well done production. I think this is the best overall luau on Oahu although there are definitely some that I would recommend over this one depending on if certain things are more important to you.
You'll love this luau if…
You're looking for a one and done best overall luau experience.
You love being on the water at sunset.
You don't mind the big "attraction" feel.
You're staying out in Ko'olina.
You like a lot of "things to do."
You might not like this luau if…
You like smaller, more intimate experience.
You're a "foodie" or like a good drink.
You're staying on another part of the island (not Ko'olina or Waikiki).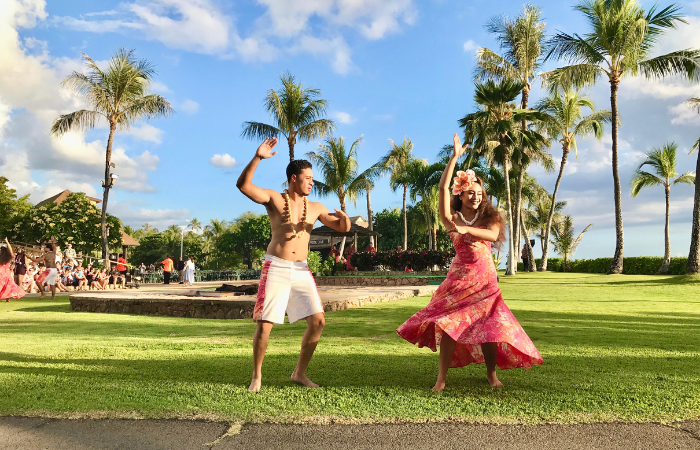 On Another Note: If you're looking for a condo or vacation rental for your trip, I always book with Vrbo. They've got the largest selection of rentals you'll find anywhere and you can easily filter to find exactly what you're looking for. Need a specific number of bedrooms and bathrooms? Narrowed it down to a certain location? Want flexible cancellation terms? Need to stay under a fixed budget? Click here to search for Oahu vacation rentals for your trip.
When to Book
Activities often book out pretty far in advance in Hawaii so I definitely wouldn't wait until you arrive to make reservations. I recommend making reservations for this luau as soon as you know your dates so you don't miss out. You can book your tickets in advance right here.
Still Looking for a Place to Stay?
Here's one more really important thing you need to know before your Hawaii trip…
Reservations You Need to Make BEFORE Your Hawaii Trip
You've got your airfare, hotel, rental car and your big activities booked, so you should be good to go, right? Wrong!
Travel is BOOMING in Hawaii so a lot of state and national parks used the closure and reopening to institute reservation systems at some of the island's most popular spots to make things a little more sustainable.
That means that there are now over half a dozen sites (beaches, trailheads, etc.) that require advance reservations. And some sell out well before you arrive on the island so you really need to have some sort of a plan.
I recently saw somebody in a Hawaii travel group post in a panic that they didn't know they had to make reservations for things in advance…they thought they could just show up and "go with the flow." I was tempted to say, well, "as long as the flow doesn't take you somewhere that requires reservations, you can!" ; )
But I don't want YOU to be that person, so I've pulled together a list of all the places you need to reserve entry in advance (plus all the details on booking windows, price, links, etc.) and a handful of popular tourist hotspots that book out really far in advance too.
Haleakala National Park (Maui)
To visit Haleakala National Park for sunrise at the summit, you must make reservations in advance here.
Reservations are required to enter the park gates between 3AM and 7AM (sunrise hours).
Online reservations are $1 per reservation/vehicle PLUS you'll pay the park entrance fee of $30/vehicle when you arrive (National Park annual passes are also accepted at the gate).
The reservation booking window opens 60 days in advance at 7AM HST. There are also a limited number of tickets released two days before.
You can make one reservation every three days with the same account. So if you want to make reservations for back to back days (in case of weather/conditions), you'll need to do so with separate accounts (email addresses).
If you can't get reservations for sunrise, you can enter the park anytime after 7AM without reservations. The summit is spectacular during the day and you don't need reservations for sunset.
I strongly recommend creating an account before and making sure you're logged in at 7AM HST because it's not uncommon for reservations to sell out quickly.
Waianapanapa State Park (Maui)
To visit Maui's famous black sand beach at Waianapanapa State Park on the Road to Hana, you must make reservations in advance here.
Reservations are required to visit the beach and are distributed in windows from 7AM-10AM, 10AM-12:30PM, 12:30PM-3PM, and 3PM-6PM. And they are pretty strict about exiting by the end of your window time (you can arrive anytime within your window).
It's $5/person to enter plus $10/vehicle to park and those fees are paid when you book your time slot.
Reservations open up 30 days in advance.
Iao Valley State Park (Maui)
To visit the lush, green mountains and hike at Iao Valley State Park, you must make reservations in advance here.
Reservations are offered for 90 minute time slots beginning at 7AM and ending at 6PM. They ask that you arrive within the first 30 minutes of your time slot.
Entry is $5/person plus $10/vehicle to park.
Reservations open up 30 days in advance.
Diamond Head (Oahu)
To hike to the top of Waikiki's famous Diamond Head, you must make reservations in advance here.
Reservations are offered in two hour increments beginning at 6AM (6AM-8AM, 8AM-10AM, etc.) and ending at 6PM. If you're parking onsite, they ask that you arrive within the first 30 minutes of your reservation window.
Entry is $5/person plus $10/vehicle to park.
Reservations open up 30 days in advance.
Tip: I recommend booking one of the first two time slots because there isn't much shade on this hike and it gets pretty hot.
Hanauma Bay (Oahu)
To snorkel at Oahu's pristine Hanauma Bay, you must make reservations in advance here.
Entry times are staggered in 10 minute increments from 7AM to 1:20PM with roughly 1000 slots being assigned in advance every day.
Reservations can be made two days in advance and they open at 7AM HST. They're usually gone in minutes (if not seconds).
If you're unable to get an advanced reservation, you can try for a day of, walk in ticket. They open at 6:45AM and they only have a limited number available. Everyone in your group needs to be present when you purchase your tickets in person.
There are no reservations for parking and it's first come, first serve. $3/vehicle.
It's $25/person to snorkel at Hanauma Bay (12 and under, active military, and locals with HI ID are free).
The Hanauma Bay Nature Preserve is open Wednesday through Sunday (CLOSED MONDAY AND TUESDAY) from 6:45AM-4PM. Last entry is at 1:30PM, the beach is cleared at 3:15PM and you have to leave the facility by 4PM.
Jellyfish patterns can also affect whether or not the bay is open so double check the day before/day of.
USS Arizona at Pearl Harbor (Oahu)
If you want to take the boat tour at Pearl Harbor out to the USS Arizona, it's recommended to make advance reservations here.
Online reservations are guaranteed a specific boarding time to go out to the USS Arizona. If you're unable to get an advance reservation, you can wait standby when you arrive. The line could be short (15 minutes or so) or long (hours) and it just depends on the day (if they're having problems with the loading dock sometimes they don't take many from the standby line) and the time of day.
Reservations are supposed to open up 60 days in advance, but keep an eye on your exact dates, because lately they've actually been opening up about 57ish days in advance???
They also release a small batch of tickets the day before.
The boat ride out to the USS Arizona is free, but it's $1 to make the reservations online.
They recently started charging $7/vehicle for parking at Pearl Harbor.
Haena State Park / Kalalau Trail (Kauai)
If you want to hike Kauai's famous Kalalau Trail, you must make advance reservations here.
You've got three options here:
1) Parking & Entry: This is the most flexible option and also the most limited. THESE RESERVATIONS SELL OUT IN LESS THAN A MINUTE. There are three time slots available: 6:30AM-12:30PM, 12:30PM-5:30PM and 4:30PM to sunset. You can purchase multiple time slots if you want to stay longer. It's $10/timeslot (parking) plus $5/person and you have to reserve every person when you initially book. Everybody has to arrive in the same car and your ID needs to match the reservation.
2) Shuttle & Entry: If you can't get parking at the trailhead, there's also a shuttle option. Shuttle reservations are $35/person (16+), $25/person (ages 4-15), 3 and under can ride free. The shuttle runs every 20 minutes 6:20AM to 6:40PM.
3) Entry Only: If you're a Hawaiian resident (with HI ID) or someone WITH a Hawaiian resident, you can purchase entry only for $5/person with no advance reservations. Also, if you're walking or biking to the trailhead you can do this option. But there is NOWHERE to park in the area to walk in. So this really only works for those with bikes or who are staying close enough to walk. They will tow your car if you park outside the designated areas.
The reservation window opens 30 days in advance at 12AM HST. The parking & entry option usually sells out in a minute, but the shuttle availability will last longer.
There are a TON of FAQs here including the possibility of snagging a canceled reservation.
Other Things to Book in Advance
Hawaii is a busy place these days! Besides the state and national parks above, here's a handful of miscellaneous things you should make reservations for in advance (if they're on your radar):
Mama's Fish House (Maui): The iconic spot is the most popular restaurant in Hawaii and they've been opening reservations (and selling out) 4-6 months in advance. You can call and get on the waitlist for one day or you can set notifications on OpenTable to alert you for cancellations every day of your trip. Most people have pretty good success on OpenTable.
Old Lahaina Luau (Maui): Honestly, any luau you're planning to attend you should book early, but most people are usually shocked how far out the Old Lahaina Luau books out. Book it as soon as you know your dates (I think they open at the six month window). They also have a waitlist.
Kualoa Ranch UTV Tour (Oahu): Everybody loves Jurassic Park so getting to ride UTVs where they filmed the movies is very popular. The ranch offers a lot of different tours but the UTV tours usually book out a couple of months in advance.
Spa Reservations: If you're staying at a resort with a spa (or planning on visiting one), don't wait until you arrive to make your reservations. I'd make them at least a month in advance.
Tee Times: Same for golf, reserve your tee times well in advance.
Dining Reservations: Any "fancy" or resort restaurant is likely to be booked up these days so if you like having a nice dinner every night, make your plans in advance.
Want to read more? Don't miss some of my most popular (and favorite) posts about Oahu:
If you're trying to figure out where to stay, you're going to want to look at my favorite boutique resort in Waikiki and the lowdown on where to stay on Oahu besides Waikiki. Plus I've got the scoop on how to avoid illegal vacation rentals and a roundup of where to stay in Ko Olina and reviews of the Laylow and Disney's Aulani Resort. And a LOT more on Aulani like is Aulani worth it?, tips for staying at Aulani, how many days to spend, and the best things to eat and drink at Aulani.
If you're researching luaus on Oahu, I've written quite a bit. First, I've got a full breakdown of the best luaus (and the worst) on Oahu. Then I've got complete reviews of Paradise Cove, the Polynesian Cultural Center, and Aulani's Ka Wa'a Luau. And if you've narrowed it down to the top two most popular on the island and still can't decide, here's Paradise Cove vs Polynesian Cultural Center.
If you're trying to put together an itinerary full of the best things to do, take a look at my best 5 day itinerary, and roundups of the best things to do in Waikiki, "secret" things to do on Oahu, plus my favorite things to do in Kailua and the windward coast, in Ko Olina, and on the north shore. And if you're looking for food recommendations, I've got the best restaurants in Ko Olina and where locals eat in Waikiki.
And last but not least, some of my favorite things on Oahu like Jurassic Park at Kualoa Ranch, Shangri La and the Honolulu Museum of Art, tips for visiting Pearl Harbor, easy hikes on Oahu, and the best spas on Oahu. And everything you need to know BEFORE you go to Oahu.
Save
Save
P.S. Thanks for sticking around and reading this whole post! If you have ANY questions about planning your trip to Hawaii, you can join my free Facebook group here. I'm there answering questions every day and there are 7500+ other friends who have a ton of Hawaii information to share!
Also, if you want to follow along on my travel adventures in real time, you can follow me on Instagram (@caitylincoln). My post captions are full of travel tips and I have a ton of story highlights and videos with great info. And please share my account with your friends that are headed to Hawaii! Your support really helps me keep this blog running!