Is Molokai Worth Visiting? Short Answer: YES. But It's Unlike Any Other Hawaiian Island
Hawaii's least visited island just might be the most special. Nestled in between Maui and Oahu, Molokai is the 5th largest island in the Hawaiian chain and it's completely unlike any other place in Hawaii.
My last trip to Molokai was sponsored by Maui Nui (the tourism board for Maui County), which means all of my expenses were paid for and the itinerary was organized for me. But I've also been before on my own. As always, I only recommend my absolute favorite things to you. Thank you for supporting the brands that make the Lincoln Travel Co possible.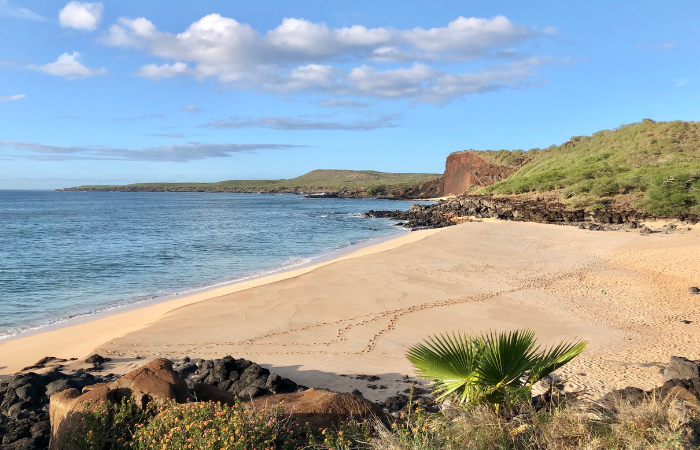 While choosing which island to visit for vacation among the other Hawaiian Islands (Maui, Oahu, Kauai, Big Island, and Lanai) usually comes down to personal preferences like activity preferences, places to stay, flight connections, etc., Molokai isn't an island that your average visitor just casually ends up on.
It's an incredible island that offers an experience of what Hawaii was like 50 years ago. It's incredibly undeveloped compared to the other islands which is, of course, part of its charm. How undeveloped? I'm not just talking about no Target or Walmart…there are no stoplights! They had just installed a flashing crosswalk light by one of the schools on my last visit and I heard it was the talk of the island ; )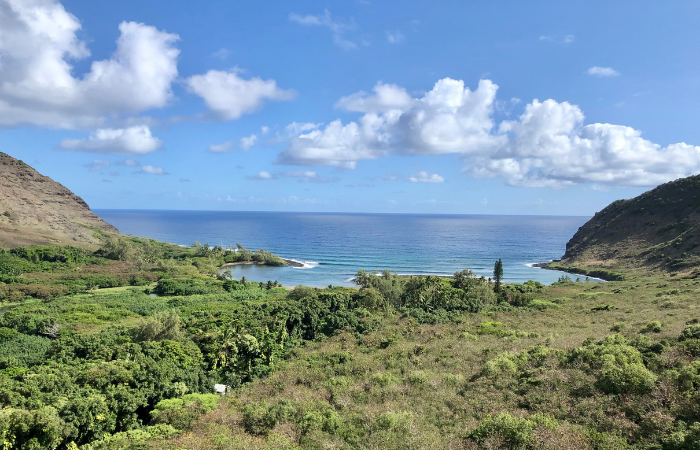 And everybody knows everybody. Unlike the other Hawaiian Islands where there's such an influx of transplants and newcomers, Molokai is an extremely tight knit community. So tight knit that if they don't know you, they know you're a visitor. But everyone is so friendly and welcoming! So many times walking through town people would stop and ask me where I was from and how I was enjoying my stay. That just doesn't happen anywhere else. It was also fun when with our tour guides to see everyone greet everybody when we went into a store or restaurant. If you're from a small town where everyone has known you since were a child, you'll be familiar with the vibe. If you're not, it's neat to see firsthand.
RELATED: 3 Day Molokai Itinerary
Okay, now I would say that Molokai is definitely worth a visit, I can't honestly say that it's for everyone.
Is Molokai the Right Island for You?
Not every Hawaiian island is the best fit for every traveler, but I find this especially true on Molokai. Here's a breakdown:
Avoid Molokai if:
You're looking to be entertained: (i.e. you like to fill your trip with activities like horseback riding, surf lessons, luaus, ziplining, etc.). The residents of Molokai are working hard to strike a balance with tourism, but what they have to offer is not along these lines (by design).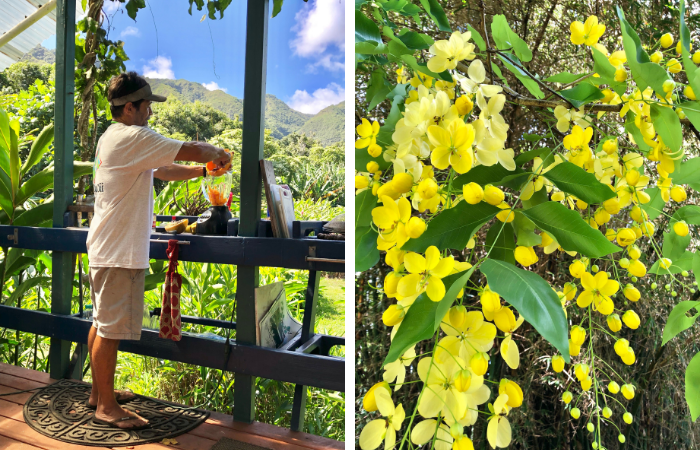 You want a luxury beach vacation: This isn't the island with two Four Seasons. While it is a beautiful island, it's the "real" Hawaii, and it doesn't cater to tourists wanting to sip mai tais on the beach. There's nothing wrong with wanting that, but head to another island.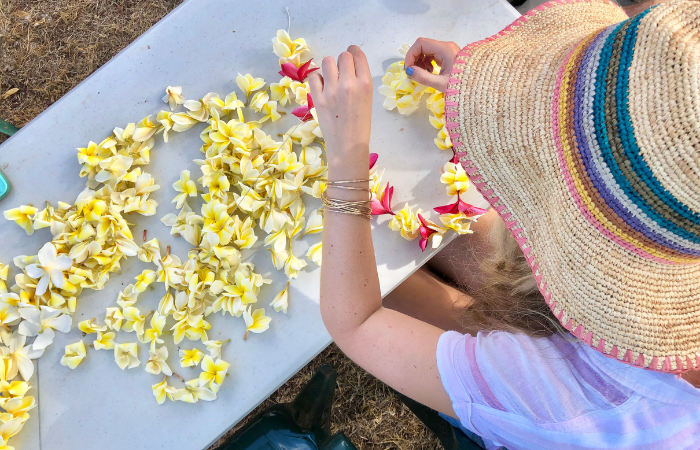 You have high expectations of being catered to because you're "on vacation": The people on Molokai are the friendliest you'll find in Hawaii, and they are extremely welcoming of guests. But unlike some other Hawaiian islands, not everything revolves around tourism here. People are living their lives, practicing their culture, and just simply "being." You are a visitor on a living, breathing, working island. Not a tourist in vacationland. Some of the other islands have pockets of resort areas designed to make you feel this way. Molokai does not. When you arrive, you are part of the community. So if behaving like a guest in someone's home is unappealing, pick a different island.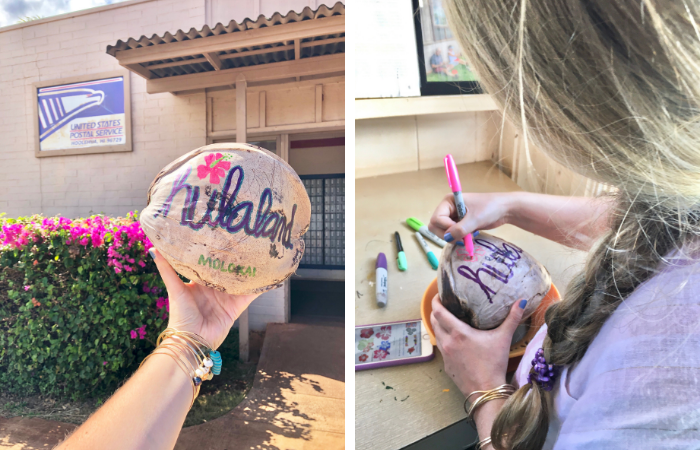 You only like exploring on your own: I'll be the first to admit, I don't love the tour bus scene and the majority of the time I prefer to explore on my own at my own pace. But Molokai NEEDS to be seen with a local guide. If you only arrive at the airport, rent a car, and take out on your own, you're missing out. So if you're totally against organized tours (or they're not in the budget), you may have a better time on another island. Disclaimer: a tour on Molokai means being in an SUV with a few other people, not on a bus with dozens of others.
Gosh, I've given you a lot of reasons NOT to go to Molokai. Here's why you should go: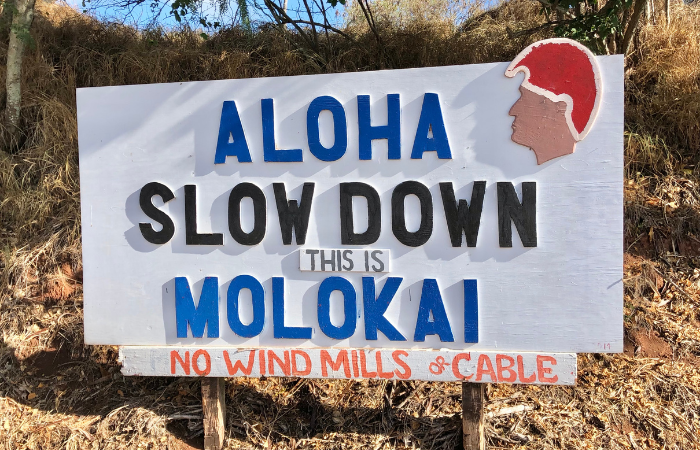 Go to Molokai if:
You want to see the "real" Hawaii: Molokai is Hawaii 50 years ago. Before everything was all about tourism and development swept in big time. It's the birthplace of hula, but you won't find a commercial luau here. The aloha spirit is alive and well but that doesn't look orchid lei greetings when you get off the plane, chocolate mac nuts on your pillow, or mai tais by the pool. It looks like community and working together to both preserve and restore what makes Molokai special.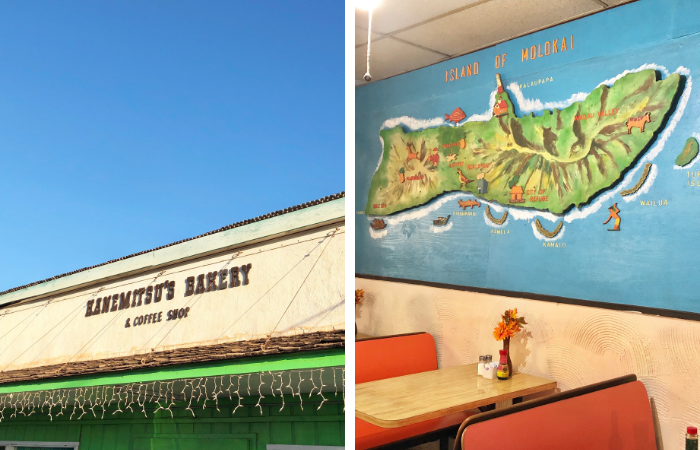 You love to learn and are ready to embrace a new culture: After spending four days on Molokai, I can't tell you how many times I heard the words "learn," "teach," and "share." The residents of Molokai are eager and willing to share their home and their culture with guests who are appreciative for the experience. If you love to learn and have an appreciation for people's culture and their way of life, you will find the most authentic Hawaiian experiences on Molokai.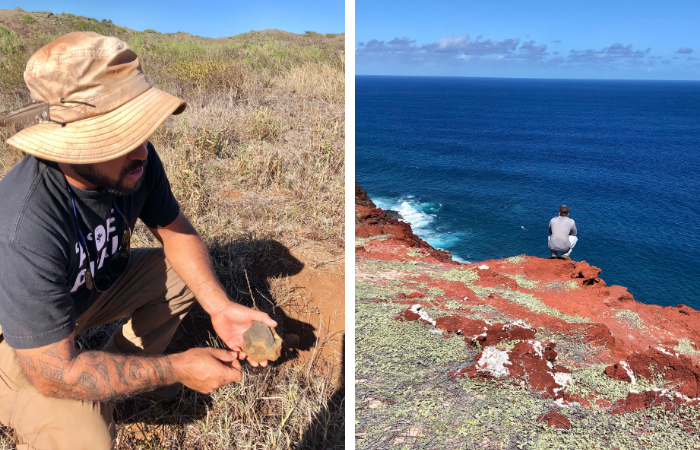 You enjoy ecotourism: There's no better way to get to know a place than by getting your hands dirty and working with the people who are inspiring and creating change. Read more below about the Molokai Land Trust and the Mokio Preserve. The opportunity to be a part of restoration work on such a large scale is a very special experience that you won't find many places in the world.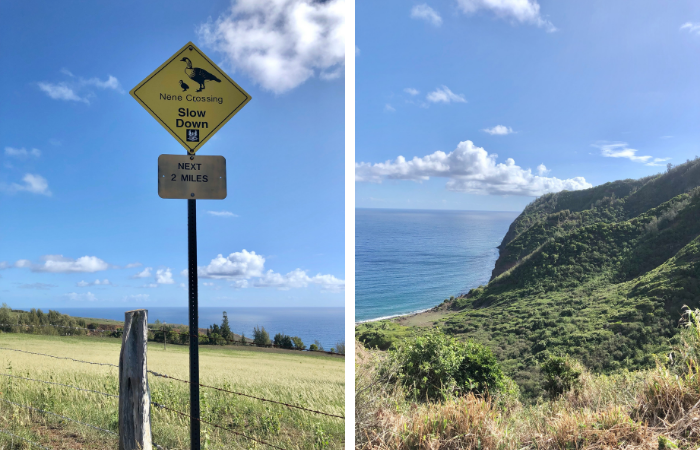 You travel as a "visitor" and not a "tourist": Everyone has a different travel style, but if you're the type who wants to see the true culture and way of life of a destination, Molokai is hands down the place to do that in Hawaii.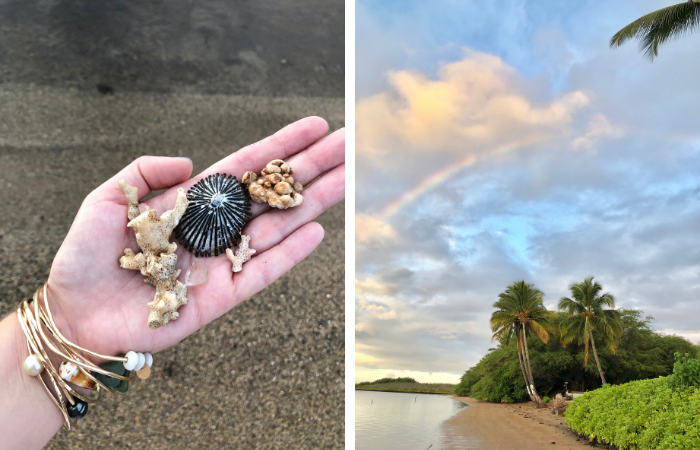 You've been to the other Hawaiian Islands, but you want more: I don't necessarily recommend Molokai as the island of choice for people who have never visited Hawaii (mostly because it's probably not what they're expecting), but if you've traveled to Hawaii extensively and seen and done it all, you haven't really seen Hawaii until you've been to Molokai.
Still Looking for a Place to Stay?
Here's one more really important thing you need to know before your Hawaii trip…
Reservations You Need to Make BEFORE Your Hawaii Trip
You've got your airfare, hotel, rental car and your big activities booked, so you should be good to go, right? Wrong!
Travel is BOOMING in Hawaii so a lot of state and national parks used the closure and reopening to institute reservation systems at some of the island's most popular spots to make things a little more sustainable.
That means that there are now over half a dozen sites (beaches, trailheads, etc.) that require advance reservations. And some sell out well before you arrive on the island so you really need to have some sort of a plan.
I recently saw somebody in a Hawaii travel group post in a panic that they didn't know they had to make reservations for things in advance…they thought they could just show up and "go with the flow." I was tempted to say, well, "as long as the flow doesn't take you somewhere that requires reservations, you can!" ; )
But I don't want YOU to be that person, so I've pulled together a list of all the places you need to reserve entry in advance (plus all the details on booking windows, price, links, etc.) and a handful of popular tourist hotspots that book out really far in advance too.
Haleakala National Park (Maui)
To visit Haleakala National Park for sunrise at the summit, you must make reservations in advance here.
Reservations are required to enter the park gates between 3AM and 7AM (sunrise hours).
Online reservations are $1 per reservation/vehicle PLUS you'll pay the park entrance fee of $30/vehicle when you arrive (National Park annual passes are also accepted at the gate).
The reservation booking window opens 60 days in advance at 7AM HST. There are also a limited number of tickets released two days before.
You can make one reservation every three days with the same account. So if you want to make reservations for back to back days (in case of weather/conditions), you'll need to do so with separate accounts (email addresses).
If you can't get reservations for sunrise, you can enter the park anytime after 7AM without reservations. The summit is spectacular during the day and you don't need reservations for sunset.
I strongly recommend creating an account before and making sure you're logged in at 7AM HST because it's not uncommon for reservations to sell out quickly.
Waianapanapa State Park (Maui)
To visit Maui's famous black sand beach at Waianapanapa State Park on the Road to Hana, you must make reservations in advance here.
Reservations are required to visit the beach and are distributed in windows from 7AM-10AM, 10AM-12:30PM, 12:30PM-3PM, and 3PM-6PM. And they are pretty strict about exiting by the end of your window time (you can arrive anytime within your window).
It's $5/person to enter plus $10/vehicle to park and those fees are paid when you book your time slot.
Reservations open up 30 days in advance.
Iao Valley State Park (Maui)
To visit the lush, green mountains and hike at Iao Valley State Park, you must make reservations in advance here.
Reservations are offered for 90 minute time slots beginning at 7AM and ending at 6PM. They ask that you arrive within the first 30 minutes of your time slot.
Entry is $5/person plus $10/vehicle to park.
Reservations open up 30 days in advance.
Diamond Head (Oahu)
To hike to the top of Waikiki's famous Diamond Head, you must make reservations in advance here.
Reservations are offered in two hour increments beginning at 6AM (6AM-8AM, 8AM-10AM, etc.) and ending at 6PM. If you're parking onsite, they ask that you arrive within the first 30 minutes of your reservation window.
Entry is $5/person plus $10/vehicle to park.
Reservations open up 30 days in advance.
Tip: I recommend booking one of the first two time slots because there isn't much shade on this hike and it gets pretty hot.
Hanauma Bay (Oahu)
To snorkel at Oahu's pristine Hanauma Bay, you must make reservations in advance here.
Entry times are staggered in 10 minute increments from 7AM to 1:20PM with roughly 1000 slots being assigned in advance every day.
Reservations can be made two days in advance and they open at 7AM HST. They're usually gone in minutes (if not seconds).
If you're unable to get an advanced reservation, you can try for a day of, walk in ticket. They open at 6:45AM and they only have a limited number available. Everyone in your group needs to be present when you purchase your tickets in person.
There are no reservations for parking and it's first come, first serve. $3/vehicle.
It's $25/person to snorkel at Hanauma Bay (12 and under, active military, and locals with HI ID are free).
The Hanauma Bay Nature Preserve is open Wednesday through Sunday (CLOSED MONDAY AND TUESDAY) from 6:45AM-4PM. Last entry is at 1:30PM, the beach is cleared at 3:15PM and you have to leave the facility by 4PM.
Jellyfish patterns can also affect whether or not the bay is open so double check the day before/day of.
USS Arizona at Pearl Harbor (Oahu)
If you want to take the boat tour at Pearl Harbor out to the USS Arizona, it's recommended to make advance reservations here.
Online reservations are guaranteed a specific boarding time to go out to the USS Arizona. If you're unable to get an advance reservation, you can wait standby when you arrive. The line could be short (15 minutes or so) or long (hours) and it just depends on the day (if they're having problems with the loading dock sometimes they don't take many from the standby line) and the time of day.
Reservations are supposed to open up 60 days in advance, but keep an eye on your exact dates, because lately they've actually been opening up about 57ish days in advance???
They also release a small batch of tickets the day before.
The boat ride out to the USS Arizona is free, but it's $1 to make the reservations online.
They recently started charging $7/vehicle for parking at Pearl Harbor.
Haena State Park / Kalalau Trail (Kauai)
If you want to hike Kauai's famous Kalalau Trail, you must make advance reservations here.
You've got three options here:
1) Parking & Entry: This is the most flexible option and also the most limited. THESE RESERVATIONS SELL OUT IN LESS THAN A MINUTE. There are three time slots available: 6:30AM-12:30PM, 12:30PM-5:30PM and 4:30PM to sunset. You can purchase multiple time slots if you want to stay longer. It's $10/timeslot (parking) plus $5/person and you have to reserve every person when you initially book. Everybody has to arrive in the same car and your ID needs to match the reservation.
2) Shuttle & Entry: If you can't get parking at the trailhead, there's also a shuttle option. Shuttle reservations are $35/person (16+), $25/person (ages 4-15), 3 and under can ride free. The shuttle runs every 20 minutes 6:20AM to 6:40PM.
3) Entry Only: If you're a Hawaiian resident (with HI ID) or someone WITH a Hawaiian resident, you can purchase entry only for $5/person with no advance reservations. Also, if you're walking or biking to the trailhead you can do this option. But there is NOWHERE to park in the area to walk in. So this really only works for those with bikes or who are staying close enough to walk. They will tow your car if you park outside the designated areas.
The reservation window opens 30 days in advance at 12AM HST. The parking & entry option usually sells out in a minute, but the shuttle availability will last longer.
There are a TON of FAQs here including the possibility of snagging a canceled reservation.
Other Things to Book in Advance
Hawaii is a busy place these days! Besides the state and national parks above, here's a handful of miscellaneous things you should make reservations for in advance (if they're on your radar):
Mama's Fish House (Maui): The iconic spot is the most popular restaurant in Hawaii and they've been opening reservations (and selling out) 4-6 months in advance. You can call and get on the waitlist for one day or you can set notifications on OpenTable to alert you for cancellations every day of your trip. Most people have pretty good success on OpenTable.
Old Lahaina Luau (Maui): Honestly, any luau you're planning to attend you should book early, but most people are usually shocked how far out the Old Lahaina Luau books out. Book it as soon as you know your dates (I think they open at the six month window). They also have a waitlist.
Kualoa Ranch UTV Tour (Oahu): Everybody loves Jurassic Park so getting to ride UTVs where they filmed the movies is very popular. The ranch offers a lot of different tours but the UTV tours usually book out a couple of months in advance.
Spa Reservations: If you're staying at a resort with a spa (or planning on visiting one), don't wait until you arrive to make your reservations. I'd make them at least a month in advance.
Tee Times: Same for golf, reserve your tee times well in advance.
Dining Reservations: Any "fancy" or resort restaurant is likely to be booked up these days so if you like having a nice dinner every night, make your plans in advance.