Best Luaus on Oahu (& Which Ones to Avoid)
If there's one question I get asked more often than most, it's about luaus. What's the best luau on Oahu? What's the most authentic luau on Oahu? The cheapest one? The most kid friendly?
While I have been to a lot of luaus, I have not been to ALL of them, but I have done extensive research and I've definitely got a "best luaus on Oahu list" and a "worst luaus on Oahu list."
So let's get to it!
Best Luaus on Oahu
Paradise Cove Luau
Indisputably this is considered the "best luau on Oahu" by most people. First of all, it's huge and so many people have been to this luau that it gets talked about more than most. Also, this luau checks all the boxes that most people are looking for in a luau.
I've been to this luau a few times. Read my full review here.
Location: On the beach in Ko'olina (a resort area on the westside of Oahu). It's not attached to a resort so the dedicated luau grounds are built to expertly move people in and out.
Price & Packages
Hawaiian Luau Package: $107/adult ($87/child). This is the standard package that includes a shell lei greeting, a $12/adult ($8/child) "Cove Card" ($$ to be spent at the cash bar or gift shop) and "wing" seating (off to the side).
Orchid Luau Package: $143/adult ($109/child). Includes an upgrade to a fresh flower lei, a $16/adult ($12/child) "Cove Card," and centered middle seating.
Deluxe Luau Package: $195/adult ($153/child). This package includes the fresh flower lei, a $20/adult ($16/child) "Cove Card," front row center seating, table service (instead of the buffet), a complimentary arrival photo, and a souvenir from the gift shop.
You can add transportation from Waikiki (they pick up at quite a few hotels/locations) for $35/person.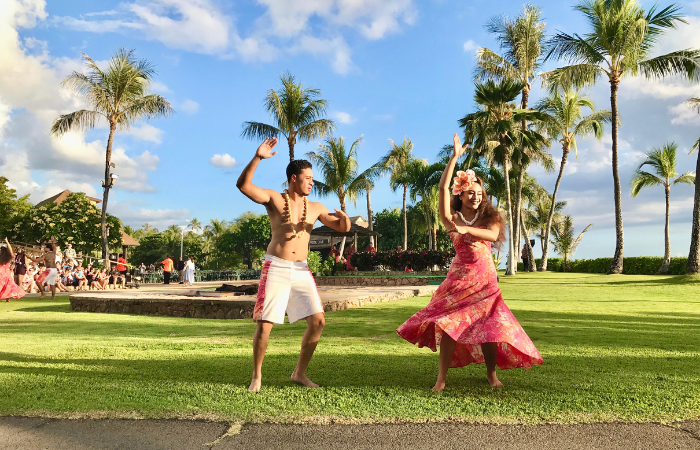 What's Good: They have more cultural demonstrations at this luau than any other I've ever been to. Besides the normal hula lesson and Imu ceremony (unearthing of the pig), they also do a shower of flowers and a hukilau (where they pull the fishnets in from the beach). There's some overlap with what they offer here and some of the offerings in the villages at the Polynesian Cultural Center. The facility is built and designed well to accommodate the number of people. Crowd patterns flow well and it's well built (for example at a lot of luaus you have to jockey for a spot to see the pig being unearthed but here they have a little amphitheater built so everyone who wants to can have a prime view.
What's Not so Good: They can accommodate 700+ people per night and that is a LOT. It's definitely not an intimate experience. The food isn't bad but it's what you'd expect from such a mass produced event. There are also a lot of "opportunities" to spend extra money. Paid activities before the luau starts, a gift shop, stands with a lot of local artisans.
You can book tickets for the Paradise Cove Luau here.
Polynesian Cultural Center
This is the other most talked about/recommended luau on Oahu. It's more than just a luau though. Hawaii's #1 tourist attraction is a full day experience.
There are three big components to the PCC: 1) exploring the 6 island villages during the day (it's a bit like Disney's Epcot), 2) the traditional luau with buffet, Imu ceremony, Royal Court procession, and dinner entertainment, and 3) the big finale Ha: Breath of Life show. And you can mix and match your own ticket package to see it all (a full day) or just the parts that interest you.
Location: The Polynesian Cultural Center sits on 42 acres on Oahu's north shore and it feels like a mini theme park.
Prices & Packages
Islands of Polynesia: $70/adult ($56/child) gets you access from 12:45-5:30 to the 6 island villages. This is somewhat comparable to visiting a theme park at your own pace. Each island village features natives from the island that perform cultural demonstrations and there are many activities to participate in.
Gateway Buffet Package: $140/adult ($112/child) gets you access to the 6 island villages PLUS a dinner buffet with live music and general admission seating to the Ha: Breath of Life show.
Ali'i Luau Package: $170/adult ($135/child) gets you access to the 6 island villages PLUS admission to the Ali'i Luau (luau buffet and dinner entertainment) AND luau seating at the Ha: Breath of Life show.
Super Ambassador Luau Package: $243/adult ($195/child) gets you a private guided tour through the 6 island villages including a reserved canoe ride PLUS the Ali'i Luau (luau buffet and dinner entertainment) AND premium seating at the Ha: Breath of Life show.
It's nice that there's so many options, but it's also a little overwhelming. My recommendation is to go with the Ali'i Luau Package. It's a FULL day (basically 9 hours) of entertainment. I don't think the Super Ambassador package is necessary unless you just really like private tours, and if you're going to stick around for Ha: Breath of Life (you should!) you might as well do the full luau (instead of just the Gateway buffet). And if you're coming out to the PCC to do the villages, it just makes sense to also do their luau instead of doing a different luau.
You can also add on transportation from Waikiki for an additional fee.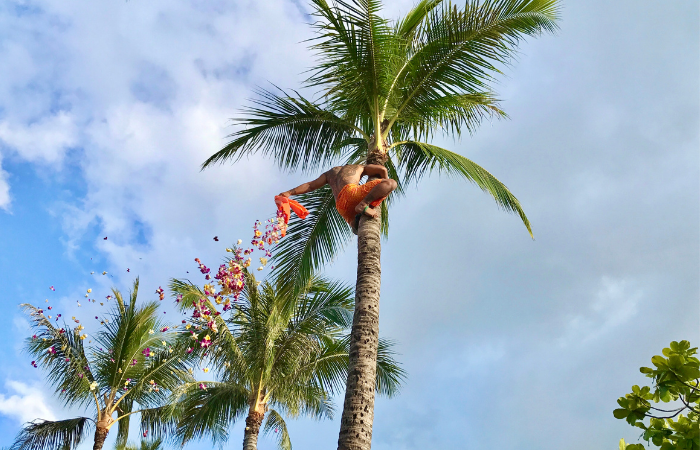 What's Good: It's actually a pretty good value for the money considering the time. It's almost 9 hours of entertainment if you show up when it opens (most luaus last about 4 hours). It truly is a world class operation for educating about Polynesian culture in a fun and hands-on way. If you like Disney (theming, attention to detail, family friendly, well crafted experiences), you'll like this place.
What's Not So Good: The #1 complaint about this luau is that there's no alcohol. The PCC is owned and operated by the Mormons and they choose not to serve alcohol. That's not a dealbreaker for me (mostly because the drinks served at most luaus truly leave a lot to be desired), but I know it is for some. It's also a pricier option if you just want a luau and you're not interested in experiencing the 6 island villages.
You can book tickets for the Polynesian Cultural Center here.
RELATED: Not very familiar with Oahu? Read up on the lay of the (is)land and where to stay plus my favorite condos, luxury resorts, and boutique hotels.
Ka Wa'a Luau at Disney's Aulani Resort
Disney's luau flies under the radar a bit because of its size and the fact that it mostly caters to resort guests, but if you have small children (let's say 9 and under) it's hard to beat. Besides being kid-centric (as you'd expect anything Disney does to be) I'd also say that it's surprisingly the most upscale option for adults as well.
Read my full review of the Ka Wa'a Luau here.
Location: Located on the Halawai Lawn at Disney's Aulani Resort in Ko'olina (Oahu's west side), Ka Wa'a is an intimate and upscale luau in a quiet setting that makes it feel more like a backyard party.
Prices & Packages
General Seating: $160/adult ($94/child). Seating is assigned in the order that you check in at the podium.
Preferred Seating: $189/adult ($114/child). You can check in at the VIP entrance earlier and enter the grounds 10 minutes earlier than the general seating. Also, your priority seating is assigned when you book (not when you check in) so if you don't care to arrive super early, you'll still get the good seats for booking early. Preferred seating also includes a complimentary welcome photo.
BOTH packages include alcoholic beverages and leis.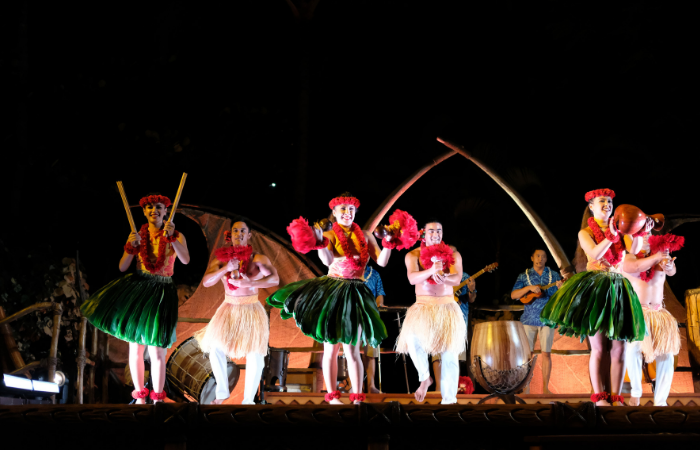 What's Good: It has the best pre dinner entertainment (ukulele lessons, lei making, poi pounding, etc.) I've ever seen at a luau. It was all included (no hidden $$$) and lines were well managed. The food was hands down the best I've ever had at a luau (more restaurant quality) and drinks are all included (and good). Also Disney handles food allergies better than pretty much anybody. And the show was probably the best I've ever seen (felt more like a Broadway quality production than just some dances strung together).
What's Not So Good: Depending on how you feel about Disney…there are a couple of Disney touches in this luau (Moana comes out to kick off the festivities, Mickey & Minnie are involved in the kid's hula lessons, and there were Moana cupcakes at the kids buffet table) but they're pretty subtle. It's definitely not a "Mickey Mouse Luau" but if you can't stand the guy, hey, this is Disney. It's on the pricier end. While it's very upscale and well done, I'd call it luau-lite. There's no Imu ceremony (unearthing of the pig) and some of the other things they do at Paradise Cove just down the street. It's not offered every night.
You can book tickets for the Ka Wa'a Luau here.
Experience Nutridge
For a more intimate luau experience (dare I say maybe the most authentic luau?) head to the Nutridge Estate. This family-run luau was a favored retreat among celebrities like Frank Sinatra, Marilyn Monroe, Clark Gable and even Elvis Presley! Well I'm sold. I haven't been to Nutridge yet, but it's at the tip top of my list for my next trip to Oahu.
Location: Above the famous Tantalus Outlook above Waikiki, the Nutridge Estate is nestled in the mountains on Hawaii's first macadamia nut plantation. Nestled into the rainforest,
Pricing & Packages
Not a lot of complicated packages here. Here's the price by age breakdown:
$159 (21+)
$120 (13-20)
$100 (4-12)
Add on about $18/person for transportation from Waikiki. 21+ includes two tickets for alcoholic beverages.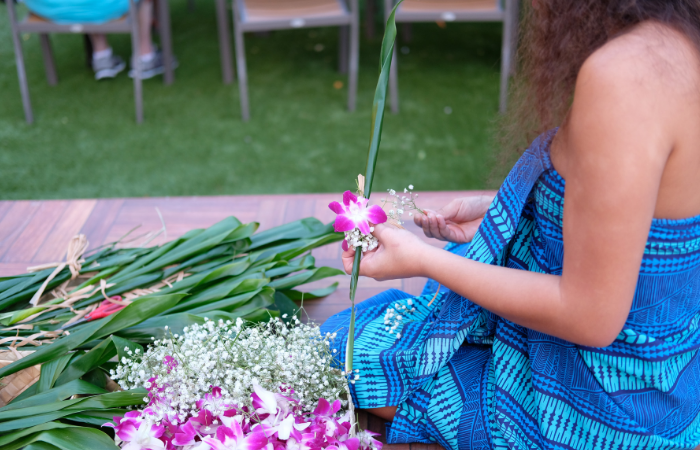 What's Good: This is a very small luau and keeping the numbers down allows a highly interactive and hands on experience (everybody gets a front row seat!). You'll get 4 hours of cultural activities, workshops, and games plus an opportunity to actually participate in the Imu ceremony. Dinner is local style farm to table.
What's Not So Good: This isn't a polished highly commercialized luau which is kind of the point but if you're looking for a big event with all the trappings, this isn't it.
Side Note: If you're looking for a rental car for your trip, I LOVE Discount Hawaii Car Rentals. They're seriously the only company I ever use. They'll give you the very best prices, you don't have to reserve with a credit card or pay until you show up, you can cancel and re-book anytime if you find a better rate, and they usually have a special that adds additional drivers for no fee. It's a no brainer. Click here to check rates for your trip.
Toa Luau
Location: Another small scale, authentic luau, Toa Luau is also the only luau on the north shore (besides the Polynesian Cultural Center which is closer to being on the windward side). Situated right across from Waimea Bay, arrive early so you can check out Waimea Falls and the botanical gardens onsite.
Prices & Packages
Silver: $115/adult ($95/child) Adults get 1 drink ticket. Includes general seating.
Gold: $145/adult ($125/child) Adults get 2 drink tickets. Includes upgraded seating.
VIP: $175/adult ($145/child) Adults get 3 drink tickets. Includes VIP front row seating.
All packages include a flower lei greeting.
What's Good: Small scale luau and generally considered to be "authentic." The only luau where you can also see a waterfall and botanical garden! Activities like coconut leaf weaving, poi ball dancing, and Imu demonstration before dinner.
What's Not So Good: Only 3 days a week and schedule can vary.
Aha'aina Luau at the Royal Hawaiian
You're probably noticed I haven't recommended a luau in Waikiki yet. Well, I just don't think there are any great ones, but if you want to stay close to the hotel, this is my pick.
Location: The Royal Hawaiian (aka the Pink Palace of the Pacific) is Waikiki's most iconic hotel and it doesn't get much better than watching a luau with Diamond Head and the ocean in the background.
Prices & Packages
Standard Dinner & Show: $200/adult (13+), $149/child (4-12), $20/baby (under 4)
Premium Dinner & Show: $220/adult (13+), $169/child (4-12), $20/baby (under 4)
Premium includes a flower lei greeting and upgraded seating.
What's Good: Located right in the middle of Waikiki if you're wanting to stay close to your hotel. Just being on the lawn at the iconic Royal Hawaiian feels pretty special.
What's Not So Good: Uh…the price. Pretty outrageous. Also, it's really just dinner and a show and now what I would consider the full luau experience. Only offered on Mondays and Thursdays.
PRO TIP: If you want to see the show, but don't want to commit to the $200/person price tag, head to Mai Tai Bar at the Royal Hawaiian where you can watch the ENTIRE SHOW from about 20 feet away. Check the schedule depending on the time of year, but the show usually starts about 7PM (Mondays and Thursdays).
The Worst Luaus on Oahu
Ahhhh controversy. Hello, old friend. I don't thrive on negative opinions (I promise) BUT I do feel kind of responsible to let you know my honest opinions. Some of the most popular luaus on Oahu (the ones you hear about the most or are most recommended on social media) are luaus that I would NEVER go to.
So how do I know that I don't recommend a specific luau that I've never been to? Well I've been to enough luaus that I know what I like and what I don't.
Here's what I don't like: a cheesy MC yelling dumb jokes into a microphone. 20 minutes of birthday and anniversary and honeymoon and kindergarten graduation and chinchilla adoption celebration acknowledgements. "Entertainment" that panders to tourists. You know…Betty from Omaha up on the stage getting a hula lesson during dinner. Brad from Massachusetts standing up there all red faced while a girl in a coconut bra dances all over him and his extended family cat calls from the audience.
A LOT OF PEOPLE LOVE THAT KIND OF STUFF. I don't. And I have a knack for reading reviews and recommendations and knowing if it's something I'll like or not based on my personal taste.
A somewhat related sidenote: I'm not necessarily swayed by negative reviews of places because a lot of places on my "luaus to avoid" list are actually very highly rated. I just really pay attention to what it is specifically that people say they like or don't like. People leave glowing reviews about the antics of an (in)famous MC at a popular luau going on about his funny jokes and the hilarious crowd participation….aaaaaand that's when I know I'm out. Anyways, you can learn a lot from reading between the lines of reviews especially if you have kind of specific tastes or know what you like.
So on that note…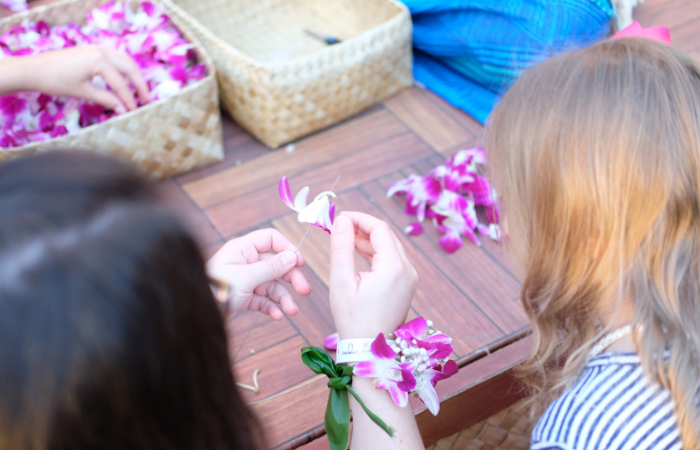 Luaus on Oahu to Avoid
Set in Kapolei behind an industrial area (it's on the beach once you make your way back there) I would call this the go to budget luau. If you book in advance through their website you can get tickets for about $90/adult. Their specialty is bussing people out from Waikiki (they do a lot of cruise ship traffic) and serving up a big buffet with a hula show. There's not much preshow entertainment, not really any cultural activities. The gist is: low quality food and drinks, picnic tables, paper plates and plastic utensils, a decent show. There's just not much to say.
Oh boy. For starters, it's located in the Wet 'n' Wild waterpark and most people are generally unimpressed by the setting and food. What people love most about this show seems to be Chief himself. Chief Sielu, the original World Champion fire-knife dancer and famous Polynesian comedian is the producer of this show and main attraction. This is the quintessential cheesy luau. With two packages ($155 & $195 per adult) it's not exactly cheap either.
On Another Note: If you're looking for a condo or vacation rental for your trip, I always book with Vrbo. They've got the largest selection of rentals you'll find anywhere and you can easily filter to find exactly what you're looking for. Need a specific number of bedrooms and bathrooms? Narrowed it down to a certain location? Want flexible cancellation terms? Need to stay under a fixed budget? Click here to search for Kauai vacation rentals for your trip.
Located in a corner of Sea Life Park on the windward side of Oahu, everything about this setting just seems sad. The food is regularly reviewed as downright awful. The show seems to be okay and that's about the only thing you can say.
P.S. Thanks for sticking around and reading this whole post! If you have ANY questions about planning your trip to Hawaii, you can join my free Facebook group here. I'm there answering questions every day and there are 7500+ other friends who have a ton of Hawaii information to share!
Also, if you want to follow along on my travel adventures in real time, you can follow me on Instagram (@caitylincoln). My post captions are full of travel tips and I have a ton of story highlights and videos with great info. And please share my account with your friends that are headed to Hawaii! Your support really helps me keep this blog running!