If there's one question I get asked more often than most, it's definitely about the best luau in Hawaii. So whenever a new luau opens up, I'm always eager to try it out. You know, for research ; ) Aulani, a Disney Resort & Spa, on Oahu debuted their luau (Ka Wa'a) a couple of years ago, but I wasn't able to make it out to Ko'olina to experience it until recently. Since I was staying at the resort on my last trip to Oahu, I knew I had to make it a priority.
I received discounted tickets to this luau, but of course, I only recommend my absolute favorites to you. Thank you for supporting the brands that make Hulaland possible.
Aulani Luau Review
I reserved tickets a few months in advance (you usually get better seat assignments the earlier you book) for myself and the two friends I was traveling with and at the last minute I was able to snag a ticket my friend's daughter Maya since they happened to be vacationing at Aulani at the same time as us and she'd never been to a luau.
And I must say, I'm soooo glad Maya got to come to the luau with me because it is DEFINITELY geared towards kids.
Before I get on with the details, check out this video of our evening at Ka Wa'a:
We arrived at the luau grounds about 5PM and got checked in. The ladies got a shell lei, the gentlemen kukui nuts, and Maya had the choice between a shell lei or a necklace with Maui's fishhook (the first of surprisingly only a few "Disney" touches throughout the evening. If you're not familiar, Maui's fishhook is a big element in the movie Moana). She chose the necklace.
Next we were offered drinks before we were shown to our table. There was a special fruit punch (with straw and lid) for the kids, and some sort of blue coconut flavored alcoholic beverage for the adults. I wasn't a fan, but I heard that the drinks from the bar were much better (the night got away from me and I didn't even get to try one!).
RELATED: Not very familiar with Oahu? Read up on the lay of the (is)land and where to stay plus my favorite condos, luxury resorts, and boutique hotels.
Our seats were literally as close to the stage as we could get so we set our stuff down and took a few photos in front of the stage.
Next, we scampered off to take part in all of the activities offered on the lawn! There was lei making, printing, ukulele lessons, poi pounding, and so much more. While I think this is set up as a nice diversion for the kids, adults are more than welcome to join in and plenty did! We made it to every station except the temporary tattoo one (which Maya wasn't interested in) by 6PM, which was when dinner was announced.
At 6, there was a little show were Moana came out to basically kick things off, but unfortunately we missed it because we were in the bathroom. Kids have the worst timing haha. One thing to note is that the nearest restrooms are at Ama Ama or Makahiki (the resorts two restaurants) and they're not super close. The restrooms aren't completely inconvenient, but maybe try to time your trip so you don't miss anything!
We made it back just in time to head up to the buffet (our table was one of the first to go up). The food at this luau was DELICIOUS. While they have a lot of traditional luau staples, they also have some more upscale options like prime rib. And I have to say, the flavors of the food tasted a lot better to my unsophisticated palette than other luaus I've been to where the food was more "traditional."
This luau also featured a separate kid friendly buffet with mac and cheese, pasta with red sauce, chicken tenders, and Moana cupcakes. While I'm sure this buffet was designed with kids in mind, there were more than a few adults (myself included!) who found the mac and cheese and chicken tenders too tempting to pass up!
Overall, I would say Ka Wa'a had the best tasting food of any luau I've been to, although not necessarily the most traditional. Don't get me wrong, most of the traditional luau foods were there (kalua pork, teriyaki chicken, fish, taro mashed potatoes, poke and seafood salads, etc.), but the flavors just seemed a little richer and more pleasing than at other places.
Side Note: If you're looking for a rental car for your trip, I LOVE Discount Hawaii Car Rentals. They're seriously the only company I ever use. They'll give you the very best prices, you don't have to reserve with a credit card or pay until you show up, you can cancel and re-book anytime if you find a better rate, and they usually have a special that adds additional drivers for no fee. It's a no brainer. Click here to check rates for your trip.
Dessert was also phenomenal (again, the best I've ever had at a luau). Unfortunately, the featured dessert was a banana bread pudding (I'm allergic to bananas) but it looked AMAZING. They also had guava cake (which if you know me, I get so excited about guava), brownies, and fresh fruit. And those Moana cupcakes from the kids table.
We finished up dinner just in time for the show to start. While other luaus often have an overarching story that weaves the dances together, this show really took it to the max. It felt like a high quality stage production instead of a collection of dances.
The show is led by two "storytellers" who recount the journey across the seas to the Hawaiian Islands as well as settling the local land. There was a big emphasis on telling the story of Ewa (the part of the island that modern day Ko'olina is located on) as it relates to the storytellers ancestors. The show had emotional moments as well as a lot of participation for kids.
At one point, Mickey and Minnie came out to help teach the Aulani Hula to the kids (they were invited to come to the front of the stage), and there was another moment where some of the kids were given shakers and they stood up on one of the side stages during one of the dances.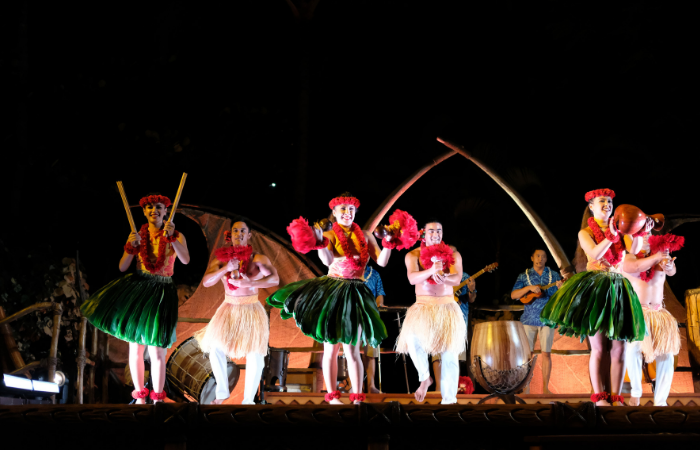 Another unique aspect of this luau was that in addition to the main stage, there were a couple of smaller stages located further back so that no matter where you were sitting you had a good view.
The big highlight of the show (and the finale) was the fire dancers. They tied in a story about Maui fighting with the sun that all of the kids loved.
Overall impressions: If you've got kids, this is THE luau to do on Oahu. It does have a few Disney elements (Moana, Mickey and Minnie make appearances as well as the tie ins of Maui), but I think even if you're not a big Disney fan, it doesn't detract from the overall experience.
One thing to note, there is no Imu ceremony (where they unearth the pig) at this luau, but they do have a whole pig displayed on one of the buffet tables (which I haven't seen at a luau before).
You can pay extra for VIP seating (which we had), and that also includes drink service at the table. Otherwise, general seating isn't reserved in advance, but rather first come first serve so show up early.
RELATED: 15 Things to Do on Oahu
25 Things to Know Before You Go to Oahu
You don't have to be an Aulani resort guest to attend the luau, and up to four hours of parking is provided.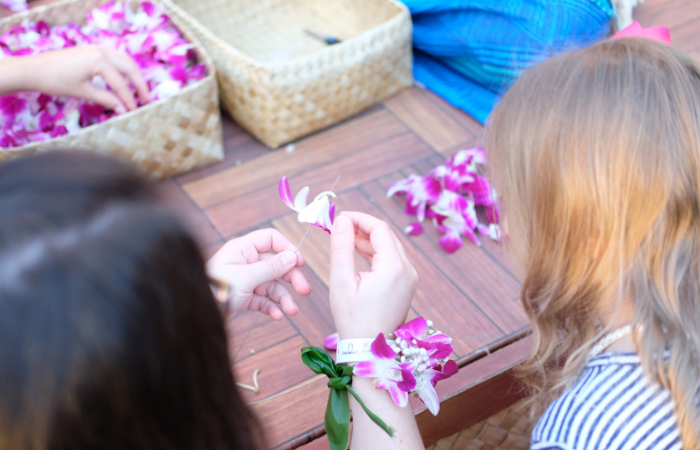 There was also quite a bit of luau specific merchandise in the main gift shop.
The luau isn't offered every night (I think it's usually offered three nights a week), so plan accordingly.
Aulani Luau vs Paradise Cove
This is the big question. The Paradise Cove Luau is highly regarded as the best luau on Oahu, and it's right down the street from Aulani so the question is how do they compare. Paradise Cove is a HUGE luau (like 700+ people per night) and it checks all of the boxes that most tourists want plus it's right on the beach. However, I find it to be pretty cheesy at times (I've rolled my eyes more than a few times there haha). I will say, even with the Disney touches, Ka Wa'a wasn't cheesy at all. It never felt hokey and the whole thing was pretty high quality. It's definitely the better luau for kids, and in general I found the whole thing to be more laid back (never felt like cattle being herded from one event to another) and a bit like a backyard party.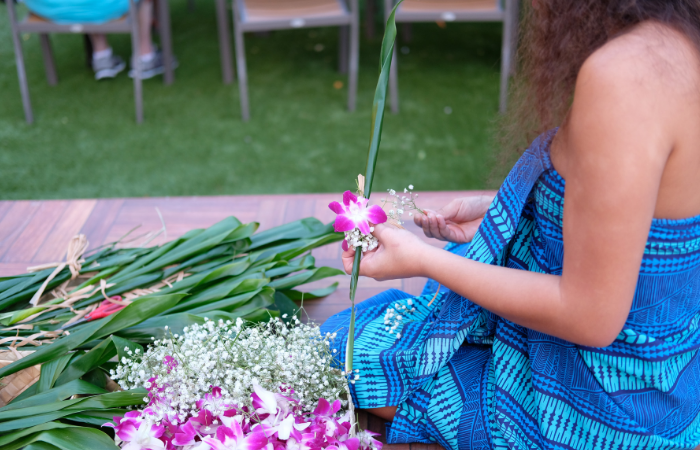 I recommend making reservations for this luau as soon as you know your dates so you don't miss out. You can book your tickets in advance right here.
Thanks for sticking around and reading this whole post! It's always my goal to provide a TON of value to YOU. To that end, lately I've been packing my Instagram (@hula.land) FULL of content and adventures that you might want to check out. A lot of my post captions are like mini blog posts with travel info, I've got IGTV review videos for luaus and excursions, and helpful story highlights like grocery store prices and hotel reviews. Not to mention that my feed is pretty much the ultimate tropical eye candy! You can follow me here and share my account with your friends! Your support really helps me to keep this blog running!
Also, if you have ANY questions about planning your trip to Hawaii, you can join my free Facebook group here. I'm in there answering questions every day and there are 5000+ other friends who have a ton of Hawaii information to share!