Aulani Tips: Everything You Need to Know about Disney's Resort in Hawaii
I've written quite a few posts about Aulani here, but this post is kind of a catch all for my best "tips" for staying at Aulani. You know…the kind of weird idiosyncrasies you only pick up after you've stayed somewhere for several days but you wish you knew at the beginning of your trip?
So here's the scoop on what you need to know about staying at Aulani:
Aulani Tips
Get Lei'd
A lot of people ask me about getting leis at the airport when they arrive, but Aulani starts your trip off right with a fresh flower lei greeting upon arrival. Women get an orchid lei and men get a kukui nut lei. Children get some sort of necklace with Maui's hook, but if your kid would rather have a flower lei, ask for one.
Check the Daily 'Iwa
If you're a Disney planner, you're going to live for the Daily Iwa. This printed daily schedule is the holy grail of information for what is scheduled to happen at the resort every day.
If you're familiar with Disney at all, you know that even when things appear spontaneous, they're not. They're carefully planned. Every activity from fish feedings and yoga to movie nights and dance parties are listed in the Daily 'Iwa.
It designates locations for events and activities as well as what's complementary and what has an additional charge plus what requires a reservation.
They usually start to put out copies of the next day's Daily 'Iwa around the lobby the night before.
Here are a few things to keep an eye out for: the Menehune Adventure Trail (a high tech scavenger hunt), yoga (and other fitness classes) on the beach, resort tours, and the hours (and happenings) in the Pau Hana Community Center (where they have group activities AND movies that you can check out to watch in your room).
The Scoop on Character Meet & Greets
Did you even go to Disneyland if you didn't meet Mickey and Minnie? Well, in Hawaii it's more like…did you even go to Aulani if you didn't meet DUFFY AND SHELLIE MAY??! More about Duffy and Friends in a bit, but yes, you can meet Disney characters at Aulani and just like the parks, yes it runs on a schedule.
While the info isn't printed on the Daily 'Iwa, the schedule does include the phone number to call to get the daily character line up.
Character schedules are announced each morning at 8AM and it's pretty exciting. There's something novel about having to call the phone number and listen to all of the listings. Remember when we used to do that for movie times??
If meeting characters is high on your list, I strongly recommend calling each morning to see who will be out and about (and when and where). Not every character is out every day and some meet in locations that you might not naturally stumble upon.
The schedules change often (and availability is somewhat seasonal to meet demand), but generally Mickey, Minnie, and Moana are available most days while Donald, Goofy, Daisy, Stitch, and Chip and Dale seem to alternate every other day.
Duffy and Shellie May are out less often (maybe once or twice a week?) but this seems to fluctuate based on travel patterns as they're more popular with visitors from Japan.
Jump on the Duffy Train
If you know, you know and if you don't, well then let me introduce you!
Duffy and Friends are a set of Disney characters that originated in the Asian parks. I think of them as Disney's answer to Hello Kitty. They're cute little stuffed animals (all with their own backstories) and in Asia (and now Aulani!) you can buy absolutely everything you can imagine with their faces on it.
Let me break it down for you: 1) Duffy is Mickey's teddy bear. Mickey was going on a long trip and Minnie made the bear for Mickey to take with him. She put him in Mickey's duffel bag aaaaand…Duffy was born! 2) Shellie May is Minnie's teddy bear. Duffy's BFF. She has blue eyes and a large bow and she's my favorite ; ) 3) Gelatoni is a cat that Duffy met on his travels. He wears a beret and paints with his tail (with gelato of course). 4) Stella Lou is a purple bunny ballerina that dreams of dancing on a Broadway stage. 5) Cookie Ann is a yellow puppy with a passion for the culinary arts (and the color pink!), AND 6) Olu Mel is a ukulele playing turtle who is the first of Duffy's friends to be exclusive to Aulani!
If you're scratching your head, I'll just tell you…it's a "thing."
Duffy and Friends never originally had much popularity in the US park (Duffy was briefly in Epcot years ago), but in the last five or so years they've started gaining a fandom among millennials and the younger generation. These characters are SUPER popular in Asia and since Hawaii has so many Japanese visitors, Aulani has been the place they've been testing the waters regarding Duffy and Friends in the US.
They've started selling their merchandise at the Polynesian Village Resort at Walt Disney World, but other than that, Aulan is the only play in the US to find Duffy and Friends merchandise AND meet Duffy and Shellie May.
Here's an insider tip: Even if you're not that into Duffy and his friends, if you see on the schedule that they'll be meeting during your trip, walk over and just watch all of the interactions. The Asian guests get sooooo excited to meet these characters (not to mention it's some of the best character interaction I've ever witnessed-Shellie May in particular) that it is high key entertaining.
Here's What the Beach Is Like
I get a lot of questions about the beach at Aulani and that makes me think it's because it's a topic of conversation ; )
It's not a great beach but it's not a bad beach! There are four lagoons in Ko Olina (they're actually man made) and Aulani and the Four Seasons share lagoon #4.
It's a little crescent of a beach with calm water. It's almost entirely protected from the ocean which makes it GREAT for kids. I can't imagine going out there to snorkel (it's literally all sand), but there are always people out there and they say there are a few fish. I think it just depends on what your expectations are. I wouldn't call it "real" snorkeling.
So some people really like the beach (hey, locals come out to Ko Olina with their kids or to sunbathe) and some are disappointed.
When I stay at Aulani, I'm not there for the beach so it doesn't bother me but if you've never been to Hawaii then definitely plan to spend time out exploring the island because there are some truly amazing beaches on Oahu.
I will say, at pretty much any time of day and time of the year, you can always find good chairs on the beach. That is hardly ever the case for the pool.
What It's Really All About…the Pool!
The main attraction at Aulani is definitely the pool. I wouldn't call it a pool so much as a complex. It's almost a waterpark.
There are pools for families, adults, small children, EVERYONE.
My personal favorite spot is the family infinity pool. I like to be able to see the ocean from the pool and it's a great spot for that. There's also an adjoining hot tub.
There's an adults only area, but I'm not crazy about it. It is MUCH quieter than the rest of the resort so that's a bonus, but it's tucked away in a corner and I feel like I spend most of my time there just staring at a wall. I mean, it's a nice wall but in Hawaii I much prefer the ocean. To each their own.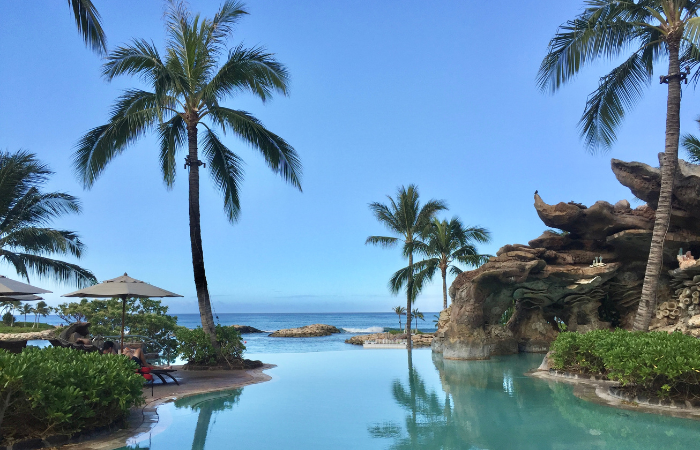 The main pool has zero entry so it's great for kids and it's close to the pool bar/restaurant and has easy access down to the beach.
There's also an adults only infinity HOT TUB nearby which looks out over the ocean and that is hands down my favorite place to be. But while there are a few chairs it's not really a place I'd want to set up for the day. It's a great place to watch the sunset though!
Definitely don't miss the lazy river and the slides (there's a body slide and a tube slide).
I think you can skip Rainbow Reef. It's essentially a large fish tank you can snorkel in for an extra fee (it's a lot like Shark Reef at Typhoon Lagoon if you've done that). There are a lot of fish, but it's not terribly big and the water is COLD. It's $25/adult and $20/kid for one-day access and $45/adult and $35/kid for length of stay access. When my friend and I took her daughter (age 7) we were all ready to get out about 15 seconds after we got in and still to this day laugh about that time we thought it would be a good idea to go in there.
You can pick up towels and wristbands from a few kiosks spread out around the pool deck and you must have a wristband to do pretty much anything. Including sit down on a pool chair. Which brings me to…
The Pool Chair Situation
All of you little Disney planning nuts are going to LOVE this. One does not simply show up poolside at Aulani and plop down in a chair. Planning is involved. Alarms need to be set. Dads must be loaded up with the family's possessions and sent down to the pool early in the morning to secure the family's basecamp.
All jokes aside, here's the deal…while chairs are pretty easy to come by down at the beach, the pool is by far the most popular spot at Aulani and those chairs fill up fast.
I've seen so many people come down around 10 or 11 and not be able to find chairs in the main pool areas (Waikolohe Pool and Ka Maka Grotto Infinity Pool). There is often more availability in the more kid oriented sections (where the water feature/playground and splash pads are) and the adults only area.
The pools don't open until 8 AM but many people come down early to get prime spots. There are signs posted saying that if you leave items on chairs unattended BEFORE 8 they will be removed. So if you go down early, you'll have to hang out with your stuff.
There are also signs warning that if you leave your chairs for over an hour, they will be marked by the staff and if you don't return in another hour, your belongings will be removed so that others can use those chairs. And I've seen this happen a few times.
Lest this sound like a crazy Disney thing, I can assure you that this happens at every resort with a desirable pool around the world. Even at the classiest, most high brow joints. Dads can be found lining up at a nondescript gate with their family's possessions ready to throw an elbow to ensure that they snag the most desirable spot at the pool. It happens at Disney, it happens at the Four Seasons, it just happens everywhere. So if having a good spot by the pool is important to you, definitely plan to show up early.
The good news is that with the time change, most people coming from the mainland are up and at 'em pretty early anyways. Which might actually fuel the problem.
Also, the pool chair situation does seem to fluctuate with the season. During slow season when the resort isn't at capacity it may be a LOT easier to find a place to sit and they may be more lenient about clearing your items away if you've been gone for a while.
If you're starting to freak out, don't worry too much. If you're going to spend most of your time in the water, on the slides, lazy river, etc and just like to have a few chairs somewhere to keep your stuff, you'll usually be able to find something.
BUT, if you're wanting those front line chairs at the infinity pool that look out over the ocean…set those alarms baby!
What about a Rental Car?
As in, do you need one? Here's what I do: I never get one! Every time I've stayed at Aulani, I've worked it so I stay there the last few days of my trip with absolutely no plans to leave the Ko Olina area.
Meaning, I don't make plans to tour Pearl Harbor, have dinner in Waikiki, or see the dinosaurs at Kualoa Ranch while I'm staying at Aulani. There was one trip that coincided with Billabong Pipemasters on the north shore so we rented a car at the resort just for that day and drove over to see it, but other than that I either take a shuttle from the airport out to Aulani OR I drop off my rental car at Aulani if I've been staying elsewhere on Oahu first.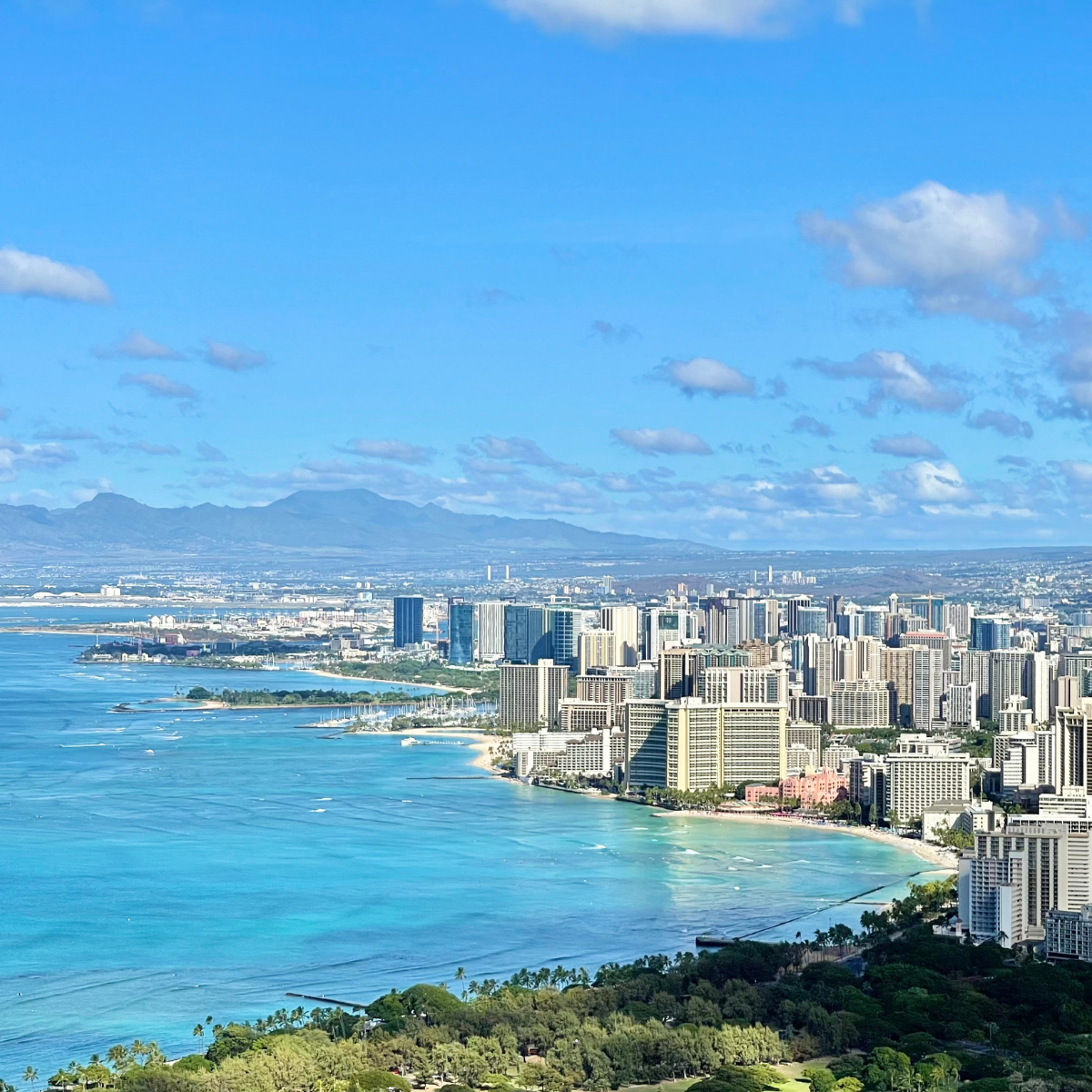 Here's how that works. If you fly into Honolulu and you're staying somewhere else on the island and want to rent a car for a few days, you pick it up at the airport as normal but select your return destination as Ko Olina-Aulani. For a $50 fee, you can drive right up to the portico and hand your keys to the bellman instead of taking it back to the airport.
This works with Alamo for sure and maybe others. I always use Hawaii Discount Car Rental and when you put Ko Olina as your drop off location it will only show you companies that have this feature available.
Full disclaimer: I travel to Hawaii a LOT. I have seen and done and explored Oahu like you wouldn't believe so I don't feel like I have to get out and go and do when I'm staying at Aulani. But if you've never been to Hawaii, I do NOT recommend never leaving your resort. Whether you do a split stay and do your exploring while you're staying somewhere cheaper, or whether you rent a car the whole time or just for certain days (you can do that right at Aulani), DEFINITELY MAKE A PLAN TO SEE THE ISLAND. And seeing the island will definitely involve a rental car, at least some days.
Leave the Kids at Auntie's Beach House
Disney runs some of the best kids clubs in the world and Auntie's is no exception! Drop the kids off while you go to the spa or to dinner, and I guarantee you they'll be begging to spend the rest of their vacation there. Auntie's is free (you can stop in and check it out most mornings before drop offs stop), but there are some premium activities that cost extra.
How about a Luau?
Going to a luau is at the top of most people's Hawaii bucket lists. Good news: if you're staying at Aulani you've got plenty of good options. Disney has their own luau (Ka Wa'a Luau) on property several nights per week but also…the #1 rated luau on Oahu is just down the street at Paradise Cove.
So I get a LOT of questions about which luau is better. The honest truth is…they're just totally different.
The Aulani luau is smaller, has better food (prime rib!) and feels a bit like a backyard party. The lush garden setting is beautiful and there are quite a few activities and cultural crafts to participate in before dinner and the show starts.
A major thing to note is that while it's not over the top Disney, there ARE some Disney elements. Moana comes out to start the show, Mickey and Minnie lead the children's hula lesson, there are Moana cupcakes, etc. Overall, I'd say it's probably better for younger kids. My 7 year old professional luau reviewer had a GREAT time. Read my full review of the luau here.
Paradise Cove is a serious operation. The luau grounds are enormous (and right on the ocean!) and they offer soooo much entertainment. There's an emu ceremony (where they pull the pig out of the ground), a hukilau (pulling the nets in from the ocean), the shower of flowers (where a guy climbs up a palm tree and showers the onlookers with flower petals), hula lessons and so much more.
There are several crafts/activities that have a separate fee and there are a lot of booths and kiosks with things to buy (which I've heard some people don't like that vibe). The food and drinks are ok (not great), but on par with most large luaus. Paradise Cove is probably the best overall luau on Oahu. Read my full review here.
And I've also got a full post breaking down the best luaus (and which ones to avoid) on Oahu.
Don't Miss the Spa
I'll tell you a secret…not all fancy resort spas are created equal. Some are high on the "snoot" and price and low on the amenities. Well folks, the Laniwai Spa is one of the most spectacular spas in Hawaii and definitely not to be missed.
The outdoor hydrotherapy garden is one of a kind! The treatments are great and the facility is out of this world. Even if you're not the type to always hit the spa, you'll seriously want to consider this one.
What to Do When You're Flight's Not Till Late
Check out is at 11 AM but a lot of flights to the US mainland don't leave until much later. No worries!
Check out, store your bags with bell services, spend the day enjoying the resort, and when you're ready to get cleaned up, bell services will give you a pass to the Luana Lounge where there are lockers and showers.
I love going back on the red eye (or at least a late flight) so I can take full advantage of that last day.
Getting to the Airport
Disney contracts their airport shuttle service with Speedi Shuttle. You can often book a package at Aulani that includes airport transfers.
It's nice because they know what time you'll need to leave the resort to get to the airport depending on the time of day.
If you're driving yourself, don't underestimate how long the drive is with traffic. Generally traffic is worse going into Honolulu in the mornings and coming back to Aulani in the evenings (it follows commuter patterns) and even though the airport is only 20 miles or so it can take an hour or more with traffic.
The Honolulu airport is also really hit or miss with crowds. It seems like groups of flights leave all at once which can create bottlenecks at the check in counters and security so leave plenty of time.
Want to read more? Don't miss some of my most popular (and favorite) posts about Oahu:
If you're trying to figure out where to stay, you're going to want to look at my favorite boutique resort in Waikiki and the lowdown on where to stay on Oahu besides Waikiki. Plus I've got the scoop on how to avoid illegal vacation rentals and a roundup of where to stay in Ko Olina and reviews of the Laylow and Disney's Aulani Resort. And a LOT more on Aulani like is Aulani worth it?, tips for staying at Aulani, how many days to spend, and the best things to eat and drink at Aulani.
If you're researching luaus on Oahu, I've written quite a bit. First, I've got a full breakdown of the best luaus (and the worst) on Oahu. Then I've got complete reviews of Paradise Cove, the Polynesian Cultural Center, and Aulani's Ka Wa'a Luau. And if you've narrowed it down to the top two most popular on the island and still can't decide, here's Paradise Cove vs Polynesian Cultural Center.
If you're trying to put together an itinerary full of the best things to do, take a look at my best 5 day itinerary, and roundups of the best things to do in Waikiki, "secret" things to do on Oahu, plus my favorite things to do in Kailua and the windward coast, in Ko Olina, and on the north shore. And if you're looking for food recommendations, I've got the best restaurants in Ko Olina and where locals eat in Waikiki.
And last but not least, some of my favorite things on Oahu like Jurassic Park at Kualoa Ranch, Shangri La and the Honolulu Museum of Art, tips for visiting Pearl Harbor, easy hikes on Oahu, and the best spas on Oahu. And everything you need to know BEFORE you go to Oahu.
P.S. Thanks for sticking around and reading this whole post! If you have ANY questions about planning your trip to Hawaii, you can join my free Facebook group here. I'm there answering questions every day and there are 7500+ other friends who have a ton of Hawaii information to share!
Also, if you want to follow along on my travel adventures in real time, you can follow me on Instagram (@caitylincoln). My post captions are full of travel tips and I have a ton of story highlights and videos with great info. And please share my account with your friends that are headed to Hawaii! Your support really helps me keep this blog running!
P.S. If you want to follow along on my travel adventures in real time, you can follow me on Instagram (@caitylincoln). My post captions are full of travel tips and I have a ton of story highlights and videos with great info. And share my account with your travel loving friends! Your support really helps me keep this blog running!