The East Side of Oahu: Hanauma Bay, Koko Head, Kailua & Lanikai, Kualoa Ranch & MORE
This post may contain some affiliate links, which means I'll make a little money on anything you choose to purchase. But of course, I only recommend my absolute favorites to you. Thank you for supporting the brands that make the Lincoln Travel Co possible.
The east side of Oahu (the windward side) is (in my opinion) by far the most beautiful part of the island. It's famous for its jagged green mountains, sweeping coastal views, laid back towns, gorgeous beaches, and top notch attractions that feel a world away from Waikiki.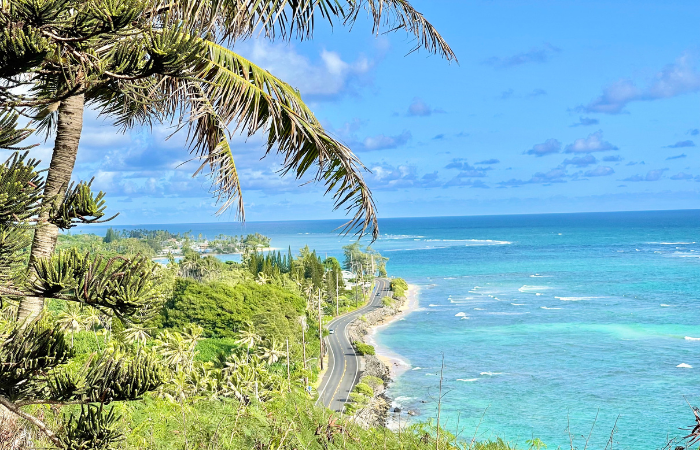 You absolutely need to plan at least a day (preferably more) exploring this side of the island!
If you're the type that likes a good drive with a few stops, you could do this in one epic day.
If you're the type that likes to spend time snorkeling, hiking, sightseeing, shopping and bumming around the beach, then you could break this up into several days.
If you're looking to do EVERYTHING, I would recommend a day south of Kailua (snorkeling Hanauma Bay, Koko Head, Halona Blowhole, Waimanalo Beach, etc.), a day in Kailua (Kailua & Lanikai beaches, Lanikai Pillbox hike, kayaking, etc.), and a day north of Kailua (Ho'omaluhia Botanical Garden, Kualoa Ranch, etc.). If you pick and choose your favorites, you can do a lot in two days.
Things to Do on the East Side of Oahu
So I'm going to break down my favorite things to do on the east side of Oahu starting at the southern end and going north.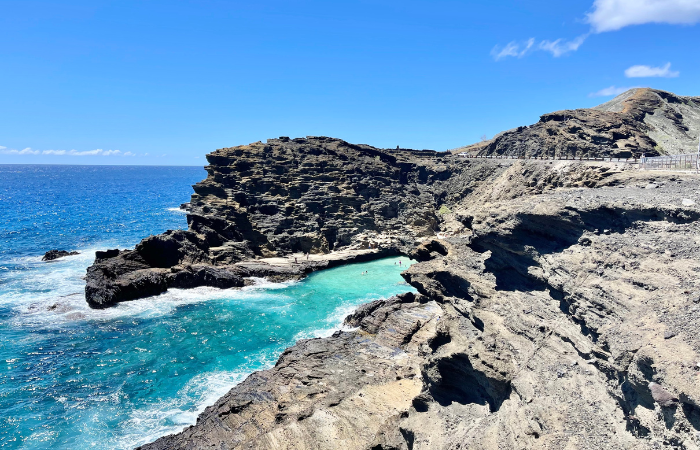 *If you're driving from Waikiki and planning to focus on the Kailua area (and to the north), plan to drive over on the H3. It has the most EPIC views of Oahu and it's an attraction in itself. Even if you're driving around the island from Hanauma Bay/Koko Head northward, you should still try to do this at some point.
Snorkeling at Hanauma Bay
Oahu's most popular snorkeling spot, Hanauma Bay is a nature preserve now and they're making attempts to restore the reef after years of abuse.
It's largely protected from the ocean and the reef is home to a huge range of species. It's also a perfectly idyllic beach to wile away the day.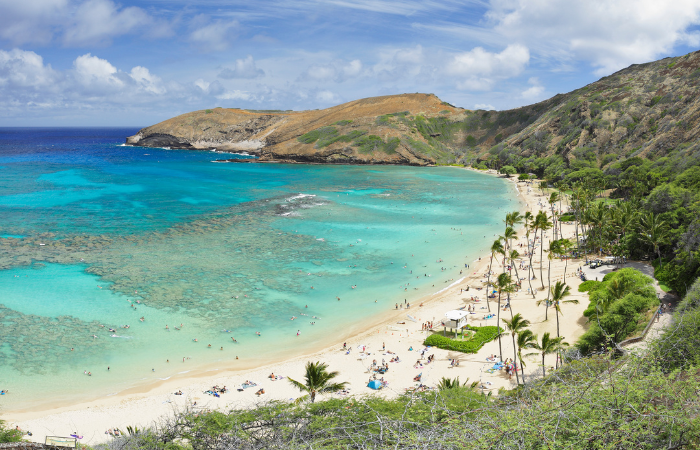 Parking and entry is limited and fairly, er, complicated, so you're going to have to plan ahead if you want to visit Hanauma Bay.
Currently, here are the details:
Hanauma Bay is CLOSED on Monday and Tuesday to give the reef a chance to rest.
Daily hours are 6:45AM to 4PM (last entry at 1:30PM, they start to clear the beach at 3:15PM, and the gates at the parking lot are closed at 4PM).
Closed Christmas Day (Dec 25th) and New Years Day (Jan 1st).
The entrance fee is $25/person (12 and under, active military, and local residents with Hawaii state idea are FREE).
Parking is $3/vehicle, cash only.
Here's where it gets complicated: RESERVATIONS ARE REQUIRED for entry, and they book quickly. They can be booked online here at 7AM HST two days in advance. They're limited and are usually gone within 5 minutes (if not sooner) of the release time. Only 1400 people are allowed into Hanauma Bay each day (40 people every 10 minutes). Reservations are spaced in 10 minute increments throughout the day.
There are a limited number of walk in tickets available each day if you show up in person when the park opens. If you're not able to get reservations online in advance, this is your only option. But you'll have to show up early.
Locals (with valid Hawaii state ID) can enter for free without reservations between 6:45AM and 9AM daily. After 9AM, you'll need reservations like everyone else.
The parking lot has 300 spaces and fills up first come first serve, even if you have reservations. So early is the name of the game here.
A few more details:
Snorkeling equipment is available to rent for $20/set. You can also bring your own.
The snack bar on the main level (near the parking lot) is now open (including a small gift shop with beach essentials), but you're also welcome to bring small coolers.
Lockers are available to rent down at the beach level.
A shuttle down to the beach and back is included. It's a pretty steep walk.
Things you should bring with you (if you want them): towels, swimsuits, chairs and umbrellas, life vests, waterproof phone cases or cameras, reef safe sunscreen.
AND BESIDES ALL OF THIS: You'll also want to monitor the conditions at Hanauma Bay closely before your trip as it's a pretty delicate ecosystem and the state is really focused on protecting it (and keeping visitors safe).
While it's always closed on Mondays and Tuesdays, it can also close spur of the moment due to jellyfish (which sometimes has to do with the tides and moon phases and other times just seems random), and earlier this year experienced a more prolonged closure due to high bacteria levels in the water.
Needless to say, snorkeling here can be hit or miss due to conditions, and as you now know it's not the easiest place to access, but it truly is special.
Hiking Koko Head Crater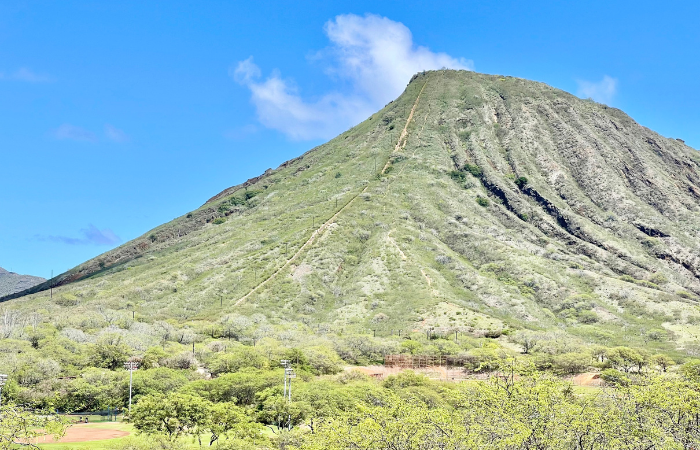 Sometimes overshadowed by Diamond Head, this crater is a popular hike, but I've been told it makes Diamond Head seem easy. I haven't done it yet, but It's 1000 steps (on old railroad ties) straight to the top. Simple and straightforward, but a real leg burner.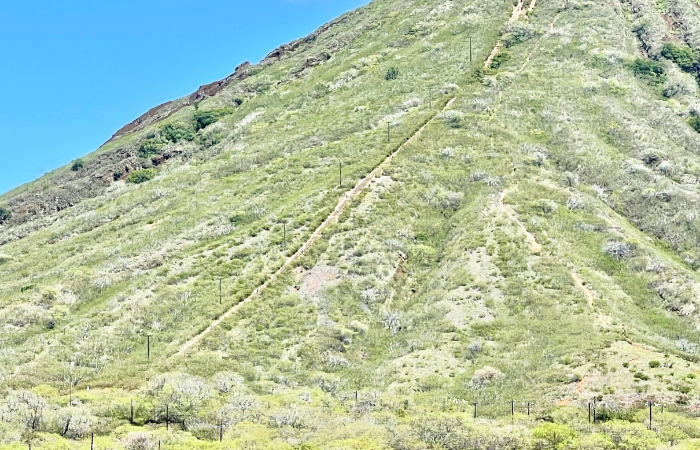 Lanai Lookout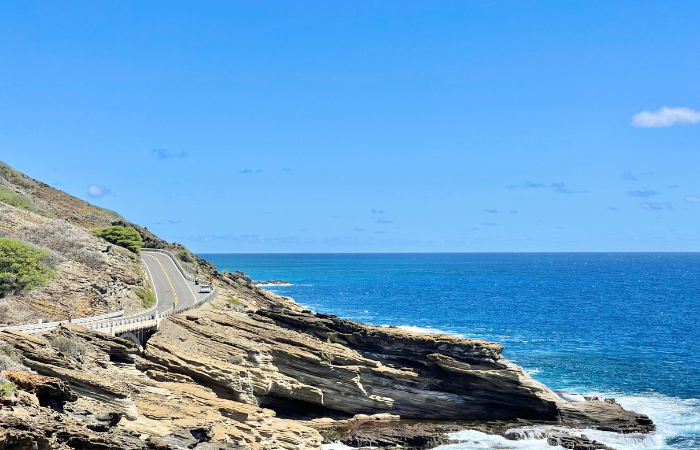 As you cruise around Koko Head, the road really opens up to incredible coastal views and the Lanai Lookout is a great place to stop.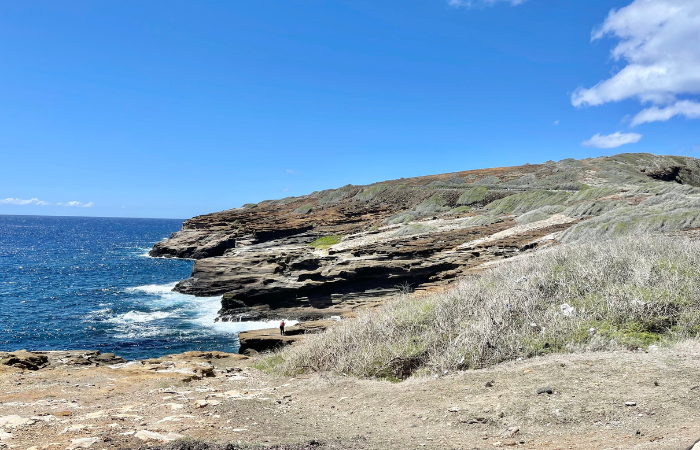 Halona Blowhole
Blowholes always draw a big crowd in Hawaii, and this is one of the most easily accessible ones you'll find. You just have to fight off the crowds from the tour buses to get a look! There's a turnout on the highway with plenty of parking spots.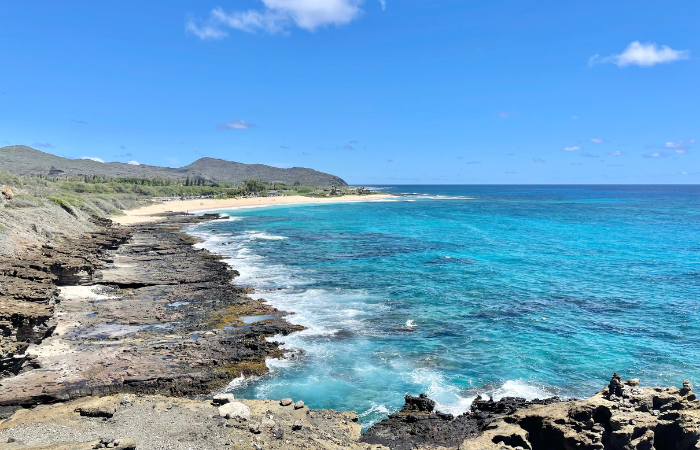 The strength of the blowhole does change throughout the day according to the tides. Low tide means a weak blowhole and high tide means a much stronger one. Actually last time I was there it was low tide and you couldn't see the blowhole at all.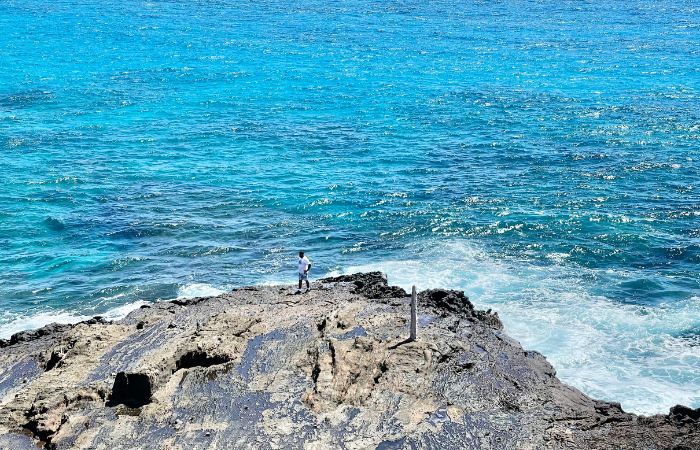 Also, the viewing area is very clearly walled off to discourage people from climbing down to get closer to it, but there's always a few people that don't think that applies to them. People get sucked into blow holes or overpowered by a rogue wave and swept out to see ALL THE TIME. Watch from a safe distance.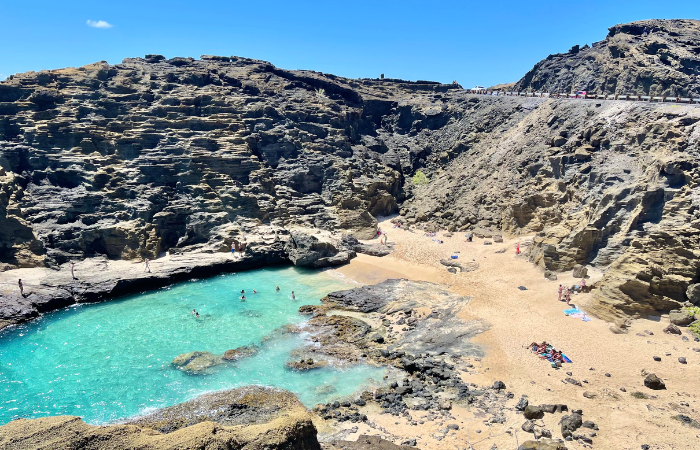 There's also a popular cove beach just south of the overlook (you'll usually see plenty of people down there) that's pretty picturesque.
Side Note: If you're looking for a rental car for your trip, I LOVE Discount Hawaii Car Rentals. They're seriously the only company I ever use. They'll give you the very best prices, you don't have to reserve with a credit card or pay until you show up, you can cancel and re-book anytime if you find a better rate, and they usually have a special that adds additional drivers for no fee. It's a no brainer. Click here to check rates for your trip.
Makapu'u Point and Trail
This is a great easy/beginner hike with a big payoff of great views at the top.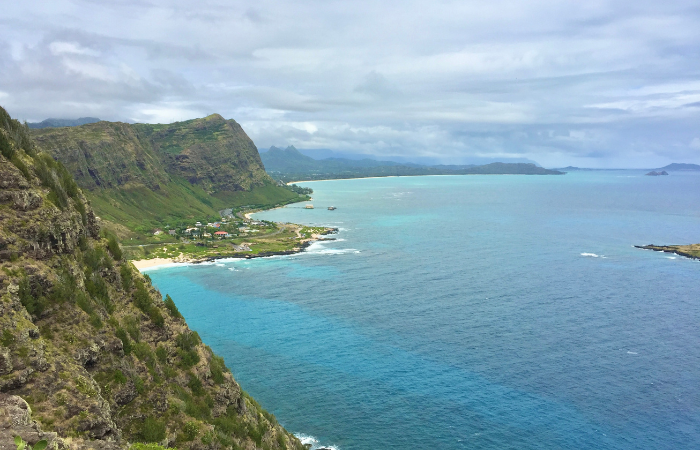 You'll see a turn off with cars parked along it and a small parking lot at the bottom. It's a mile hike (at a decent incline) to get to the top (where you can see a lighthouse plus epic views of the windward coast), but it's entirely paved. I did this in flip-flops, although I wouldn't really recommend it. It's an easy enough hike, but a pretty good incline going up. The hike only takes about an hour, but bring plenty of water because there's not really any shade.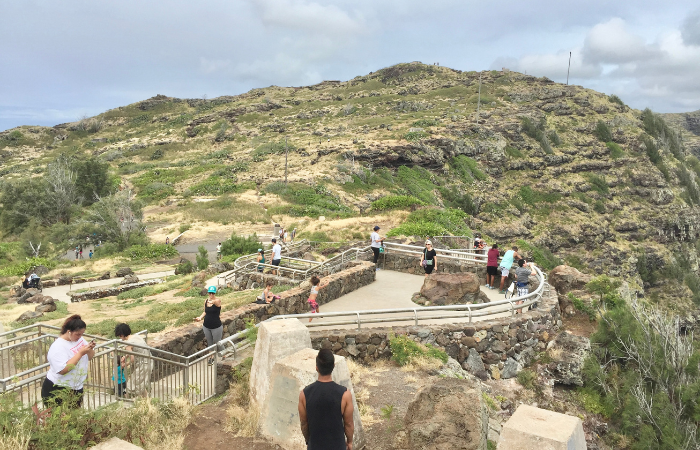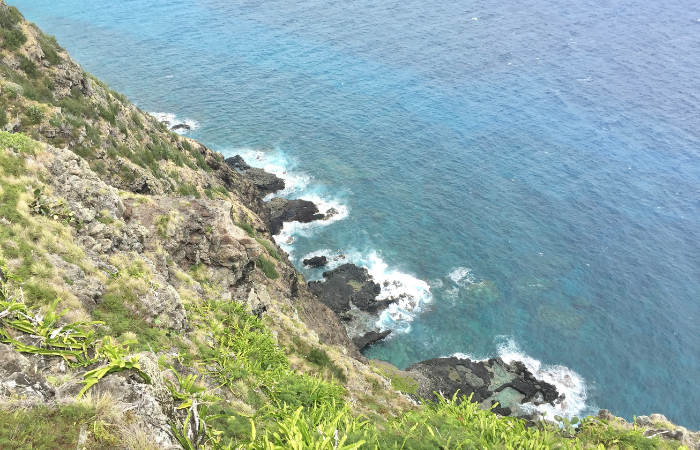 Waimanalo Beach
Also known as Sherwood Beach, this is a beloved local beach with a more low key atmosphere than other nearby popular beaches. And the backdrops are pretty lovely.
Lanikai Beach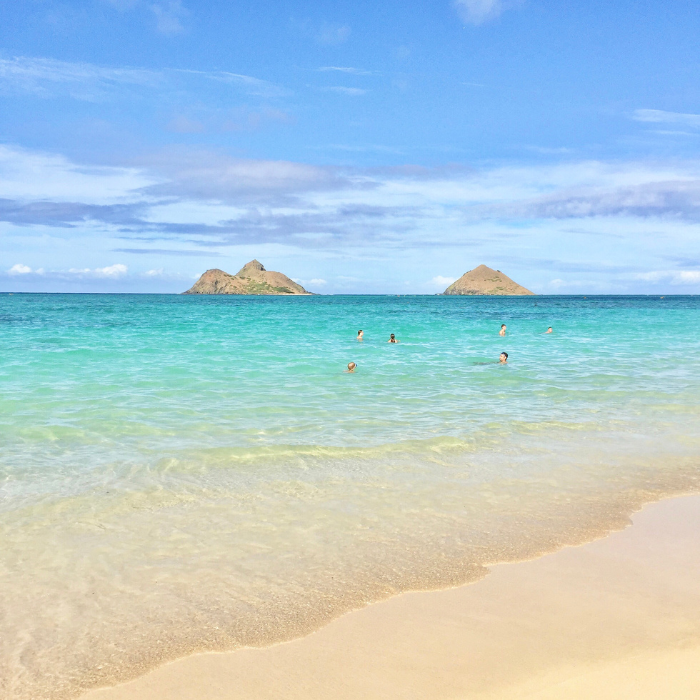 THIS is why you come to Hawaii. Regularly found on lists of world's greatest beaches, Lanikai is picture perfect. It's not the most convenient beach, but it's worth it. Lanikai is a small neighborhood right next to Kailua Beach Park and there's not much parking. There's no parking allowed on the side of the street with the bike path, and you obviously can't park in people's yards or driveways, so you may have to hunt for a spot (or park at Kailua Beach and walk over). You also won't find any amenities at this beach, so pack in (and out) everything you'll need.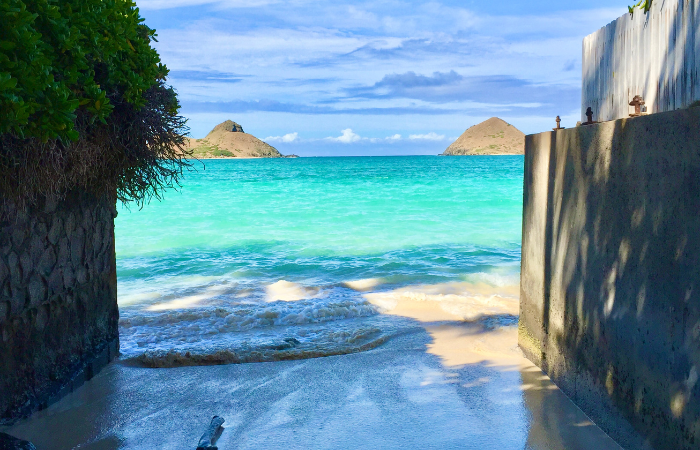 In recent years, Lanikai has become REALLY popular and it's created a strain on the local community. At this beach (maybe more so than any other on Oahu), you're accessing through a neighborhood so just be respectful of people's space.
Kailua Beach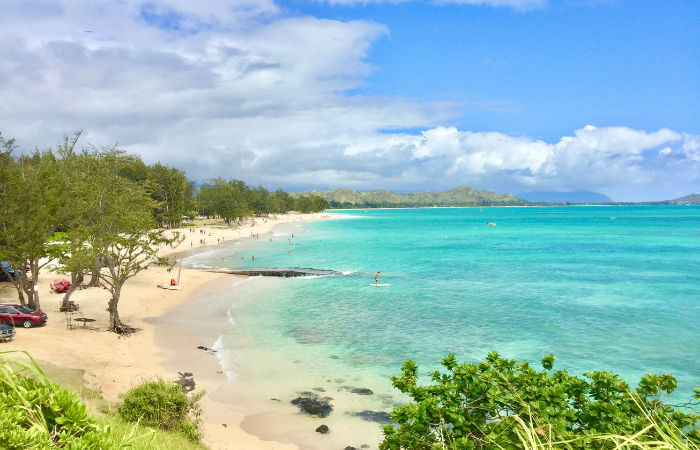 While next-door Lanikai beach is the island's crown jewel, Kailua beach isn't exactly the ugly stepchild. It's gorgeous! And it has great amenities. You'll find restrooms, showers, picnic areas, rentals, and the Kalapawai Deli. There's also plenty of shade.
Lanikai Pillbox Hike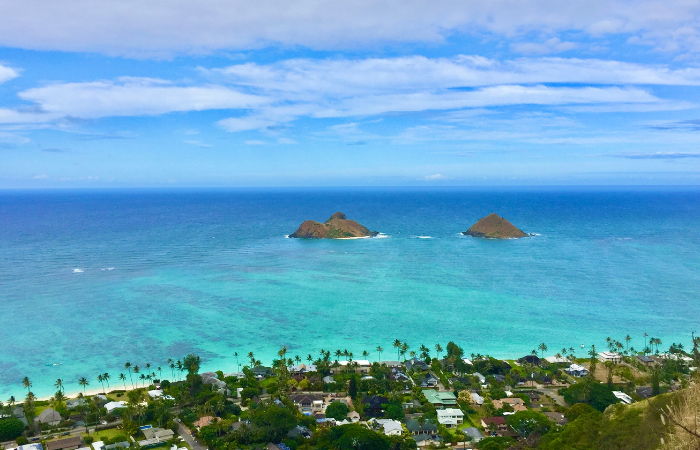 There are so many hikes on Oahu, but this is my favorite! It's fairly short, but it's got a good pay off. You'll find the trailhead on Kaelepulu Drive in Lanikai. All of the parking is on the road and it's super limited. Be sure to respect the signs of where you're allowed to be and where you're not and don't go traipsing through people's yards.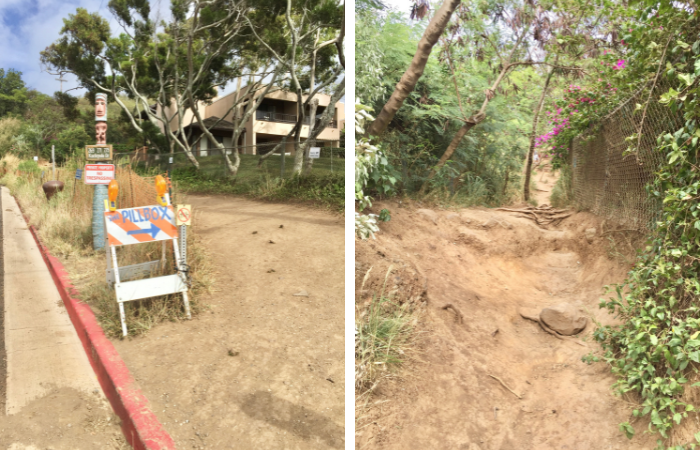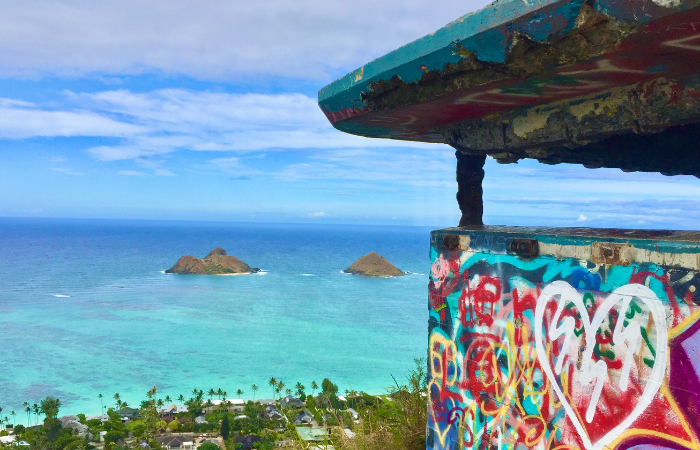 This hike only took me about an hour up and back, but you really have to scramble in some places. The first part is by far the steepest. Most people stop when they reach the first pillbox, but you can keep going if you want to see them all.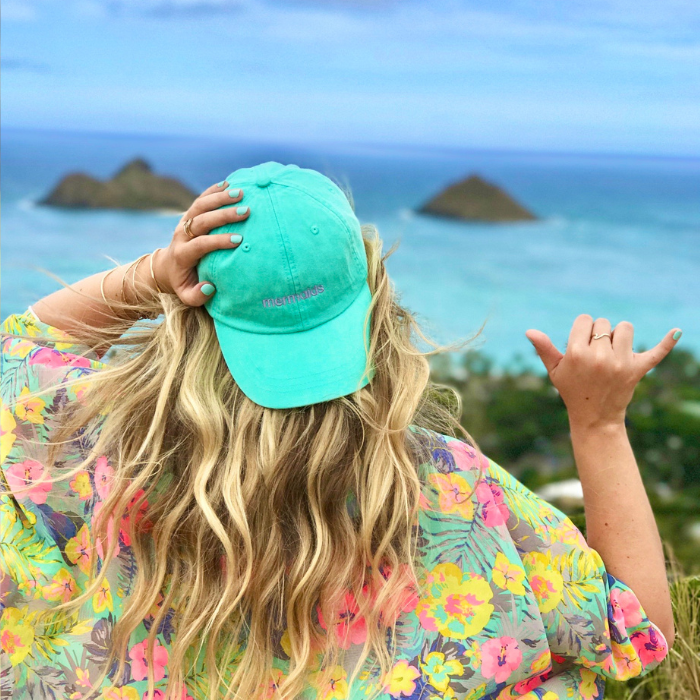 Kayak to the Mokulua Islands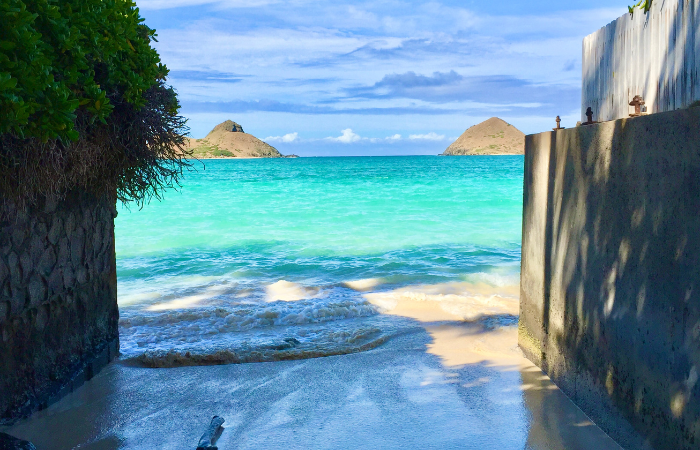 If you love to kayak, paddleboard, or are just looking for an ocean adventure, you've got to paddle over to the "mokes." Just a 30-minute paddle from Lanikai beach, there's a small beach to land on and a whole lot of fun to be had. You can rent kayaks in Kailua, but the best place to launch them from is Lanikai. I haven't done this yet, but I enjoyed reading this post about kayaking over on Memorial Day.
Shopping in Kailua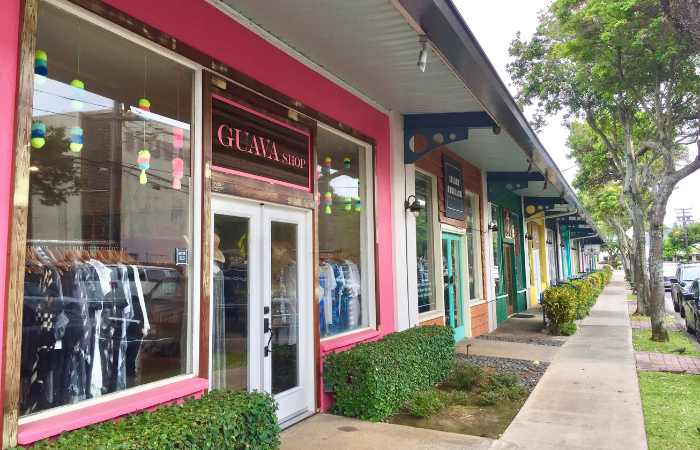 Kailua has so many cute boutiques but my favorites are on Hekili Street. It's a great little strip with tons of cute boutiques and snack spots. Bikini Bird is one of my favorites.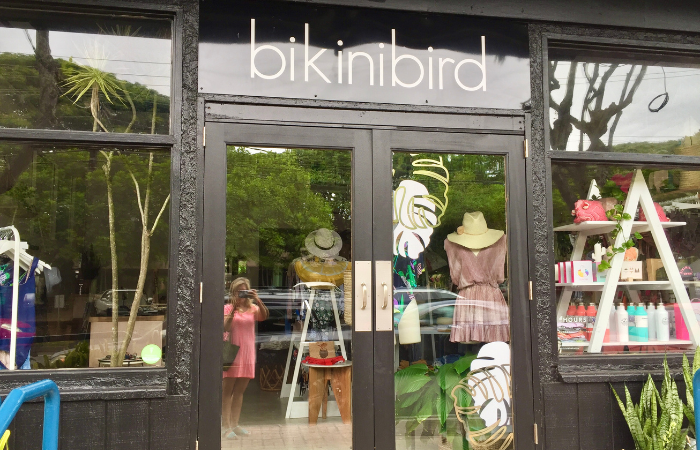 Breakfast at One of Kailua's Popular Spots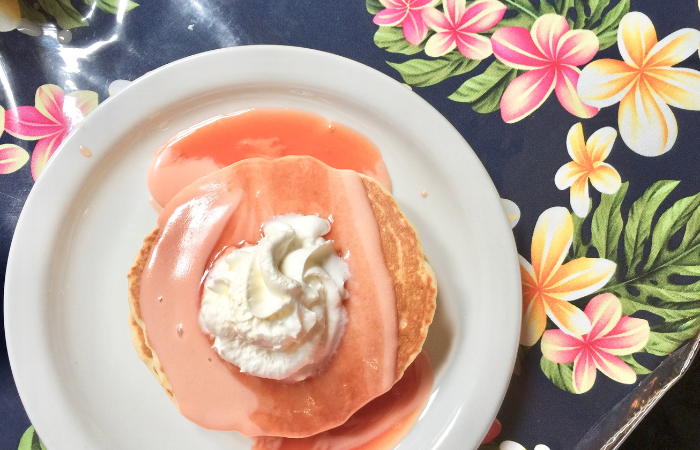 Cinnamon's is probably the most popular and talked about breakfast spot on the island (at least in Kailua). They're famous for their pancakes, and the guava ones are my favorite. Go early (when they open) or expect to wait in line. They've recently opened up a location in Waikiki. Boots and Kimo's is another famed spot best known for the macadamia nut sauce they put on their pancakes. Again, go early or expect to wait in line.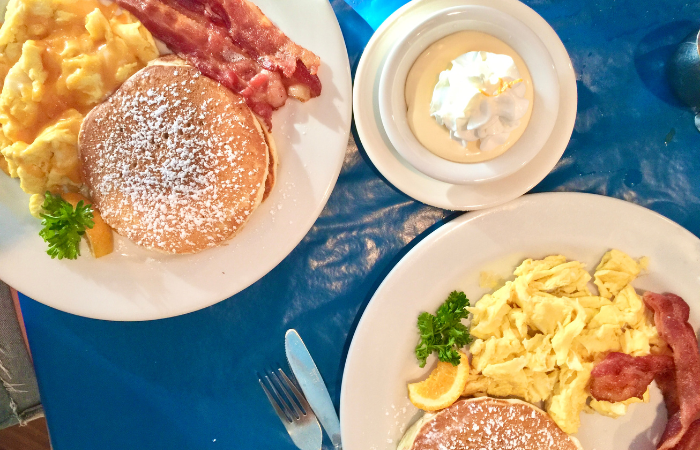 My personal favorite spot is Moke's Bread and Breakfast. It doesn't get the attention that Cinnamon's or Boots and Kimo's gets, but it's fantastic. The best lilikoi pancakes period.
Get Shave Ice at President Obama's Favorite Spot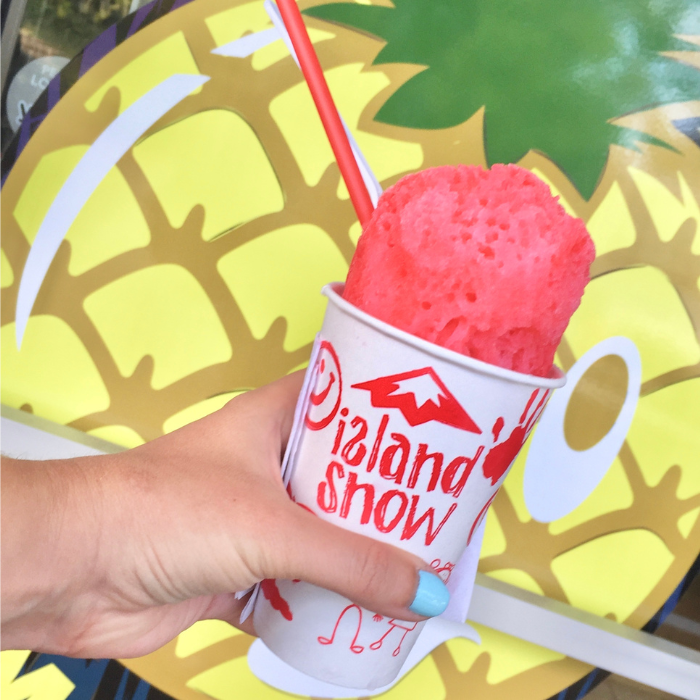 Island Snow is rumored to be Barack Obama's favorite shave ice spot on the island and it just so happens to be mine. It's not far from Kailua Beach.
On Another Note: If you're looking for a condo or vacation rental for your trip, I always book with Vrbo. They've got the largest selection of rentals you'll find anywhere and you can easily filter to find exactly what you're looking for. Need a specific number of bedrooms and bathrooms? Narrowed it down to a certain location? Want flexible cancellation terms? Need to stay under a fixed budget? Click here to search for Oahu vacation rentals for your trip.
Ho'omaluhia Botanical Garden
Just north of Kailua in Kaneohe you'll find the Hoʻomaluhia Botanical Garden. Admission is free and the gardens are lovely, but the real star is the drive back to the gardens. The mountains are beautiful and seem to rise up right in front of your vehicle.
Haleiwa Joe's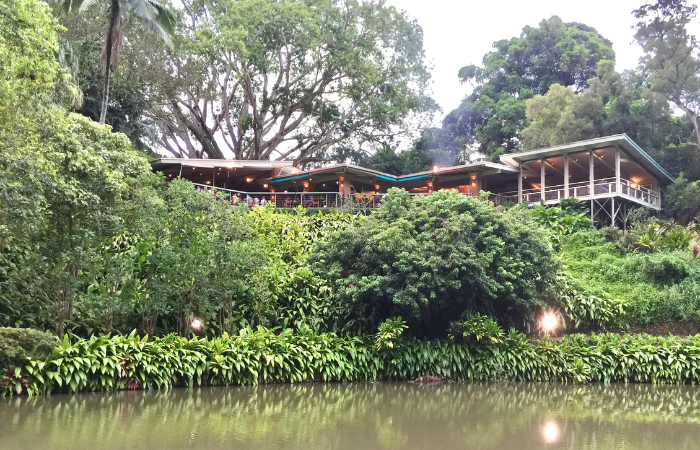 I think this is the best spot for a nice dinner on Oahu and the place that's probably most comparable to Mama's Fish House on Maui (although still not in the same league). The location in Kaneohe (Haiku Gardens-not to be confused with the one that's actually in Haleiwa) is one of the loveliest spots on Oahu, the food is delicious, and the atmosphere feels special but not pretentious. It's a favorite spot with locals to celebrate special occasions.
Kaneohe Bay Sand Bar
The sandbar in Kaneohe Bay has long been a favorite spot for locals who have boats to hang out on the weekends, but recently there has been a rise in tour operators who offer an adventure option for visitors. This is high on my list of things to do next time I'm on the island.
Leaving Kaneohe and driving north, you'll find yourself on THE best drive on Oahu. The drive along the windward coast towards the north shore is one of my favorite things to do on Oahu. You'll be sandwiched between majestic green mountains on one side and stunning white sand beaches on the other.
Kahana Bay
This beautiful bay is such a gorgeous spot to pull over and stretch your legs.
Mokolii Island (Chinamans Hat)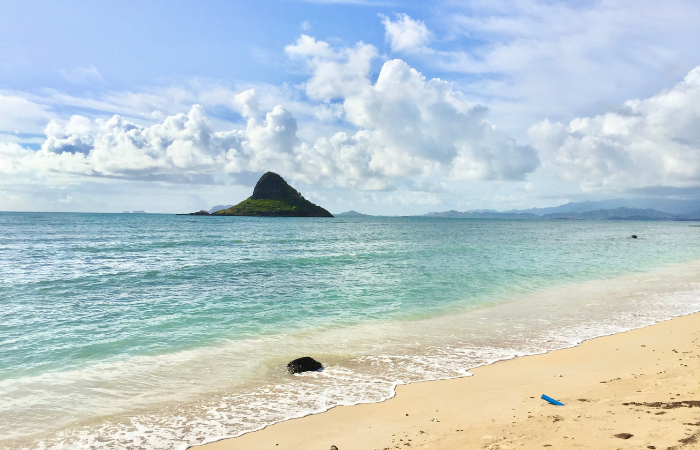 Pull over at Kualoa Park for great views of this funny shaped island just offshore. You can kayak out to Chinaman's hat and hike to the top, but I wouldn't say it's an adventure for beginners. If you're interested, find more info and book a rental here.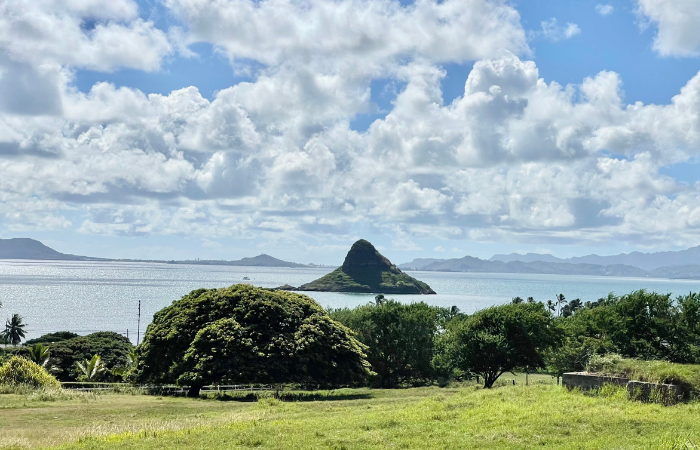 Kualoa Ranch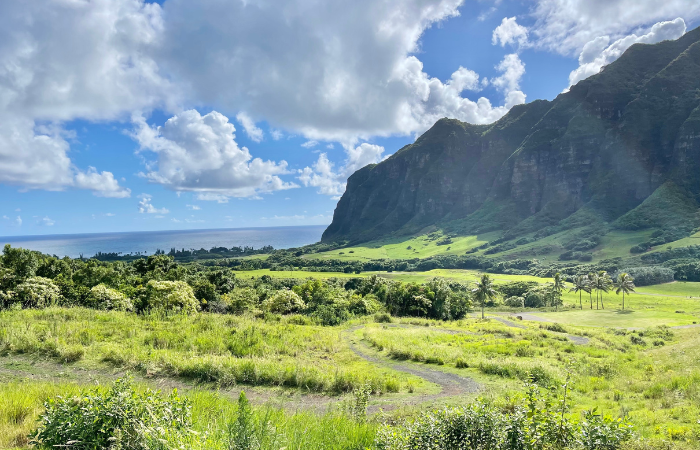 We'll end our adventures on this side of the island with one of Oahu's biggest tourist attractions. "Tourist attraction" can sound like a dirty word, but I think Kualoa Ranch is a don't miss. In the last 30 years, Kualoa Ranch has become Hollywood's go to filming destination when they need a tropical jungle with breathtaking mountain views.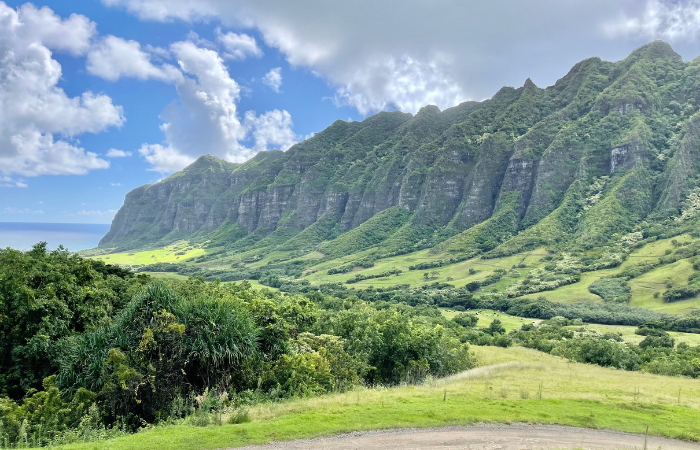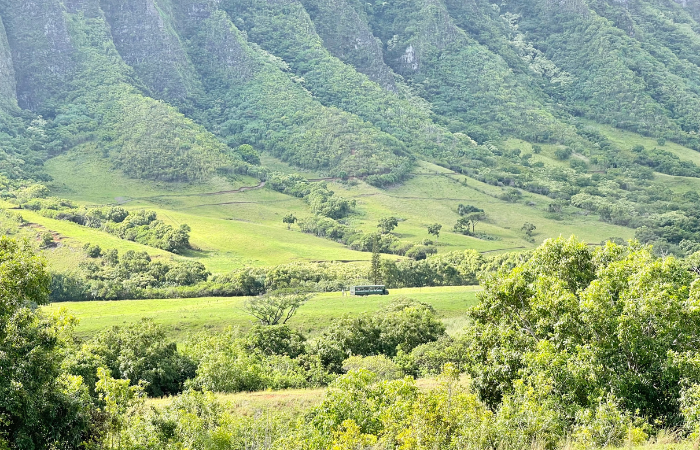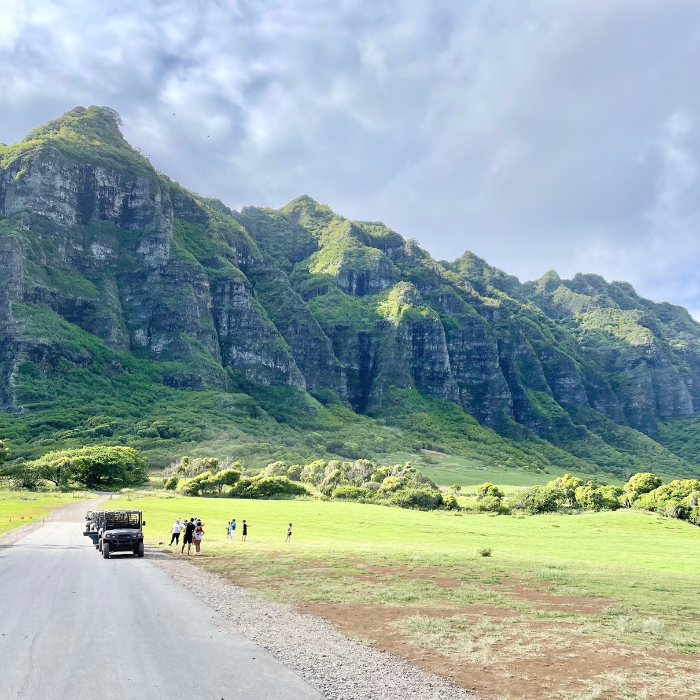 The ranch really is incredible, and there are so many ways you can experience it. My personal favorite is the Jurassic Adventure Tour and I can't recommend it enough. Read all about Kualoa Ranch here.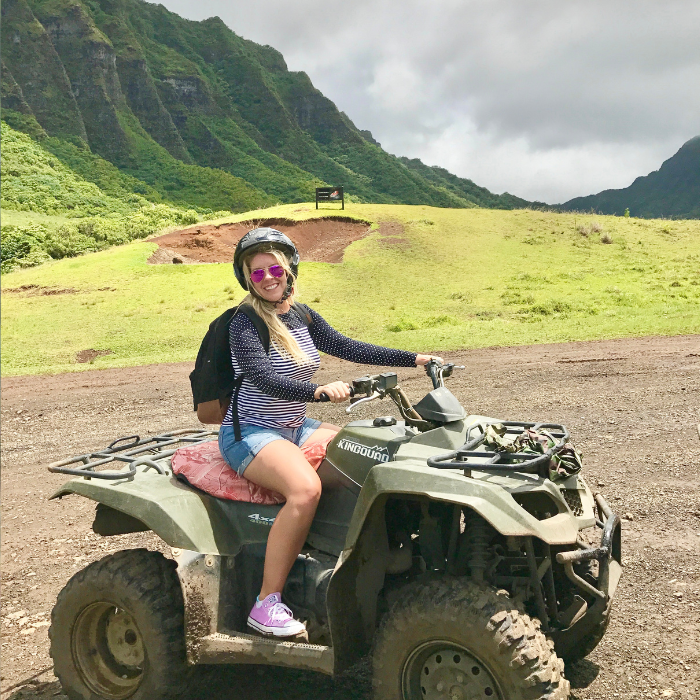 Want to read more? Don't miss some of my most popular (and favorite) posts about Oahu:
If you're trying to figure out where to stay, you're going to want to look at my favorite boutique resort in Waikiki and the lowdown on where to stay on Oahu besides Waikiki. Plus I've got the scoop on how to avoid illegal vacation rentals and a roundup of where to stay in Ko Olina and reviews of the Laylow and Disney's Aulani Resort. And a LOT more on Aulani like is Aulani worth it?, tips for staying at Aulani, how many days to spend, and the best things to eat and drink at Aulani.
If you're researching luaus on Oahu, I've written quite a bit. First, I've got a full breakdown of the best luaus (and the worst) on Oahu. Then I've got complete reviews of Paradise Cove, the Polynesian Cultural Center, and Aulani's Ka Wa'a Luau. And if you've narrowed it down to the top two most popular on the island and still can't decide, here's Paradise Cove vs Polynesian Cultural Center.
If you're trying to put together an itinerary full of the best things to do, take a look at my best 5 day itinerary, and roundups of the best things to do in Waikiki, "secret" things to do on Oahu, plus my favorite things to do in Kailua and the windward coast, in Ko Olina, and on the north shore. And if you're looking for food recommendations, I've got the best restaurants in Ko Olina and where locals eat in Waikiki.
And last but not least, some of my favorite things on Oahu like Jurassic Park at Kualoa Ranch, Shangri La and the Honolulu Museum of Art, tips for visiting Pearl Harbor, easy hikes on Oahu, and the best spas on Oahu. And everything you need to know BEFORE you go to Oahu.
Save
Save
Save
P.S. Thanks for sticking around and reading this whole post! If you have ANY questions about planning your trip to Hawaii, you can join my free Facebook group here. I'm there answering questions every day and there are 7500+ other friends who have a ton of Hawaii information to share!
Also, if you want to follow along on my travel adventures in real time, you can follow me on Instagram (@caitylincoln). My post captions are full of travel tips and I have a ton of story highlights and videos with great info. And please share my account with your friends that are headed to Hawaii! Your support really helps me keep this blog running!