Where Do Locals Eat in Waikiki? 40 Places to Try That Aren't the Cheesecake Factory ; ) for all Budgets & Occasions 
This post may contain some affiliate links, which means I'll make a little money on anything you choose to purchase. But of course, I only recommend my absolute favorites to you. Thank you for supporting the brands that make the Lincoln Travel Co possible.
Honolulu has one of the more interesting food scenes of any US city. I mean, the name "Oahu" literally translates to "The Gathering Place" and eating is what people do when they gather! So it's no surprise.
It wasn't long after the arrival of the first missionaries in Hawaii that the first sugar cane and pineapple plantations sprouted up. Pressed for labor, enterprising businessmen began luring immigrant workers from Japan, China, the Philippines, Brazil, Korea and so many other places.
Each of these ethnicities mixed with the local Hawaiians to create the cultural melting pot that Hawaii is now famous for.
So Honolulu has this rich, culturally complex food scene and yet so many times when I see people ask for restaurant recommendations in Waikiki, what I see is "CHEESECAKE FACTORY!" lol. And ok, I guess if you're coming from Australia or another foreign country and you're wanting to experience some good ol' "American" culture, then the Cheesecake Factory definitely is a window to…that.
BUT, if you're coming to Hawaii to experience Hawaii and the island's storied culture, we can do so much better than that.
I've rounded up a pretty extensive list of spots that run the gamut from places to get authentic Hawaiian food to high end beachfront dinners to local style plate lunch specials.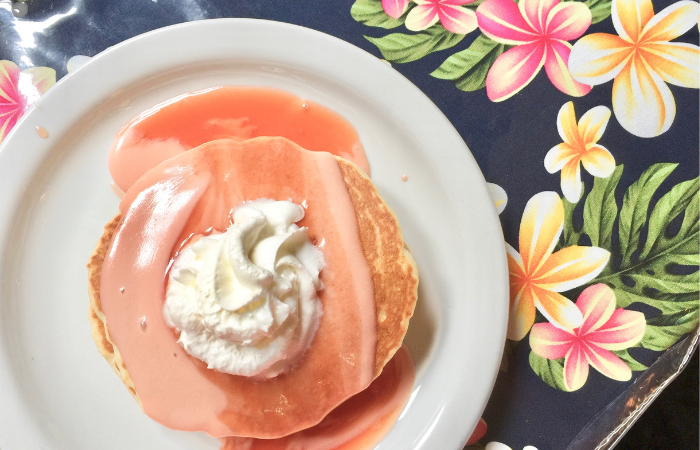 The recommendations in this post are mostly centered in Waikiki (the walkable hub that's home to most of the island's tourist center), but some branch out into nearby neighborhoods in Honolulu and I'll make note of which places are near certain sites and attractions you may be headed to.
Where Do Locals Eat in Waikiki?
Here's where to start…
Breakfast in Waikiki
Koko Head Café
Head to Koko Head Cafe for a classic American diner style brunch with a Hawaiian twist. Local style but make it trendy/innovate/insta cool. With loads of fancy variations on the island classics to sink your teeth into, and a counter where you can watch all the magic happen, the cafe makes for a great place to soak in the island's culinary creativity. Give the cornflake French toast, gooey ohayou eggs, and flavorful dumplings a try. Really, anything on the menu is great.
Heavenly Island Lifestyle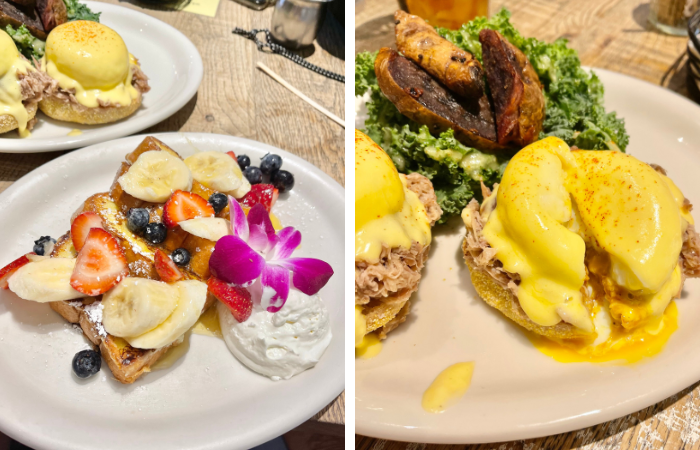 Located in the bottom of the Shoreline Hotel, this place is all about super fresh and local ingredients. The kalua pork eggs benedict were INCREDIBLE and I will 100% go back for happy hour and dinner.
Basalt
Basalt draws in-the-know locals in for brunch and dinner. Located inside the Duke's Lane market/food hall, I was beyond impressed with their brunch and can't wait to go back for dinner/happy hour.
The charcoal pancakes were amazing with the strawberry and guava puree sauce. But I thought the real star was the pork belly fried rice. I could've eaten an entire bowl full of the bacon fried rice.
Sweet E's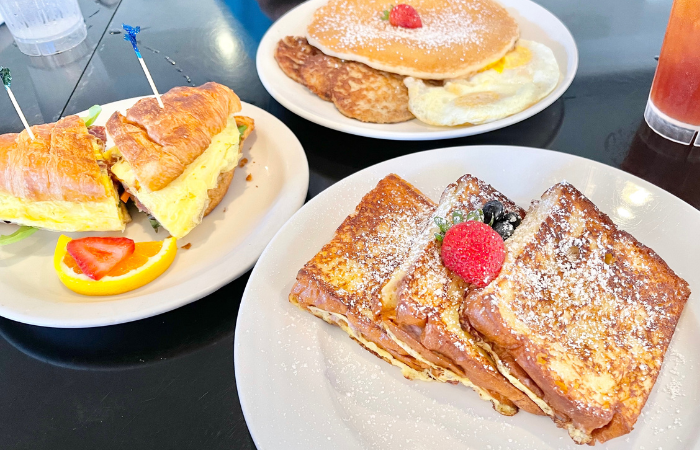 Regularly rated as the #1 breakfast spot in Honolulu, this is a local neighborhood style spot that honestly will probably remind you of a place you know wherever you're from. It's a little far from the main hub of Waikiki just to pop over for breakfast, but the location is a great spot for a post Diamond Head hike breakfast. It's all good but they're especially well known for their stuffed french toast and boy is it decadent!
Low Key (& Budget Friendly Beachfront Spots)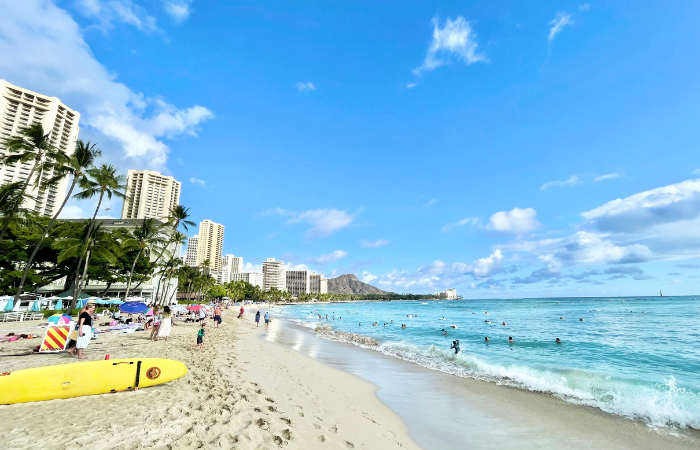 Steak Shack
It really is a shack, but the food is good! Sitting beachfront at the corner of Fort Derussy Beach Park (near the Halekulani), this little food window serves up really good (and cheap for Waikiki) plate lunches (and dinners). But the big draw here is the location. Eat at one of their tables, or carry your food down to the beach.
South Shore Grill
Down in a neighborhood by Diamond Head at the south end of Waikiki, the South Shore Grill is a great place for fish tacos and plate lunch (open for lunch and dinner). You can sit inside, but it's a pretty short walk across Kapiolani Park to the beach. Great views of Diamond Head!
Barefoot Beach Cafe
This is a GREAT beachfront cafe towards the south end of Waikiki near the zoo and the aquarium. Local style food and American favorites at wayyyyy better prices than you'll find further up north in Waikiki. There's often a live band in the evenings.
***Want to get FREE flights to Hawaii? My favorite travel hack is cashing in points to score free flights to Hawaii. My go-to airline is Southwest (seriously, I ONLY fly Southwest) so I use this Southwest Rapid Rewards card to rack up points every time I fly. If you pay for your monthly expenses on the card and are responsible about paying it off every month, the points add up really fast. Plus, if you sign up through my link, you'll get 50,000 bonus points to use which depending on where you're flying from and when, that could be TWO FREE TICKETS TO HAWAII. If I could sign up twice, I would ; )
Authentic Hawaiian Food
Helena's Hawaiian Food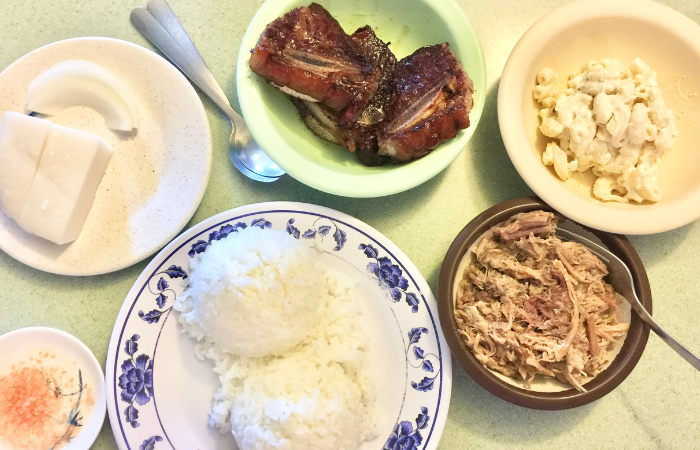 It's not fancy (the best places aren't though, are they?), but this iconic fixture on Oahu serves dishes passed down through generations. It's a local spot to be sure, but they see a fair number of tourists and are very welcoming, taking time to walk you through the menu and explain a good way to order. If you're only going to hit one "local" restaurant on your trip, make this it. Now, it's not in Waikiki, but it's pretty close to the Bishop Museum if you'll be out that way.
Highway Inn
The menu here is huge so if you're traveling with a big group, bring the whole gang to make a dent in it. They have a few locations (including one at the Bishop Museum), but I would recommend the one at Kaka'ako. They have a prime location in Salt at Our Kaka'ako (a new/renovated dining development between Waikiki and downtown Honolulu) and you'll get great food in an environment that's really accessible to visitors (but still popular with locals). Plus they have plenty of parking! The pork laulau is highly recommended and they've got 20 varieties of poke!
Local Style
Rainbow Drive-In
This family owned spot has been around since 1961 and it's been a long time local favorite, but it's become super popular with visitors as well. Portions are huge and prices are friendly. They're best known for their loco moco, but the menu has some good variety. The only negative is there isn't a ton of parking. It's close to Leonard's Bakery though if you're trying to hit that as well.
The Alley at Aiea Bowl
Local Hawaiian food…in a bowling alley? Yep. Take a trip to the 80s with a visit to the award-winning Alley at Aiea Bowl. Do a little bowling, enjoy some top-notch food, and …have a ball ; ) It's an extensive menu with everything from pizza to noodles to plate lunch specials.
This place was featured on Diners Drive-Ins and Dives for their oxtail soup. And their desserts are pretty drool-worthy (lemon crunch cakes and chocolate layer cakes!).
This is a GREAT spot for lunch if you're visiting Pearl Harbor or the swap meet at Aloha Stadium.
Side Street Inn
Sidestreet is a family-style inn with a seriously local vibe that serves classic dishes like tender Korean short ribs and their signature garlic fried chicken. Mouth watering good dishes served in huge portions and a casual setting means this spot fills up fast. Make reservations in advance!
Side Note: If you're looking for a rental car for your trip, I LOVE Discount Hawaii Car Rentals. They're seriously the only company I ever use. They'll give you the very best prices, you don't have to reserve with a credit card or pay until you show up, you can cancel and re-book anytime if you find a better rate, and they usually have a special that adds additional drivers for no fee. It's a no brainer. Click here to check rates for your trip.
Asian Favorites
Marukame Udon
I've heard about this place for a long time, but on my last trip to Oahu I stayed across the street at the Laylow so it was finally time to try it. This place has a line down the block ALL THE TIME. That's a good sign. It's a low-key Japanese restaurant that serves fresh udon (noodles) made from scratch right in front of you. They also usually have a good selection of tempura.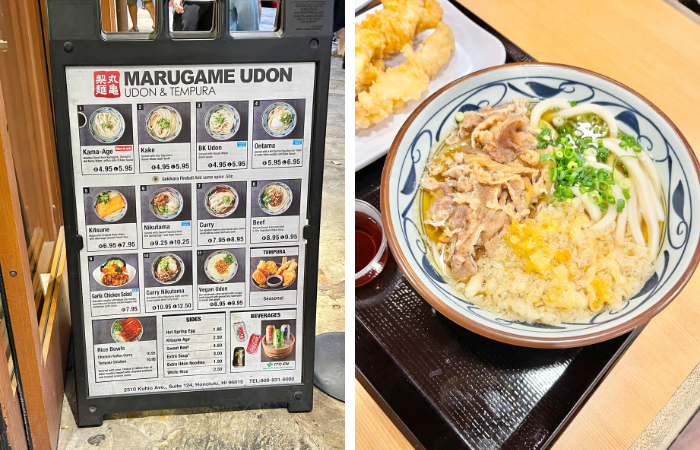 So is the long line justified? Yes. Here's the deal: 1) It's pretty inexpensive and casual. 2) The portions are large and the food is good. 3) It's always full of Japanese and local people in addition to visitors. 4) It's right in the heart of walkable Waikiki. 5) It's a great authentic, cultural experience, but still very accessible for visitors who aren't familiar with the cuisine or customs but want to experience something out of their comfort zone.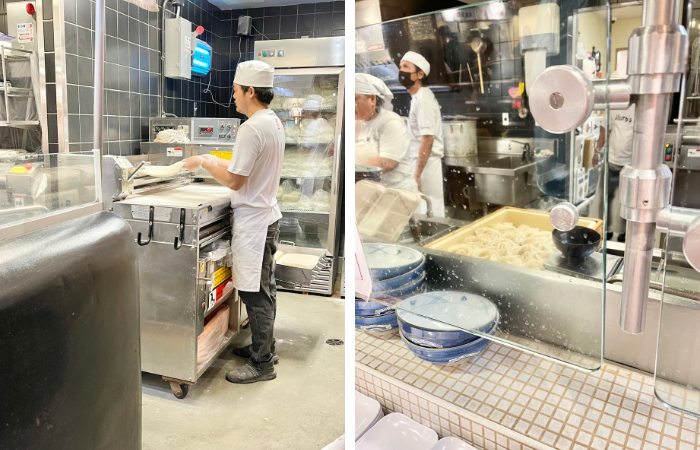 All of that draws the crowds. But the line moves quickly and they do a good job turning over tables so you can usually find a spot to sit as soon as you get your food.
Musubi Cafe IYASUME
With multiple locations in Waikiki and the Ala Moana Center, this is a great spot for a quick bit. Musubis (traditionally little "sandwiches" made of rice, spam/meat, and seaweed) are made fresh daily in a variety of options, some even vegetarian friendly, but the onigiri and tuna curry is a fan fave. Head down to the beach nearby for a nice spot to chow down.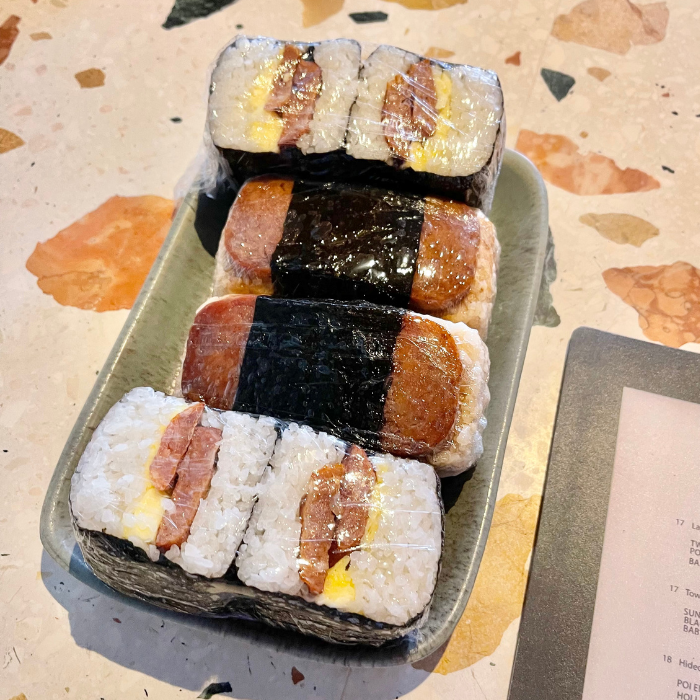 The Pig & the Lady
A modern Vietnamese restaurant in the heart of Honolulu's Chinatown, the Pig and the Lady has long been considered a don't miss spot on Honolulu's culinary scene. It's a great spot for lunch or dinner if you want to check out Chinatown, but need a starting coordinate (the area can be a little rough/overwhelming). It's not too far from the Iolani Palace.
Mitsu-Ken
This Japanese fast-food eatery is famous for their lunch bentos. The garlic chicken is really good. Go early because crowd favorites (like the chow fun) tend to sell out by mid day. It's not far from the Bishop Museum.
Ethel's Grill
Ethel's Grill is a little mom and pop restaurant that is famous for its home style eats. This cash only place serves dishes like sweet and sour spare ribs, mochiko chicken and Saimin. Their taco rice is also a don't miss. Celebrity chef Anthony Bourdain has visited and left an autograph on a wall inside so be sure to check that out while you're waiting for your food. There's usually a rush at peak hours so try and get there early. Lunch comes with a salad, house dressing and soup so it's a pretty good bang for your buck! It's not far from Honolulu harbor and Aloha Tower.
Momosan Waikiki
This ramen (and sake) bar by Chef Morimoto right across the street from Kuhio Beach is a great low key spot to grab dinner before or after watching the free hula show at the Kuhio Beach Hula Mound on Wednesday, Friday, and Saturday nights.
For the Hawaiian Dinner of Your Dreams (aka Sip Your Mai Tai with Views of Diamond Head)
Okay, these spots aren't really local per se (they're all located in beachfront hotels), but they are great places to have that quintessential Hawaiian tourist dinner (hey nothing wrong with that!). Think…fresh fish, mai tais, Diamond Head views, a live band.
Duke's
This is easily the most recommended restaurant on Waikiki, and maybe in Oahu overall. Is it really the best restaurant on Oahu? No. BUT. It is right on the beach with AMAZING views of Waikiki Beach and Diamond Head. It's a pretty large restaurant with a first come first serve bar section (a lot of tables) that serves the full menu. The food is pretty good and it's not insanely expensive. And that's a recipe for a ton of buzz. You cannot underestimate how crowded this place gets…reservations are hard to come by, and it's in a high traffic area. Last time I went, I showed up about 4PM thinking it would be easy to walk in but they weren't seating people and said they wouldn't until 5PM and it would be an hour wait once they started.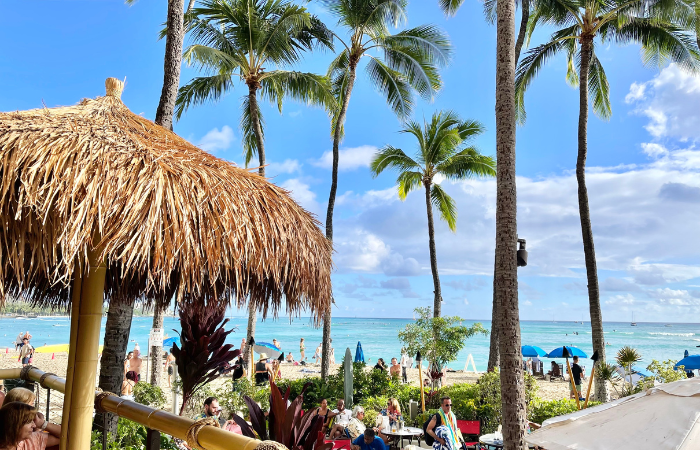 And they weren't super helpful about saying you could go back to the bar to find a table. I ended up poking around a bit and there were a ton of tables to sit at in the "bar" area (which is really just a huge part of the restaurant with normal tables). Also, if you show during one of their weird "we're not seating people right now" windows, sometimes the hostess back in the bar area will actually seat you at a table in the main part of the restaurant.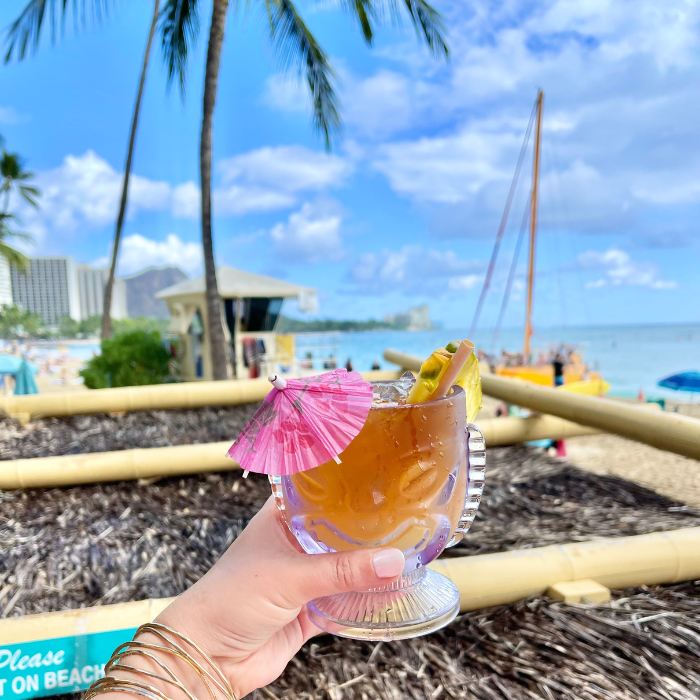 The mai tais are okay. Not the best, but pretty festive. And I really love the coconut shrimp. People RAVE about the Hula Pie here like it's some unique Hawaiian delicacy…y'all…it's ice cream on an Oreo crust with hot fudge. Wonderful? Absolutely. A must try to go out of your way for? Not necessarily.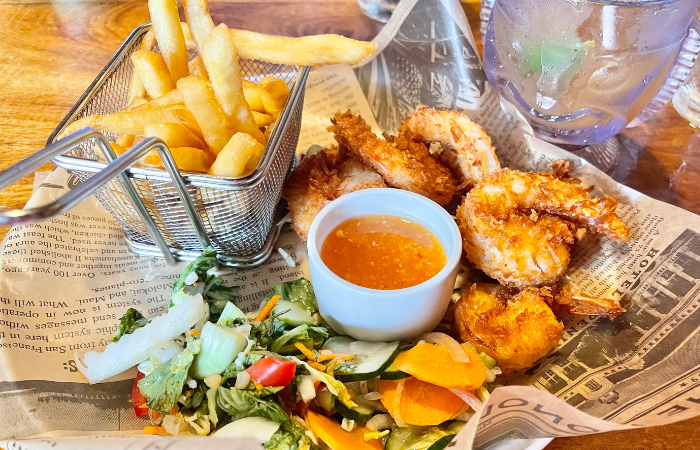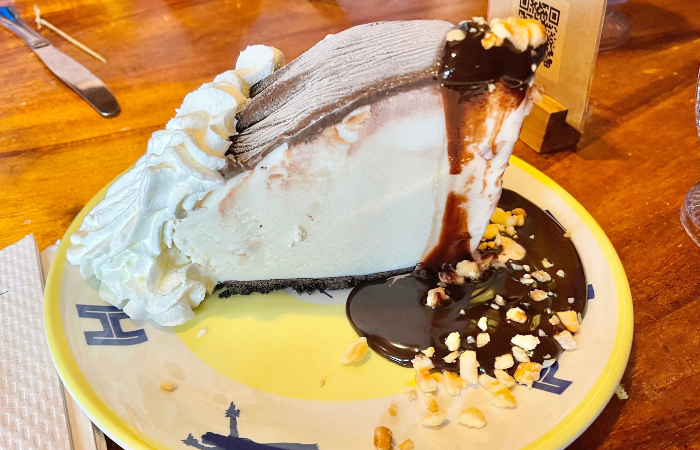 Hula Grill
Similar to Duke's, but less crowded and overrun with people. Great views, good food, and more reasonable prices than some of the more high end resort restaurants.
House without a Key
This is actually my favorite spot for a sunset Waikiki Beach dinner. The vibe is a little more refined than Duke's. The menu is more limited and expensive, but also more upscale and while it's usually lively with a band and sometimes a hula dancer (not to mention those epic views) but it's not super chaotic like some of the more popular places.
Hau Tree
I haven't made it here yet, but it's really high on my list. It's located in the Kaimana Hotel at the south end of Waikiki which has just been totally renovated in a really chic way and the restaurant has been getting rave reviews. You'll get those coveted Waikiki and Diamond Head views, but without the crowds and masses tooling around.
Seriously Good Food, No Ocean Views
So you'll pay a premium to eat at the big oceanfront restaurants, and sometimes the food is a little mainstream. Check out these places if you want some seriously good food in and around Waikiki and you're okay with no ocean views.
Opal Thai
I have heard about Opal Thai from several different people now and it's supposed to be the best thai food you'll ever have. It's conveniently located in the Royal Hawaiian Center and it's not unusual for the chef to come out to ask you questions about what you like and don't like and then make personal recommendations.
Mahina and Suns
Local food and cocktails served in a more upscale way at the trendy vintage Surfjack hotel.
Paia Fish Market
I've loved this place since I lived in Maui and I'm glad to see it expanding to other islands. Super low key and the best seafood.
Moku
I could write an entire post (I'm surprised I haven't already), on why I love Chef Peter Merriman's restaurants so it's no surprise that I will now be a Moku regular. Merriman's and the Monkeypod have been long time favorites of mine, and Moku delivers the best of their menus in a more lowkey and affordable way.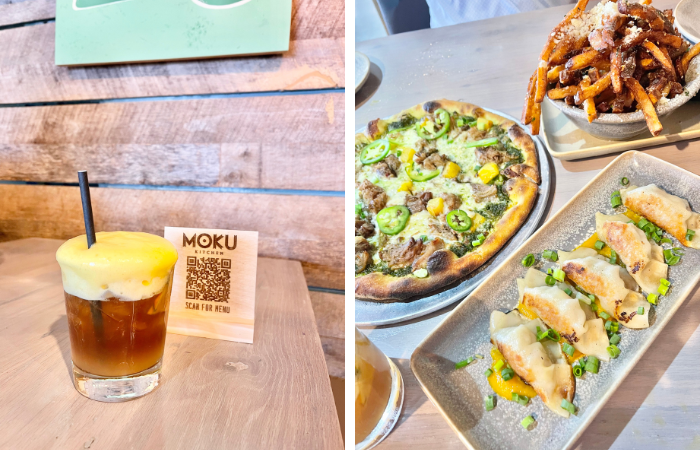 It's the showpiece of Salt at Our Kaka'ako (a trendy dining development between Waikiki and downtown Honolulu). You order at the counter when you walk in and take your number to a table where a waiter brings it to you and then you can order more from the table. They've got all of your favorite pupus, pizzas, cocktails, etc from Merriman's and the Monkeypod but everything is a few dollars cheaper. Plus they've got more substantial meals like burgers, fish tacos, sandwiches, Saimin, and steak frites.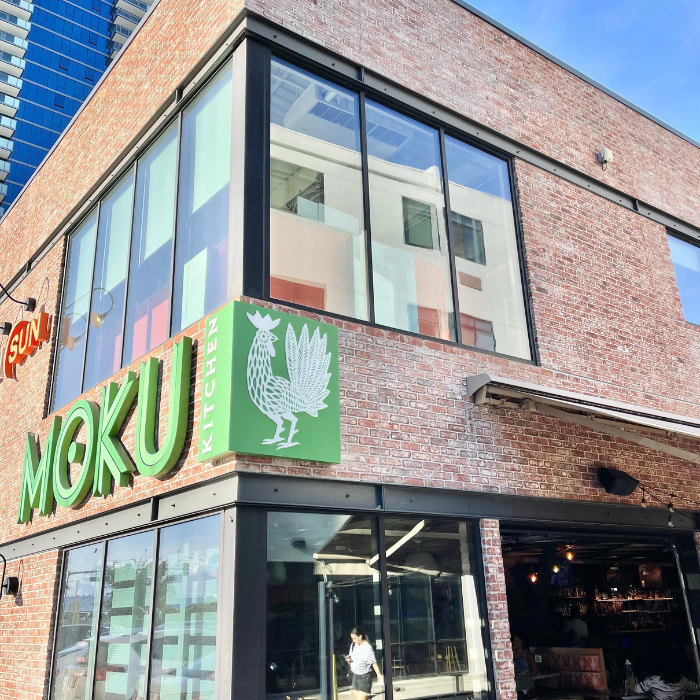 High End Dinner
Senia
This is the upscale sister restaurant to the Pig and the Lady in Chinatown.
Hy's
An opulent, old school favorite steakhouse in Waikiki.
Stripsteak
Currently the most popular steakhouse in Waikiki.
La Mer
Hawaii's only AAA 5 Diamond Restaurant is Halekulani's showpiece. High end, oceanfront, French cuisine with a prefix menu.
Azure
Upscale, oceanfront spot at the famed Royal Hawaiian with a Spanish-Moorish decor vibe.
Michel's at the Colony Surf
French, fine dining with Diamond Head views.
On Another Note: If you're looking for a condo or vacation rental for your trip, I always book with Vrbo. They've got the largest selection of rentals you'll find anywhere and you can easily filter to find exactly what you're looking for. Need a specific number of bedrooms and bathrooms? Narrowed it down to a certain location? Want flexible cancellation terms? Need to stay under a fixed budget? Click here to search for Oahu vacation rentals for your trip.
Places for a Drink
Hideout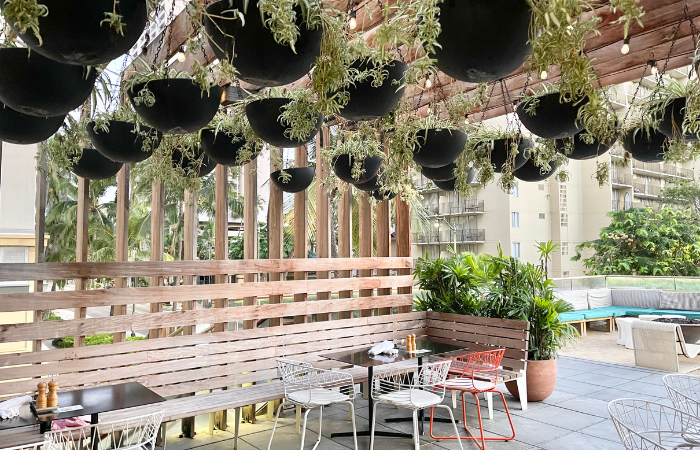 It's not beachfront, but this has got to be one of the coolest places in Waikiki. The rooftop bar at the Laylow (one of my absolute favorite hotels in Waikiki) has such a cool vintage Hawaiian vibe and their drinks are top notch. They don't rely on Diamond Head views to serve weak drinks ; ) I always go with the mai tai, but their old-fashioned is highly recommended.
Mai Tai Bar

This beachfront bar at the historic pink Royal Hawaiian hotel is one of several places that claims to have invented the mai tai. Maybe we'll never know the truth, but this is such an iconic spot. They have several different varieties of mai tais and whichever one you choose you'll be feeling good as you sip it underneath those famous pink umbrellas.
Tiki's Grill & Bar
An oceanfront spot for Hawaiian style cocktails in a fun, tiki style environment.
Tommy Bahama
Okay, okay, okay I know…no chains, BUT I always hear such great things about
Something Sweet
Leonard's Bakery
If you've done any research about foodie must dos on Oahu, you've heard mention of Leonard's. Famous for their malasadas, a Portuguese fried donut, Leonard's has been attracting the crowds since the 1950s.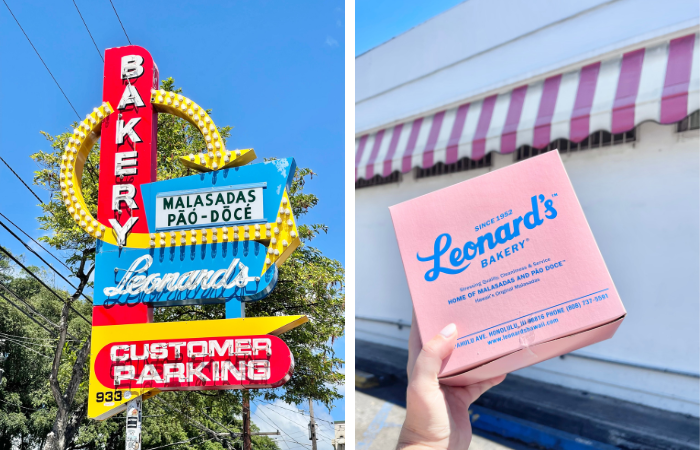 It's not uncommon to find a line around the block at Leonard's, but it usually moves quickly. And here's the good thing about the line…it means they're making a TON of malasadas and that means that they're almost always hot, fresh out of the oven.
Now, are they really the best in Hawaii? I couldn't say for sure as I haven't been EVERYWHERE (I'm working on it though ; ) but they are dang good. There is NOTHING like a hot, fresh malasada and I think that's why they're so beloved here. Due to the volume they produce, they're almost always hot and fresh and I think that makes them better than other places that don't sell as many so they sit in the case for a while.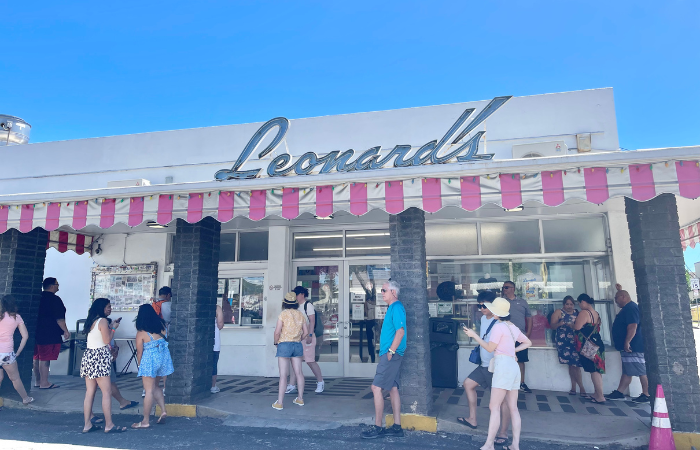 Pro Tip: If you want one of their famous pink boxes, you'll need to order at least a half dozen. If you only order a couple they come in a bang (I saw a lot of disappointed Instagramers last time was there haha).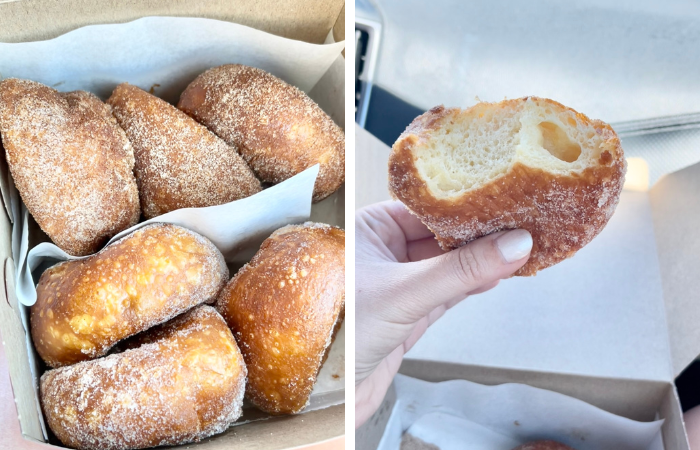 Another Pro Tip: If the line is too long, or the main location just isn't convenient, they have a fleet of MalasadaMobile trucks parked at different places on the island. Check their website for current locations.
Liliha Bakery
This place doesn't get as much hype among tourists as Leonard's but don't make the mistake of skipping it! Open for breakfast, lunch, and dinner, Liliha Bakery is a foodie's paradise serving up both sweet and savories. With several locations around Honolulu, it should be easy to squeeze in a stop. Famous for their Coco Puffs (chocolate cream puffs slathered in Liliha's famous Chantilly frosting), they also do a mean loco moco, and smoked pork belly with eggs.
Banan
Plant based "ice cream" with no added sugar means it's basically good for you, right? Sadly it's banana based (and I'm allergic) so I'm not able to try it, but it looks super yummy! They do acai bowls too and everything is very insta-cute.
Waiola Shave Ice
Waiola is always a front runner for the "best shave ice on the island" award so it's worth the pilgrimage from Waikiki to try it.
Want to read more? Don't miss some of my most popular (and favorite) posts about Oahu:
If you're trying to figure out where to stay, you're going to want to look at my favorite boutique resort in Waikiki and the lowdown on where to stay on Oahu besides Waikiki. Plus I've got the scoop on how to avoid illegal vacation rentals and a roundup of where to stay in Ko Olina and reviews of the Laylow and Disney's Aulani Resort. And a LOT more on Aulani like is Aulani worth it?, tips for staying at Aulani, how many days to spend, and the best things to eat and drink at Aulani.
If you're researching luaus on Oahu, I've written quite a bit. First, I've got a full breakdown of the best luaus (and the worst) on Oahu. Then I've got complete reviews of Paradise Cove, the Polynesian Cultural Center, and Aulani's Ka Wa'a Luau. And if you've narrowed it down to the top two most popular on the island and still can't decide, here's Paradise Cove vs Polynesian Cultural Center.
If you're trying to put together an itinerary full of the best things to do, take a look at my best 5 day itinerary, and roundups of the best things to do in Waikiki, "secret" things to do on Oahu, plus my favorite things to do in Kailua and the windward coast, in Ko Olina, and on the north shore. And if you're looking for food recommendations, I've got the best restaurants in Ko Olina and where locals eat in Waikiki.
And last but not least, some of my favorite things on Oahu like Jurassic Park at Kualoa Ranch, Shangri La and the Honolulu Museum of Art, tips for visiting Pearl Harbor, easy hikes on Oahu, and the best spas on Oahu. And everything you need to know BEFORE you go to Oahu.
Save
Save
Save
Save
P.S. Thanks for sticking around and reading this whole post! If you have ANY questions about planning your trip to Hawaii, you can join my free Facebook group here. I'm there answering questions every day and there are 7500+ other friends who have a ton of Hawaii information to share!
Also, if you want to follow along on my travel adventures in real time, you can follow me on Instagram (@caitylincoln). My post captions are full of travel tips and I have a ton of story highlights and videos with great info. And please share my account with your friends that are headed to Hawaii! Your support really helps me keep this blog running!