Planning a Trip to Hawaii? Here's Your Timeline…Seriously, Read This Before You Book ANYTHING
You're planning a trip to Hawaii…wahoo!! How exciting! But it can also be pretty overwhelming…I mean, how do you even know where to start?
Hawaii is such a unique destination…the Hawaiian Islands are some of the most remote islands in the world, but being the 50th US state has made them much more accessible.
For so many people, a trip to Hawaii is a once in a lifetime dream. And for a lot of people, Hawaii is the farthest they'll ever go from home (by a longshot) and not to mention one of the most expensive trips they'll ever take.
While you'll find a lot of really detailed posts on my blog about specific topics (like picking an island, finding a hotel or condo, best luaus and activities, etc.), this post is the best place to start if you don't even know where to start…
Planning a Trip to Hawaii? Here Are the Top FAQs I Get…
This post may contain some affiliate links, which means I'll make a little money on anything you choose to purchase. But of course, I only recommend my absolute favorites to you. Thank you for supporting the brands that make the Lincoln Travel Co possible.
How Many Islands Are in the Hawaiian Island Chain?
There are four main Hawaiian Islands: Oahu, Maui, Kauai, and the Big Island (also known just as Hawaii)
There are two smaller islands near Maui: Molokai and Lanai
And there are two other islands that aren't open to the public: Kaho'olawe and Ni'ihau.
Oahu is considered the main island (home to Honolulu-the state's capital, Waikiki, and over a million people) but it's not the "Big Island."
What Airport Do I Fly Into?
The four main islands are all easily accessible from the US mainland. Molokai and Lanai are easily reached from Oahu or Maui. Here's a list of each island's major city and airport code:
Oahu: Honolulu (HNL)
Maui: Kahului (OGG)
Kauai: Lihue (LIH)
Big Island: Kona (KOA) or Hilo (ITO)
Molokai (MKK)
Lanai (LNY)
The only interisland ferry transportation is between Maui and Lanai.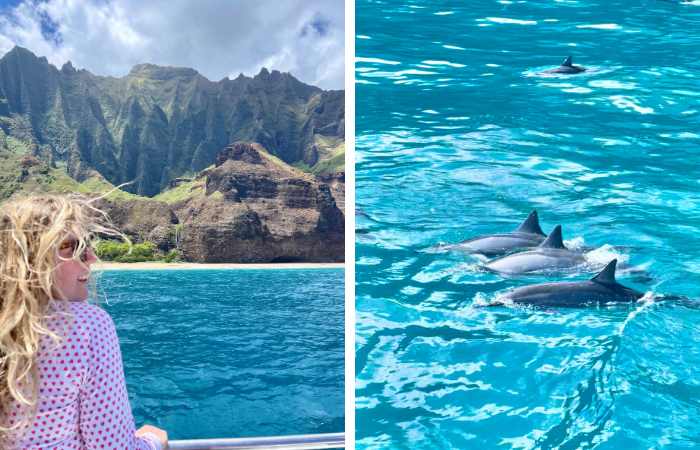 How Long Is the Flight to Hawaii?
It seems like a world away but Hawaii is actually only a 5 or 6-hour flight from California. It's 6 hours going to Hawaii, and 5 hours coming back from Hawaii. There are so many more direct flights to Hawaii now from the midwest and even the east coast. From the midwest (Dallas, Chicago, Denver, Austin, etc.) you're looking at 8-9 hours and from the east coast (New York, Boston, Orlando, etc) it's usually 11-12.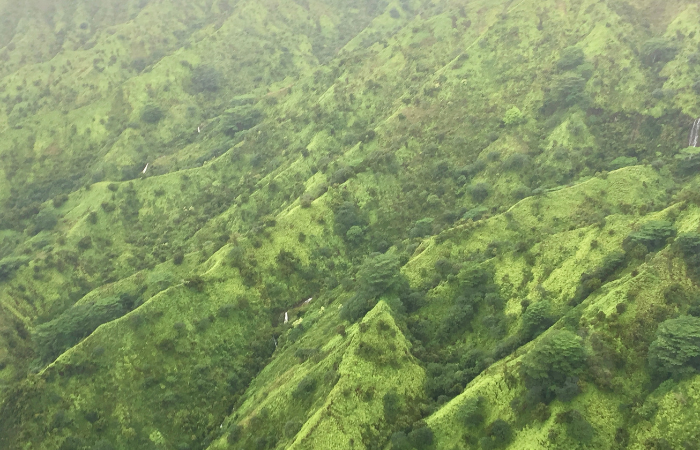 What's the Time Zone?
The Hawaiian Islands run on the Hawaii-Aleutian Time Zone. Hawaii also doesn't observe Daylight Savings Time so they're 3 hours behind West Coast time (6 hours behind East coast time) when we're on Daylight savings time, and 2/5 hours when we're not.
How Big Are the Islands?
The Hawaiian Islands were formed by volcanic eruptions and the age of each island inversely corresponds to its size (and some of its features).
Kauai is the oldest island (formed almost 6 million years ago) and also the smallest island. Oahu is the second oldest island and second smallest. Maui is the second youngest island (formed about 1.3 million years ago) and second largest island. And the Big Island comes in as the baby island and the only island with ACTIVE volcanoes which means that it's still growing!!
Maui and the Big Island are the only islands where you'll find the dramatic black sand beaches (formed when lava meets the ocean) because they're still relatively young. Oahu and Kauai are the islands with the most dramatic green jagged mountains because they're older and have suffered more erosion.
So in terms of size: Big Island > Maui > Oahu > Kauai
And in terms of age: Kauai > Oahu > Maui > Big Island
Molokai and Lanai were originally part of Maui but as the islands have sunk, they've become three separate islands.
While there's a big size difference between Kauai and the Big Island, generally speaking these are not tiny islands like you'll find in the Caribbean. Going from one end of the island to the other could take hours (both because of their size and also because of a lack of direct roads).
Which Island Is Best?
As far as which island is best or which you should visit, there's not really a definitive answer. And anyone who gives you one has either only been to that island or has a big bias (my bias is Maui ; )
Each island is fairly unique and has a lot to offer. While each island has a handful of attractions (natural or manmade) that you'll only find on that island, EVERY island has supherb beaches, snorkeling, water sports, resorts, etc.
In other words, your "dream Hawaiian vacation" can be had on each island. I've got a whole post breaking down the different islands here.
And if you sort of already have an idea of which one you want to visit, check out these posts: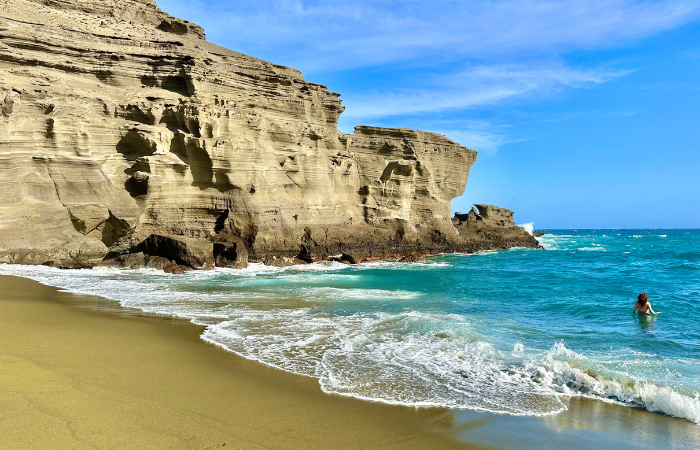 When Is the Best Time to Go to Hawaii?
These days most people are planning their vacations around work/school/holiday schedules and generally have an idea about when they're going to go, but if you're wide open and trying to pick the best time to go to Hawaii, here are a few things to think about:
Hawaii is pretty moderate year round so you can expect warm, sunny weather even in the "winter" months. But it can rain more during the winter.
Whenever kids are out of school is high season…summer and the winter holidays are booming, ESPECIALLY around Christmas and New Years.
End of August through the beginning of October is one of my favorite times to go to Hawaii. They call it "couples season" because the kids have gone back to school and the crowds are low. This is when I find the best deals.
Whale season is mid December to mid April with February being peak season.
Late spring is also a good shoulder season where you can find lower prices and crowds.
For way more info and advice on when is the best time to go to Hawaii, read this post.
Should I Book Airfare or Accommodations First? And When?
The two biggest things you'll need to book for your trip is your airfare and your accommodations. But which should you book first? Well, it depends.
If you're flying a whole crew to Hawaii, you may be more focused on finding the cheapest airfare possible and just take whatever rooms you can find. In that case, nail down your airfare first.
I personally am more accommodation focused. Where I stay can really make or break a trip for me and I usually have a fancy resort or two that I've got my eye on so I'll do the research and pick dates that are going to save me the most money on the room (or when I can get a good value on point redemption through reward programs) and then I usually just pay whatever the flights are for those dates.
When you're talking about luxury beach resorts, if you pick the right dates you can potentially save $$$ EACH NIGHT which is usually more than you could ever save on a plane ticket.
But I like to stretch my dollars as far as possible so I try to find a sweet spot between saving money on BOTH airfare and the room and book everything at the same time.
It takes some planning (and maybe a legal pad or spreadsheet full of options for dates and prices listed out), but I think it's worth it to have the best trip possible.
There are a million ways to do this, but here's what I do:
I generally know which island(s) I want to go to and I have a window of time (2-3 weeks) that I want to take the trip. I price out all of my hotel options and flight options during that time period and then pick my specific dates based on what's going to work out best. I usually only go to Hawaii for about 6 nights at a time so if I'm flexible enough to look at a whole month (or even just 2-3 weeks) of dates you can find a LOT of wiggle room on prices.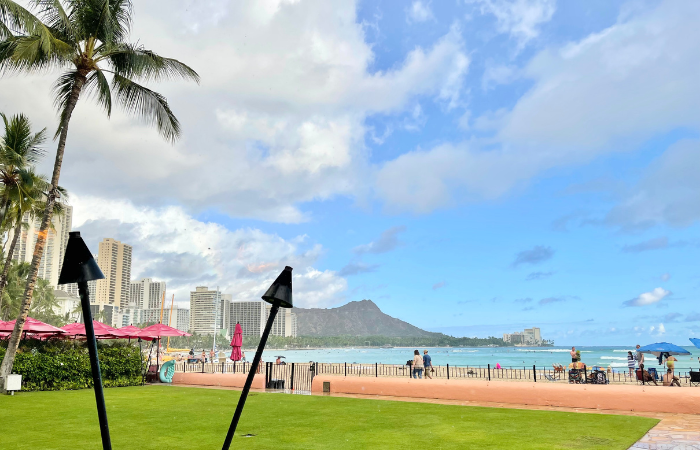 So when should you book all of this?
Southwest Airlines (pretty much the only airline I fly anymore) opens up the booking window 6-8 months in advance. They'll announce on what date the booking window will in advance. Most other airlines open up 11 months in advance.
If you're committed to flying Southwest and you're traveling during a busy time of year (or you just need very specific dates), you'll want to be ready to book right away.
If you're flexible, I usually find 4ish months out to be the sweet spot for pricing. Again, that's if you're flexible.
As far as a timeline for booking rooms, if you're traveling during peak times, many places book up almost a year in advance (I'm looking at you Maui at Christmas).
Of course, you'll usually be able to find some place to stay if you wait until the last minute, but booking your accommodations in advance will insure that you have the most options available to you. This is especially relevant if you're looking at condos or vacation rentals. The best properties (and best deals) will start to disappear if you wait too long.
4-8 months out on booking accommodations is pretty reasonable unless you're needing something super specific (or like I said…something over Christmas).
I usually aim to book my Hawaii trips 3-4 months in advance, but I'm pretty flexible, always have a handful of options that will work, and I'm only traveling with one or two other people.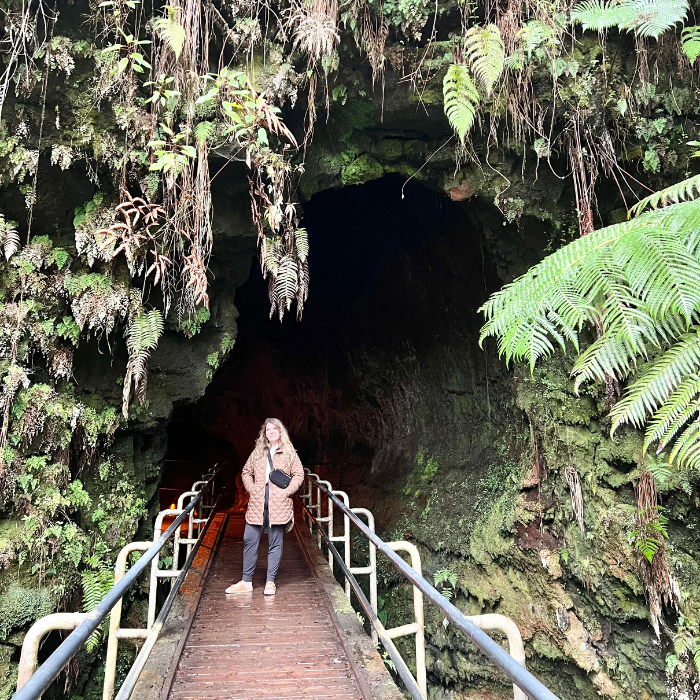 What's the Best Airline to Fly to Hawaii?
I see people asking this question on the internet soooooo often. Here's the thing…the best airline to fly to Hawaii is 100% dependent on where you're flying from. If you have an airline that offers a direct flight from your home airport, that's a no brainer. I would never make an extra connection or go out of my way to fly on any airline that people say is "better."
And that includes Hawaiian Airlines. A lot of people think Hawaiian Airlines is really exotic and this premier airline, but the reality is that flying in 2023 isn't glamorous. Even if they're playing ukulele music and the flight attendants are wearing flower hair clips.
The best airline to fly is the one that's going to be the easiest/most convenient flight from your home airport.
Now, this is mostly relevant if you're flying economy in the main cabin. If you're flying first class, I'm sure there are amazing experiences to be had. If you're looking for a luxury flying experience, my advice would be to look up the exact aircraft that the different airlines are flying on each route to verify that the configuration/offerings will be worth upgrading for.
Generally speaking, these are the airlines that offer flights from the US mainland to Hawaii:
American Airlines
Delta Airlines
United Airlines
Southwest Airlines
Hawaiian Airlines
Alaska Airlines
The trick is finding the best of these options that offers either a direct flight from your home airport to the Hawaiian Island you'll be visiting or at least one easy connection.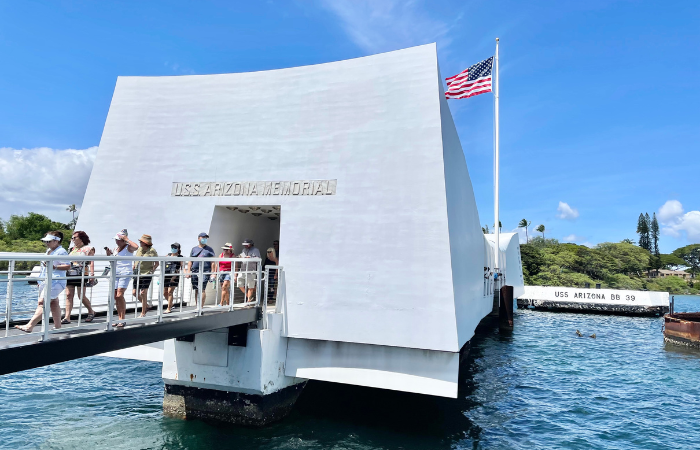 Should I Book a Hotel/Resort or a Condo/Vacation Rental?
Most people usually have a personal preference one way or the other. If you want the full Hawaiian vacation experience, you cannot beat staying at a beach resort. If you want more space and to save some $$$, you cannot beat staying in a condo.
If you're spending a full week on one island, here's my winning recipe for the perfect trip:
Book the first 4-5 nights of your trip at a budget friendly place (whatever that looks like for you). Book a condo or vacation rental and plan to do the bulk of your "exploring" while you're staying there.
Book the last 2-3 nights of your trip at a nice beach resort and just enjoy your "vacation." Pool, beach, spa, golf, luau, long walks, shopping. Whatever.
You'll get the best of both worlds. You won't have to sacrifice getting to experience "resort life" in Hawaii (IT IS THE BEST!) and you also won't be spending so much money that you feel sick about leaving the resort to go explore the island. It's win/win.
Here are my best posts for finding specific condo/vacation rentals on each island:
Maui Condos & Vacation Rentals
Kauai Condos & Vacation Rentals
Oahu Condos & Vacation Rentals
Big Island Condos & Vacation Rentals
What Is the Best Hotel on…Maui? Kauai? Oahu? The Big Island?
Hotel reviews and comparisons are kind of my jam ; ) Peruse these posts for all the details you could possibly want:
My Favorite Boutique Hotels in Hawaii
My Favorite Luxury Resorts in Hawaii
Maui
Where to Stay on Maui: My Favorite Hotels & Resorts
The Best Hotels in Wailea (I've Stayed at Them All)
The Best Resorts in Ka'anapali & Kapalua (West Maui)
Oahu
My Favorite Boutique Hotels in Waikiki
Where to Stay on Oahu BESIDES Waikiki
Kauai
Where to Stay on Kauai: Princeville vs Poipu
Big Island
Where to Stay on the Big Island: My Favorite Beach Resorts
Hilton Waikoloa Village Review
Do I Need a Rental Car?
You absolutely will need a rental car. Hawaii is not an all-inclusive destination where you'll arrive by shuttle and never leave your resort (I mean you could do that…but it's pretty expensive just to get to Hawaii so most people want to actually see Hawaii. If you want a cheaper resort only vacation, just go to Mexico).
The islands are pretty large so unless you're just going a few miles, taking Ubers and Lyfts isn't really feasible (you could be talking $100 one way to go to another part of the island). Also, Oahu is the only island that has a decent bus system.
So you'll most definitely want a rental car for your stay even if you're staying in a resort area. I always book through Discount Hawaii Car Rentals. They're seriously the only company I ever use. They'll give you the very best prices, you don't have to reserve with a credit card or pay until you show up, you can cancel and re-book anytime if you find a better rate, and they usually have a special that adds additional drivers for no fee. It's a no brainer. Click here to check rates for your trip.
I would reserve your rental car as soon as you know your trip dates, but then keep monitoring it to see if you can find a better deal as the trip gets closer.
Rental cars are finite in Hawaii so don't wait around too long to reserve one or you may end up having to rent a more expensive category than you need.
What Are the "Must Do" Activities?
Depending on your vacation style, you may want to just beach bum around and go with the flow or you may prefer to have a tentative schedule so you make sure you see and do everything you want.
At the very least, I recommend booking activities that you're set on well before your arrival.
Popular luaus and activities (helicopter tours, snorkel trips, etc.) often book up months in advance so I prefer to make these reservations once I know my dates. While you'll usually be able to book SOME luau or activity close to your departure or even once you arrive, it may not be the one you want. So don't get caught paying a premium price for your second choice. Book activities in advance.
Some helpful hints ; ) … Old Lahaina Luau on Maui books many months in advance. And UTV tours at Kualoa Ranch on Oahu also book out pretty far.
Okay, so you know about booking things like luaus, snorkeling trips, etc in advance but since Hawaii has been so inundated with visitors since COVID, there are now a handful of experiences that now require advance reservations:
USS Arizona Memorial at Pearl Harbor (Oahu)
Snorkeling at Hanauma Bay (Oahu)
Waianapanapa State Park/Black Sand Beach (Maui)
Haena State Park/Kalalau Trail (Kauai)
Reservations for most of these book out 30-60 days in advance and some sell out in SECONDS. So while "going with the flow" is great in theory, you won't be able to hike the Kalalau or see the sunrise at Haleakala on a whim. You'll have to plan it out.
Do I Need Restaurant Reservations?
If you want to do any special/fancy dinners, these days you're definitely going to need reservations. Mama's Fish House on Maui is currently booking about 6 months out and on most islands, the top restaurants in the resort areas should be booked well before you arrive. Even things like spa treatments should probably be booked in advance if you've got your heart set on it. Even as a resort guest, it's hard to get into the best spas once you arrive on the island.
What Should I Pack?
I've got a great post about what to pack for Hawaii here. I've got detailed advice about what to wear in different scenarios plus 20 specific things that you don't want to forget to pack.
What's This about Reef Safe Sunscreen?
Hawaii has passed some pretty cool sunscreen laws in the last few years in an effort to protect the reefs from damage. There are specific chemicals that have been banned on all islands, but Maui has taken it one step further and only allows mineral sunscreens.
If this is all totally new to you, don't worry…it's not really that extreme. There are a TON of options (that you can buy at your local Target/Walmart) plus once you're on island. And they're not crazy expensive either.
Read all the details in this post.
Is (Fill in the Blank) Worth It?
Wow I get this question a lot. I used to try to answer it based on my personal experience and opinions and a delicate cost/benefit analysis plus trying to figure out what the question asker's expectations are. Here's what I've come to realize….if you're asking if something is worth it…it's probably not…FOR YOU.
Different people have different expectations and also tolerances for spending money. Some people don't think anything of dropping $300 on dinner for 2 and some people could never stomach that in a million years NO MATTER WHAT. Value for money and time is very subjective and everybody likes to/is comfortable spending their time and money in different ways.
Same thing when people ask if something is a "must do." "Is Pearl Harbor really a must do?" If you're asking, it's probably not. For me, it absolutely is. On my first trip to Oahu, I was only there for two days and I spent one of them at Pearl Harbor. But I have friends who have been to Oahu many times, have never been, and absolutely don't feel like they're missing anything. So if you read a normal amount of information/reviews about something and you're still wanting to ask if (fill in the blank) is worth it…it's probably not.
You're allowed to spend your Hawaiian trip however you want and in a way that you'll feel good about. You don't HAVE to go to a luau. You don't HAVE to go out on a snorkel boat. You don't HAVE to make reservations for that one restaurant everyone is talking about when the idea of spending that much money on dinner makes you feel kind of ill.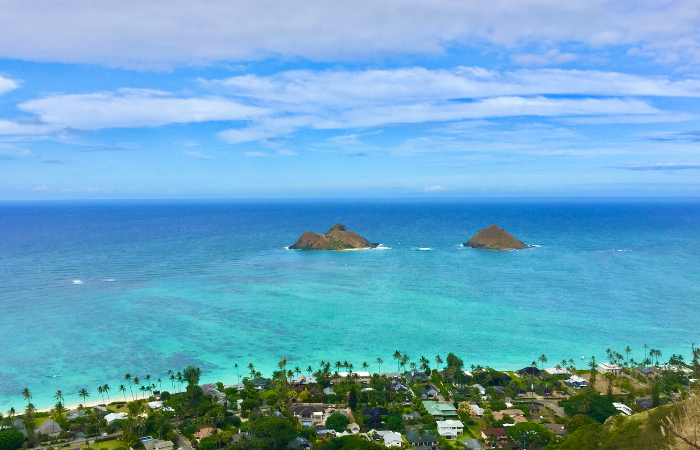 Anything Else I Should Know Before I Go to Hawaii?
I'm so glad you asked ; )
One of the most important posts on my blog is this one: How to Not to Look Like a Dumb Tourist
It's got a LOT of important information in it from background on the history of Hawaii, info on illegal vacation rentals, safety warning, laws about wildlife and a whole lot MORE. Seriously, it's worth the time to read and I think it'll make your vacation that much better.
Here's one more really important thing you need to know before your Hawaii trip…
Reservations You Need to Make BEFORE Your Hawaii Trip
You've got your airfare, hotel, rental car and your big activities booked, so you should be good to go, right? Wrong!
Travel is BOOMING in Hawaii so a lot of state and national parks used the closure and reopening to institute reservation systems at some of the island's most popular spots to make things a little more sustainable.
That means that there are now over half a dozen sites (beaches, trailheads, etc.) that require advance reservations. And some sell out well before you arrive on the island so you really need to have some sort of a plan.
I recently saw somebody in a Hawaii travel group post in a panic that they didn't know they had to make reservations for things in advance…they thought they could just show up and "go with the flow." I was tempted to say, well, "as long as the flow doesn't take you somewhere that requires reservations, you can!" ; )
But I don't want YOU to be that person, so I've pulled together a list of all the places you need to reserve entry in advance (plus all the details on booking windows, price, links, etc.) and a handful of popular tourist hotspots that book out really far in advance too.
Haleakala National Park (Maui)
To visit Haleakala National Park for sunrise at the summit, you must make reservations in advance here.
Reservations are required to enter the park gates between 3AM and 7AM (sunrise hours).
Online reservations are $1 per reservation/vehicle PLUS you'll pay the park entrance fee of $30/vehicle when you arrive (National Park annual passes are also accepted at the gate).
The reservation booking window opens 60 days in advance at 7AM HST. There are also a limited number of tickets released two days before.
You can make one reservation every three days with the same account. So if you want to make reservations for back to back days (in case of weather/conditions), you'll need to do so with separate accounts (email addresses).
If you can't get reservations for sunrise, you can enter the park anytime after 7AM without reservations. The summit is spectacular during the day and you don't need reservations for sunset.
I strongly recommend creating an account before and making sure you're logged in at 7AM HST because it's not uncommon for reservations to sell out quickly.
Waianapanapa State Park (Maui)
To visit Maui's famous black sand beach at Waianapanapa State Park on the Road to Hana, you must make reservations in advance here.
Reservations are required to visit the beach and are distributed in windows from 7AM-10AM, 10AM-12:30PM, 12:30PM-3PM, and 3PM-6PM. And they are pretty strict about exiting by the end of your window time (you can arrive anytime within your window).
It's $5/person to enter plus $10/vehicle to park and those fees are paid when you book your time slot.
Reservations open up 30 days in advance.
Iao Valley State Park (Maui)
To visit the lush, green mountains and hike at Iao Valley State Park, you must make reservations in advance here.
Reservations are offered for 90 minute time slots beginning at 7AM and ending at 6PM. They ask that you arrive within the first 30 minutes of your time slot.
Entry is $5/person plus $10/vehicle to park.
Reservations open up 30 days in advance.
Diamond Head (Oahu)
To hike to the top of Waikiki's famous Diamond Head, you must make reservations in advance here.
Reservations are offered in two hour increments beginning at 6AM (6AM-8AM, 8AM-10AM, etc.) and ending at 6PM. If you're parking onsite, they ask that you arrive within the first 30 minutes of your reservation window.
Entry is $5/person plus $10/vehicle to park.
Reservations open up 30 days in advance.
Tip: I recommend booking one of the first two time slots because there isn't much shade on this hike and it gets pretty hot.
Hanauma Bay (Oahu)
To snorkel at Oahu's pristine Hanauma Bay, you must make reservations in advance here.
Entry times are staggered in 10 minute increments from 7AM to 1:20PM with roughly 1000 slots being assigned in advance every day.
Reservations can be made two days in advance and they open at 7AM HST. They're usually gone in minutes (if not seconds).
If you're unable to get an advanced reservation, you can try for a day of, walk in ticket. They open at 6:45AM and they only have a limited number available. Everyone in your group needs to be present when you purchase your tickets in person.
There are no reservations for parking and it's first come, first serve. $3/vehicle.
It's $25/person to snorkel at Hanauma Bay (12 and under, active military, and locals with HI ID are free).
The Hanauma Bay Nature Preserve is open Wednesday through Sunday (CLOSED MONDAY AND TUESDAY) from 6:45AM-4PM. Last entry is at 1:30PM, the beach is cleared at 3:15PM and you have to leave the facility by 4PM.
Jellyfish patterns can also affect whether or not the bay is open so double check the day before/day of.
USS Arizona at Pearl Harbor (Oahu)
If you want to take the boat tour at Pearl Harbor out to the USS Arizona, it's recommended to make advance reservations here.
Online reservations are guaranteed a specific boarding time to go out to the USS Arizona. If you're unable to get an advance reservation, you can wait standby when you arrive. The line could be short (15 minutes or so) or long (hours) and it just depends on the day (if they're having problems with the loading dock sometimes they don't take many from the standby line) and the time of day.
Reservations are supposed to open up 60 days in advance, but keep an eye on your exact dates, because lately they've actually been opening up about 57ish days in advance???
They also release a small batch of tickets the day before.
The boat ride out to the USS Arizona is free, but it's $1 to make the reservations online.
They recently started charging $7/vehicle for parking at Pearl Harbor.
Haena State Park / Kalalau Trail (Kauai)
If you want to hike Kauai's famous Kalalau Trail, you must make advance reservations here.
You've got three options here:
1) Parking & Entry: This is the most flexible option and also the most limited. THESE RESERVATIONS SELL OUT IN LESS THAN A MINUTE. There are three time slots available: 6:30AM-12:30PM, 12:30PM-5:30PM and 4:30PM to sunset. You can purchase multiple time slots if you want to stay longer. It's $10/timeslot (parking) plus $5/person and you have to reserve every person when you initially book. Everybody has to arrive in the same car and your ID needs to match the reservation.
2) Shuttle & Entry: If you can't get parking at the trailhead, there's also a shuttle option. Shuttle reservations are $35/person (16+), $25/person (ages 4-15), 3 and under can ride free. The shuttle runs every 20 minutes 6:20AM to 6:40PM.
3) Entry Only: If you're a Hawaiian resident (with HI ID) or someone WITH a Hawaiian resident, you can purchase entry only for $5/person with no advance reservations. Also, if you're walking or biking to the trailhead you can do this option. But there is NOWHERE to park in the area to walk in. So this really only works for those with bikes or who are staying close enough to walk. They will tow your car if you park outside the designated areas.
The reservation window opens 30 days in advance at 12AM HST. The parking & entry option usually sells out in a minute, but the shuttle availability will last longer.
There are a TON of FAQs here including the possibility of snagging a canceled reservation.
Other Things to Book in Advance
Hawaii is a busy place these days! Besides the state and national parks above, here's a handful of miscellaneous things you should make reservations for in advance (if they're on your radar):
Mama's Fish House (Maui): The iconic spot is the most popular restaurant in Hawaii and they've been opening reservations (and selling out) 4-6 months in advance. You can call and get on the waitlist for one day or you can set notifications on OpenTable to alert you for cancellations every day of your trip. Most people have pretty good success on OpenTable.
Old Lahaina Luau (Maui): Honestly, any luau you're planning to attend you should book early, but most people are usually shocked how far out the Old Lahaina Luau books out. Book it as soon as you know your dates (I think they open at the six month window). They also have a waitlist.
Kualoa Ranch UTV Tour (Oahu): Everybody loves Jurassic Park so getting to ride UTVs where they filmed the movies is very popular. The ranch offers a lot of different tours but the UTV tours usually book out a couple of months in advance.
Spa Reservations: If you're staying at a resort with a spa (or planning on visiting one), don't wait until you arrive to make your reservations. I'd make them at least a month in advance.
Tee Times: Same for golf, reserve your tee times well in advance.
Dining Reservations: Any "fancy" or resort restaurant is likely to be booked up these days so if you like having a nice dinner every night, make your plans in advance.
Save
P.S. Thanks for sticking around and reading this whole post! If you have ANY questions about planning your trip to Hawaii, you can join my free Facebook group here. I'm there answering questions every day and there are 7500+ other friends who have a ton of Hawaii information to share!
Also, if you want to follow along on my travel adventures in real time, you can follow me on Instagram (@caitylincoln). My post captions are full of travel tips and I have a ton of story highlights and videos with great info. And please share my account with your friends that are headed to Hawaii! Your support really helps me keep this blog running!