This post may contain some affiliate links, which means I'll make a little money on anything you choose to purchase. But of course, I only recommend my absolute favorites to you. Thank you for supporting the brands that make Hulaland possible.
For most travelers, airfare is the single biggest expense of a trip to Hawaii…after all, it's a looooong ways over there. And if you've never booked international airfare before (I know it's the US but because of the distance, flights to Hawaii work much more like international than domestic), it can be kind of overwhelming. First up, I'll let you in on a few of the biggest things you need to be aware of before you start looking at airfare to Hawaii. Next, I'll let you in on my 5-step system for booking cheap flights to Hawaii and finally, suggest a few scenarios where I think it's worth it to pay a little more for a better flight.
Before I dive into some of my favorite money saving strategies, you should know that the single biggest factor that will save on airfare is picking the cheapest time of year to travel to Hawaii (read all about that here). Once you have a good idea of your general travel dates as well as the island(s) you're headed to, you're ready to start searching for bargains!
So first up, exactly how long is the flight to Hawaii?
Well it depends where you're traveling from. From the west coast, flights are only 5-6 hours (6 hours going, 5 hours coming home). From the midwest, flights can be 7-9 hours (hey, the US is a big country and there's a big difference between Denver and Atlanta). And from the east coast, flights can be 10+ hours (yikes!). Now I have not flown direct from the east coast, but I have flown direct from Dallas, TX (8 hour flight) so I have some personal experience here. I will say, these are DIRECT flight times (my preferred method of travel), but the majority of flights to Hawaii connect on the west coast so you'll be able to break it up.
Things to Know About Booking Airfare to Hawaii
Before you start bargain hunting, here are a few general strategies that I've found save money on airfare no matter where you're traveling:
Be flexible: Obviously, the more flexible you are on dates (within your general time frame) the more likely you'll be able to find a deal. If you can pick a 2-3 week time frame and then search for dates within that block, you'll find the best deals.
Check out nearby airports: If you live in an area with several airport options, make sure to investigate all of your options. It may also be worth it to drive a bit to fly out of a different airport, especially if they have a good connection to a west coast hub.

Know your connections: The lowest priced flights usually have the most connections. If you have more time than money, being willing to make another connection (especially through Los Angeles or Honolulu) will often save you money. Also, flights with long layovers (especially coming home) are usually the cheapest.
Fly on weekdays: As a general rule of thumb, weekday flights are always less expensive than weekend flights. Everybody wants to leave on a Friday morning and come home the next Saturday or Sunday so naturally that will always be the most expensive option. Being able to travel on a random Tuesday or Wednesday can really save you some big bucks.
Consider breaking the trip up. Narrow your airfare search to a west coast hub (Los Angeles, San Diego, San Jose, San Francisco, etc.) because those are where you'll find AMAZING deals. $200 round trip tickets to Maui anyone? Once you snag an awesome deal, then stalk flights from your hometown to that city. You can often save quite a bit using this method but it does require more planning.
Check to see how full your flight is. Once you find a flight itinerary that you like but you're not sure if the price is at rock bottom or not, go to the airline's website and look up the seating chart. That will tell you how full it is. If it's mostly filled up, don't expect the price to go down much. If it has plenty of availability, you might take the gamble of waiting to see if the price drops.
Side Note: If you're looking for a rental car for your trip, I LOVE Discount Hawaii Car Rentals. They're seriously the only company I ever use. They'll give you the very best prices, you don't have to reserve with a credit card or pay until you show up, you can cancel and re-book anytime if you find a better rate, and they usually have a special that adds additional drivers for no fee. It's a no brainer. Click here to check rates for your trip.
Check out Alaska Airlines. Although the name may confuse you, Alaska Airlines has a surprising amount of flights to Hawaii and they're considered a budget airline so they're usually some of the best options. They fly out of almost a dozen locations on the west coast, so always look into them as an option.
Southwest Airlines is now a player. Southwest has announced plans to begin flights to Hawaii (as well as interisland flights), so if you're loyal to the airline, this is a great opportunity to cash in those points and check some free bags! Definitely keep an eye out for great rates with Southwest!
When in doubt, fly Hawaiian. Unless you've been to Hawaii before, you likely won't have much experience with Hawaiian Airlines, but I really like them. They only fly out of a handful of hubs on the US mainland (although they have flights from Las Vegas and JFK in addition to the regular west coast hubs), but they have good partners so you can usually book with them from quite a few cities. In my experience, their places are always nice and they really nail the ambiance. They also partner with Jet Blue so if you have miles with them, you can use them to book Hawaiian.
5 Steps to Booking Cheap Flights to Hawaii

Now that you have some general background strategy, here is the 6-step process I use for finding the best airfare deals:
1.When you're first beginning your search, do a Google Flights search to get a basic idea of prices during your travel window. This is a great way to check out the differences between nearby airports and also compare the cost of flying to each island. This will give you your base price to beat when you're deal hunting.
2.Once you have a general idea of the numbers you're dealing with, I love to use Skyscanner to start playing around with different dates in your travel window and start monitoring. Sign up for email alerts 5-6 months before your trip.
3.Be ready to book airfare around four months out. This is the prime booking window so once you've monitored the trends for a couple of months, be ready to book fast! Once you pass this window, prices will usually only rise.
4.Clear your cookies. If you've searched on a specific search engine or booking system and then you go back in and see a price increase, it's mostly because it recognizes you. It knows you're interested in that flight so it's increased the price to get you to panic and book. If you clear your computer's cookies or search history, you should see an unbiased price reflected.
5.Book a good deal fast! Since you've done your research, you should know a good bargain when you see it, so snap it up! Once you find the best price, I recommend going and booking directly through the airline. If anything happens while you're traveling you have much more leverage when dealing with them directly instead of having to go through a third party like Expedia or Travelocity.
RELATED: How to Survive the Long Flight to Hawaii
Which Hawaiian Island Should You Visit?
How Much Does a Trip to Hawaii Cost?
When to Pay More
I'm definitely one to spend some time hunting for a bargain, but there are times when I think it's worth it to pay more. Flights to Hawaii are about 5-6 hours from the west coast, 8-9 hours from the middle of the country, and 11-12 hours from the east coast so that's a long time to be miserable in a bad seat or on a less than stellar aircraft. Also, not all flight itineraries to Hawaii are created equal. Of course it's all subjective, but here are times when I think it's worth it to pay more for a better flight:
For a direct flight: While many times it's cheaper when you can land a direct flight (especially if you're near a west coast hub), the farther east you call home, often the more expensive the direct flight options are. But I think they're worth it! For example, flying from Tulsa, OK, my cheapest flight path is usually through Dallas and then Los Angeles, however American Airlines has a direct flight from Dallas to Maui that for me, is so worth the higher price! Being able to bypass the connection in Los Angeles (which usually involves a terminal change and rechecking baggage) and extra layover is something I'm willing to pay a little more for. Of course, this is something you have to weigh for yourself.
For fewer connections: Similar to my suggestion above, flights with fewer connections are often a little pricier, but make our travel day much smoother and cut down on any chances of missing your final flight to Hawaii due to delays on an earlier flight.
For a better seat: Many airlines offer seat upgrades to the bulkhead (no seats in front of you) or an exit row for a small fee (usually $40-60) and having the extra leg room can make all the difference, especially on a long flight. I recommend using Seat Guru, which will break down the seating configuration of the aircraft for different flights you're looking at.
For a better aircraft: Not all routes to Hawaii fly the same planes and some are definitely better than others. When you're looking into a specific flight, I like to run the flight number through Seatguru.com to see what kind of plane you'll be flying on. Especially if it's your first trip to Hawaii, the aircraft can make a big difference. Whenever it's an option, I like to fly Hawaiian Airlines because I feel like they really nail the ambiance (who doesn't like a complimentary "mai tai" before touch down?).
For a better connection coming home: Many people forget about the time change between Hawaii and the US mainland when booking return flights. Hawaii time is 2-3 hours behind the west coast (depending on daylight savings time). If you're traveling to the Midwest or east coast, you'll need to leave Hawaii on one of the first flights of the day to get home on the same day. A 7AM flight leaving Hawaii will usually get you to the west coast around 2-3PM (Pacific time), which leaves you plenty of time to make another connection. A flight that doesn't leave Hawaii until 3PM won't get to the west coast until 10-11PM, which will leave you either sleeping in the airport or grabbing a hotel for a few hours sleep before your 6AM flight home. Not fun. And some airport terminals close down at night making staying in the airport not an option (make sure you know the rules at your specific airport if you're going this route. FYI, the San Jose airport does stay open 24/7…I have first hand experience. The other option is taking the red eye from Hawaii, which usually gets you to the west coast around 4AM leaving you a respectable layover. Even if you decide to go the cheapest route, whatever that may be, at least check and see what scenario you'll be dealing with so you're prepared, This doesn't really affect travelers whose final destination is the west coast, only those who need to make another connection before arriving home.
Again, it's up to you to decide when it's worth it to pony up a little more cash for a better flight experience, but these are my general recommendations based on my experience.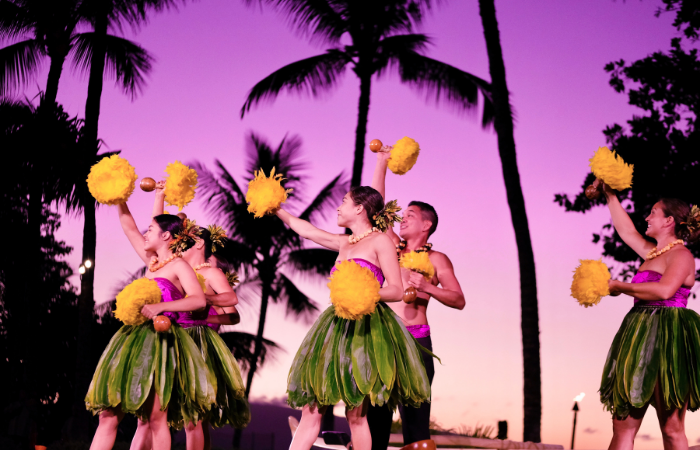 Thanks for sticking around and reading this whole post! It's always my goal to provide a TON of value to YOU. To that end, lately I've been packing my Instagram (@hula.land) FULL of content and adventures that you might want to check out. A lot of my post captions are like mini blog posts with travel info, I've got IGTV review videos for luaus and excursions, and helpful story highlights like grocery store prices and hotel reviews. Not to mention that my feed is pretty much the ultimate tropical eye candy! You can follow me here and share my account with your friends! Your support really helps me to keep this blog running!
Also, if you have ANY questions about planning your trip to Hawaii, you can join my free Facebook group here. I'm in there answering questions every day and there are 5000+ other friends who have a ton of Hawaii information to share!
Save