Kauai is the island most Hawaiian dreams are made of. Lush, green mountains, tropical hideaways, gorgeous beaches, epic hiking. While there's nowhere in Hawaii that feels truly undiscovered anymore, Kauai does have a pure feeling that many prefer over Oahu and Maui.
But if you're very far into the planning process, you've probably realized that picking the right place to stay is just as important as choosing the right island. Figuring out where to stay on Kauai can be overwhelming because there are soooo many options.
This post may contain some affiliate links, which means I'll make a little money on anything you choose to purchase. But of course, I only recommend my absolute favorites to you. Thank you for supporting the brands that make Hulaland possible.
Where to Stay on Kauai

Kauai isn't a terribly large island, but it does have several distinct areas which can cause most people a few headaches trying to figure out where to stay. You'll fly into Lihue (LIH) which is the most sizable city (city might be a bit of a stretch but it's where Costco is and there's a Target coming soon) and while there are quite a few places to stay along the east coast (sometimes called the Coconut Coast), most people end up gravitating towards the north shore or the south side. All three locations are good, but depending on what you're looking for and what's most important to you (budget, convenience, stellar views, beautiful beaches, luxury resorts, etc.) one area of the island may be more desirable.
In this post, you can expect two things: 1) the rundown on each part of the island so you'll be able to figure out the general area where you want to stay, and 2) specific recommendations on hotels and resorts in those areas.
So here's how it's going to work…I am not going to recommend every single resort on Kauai to you. It's just not helpful.
There are a lot of amazing places to stay and your budget and other factors may make some places more attractive to you. So if you've been checking out a certain place and I don't recommend it here, it's not necessarily a bad place to stay. I'm just really picky about where I like to stay and what I recommend.
I'll make recommendations based on the area of the island to start and then at the end make some suggestions for honeymoon resorts, family friendly places, and price performers.
Also, my specific recommendations in this post are for HOTELS AND RESORTS only. If you're looking for a condo (even a condo-tel/condo resort), you want this post.
Final Note (and a big favor to ask): I ALWAYS recommend booking everything (airfare, hotel, etc.) directly and not through a third party (you have so much more control if something goes wrong). In my recommendations below, I'll usually give two different links: 1) a link to the property where you can book directly and 2) a link to the TripAdvisor page where you can read reviews (A MUST!) and check out a price calendar to find the best dates (to go back and book directly). If you find my blog and info AT ALL helpful, the absolute best thing you can do to help me out is to click through those links to either book (direct) or do your research (TripAdvisor). I make a small commission on your bookings (and sometimes clicks) and if you're going to book a hotel anyways, it's a WIN WIN. Thanks so much!
Okay, onto the good stuff…
North Shore of Kauai
In my opinion, the north shore of Kauai (Princeville & Hanalei) is the most gorgeous place on the planet. It has beautiful beaches and the lush green mountainous landscapes that most people's Hawaiian dreams are made of. It's one of the more remote (but still accessible) parts of Kauai and generally not as developed as the south and east sides.
Also, as you might guess, it's so lush because it rains more here than other parts of the island (especially in the winter). It's not uncommon for it to rain for at least parts of every day.
The north shore is home to the charming little surf town of Hanalei and the resort area of Princeville which has a couple of resorts and a TON of condos. Hanalei is picture perfect and it's on an amazing bay with a great family friendly beach. If you're looking for a vacation rental nearby a very local feeling town, Hanalei is the area you want.
Princeville has a resort feel. It's very manicured and landscaped and has all the amenities (tennis, golf, etc.). There aren't a ton of beaches right in Princeville (some require a tricky little hike to get to) but a lot of condos have great ocean views. There's only two real resorts/hotels in the area and there's also a shopping center with a smattering of restaurants. While Princeville is considered Kauai's "luxury" area, in my opinion it's not on par with Wailea in Maui or other high end resort areas on the other islands.
While it's stunningly gorgeous, it's also a bit remote if you're planning on exploring sites on the south and west sides of the island.
Read my complete guide to Kauai's north shore here.
Best Hotels in Kauai (North Shore):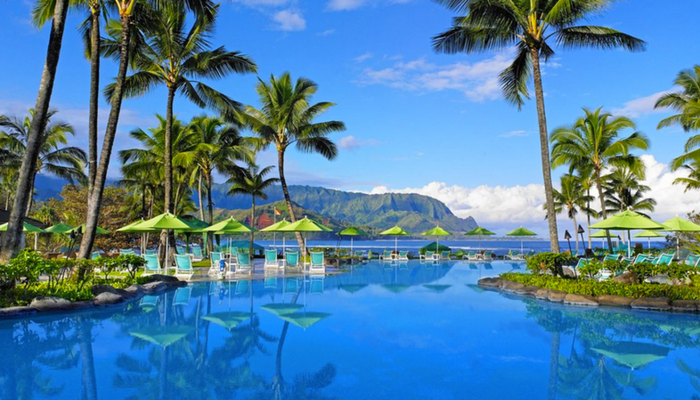 Princeville Resort: The only beachfront resort in the Princeville area (much of Princeville is cliffside), the Princeville Resort (formerly St Regis) is about as luxurious as you'll find on Kauai. It's been recently sold and is undergoing extensive renovations (which honestly it needed). It's expected to reopen at the end of 2021 as the 1 Hotel Hanalei Bay. I'm excited to see what they do with the property because it's been in need of some help for a while. What I can tell is…the pool here boasts what I think it is the BEST view of any resort in Hawaii hands down. From your chair you can gaze across Hanalei Bay at those majestic green mountains Kauai is famous for. If this renovation turns out well, I think this is going to be one of the top places to stay anywhere in Hawaii. Pricing starts at $405/night. Click here to check pricing and availability during your stay.
Westin Princeville Ocean Resort Villas: Part of the Westin vacation club (timeshare) program, this is a good spot if you're looking for larger villa type accommodations with resort amenities. It's not on the beach, but it's a beautiful property and if you track points with Marriott Bonvoy it's a great option. Pricing starts at $350/night. Book a room directly with the Westin here and read hundreds of reviews here.
South Shore of Kauai

Kauai's south side (Poipu) is the driest and sunniest part of the island, which makes it very popular with tourists. Nobody wants to go to Hawaii and sit around in the rain all day! Think: golden beaches, sunny weather, and swaying palm trees but all relatively flat. You won't find the lush green mountains from the north shore down here.
Poipu is where you'll find the highest concentration of resorts and hotels in a tourist-like development. There are plenty of big resorts and condo complexes both on the beach and off the beach plus several shopping centers and restaurants of all types. This area most closely resembles Ka'anapali on Maui, but it's not quite as centralized or walkable.
In terms of location, in addition to it being perfect vacation weather year round, it's pretty conveniently located for exploring the island. There's a lot to do on the south side and it's the best place to stay if you're wanting to venture over to the west side (Waimea Canyon, Polihale Beach, Hanapepe town) which is pretty remote. It's also pretty close to Lihue and Kapa'a on the east side. The only thing it's not terribly close to is the north shore. But then nothing is that close to the north shore.
Best Hotels in Kauai (Poipu):
Grand Hyatt Kauai: The Grand Hyatt Kauai is the flagship place to stay on the south shore and it's perfect for anyone wanting a "big resort" experience. It's truly one of those places that you'll never want to leave. The resort grounds are immaculate and sprawling, and there are enough pools and grottoes to keep you busy for a week. The beach isn't great (too rough for swimming), but it's just down the way from Poipu beach and you'll find plenty of shopping and dining nearby as well as a great spa at the resort itself. Pricing starts at $350/night. Click here to check rates and availability during your stay.
Ko'a Kea Hotel and Resort: Ko'a Kea is located on Kauai's best beach (in my opinion) in sunny Poipu. It's an understated type of luxury (not as visually impressive as the Grand Hyatt) but it's also a lot more personal. If you like more small-scale, boutique properties, you'll love this place. You're also likely to see turtle and Hawaiian monk seals basking in the sun just steps from the resort. Pricing starts at $449/night. Click here to check pricing and availability during your stay.
Sheraton Kauai Resort: Located right on Poipu Beach, where finding turtles or Hawaiian monk seals sunning themselves in the sand is a common sight, you can't go wrong with staying at the Sheraton. The pool is just steps from the sand and there are cabanas available for rent if you want a break from the sun. The resort also has a daily activity schedule with things like lei making, hula and ukulele lessons, island crafts, and water sport demos. Pricing starts at $230/night. Book a room directly with the Sheraton here and read hundreds of reviews here.
Koloa Landing Resort at Poipu: This place is divine and a real contender if you're looking for a relaxing getaway and a place to lounge around in style. I also love that they have studios, villas, and multi bedroom accommodations. Plus it's part of the Marriott Bonvoy family if you track points. The only negative is that it's not on the beach. It's right across the street from the water but there's no real beach in this area. Pricing starts at $230/night. Book a room directly with Marriott here and read hundreds of reviews here.
So now that I've laid all of that out for you…onto the million dollar question (at least the question I get most often about Kauai):
Is it better to stay on the north or south side of Kauai?
1000% honestly here. Kauai is the island I struggle the most with where to stay. For me, the place I stay can really make or break the trip and there's not one place that I just absolutely love on this island (the three other islands I have pretty extensive lists of places I like to stay-or are on my bucket list-for different reasons).
If we're talking north shore vs south shore, the north shore is 100% the most beautiful part of Kauai and in my opinion what you go to Kauai for. Buuuuut it can rain a lot (especially in the winter) and there's not a ton of places to stay up there. I've got my fingers crossed that when the Princeville Resort reopens (1 Hotel Hanalei Bay) it will blow me away and become my go to place to stay on Kauai. So that makes the only problem the rain. If it's during summer (April to October), I definitely like to stay on the north shore. In the winter, it's more of a gamble.
Here's the other downside of staying on the north shore…since their historic flooding in 2018, accessing the town of Hanalei and the road beyond (to Ha'ena State Park, Ke'e Beach, Kalalau Trail, Tunnels) has pretty much been a mess. After being shut down for almost 18 months (and reopening with a mandatory reservation system), the road washed out again earlier this year and is now barely accessible (there's only certain times a day where one way access is allowed and you have to line up to pass through). Unfortunately (or fortunately because it's why it's soooooo beautiful) the massive amounts of rain in this area are just par for the course and ongoing problems with infrastructure are a consequence.
Also, I mentioned the reservation system for Ha'ena State Park above. Informally known as "the end of the road past Hanalei," this stretch of the island is hands down the magic of Kauai. I've always told people "if you're going to Kauai and not going along the north shore past Hanalei, don't bother going." It's why you go. It's what makes the island special and different from the other islands. Well, to experience it now, you have to have a parking reservation at Ha'ena State Park (made online 30 days in advance and they sell out IMMEDIATELY once they're released) and it's…complicated. Even if you do snag a reservation, at 30 days out you have no idea what the weather will be like the day you select and best case scenario it just takes a lot of the freedom (and honestly attractiveness) of staying on the north shore away.
Well that's a pretty long diatribe about staying on the north shore. Now you get why I said it's not a "perfect" place to stay. Even though it's probably the best. Figure that one out haha.
So onto the south side…
If you're going in the winter (November to March), you've got to stay in sunny Poipu on the south side just based on weather alone. 1000% honestly here again…Poipu is nice but if that's my option…I'm headed to Maui. It's just…better. Sigh. Poipu is nice. It's sunny. There's pretty beaches. Good resorts. Quite a few restaurants and shopping centers. But Maui (Wailea and Ka'anapali) have more and it's nicer (more swimmable beaches, the resort options are better, etc.)
BUT IF YOU'RE SET ON KAUAI because of…oh…the Napali Coast, Waimea Canyon, and the north shore AND you want to set up basecamp at a nice beach resort where you can spend some time laying and playing in the sunshine, then Poipu is the place to stay.
Should I stay in Princeville or Poipu?
So besides the breakdown of the north shore or the south side above… a lot of people want to know about the difference between Princeville (north shore) and Poipu (south side) specifically. Besides the weather and north shore drama…
Princeville is considered the "luxury" area to stay. It's only got two resorts but a TON of condos. Overall, it's one cohesive resort area with golf and tennis. There's a smallish shopping center with a few restaurants and shops. A couple of beaches that unless you're staying at the Princeville Resort (soon to be the 1 Hotel Hanalei Bay) require a bit of work to get to. Aaaaand that's pretty much it. Hanalei town is nearby so you'll get the amenities that come with that.
Poipu has more of a town feel (more spread out and not universally owned/managed) even though the whole thing is pretty resort-like. Quite a few more resorts than Princeville. More restaurants and some nice shopping complexes (it's where I would go to shop and hang out). More sunny, swimmable beaches. Based on amenities alone, I actually think Poipu is nicer than Princeville. Actually, if there was the "perfect place to stay" in this area, it would make Poipu a lot more attractive to me.
I reallllllly like the Grand Hyatt BUT their beach is not swimmable (Shipwreck Beach) and not being able to use the beach where you're staying is a pretty big drawback. Yes, there are other beaches nearby but having to load up the car, drive, find parking, and lug all of your stuff to the beach (and are you going to rent chairs and umbrellas somewhere??) isn't ideal.
Absolutely all things considered, if I have to name names…my picks are the Princeville Resort (1 Hotel Hanalei Bay) in Princeville or the Grand Hyatt in Poipu. Which one is the better pick for YOU just depends on how you reacted to everything I wrote above ; )
East Side of Kauai

The east side (Lihue, Kapaa, Wailua) is often referred to as the "coconut coast" and is the most developed part of the island. Lihue is the main city on the island and it's where you'll find everything you'd expect in the city (airport, Costco, etc.) but there aren't really a ton of places to stay in town. Kapa'a is a bustling oceanfront town similar to Lahaina on Maui. It's full of restaurants and shops and turns into quite the bottleneck during certain parts of the day. It mostly caters to tourists but in a different way than Poipu does. It's more of a tourist town feel than a resort area.
Most of the accommodations in this area are outside of Kapa'a and along Wailua but there's not necessarily one central area where amenities are gathered. Things are more spread out. You'll find the most reasonably priced accommodations on this part of the island and it's good central location makes it a great basecamp for exploring the island.
There are of course lovely beaches on the coconut coast (hello, this is Hawaii!) but you won't find the awe inspiring backdrops like you will on the north shore and the amenities are not quite as convenient as those on the south shore. You'll find more "local" beaches on the east side but it's not necessarily quaint or charming.
Best Hotels in Kauai (Lihue Side):
Marriott's Kauai Beach Club: I think the Kauai Marriott Resort is the best "bang for your buck" beach resort on the island. It has one of the largest pools in Hawaii, a golf course nearby, and a full service spa. Starting at $300/night, the Kauai Marriott Resort is definitely a bargain. Book a room directly with the Marriott here and read hundreds of reviews here.
Kauai Shores: I stayed at Kauai Shores on my last trip to Kauai and I LOVED it! It's easy on the budget but the rooms and common spaces are bright and airy, the onsite restaurant (Lava Lava Beach Club) is amazing, and it's right on the beach! It feels a bit like a retro style hotel and it's easily my #1 recommendation for people who are looking for a bargain but still want to stay in a decent place. Pricing starts at $109/night. Click here to check pricing and availability during your dates.
Sheraton Kauai at Coconut Beach: Located right on the beach on the east side of Kauai, the newly converted Sheraton (previously a Courtyard Marriott) has been recently renovated and it's a perfect combo of a destination resort and a good basecamp for a week full of exploring the island. Pricing starts at $230/night. Book a room directly with the Sheraton here and read hundreds of reviews here.
West Side of Kauai

The west side of Kauai is definitely the least visited part of Kauai (except for visitors to Waimea Canyon) and not very many people stay here. It's very barren, dry, and isolated, and not convenient to see the rest of the island. Really the only people who are going to be staying over here are hikers and backpackers and people wanting to get away from it all. In my opinion, the west side is best seen as a day trip. Be sure to visit Waimea Canyon and Hanapepe town. And maybe Polihale Beach is you've got a full day and plenty of provisions.
RELATED: 15 Things to Do on Kauai
Side Note: If you're looking for a rental car for your trip, I LOVE Discount Hawaii Car Rentals. They're seriously the only company I ever use. They'll give you the very best prices, you don't have to reserve with a credit card or pay until you show up, you can cancel and re-book anytime if you find a better rate, and they usually have a special that adds additional drivers for no fee. It's a no brainer. Click here to check rates for your trip.
Best Kauai Resorts for Families
Kauai is probably the most laid back Hawaiian Island. While there may not be as much "to do" on Kauai there's no shortage of beaches, hiking, and other outdoor activities that appeal to kids. There also aren't a ton of beach resorts on Kauai (compared to the other islands) but there are a few truly fabulous family friendly resorts on Kauai.
Also, I feel like this list needs a bit of a disclaimer: pretty much anywhere you go in Hawaii is going to be kid friendly. Hawaii is not a stuffy destination. The most posh and expensive hotels on the island cater to children quite amazingly and unless you're at the adults only pool (many resorts have them), you'll always find kids boogie boarding in the waves, bobbing around in the pool, and having dinner with their families. That being said, this list includes resorts that may appeal to children especially due to their pools or kids clubs, and parents due to their locations and convenience factors.
Marriott's Kauai Beach Club: The Kauai Marriott Resort is probably my #1 pick for families visiting Kauai. It's PACKED with amenities that are perfect for kids. This place has one of the largest pools in Hawaii and also has a separate kids pool with a waterslide. There is plenty of dining on property and nearby and the resort's location in Lihue makes it super convenient to the airport but also exploring the north and south sides of the island. Pricing starts at $300/night. Book a room directly with Marriott here and read hundreds of reviews here.
Grand Hyatt Kauai: This is my other favorite resort for families on Kauai. It's pretty swanky, but very family friendly (comparable with the Grand Wailea on Maui). Located in sunny Poipu (south side), the only downside to staying at the Grand Hyatt is that the beach it's situated on (Shipwreck Beach) isn't very swimmable. However, the resort grounds and pool complex are so amazing that you likely won't miss the beach. Besides the amazing pools, the resort has a lovely spa, plenty of dining and shopping, cultural activities (lei making, hula lessons, etc.) and a great kids club. Pricing starts at $450/night. Click here to check pricing and availability during your stay.
Best Kauai Honeymoon Resorts
Hawaii is one of the top honeymoon destinations in the world and for good reason…it's tropical, it has all of the amenities and activities you could want, and it's relatively easy to get to for being on the other side of the world. Kauai is popular with honeymooners because of its laid back vibe and secluded nature.
Here's my biggest tip for planning the best honeymoon…pick the right time of year to go. Hawaii is an extremely family friendly vacation destination so when kids are out of school, expect even the swankiest resorts to have a pool full of kids. While a lot of places have adults only pools, kids are always around everywhere else you go, so if you're looking for a quieter time to go, pick spring or fall (or at least avoid the summer and winter holidays). I'm not telling you this to make you think Hawaii isn't the perfect honeymoon destination (it is), but many people mistakenly believe that by staying at a super expensive beach resort they'll limit the kids (noise) around, but that's not necessarily the case. When you go has more to do with it than where you stay.
As far as favorite Kauai resorts for honeymooners, my recommendations tend towards luxury. Heads up: I rank Kauai dead last in terms of luxury resorts in Hawaii. There are a couple of nice ones (a lot hinges on the Princeville Resort overhaul), but overall if the perfect resort experience is what's going to make or break your honeymoon…I would personally head over to Maui or the Big Island instead. But here's what I do recommend:
Princeville Resort: I've said above this is the pinnacle of luxury on Kauai (for what that's worth) but it's been in need of some work for a long time. So jury is still out what the status of this resort is going to be after its 18 month extensive remodel. Pricing starts at $405/night. Click here to check pricing and availability during your stay.
Ko'a Kea Hotel and Resort: This is probably the most popular "couples resort" on the island. It's not super pretentious and the luxury is definitely understated but it's got a nice boutique vibe. And it's on a great beach. Pricing starts at $449/night. Click here to check pricing and availability during your stay.
Grand Hyatt Kauai: Overall this is probably the most impressive resort on the island. It's also a very family friendly resort so there will be kids around, but it's pretty high end. Pricing starts at $450/night. Click here to check pricing and availability during your stay.
Where I Like to Stay on Kauai
For luxury: Grand Hyatt Kauai or Princeville Resort
For a Boutique Experience: Koa Kea Hotel
On a budget: Kauai Shores
Kauai Vacation Rentals & Condos
If a resort/hotel isn't what you're looking for, you want more amenities, or you're not finding anything in your price range, YOU MUST READ THIS POST. It's a roundup of the best condo complexes on Kauai (I've got details on 40+ complexes) that's well organized so you can find exactly what you're looking for.
Save
Save
Save
P.S. Thanks for sticking around and reading this whole post! If you have ANY questions about planning your trip to Hawaii, you can join my free Facebook group here. I'm there answering questions every day and there are 7500+ other friends who have a ton of Hawaii information to share!
Also, if you want to follow along on my travel adventures in real time, you can follow me on Instagram (@caitylincoln). My post captions are full of travel tips and I have a ton of story highlights and videos with great info. And please share my account with your friends that are headed to Hawaii! Your support really helps me keep this blog running!