Grand Hyatt Kauai Review: Kauai's Mega Resort Is Perfect for Families But Maybe Not Honeymooners
The Grand Hyatt Kauai is one of the largest resorts on the island and has everything you could ever want in a mega beach resort. It's a combo of over the top "grand" architecture, impressive grounds and pools, and activities and offerings everywhere you turn that make it one of the best Kauai hotels for families.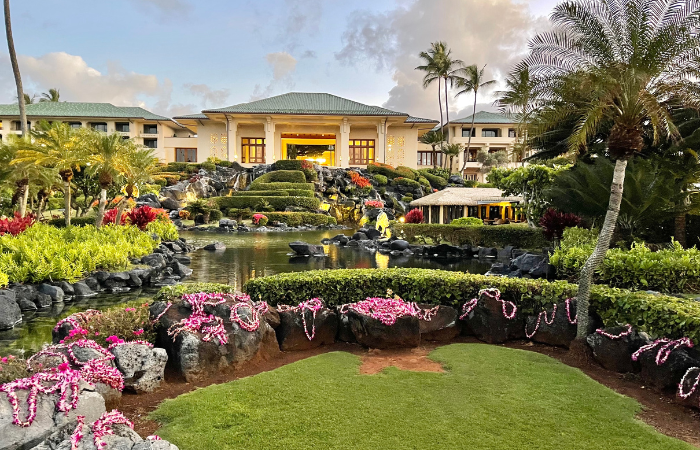 I recently spent a full week at the Grand Hyatt Kauai with my family (although we're not kids anymore ; ) and like usual tried to do and see it all so I could bring the very best info back to YOU so you'll be all set for your vacation.
Grand Hyatt Kauai: The Best Kauai Hotel for Families
So here's everything you need to know about the Grand Hyatt Kauai, including why it's the best Kauai hotel for families: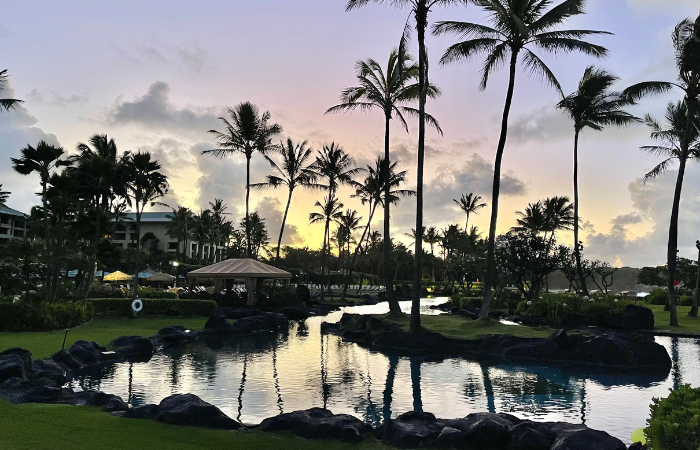 The Vibe
From the minute you pull onto the property, you're going to be impressed. It's just one of those kinds of places where you never quite get over the scale. It doesn't have "Grand" in the name for nothing. The lobby is a huge open air affair with distant ocean views. So much marble. So much over the top architecture. So many parrots and orchids.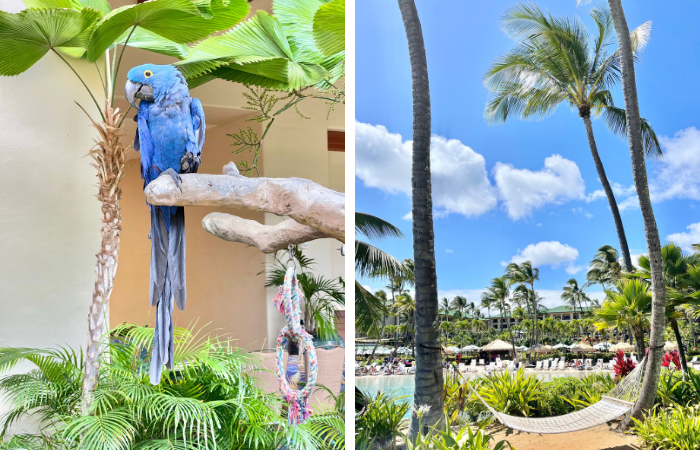 It's a mega resort in the true sense of the word. It's an enormous property, and I've heard some people say they walked 5 miles a day just hanging out at the resort.
It's so lush and well manicured, and everywhere you turn there's a magnificent view. The staff are friendly and helpful, and there's just about everything onsite that you could ever need. But there's no way you could call it "stuffy." It's a true Hawaiian beach resort in that it's as casual and laid back as they come.
The Room
The room here felt like a classic Hawaiian beach resort and the balcony was perfect for waiting to take turns in the shower after everybody's come in from the pool and beach. That little bit of extra space always makes a big difference when you've got several people in one room.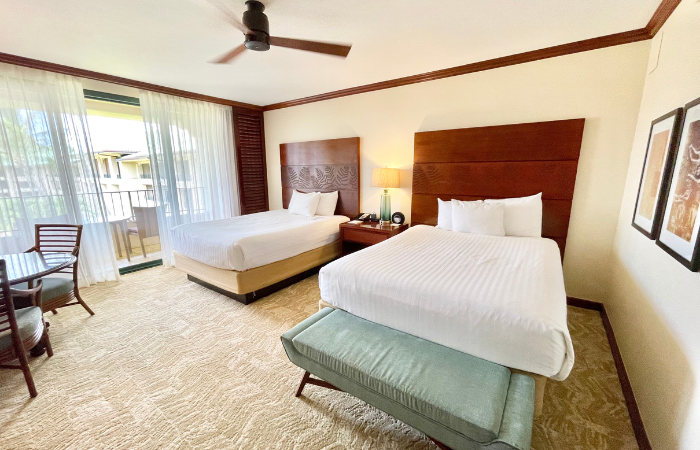 For being such a family oriented resort, I was a little surprised that the rooms weren't set up better though. We had two queen sized beds and there was only a night stand (and power outlets) in the middle between the two beds. I slept on the outer side of one of the beds and ended up using my carryon suitcase as a little makeshift nightstand. Also this is the reason that I travel with a 10ft phone charger…you just never know. Now there was a nice little charging station with power outlets plus USB and lightning outlets, but it was on the other side of the room.
There was a mini fridge and a coffee set up too. And plenty of drawers and hanging space in the closet and TV stand.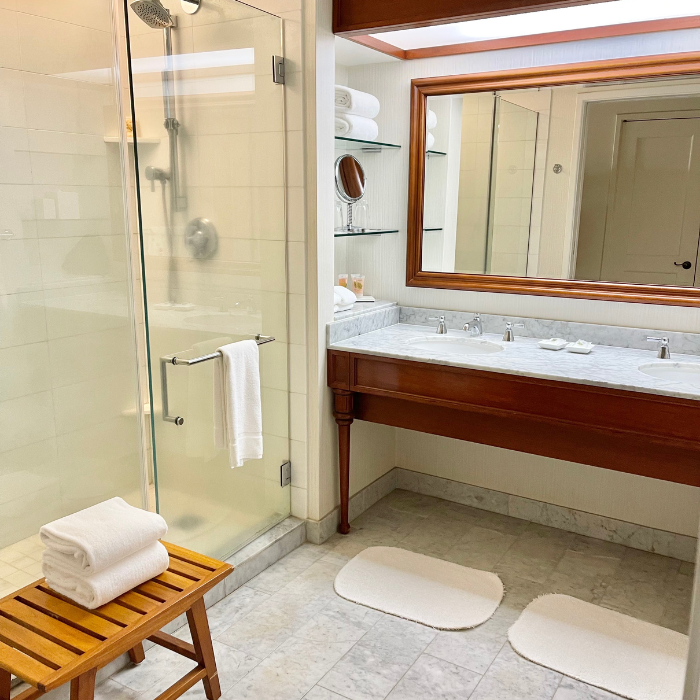 The bathroom was large and modern (including the fanciest toilet I've ever seen) plus the shower had a ledge in the tile at the perfect height for shaving your legs. It's the little things ; )
The Beach
Can a hotel that's always a contender for the best beach resort in Hawaii get away with sitting on a beach where you can't swim? Well, they do here. You'd be surprised by how many beaches on Kauai aren't swimmable due to strong currents, big waves, etc. And Shipwreck Beach (in front of the Grand Hyatt) is one of them.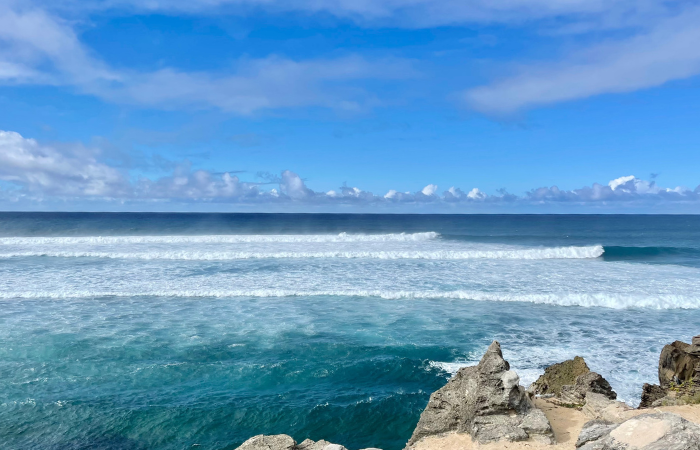 It's never advisable to swim here, but this time when I stayed there (late May) the waves were HUGE (even the locals were impressed) so they really weren't even wanting people on the beach.
Despite the rough conditions, it's not uncommon to see Hawaiian monk seals sunning themselves on the sand (they're endangered so do not get close) so that's pretty special.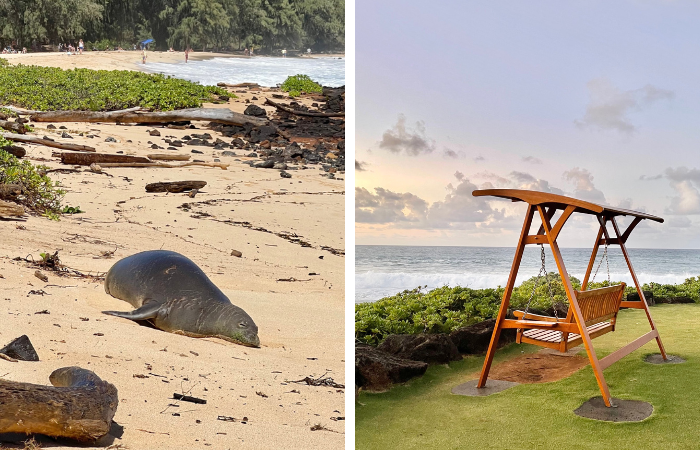 And there's also a nice coastal trail that winds to the west of the resort and if you hike up through the cliffs at the east end of Shipwreck Beach (for the love of all things holy, please don't jump) there are amazing views.
The Pool
This is the big attraction. Since you can't swim in the ocean, they really make up for it with all of the pool areas. It's a whole complex really. There are several different pool areas, with most of them being connected by a lazy river, plus a pretty good sized waterslide.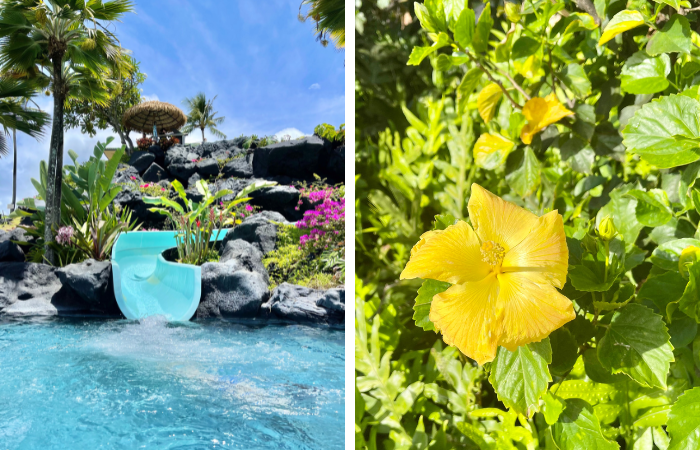 The adults only pool is up at the very top, and like many adults only pools…it usually seemed a little rowdier than the pool where all of the kids were.
One thing I really didn't like about the pool area was the decking. Since the pool area is so large, depending on where you're sitting it can be a pretty far walk to the water slide or the top of the lazy river. And in a lot of places they've used a large flat natural stone which is super slick and super hot. In some places they have long rugs stretched out to make it a little more bearable, but if you're got kids who move from one place to another a lot then they may want water shoes.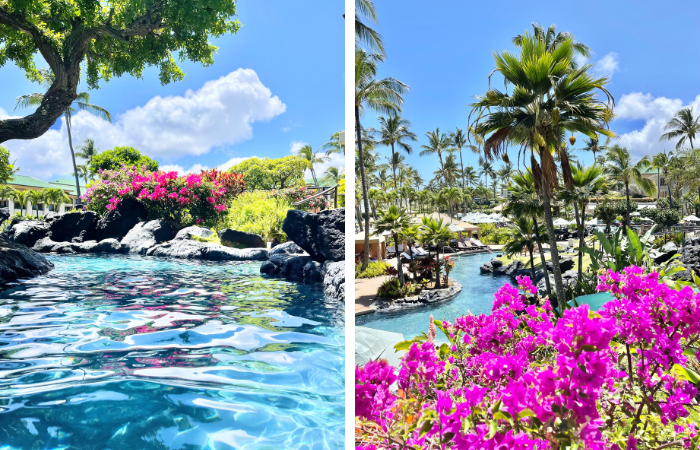 They do allow floats in the pools and lazy river and they both rent and sell them at the activity desk, but you can bring your own too. We were given some by a family that was checking out, but honestly there wasn't much current in the lazy river (it's more of a winding waterway that connects different pool areas).
Also to make up for the beach situation, there's a HUGE saltwater man made lagoon that sits close to the ocean. It's fun to swim in, but I didn't love sitting by it. They've got it filled with sand, but it's the really coarse kind (like the kind you buy at Home Depot) and if you find a patch where it's bare and the concrete is peeking through, it's a little rough on your feet. If you're late going down to get chairs at the pool though, there are usually a lot of options around the lagoon.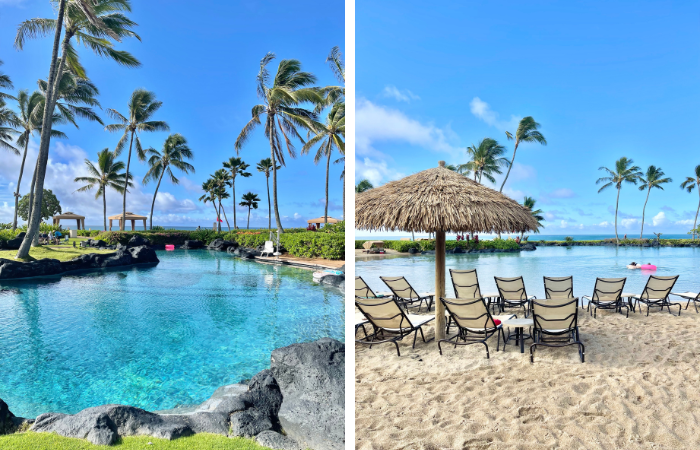 Speaking of getting chairs…here's the chair saving situation at the Grand Hyatt: it's not as bad as most beach resorts in Hawaii! I've stayed at resorts where getting decent pool chairs requires a strategy that a four star general would be proud of, but it was a little more chill here.
Yes, there are the crazies who go down at 6AM and put towels on the chairs they want, but it's definitely not the majority. By 8-9AM we were always able to find a good spot and on the days we came in the afternoon, there were always chairs around the lagoon.
Also I figured out this trick a few days in…people would put towels on chairs early, but the activity desk where you get your towels and wristbands didn't open until 8AM. So I think a lot of people were getting fresh towels at the end of the day and taking them to their rooms so they'd have them ready to use early. Geez.
Side Note: If you're looking for a rental car for your trip, I LOVE Discount Hawaii Car Rentals. They're seriously the only company I ever use. They'll give you the very best prices, you don't have to reserve with a credit card or pay until you show up, you can cancel and re-book anytime if you find a better rate, and they usually have a special that adds additional drivers for no fee. It's a no brainer. Click here to check rates for your trip.
The Food
At a resort this size, they try to have enough dining options so you feel like you don't ever need to leave and while they have some really convenient options, you're definitely going to want to leave the resort for good food ; )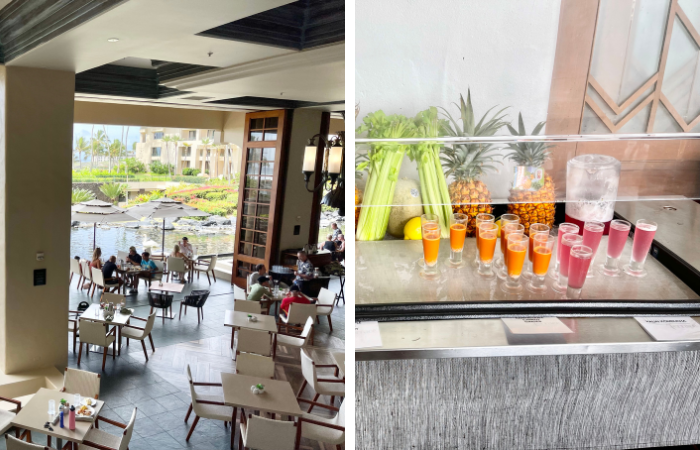 Ilima Terrace: We had breakfast for two included here every morning so we went here a few times. It's your standard large scale Hawaiian resort buffet. Pretty much everything you could want…omelet bar, french toast/pancakes/waffles, bacon, eggs, potatoes plus a full continental spread and a lot of juices. And like pretty much every big resort buffet in Hawaii, they've got a lot of the Asian staples too like miso soup, kimchi rice, dumplings, etc. At $40 per person, it may not be a good every day option if it's not included, plus it's just a TON of food. On days we mostly stayed at the resort, we ended up going about 10:30-11AM and not really eating again until dinner.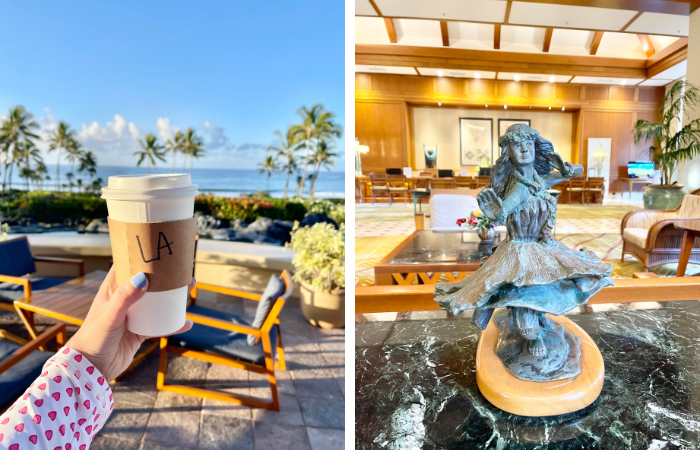 Seaview Terrace: We stopped by this little kiosk in the lobby a couple of mornings when we had an early excursion for coffee and pastries. Way better option if you're in a hurry than trying to do Starbucks or Little Fish Coffee (both in the area).
Hale Nalu: This counter service/fast food spot by the pool ended up being the best option for getting food midday at the pool. There were some servers going around taking food and drink orders around the pool and lagoon, but we found it muuuuuch faster to walk over and just order for ourselves.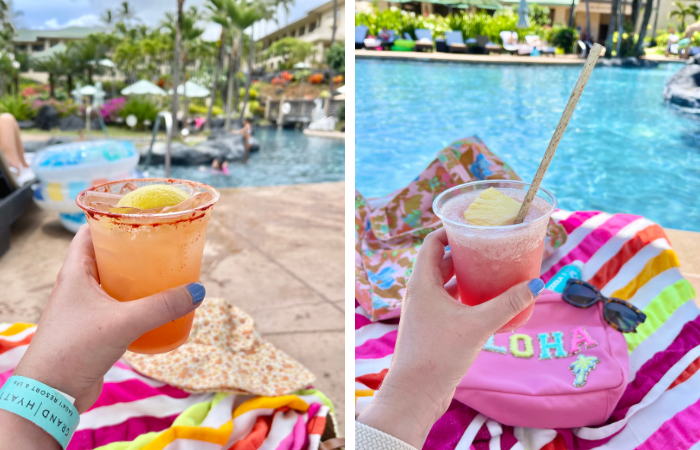 There's also a bar hut between the lower level of the pool and the lagoon which was always super fast to just walk up and get drinks.
But whether you order at Hale Nalu or from a server at the pool, it's all the same menu. After a week, here's what I can tell you: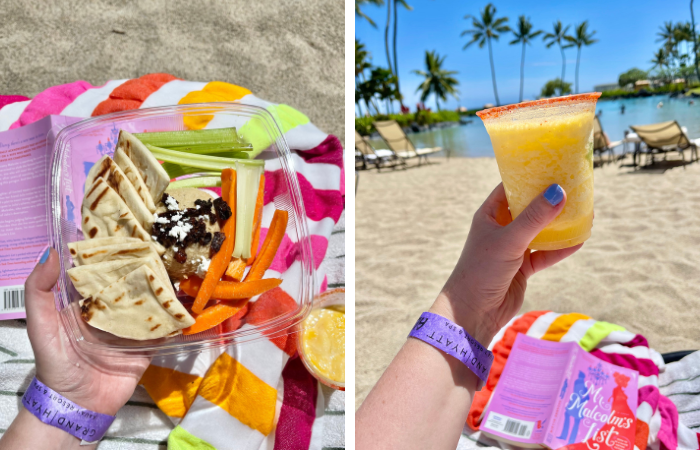 Food: The burger was the real winner. Also loved the chicken quesadillas and the hummus plate for a lighter option.
Drinks: The lilikoi margarita (blended) was the best drink I had all week. Good mojito. Frose was pretty good, "Locals Only" was a little dull, the Koloa Raspberry Lemonade was better. And the smoothies were a big hit. You can customize your flavors and add liquor.
Stevenson's Library: I did not go here, but some others I was traveling with did and weren't super impressed. Honestly, it always smelled like bad fish every time we walked by. It's mostly sushi and it's worth noting that it's one of only like 2 places on the island that's open after 10PM. You think I'm kidding.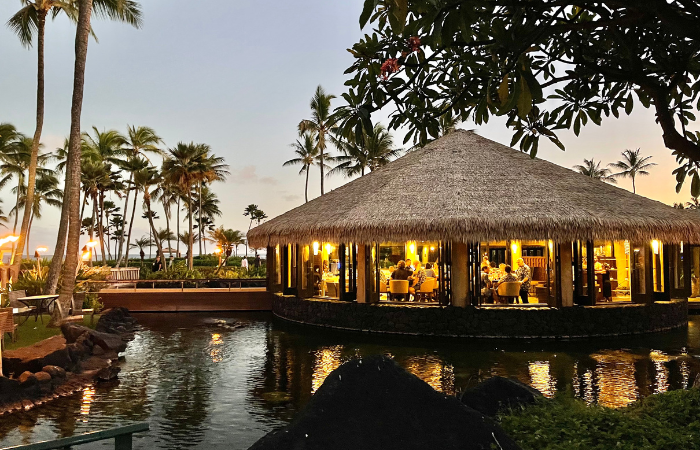 Tidepools: Tidepools is definitely the Grand Hyatt's premier restaurant and has the reputation for being one of the most romantic restaurants on the island. Well, it's certainly hard to get a reservation. We booked this trip about a month in advance and Tidepools was booked out about three months in advance. But I was able to snag a last minute reservation with an alert on OpenTable. I did a full review of Tidepools (and other fine dining-ish places in Poipu) in this post.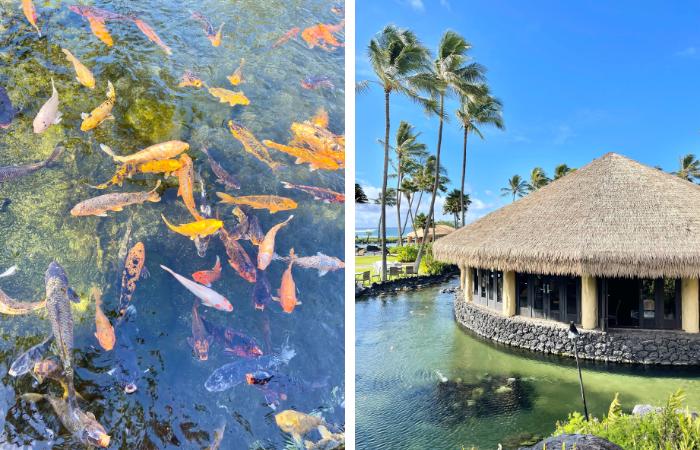 To sum it up, I've had better food elsewhere, but the atmosphere at Tidepools is really special and it's comparable pricewise to other nice restaurants in Poipu. If you can get a reservation, you should definitely go.
The Spa
I've done a full post about my experience at the Anara Spa at the Grand Hyatt here, but to recap: Anara is one of the largest and most "luxury" spas on Kauai. Actually, it pretty much is the spa scene on Kauai.
I had a facial and while it wasn't one of the best I've ever had, it was overall a nice, relaxing experience.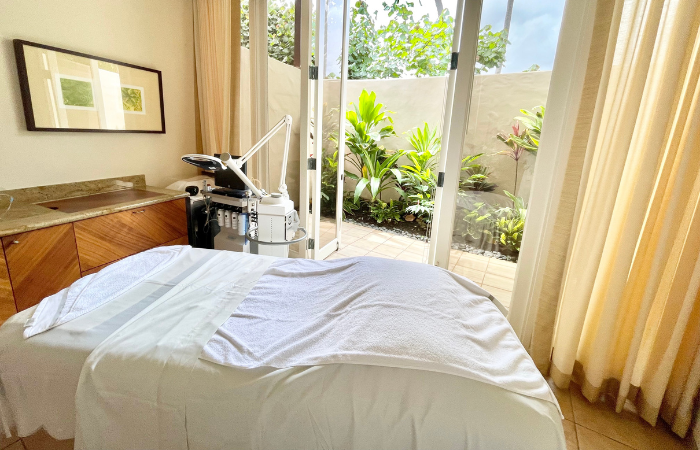 Make your spa reservations in advance. If you wait until you arrive, it's likely that they'll already be all booked up for the week.
If you don't have a treatment scheduled, you can purchase a day pass for $30 to use the facilities including the lap pool, eucalyptus steam room, whirlpool, etc.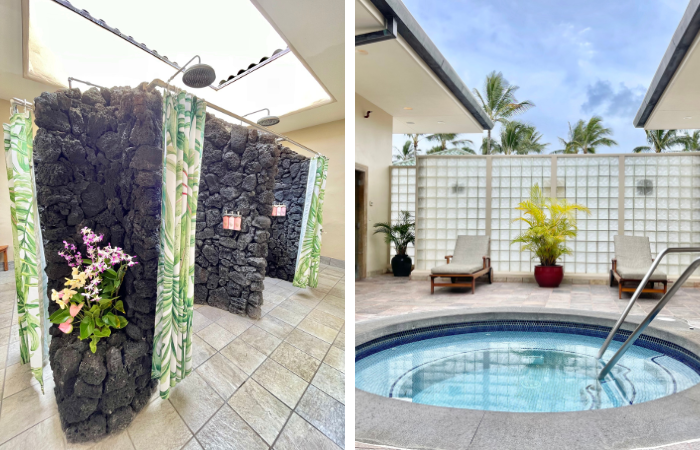 And if you're a shopper, you'll definitely want to walk over to check out the shop at the spa. They have things that you won't find in the other shops at the resort.
All of the extras
There is so much going on at this resort that they print up a weekly schedule just to keep it all straight. And here's a tip: if there's an activity on the schedule that you want to participate in, reserve your spot in advance. Like maybe before you even arrive. I wanted to do the lei making workshop, but it was full a couple of days before.
Here's a link to the recent activity schedule (it could be different for your travel times). But it will at least give you an idea of what to expect.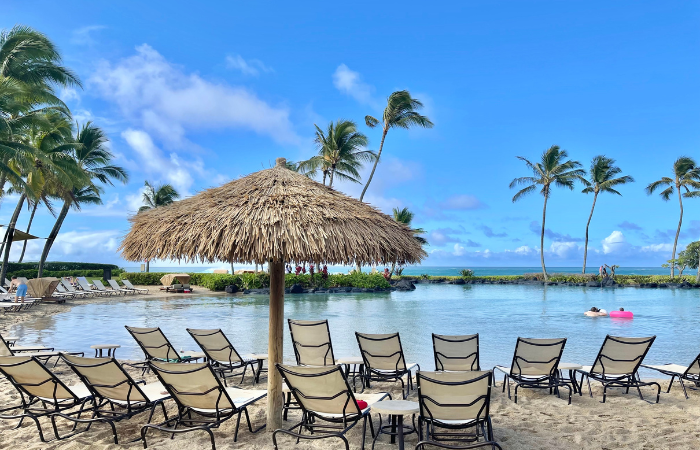 What I love about this resort
Besides everything I've already mentioned about this lovely resort, here are some more specific things I really loved about staying at the Grand Hyatt Kauai:
Okay, this is going to sound weird. But one of my favorite things about this resort is the refillable water bottle situation. I told you it was weird. They provide each guest with a refillable water bottle when you arrive (there were two in our room, but you can ask for more at the front desk) and there are water refill stations EVERYWHERE around this resort…on every floor of the resort by the ice machines, throughout the lobby and the pool area.
Besides the nod towards the environment and conservation, I drink a LOT of water (especially when I'm at the pool or beach) and I hate always having to search for it or buy plastic bottles. It was so easy to just get up from my chair and go fill my water bottle up.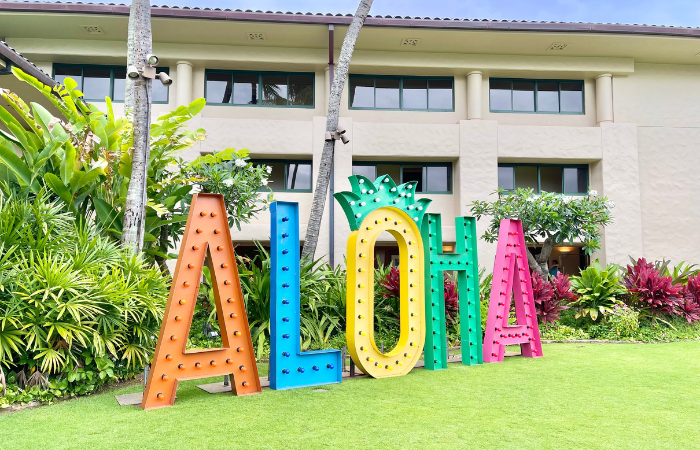 And on that note…I also liked that pretty much everything at this resort is set up for you to easily serve yourself. The labor shortage is still felt so acutely in the travel industry so anytime things are set up where I can just easily help myself, I'm thrilled.
What am I talking about? For starters, this is one of the few big beach resorts in Hawaii that still has self parking (so many now only have valet) so you don't have to wait for the valet to bring your car around. And I already touched on the food and beverage situation around the pool. Most big resorts in Hawaii don't have a food and snack stand where you can just walk up and order and take your food to go. And if they do, it's not located very conveniently to the pool.
I also really like the location of this resort in Poipu. It's close to everything that Poipu has to offer (shops, restaurants, luaus, sports clubs, beaches, other resorts), but it's still a bit isolated and off to itself which means that the hotel grounds aren't crawling with people who aren't staying there.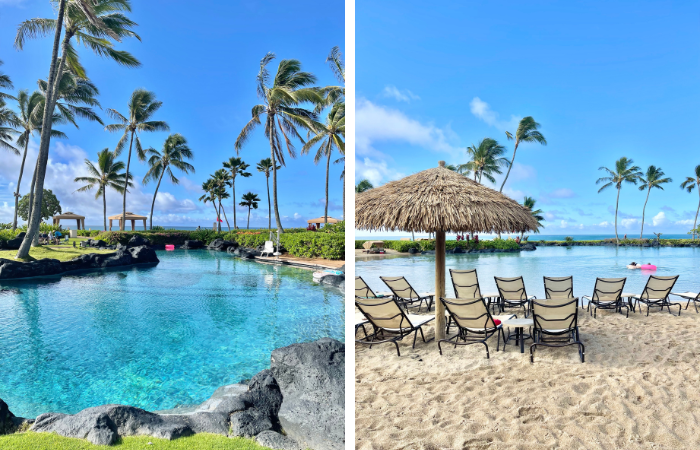 If you don't have a rental car (or you don't want to worry about parking, being able to have a few drinks, etc.) the resort has a courtesy car that will take you anywhere in the Poipu and Koloa area. We used it one evening to go down to the Shops at Kukui'ula before everyone was ready to leave for dinner and it was pretty seamless. We just walked down to the valet and told them where we wanted to go and we ended up in the car headed out in about three minutes.
The valet is in constant contact with the driver to know where he is and where he's going so they know exactly how long it'll be to get picked up (assuming the driver is out doing drop offs). And they keep everyone organized in order of arrival. There were already two other couples waiting when we walked up, but we all piled in the Suburban when it arrived and they arranged us in the car in order of where we were being dropped off.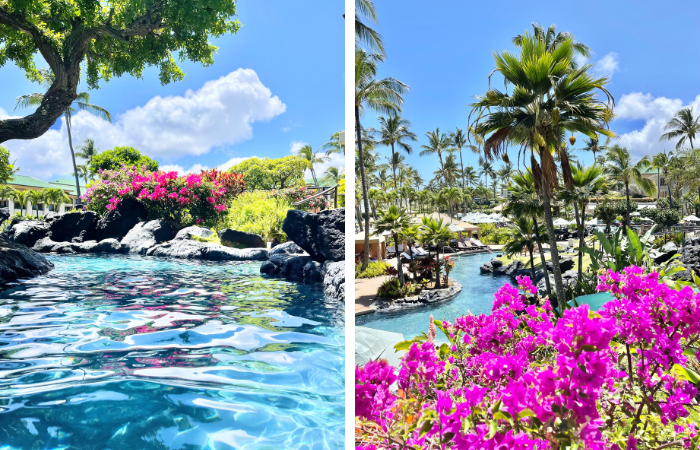 Our driver gave us a card when he dropped us off so we could call him for a ride back (we only needed it one way though). It's a good idea to have cash to tip too. There's not a tip jar and the driver doesn't mention it, but since it's a free ride I would imagine you'd tip at least $5/ride.
On Another Note: If you're looking for a condo or vacation rental for your trip, I always book with Vrbo. They've got the largest selection of rentals you'll find anywhere and you can easily filter to find exactly what you're looking for. Need a specific number of bedrooms and bathrooms? Narrowed it down to a certain location? Want flexible cancellation terms? Need to stay under a fixed budget? Click here to search for Kauai vacation rentals for your trip.
Is it a true luxury resort?
Probably not. This is the last thing I have to say about this resort, really, and it's not a negative but I just like to accurately describe things so that YOU feel good about what you're booking.
While I really love the Grand Hyatt, it is not on the same level as the Four Seasons or other luxury resorts in Hawaii. I think the Grand Hyatt often gets described as luxury because it's very grand on a large scale, offers a lot of amenities, and honestly, it is at the very high end of what Kauai has to offer.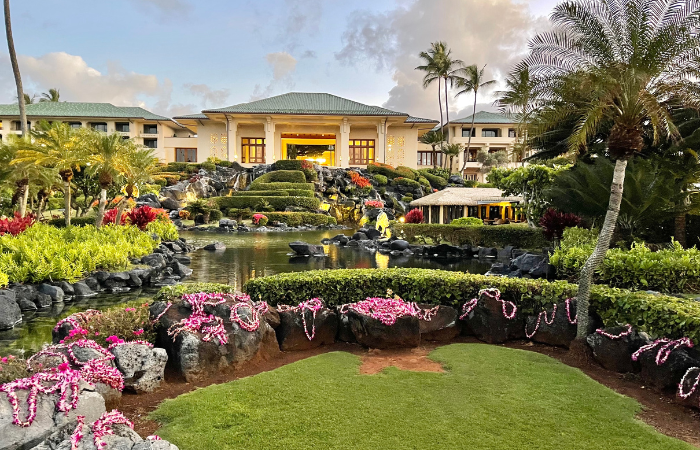 But if you're used to true luxury properties, it's just not quite that. And that mostly comes down to service. Not that it's bad here, but it's not really designed to be super attentive in most areas.
You kind of have to go hunt down whatever you need, which honestly works for me, but if you're used to places where someone is going to come around the pool with a pitcher to refill your water glass everytime you take a sip…this isn't that kind of place. Which is kind of the other side of the coin from what I said I liked about this place above…self service. So it really just depends on what you're expecting from a resort.
Is it a good resort for a honeymoon or adults only trip?
Sure! While I think this property caters to families best, there is an adults only pool and overall it's just such a nice place for EVERYONE. But if it's my money, I'd be down the street at the Koa Kea Hotel ; ) It's a small boutique hotel with tremendous service and while it's not adults only, it doesn't have much to appeal to kids so they don't get as many of them.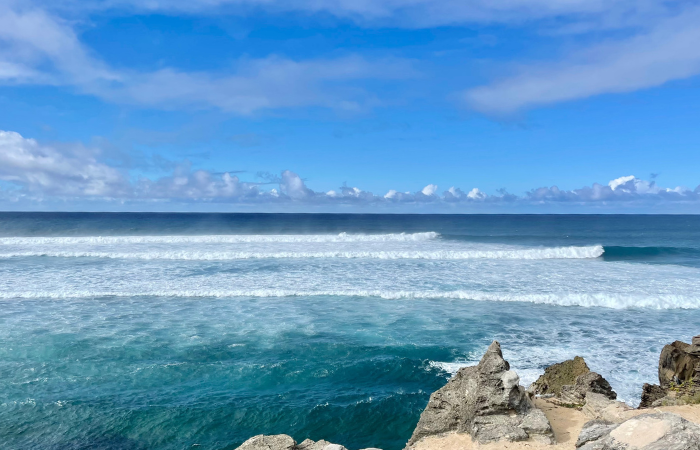 Where to Book
Book your stay (or check rates) at the Grand Hyatt Kauai here.
Want to read more? Don't miss some of my most popular (and favorite) posts about Kauai: my personal Kauai favorites, a breakdown of where to stay on Kauai comparing Princeville vs Poipu, my favorite restaurants in Poipu, the best places to watch sunset on Kauai, 5 day Kauai itinerary, my review of the Grand Hyatt Kauai, everything you need to know about Napali Coast boat tours leaving from Port Allen (south side) and Hanalei (north shore), my best Kauai travel tips, all about hiking the Kalalau trail (Kauai's best hike), Maui vs Kauai, the best things to do on Kauai and more specifically in Hanalei and Poipu, whether you should see the Napali Coast via boat or helicopter, my best (and specific) condo recommendations on Kauai, everything you need to know about Kauai helicopter tours, Kauai's best north shore beaches, where to play tennis on Kauai, how many days you should spend on Kauai (plus other FAQs), the best spas on Kauai, and my review of the Smith Family Luau.
P.S. Thanks for sticking around and reading this whole post! If you have ANY questions about planning your trip to Hawaii, you can join my free Facebook group here. I'm there answering questions every day and there are 7500+ other friends who have a ton of Hawaii information to share!
Also, if you want to follow along on my travel adventures in real time, you can follow me on Instagram (@caitylincoln). My post captions are full of travel tips and I have a ton of story highlights and videos with great info. And please share my account with your friends that are headed to Hawaii! Your support really helps me keep this blog running!