How Many Days Do You Need in Kauai (& Other FAQs)
Have questions about how to plan your time on Kauai? Here are a few FAQs about planning your Kauai trip:
How many days do you need in Kauai?
I rarely ever suggest spending less than one full week on any one Hawaiian island and if you want the full Hawaiian vacation experience, I think that's the best game plan for Kauai. Six full days is a good amount of time to really explore the island but still have plenty of down time to actually have a "vacation."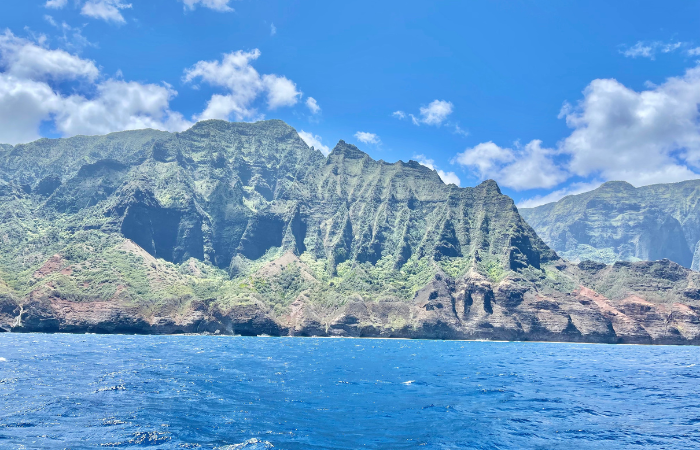 BUT if you're on a mission to see and do a lot and you're more of the go-go-go type, you can see a LOT on Kauai in 3-4 days. Now, that's a pretty active 3-4 days, but if you're wanting to tack on a few days before or after visiting another Hawaiian Island to experience what makes Kauai unique, then it's definitely doable.
Kauai is probably the most compact of the main Hawaiian Islands so if you only have a few days, you really can see a lot compared to Maui or the Big Island where I would definitely not recommend less than a full week.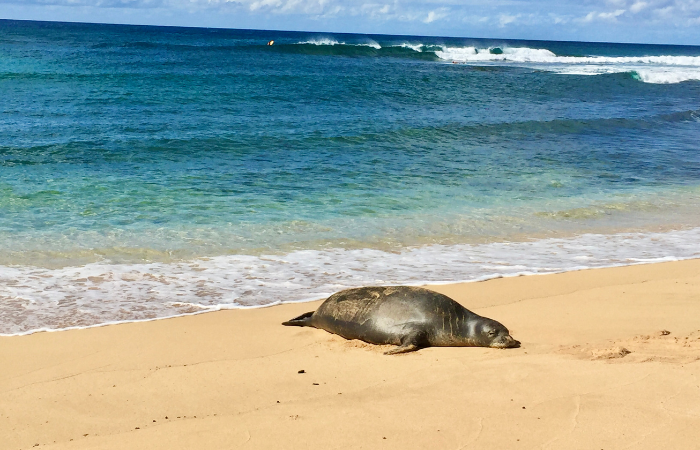 Should you stay in one place or move around the island?
Kauai isn't a very big island, but there's really only one road around and if you're traveling from the south side to the north shore, it can take a while. So a lot of people wonder if it's smarter to stay in two different places to save time driving around.
Generally, I don't think it is. I don't think saving 30–45 minutes in the car is worth the time it takes to pack up and switch places to stay. On Kauai, it's easy enough to pick a home base and explore the entire island from there. If you do expect to be "on the go" sightseeing your whole trip though, I would probably consider basing yourself on the east side.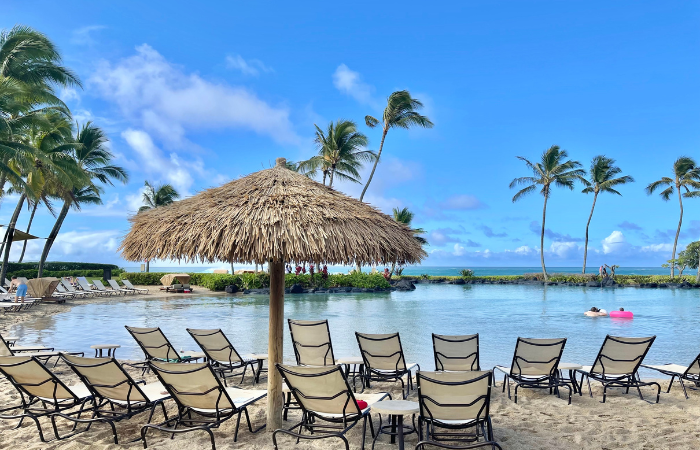 But here's when I do recommend splitting your stay: if you want to stay at a nice beach resort for a little R&R, but it's not in the budget to spend your entire vacation there.
Spend the first part of your vacation staying in a centrally located condo (or cheaper accommodation) and doing the bulk of your exploring and activities and then spend the last few days of your vacation at a luxe beach resort. It's a good way to save money and also not feel guilty about spending $$$ on a resort while you're out exploring the island.
Places I would recommend for a splurge: Koa Kea Hotel, Grand Hyatt, 1 Hotel Hanalei Bay (when it opens winter 2022).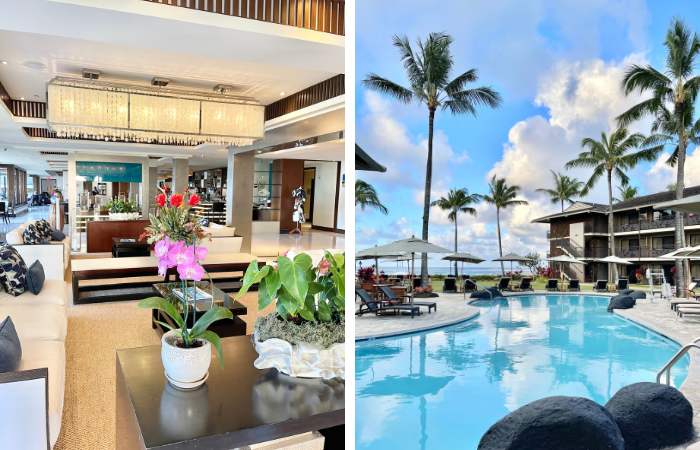 What about visiting multiple islands in one trip?
If you've got the time, I say go for it! While I generally like one week per island, there are some caveats. Here are my rules: you're not allowed to plan less than one week on Maui or the Big Island ; ) You could get away with 3-4 days on Kauai or Oahu if you're mostly just focused on sightseeing and having a "vacation experience" isn't a priority for you.
Hey, it's your vacation so do what you want, but I will say that usually when people try to spend 3-4 days per island and hop around a lot they end up seeing more of the airports or just the super touristy parts of each island.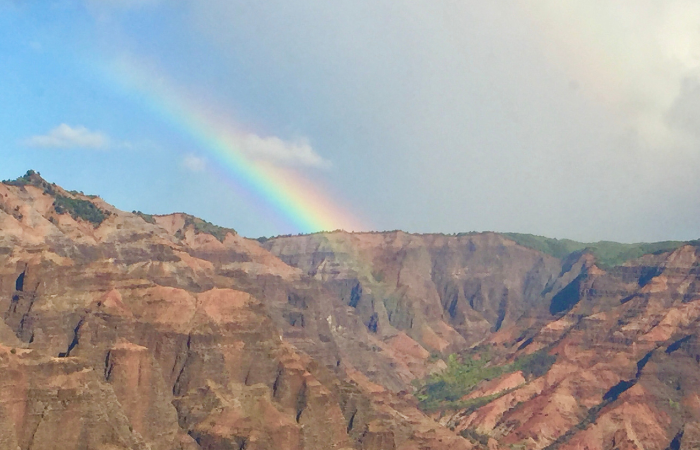 Side Note: If you're looking for a rental car for your trip, I LOVE Discount Hawaii Car Rentals. They're seriously the only company I ever use. They'll give you the very best prices, you don't have to reserve with a credit card or pay until you show up, you can cancel and re-book anytime if you find a better rate, and they usually have a special that adds additional drivers for no fee. It's a no brainer. Click here to check rates for your trip.
South Shore vs North Shore?
I've done a deep dive into that question here, but they're very different. The north shore is lush, green, and a little more "local" feeling. But there aren't as many resorts and hotels and it rains a LOT (especially in the winter). The south side is a lot more tourist friendly (more resorts, swimmable beaches, sunshine, etc.) but isn't quite as dramatically stunning. Only moderately stunning ; ) Most people stay on the south side and make day trips up to the north shore when the weather looks good.
What are the "must dos" on Kauai?
I could give you a list of 100 things you absolutely don't want to miss on Kauai (and believe me I have on this blog), but I'm going to keep it short and sweet here. You can go to ANY Hawaiian island and find beautiful beaches and fun adventures like snorkeling, surfing, paddleboarding, horseback riding, atv rides, tennis, golf, zipling, etc. There are a lot of things that are 100% amazing (and worth your time and money), but you'll find some version of it on every island. But there are the things you absolutely don't want to miss on Kauai whether or not you have 3-4 days or two weeks:
Napali Coast Boat Tour: During the summer months (April to October), you HAVE to take a Napali Coast boat tour that leaves out of Hanalei. This is classic Hawaii…the Hawaii you see in movies, and it's not to be missed. This coastline full of soaring green, jagged cliffs lined with white sand beaches is a sight that many choose to see on a helicopter tour but it's best explored by ocean raft where you can zip in and out of sea caves and feel the ocean spray on your face. Read more about Napali Coast boat tours here.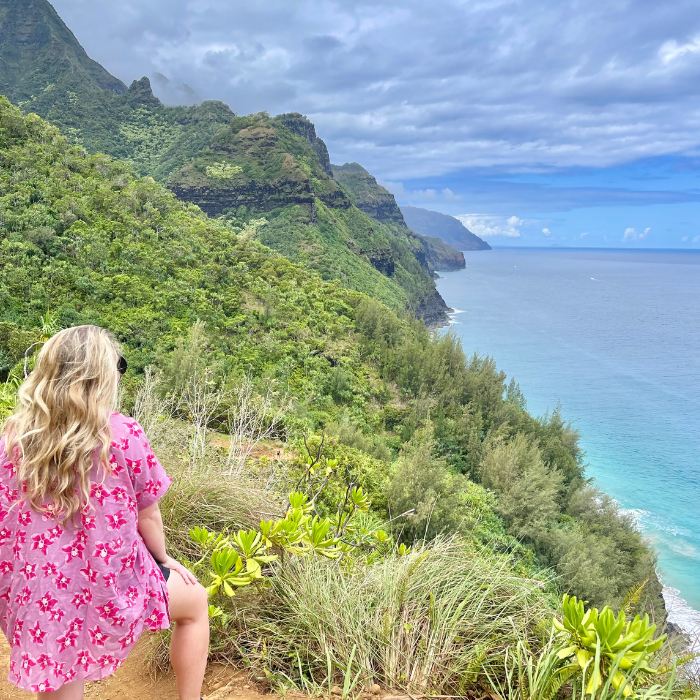 Hiking Kalalau Trail: This famed trail along the Napali Coast is 22 miles round trip and requires a permit, but the first two miles (four round trip) are open to day hikers. The trailhead is at Ke'e beach at the end of the road on the north shore (reservations for parking and entry are required). Even if you're not an avid hiker, you really need to try this one. Read more about hiking the Kalalau Trail here.
On Another Note: If you're looking for a condo or vacation rental for your trip, I always book with Vrbo. They've got the largest selection of rentals you'll find anywhere and you can easily filter to find exactly what you're looking for. Need a specific number of bedrooms and bathrooms? Narrowed it down to a certain location? Want flexible cancellation terms? Need to stay under a fixed budget? Click here to search for Kauai vacation rentals for your trip.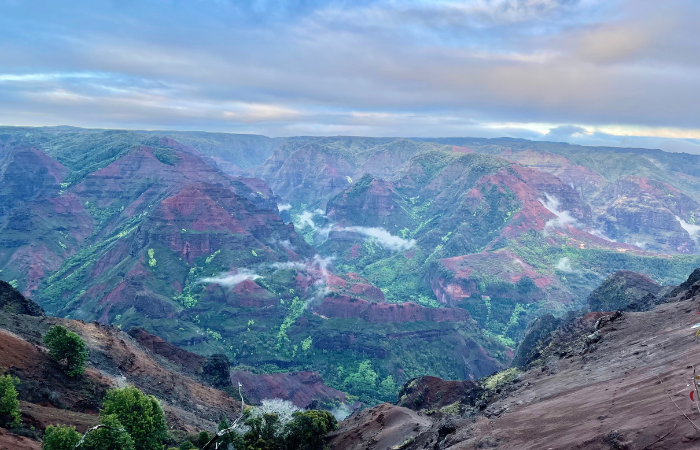 Waimea Canyon: Second only to the Napali Coast, the Waimea Canyon is Kauai's biggest attraction. Called the "Grand Canyon of the Pacific," it's pretty stunning. There are a handful of overlooks, each offering a different perspective of the canyon. Don't miss the Kalalau overlook. This is a great glimpse of the Napali Coast.
Want to read more? Don't miss some of my most popular (and favorite) posts about Kauai: my personal Kauai favorites, a breakdown of where to stay on Kauai comparing Princeville vs Poipu, my favorite restaurants in Poipu, the best places to watch sunset on Kauai, 5 day Kauai itinerary, my review of the Grand Hyatt Kauai, everything you need to know about Napali Coast boat tours leaving from Port Allen (south side) and Hanalei (north shore), my best Kauai travel tips, all about hiking the Kalalau trail (Kauai's best hike), Maui vs Kauai, the best things to do on Kauai and more specifically in Hanalei and Poipu, whether you should see the Napali Coast via boat or helicopter, my best (and specific) condo recommendations on Kauai, everything you need to know about Kauai helicopter tours, Kauai's best north shore beaches, where to play tennis on Kauai, how many days you should spend on Kauai (plus other FAQs), the best spas on Kauai, and my review of the Smith Family Luau.
P.S. Thanks for sticking around and reading this whole post! If you have ANY questions about planning your trip to Hawaii, you can join my free Facebook group here. I'm there answering questions every day and there are 7500+ other friends who have a ton of Hawaii information to share!
Also, if you want to follow along on my travel adventures in real time, you can follow me on Instagram (@caitylincoln). My post captions are full of travel tips and I have a ton of story highlights and videos with great info. And please share my account with your friends that are headed to Hawaii! Your support really helps me keep this blog running!