This post may contain some affiliate links, which means I'll make a little money on anything you choose to purchase. But of course, I only recommend my absolute favorites to you. Thank you for supporting the brands that make Hulaland possible.
Kauai was pretty much made to be seen from the air. Only 20% of the island is developed which means that most visitors only see a tiny fraction of its splendors. And boy does it have splendors. I personally think that Kauai is the most beautiful of the Hawaiian Islands. Sadly, many of its most beautiful sites are so remote and difficult to reach that they remain unseen by all but the most intrepid hikers.
On my most recent trip to Kauai, I knew that it was finally time to take a Kauai helicopter tour. I decided to fly with Blue Hawaiian Helicopters on the last morning of my trip. I'll get more into things you should consider when choosing a tour operator later, but Blue Hawaiian has an excellent safety record, they operate a pretty large fleet (on all of the four main Hawaiian Islands) and they seemed like a good choice for a first flight experience.
My flight's departure was scheduled for 8:30 AM and I checked in at 7:45 AM. The Lihue heliport is right next to the airport and it's well marked and easy to find. Blue Hawaiian's headquarters are in a nice building with a check-in desk, gift shop, restrooms, and safety briefing area. When you check in, they take your weight really discretely (I didn't even know that's what they were doing!) and this is how they determine seating assignments. About a half hour before our flight, we watched a safety video and got our personal flotation devices (a small pouch you wear strapped around your waist). This is also where we got our pilot's name and seat assignments (there were three helicopters leaving at our departure time).
RELATED: Not very familiar with Kauai? Read up on the lay of the is(land) and where to stay plus my favorite beach resorts, budget hotels, Airbnbs, honeymoon resorts, family friendly resorts, luxury resorts, and boutique hotels.
Next we went outside and waited on the lanai and watched the helicopters land from the previous tour, unload, and get refueled before we were loaded on. This flight was on an ecostar, which is known for being one of the more "comfortable" aircrafts you can fly on. It had four seats in the back and three in the front (including the pilot). I was seat #1 which is front middle right next to the pilot so I was the first one loaded. The flight crew led us out to the helipad one by one, buckled us in, and handed us our headsets. Once I was loaded, I could talk to the pilot through my headset.
Although I was a little nervous beforehand, I got a little psyched out once I was buckled in, but as soon as we were in the air I was completely fine. I'm not crazy about heights and was worried I might have some anxiety/panic being up that high, but it didn't bother me AT ALL.
Once we were airborne, we flew over Nawiliwili Harbor and along the south side of the island. Our pilot (Bryan from Tennessee!) was great about pointing out places of interest and filling us in on the island's geography and other interesting facts. We got some good views of Poipu before flying over Hanapepe Valley and on to the first major site of the flight: Waimea Canyon.
Waimea Canyon is a stunner form the roadside overlooks but from the air it was just spectacular. We flew down into the canyon, and up close to a waterfall but it was the rainbow(s) that stole the show here. It was a pretty special sight.
We flew over the edge of the canyon and came down over the Napali Coast (one of the big selling points of a helicopter ride over Kauai) and it was…raining! A lot. But it was still so amazing. Even in the rain, I was still blown away. We flew up the coast, oohing and awing, until we got of Ke'e beach and then followed the north shore into Hanalei Bay (we got a great view of Tunnels).
From here we flew into Hanalei Valley and then into Wai'ale'ale Crater (the birthplace of Kauai). This part of the flight was the real highlight for me. Hanalei Valley is so lush and green and getting to go into the crater (Bryan said only about 40% of flights get the right conditions to go in) was an otherworldly experience. The pictures just don't do this place justice. The clouds were hanging low, it was raining lightly, and it was still gorgeous. Our pilot told us that many people have an emotional reaction to seeing the crater and it's easy to see why. Our otherwise chatty flight grew silent as we flew through.
RELATED: How to See the Napali Coast
Wish you had a go to resource for the best spots in Hawaii? I'm talking snorkeling spots, trailheads, hidden beaches, local restaurants, and more! Sign up for my newsletter to access to my library of Hawaii Google Maps. I'll also send you the latest and greatest Hawaii news, brand new things to do, special weekly deals and more. You don't want to miss out on this! So sign up below!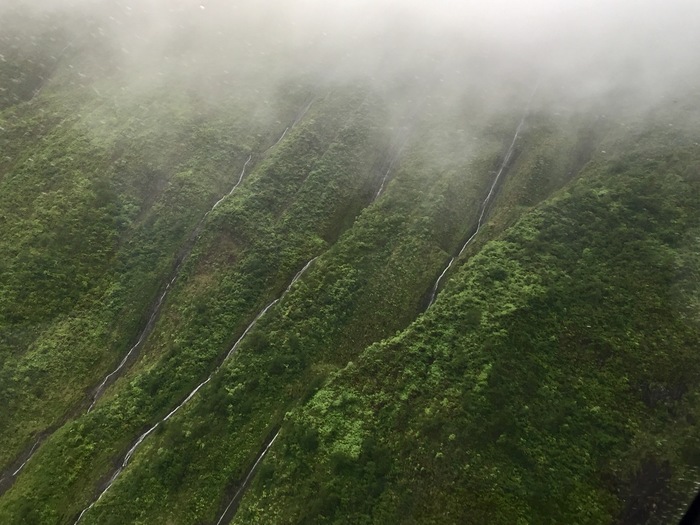 The crater was our last major site on the trip and from there we flew back across the island to Lihue. We had an uneventful landing (always a good thing!) and disembarked. On our way in, each group got to have their picture snapped in front of the helicopter.
I really just can't say enough good things about my flight with Blue Hawaiian and there aren't words to adequately describe the things I saw. All I can say is, if you're on the fence about doing a helicopter tour on your trip to Kauai, do it!!! I've done a lot of tours, excursions, and activities on Kauai, but this is one of the few that I would repeat (others were amazing, but once was enough). You can book the exact tour I did here. Their whole process was seamless, I always felt very safe, and Bryan was a great pilot/tour guide!
RELATED: Need a packing list for Kauai? Find my best packing advice here.
Things You Should Know About a Helicopter Tour on Kauai
Wear dark clothing. This cuts down on the glare in your photos.
Check out a company's safety record before you fly with them.
Afternoon is the best time to see the Napali Coast. You'll get the best lighting.
If you're traveling with a group (more than one person), somebody WILL get put in the back middle seat. Singles are always guaranteed a window or front seat.
Some companies offer flights with the doors off, which makes for better photos but not as comfortable of a flight.
The right side gets the best views although your pilot will do a circle so the other side can see as well.
Helicopter tours are VERY popular on Kauai (more so than the other Hawaiian Islands) so book in advance.
If you're prone to motion sickness, take medication before your flight.
Most tours will record your flight and sell you the DVD. I would suggest just enjoying the flight, buying the video, and not worrying about taking pictures.
Space is limited on these tours so don't wait too long to book! You can reserve your flight with Blue Hawaiian right here.
Feeling a little overwhelmed with trying to plan the perfect Kauai itinerary? I've got just the thing for you!
Kauai Bound! I've put together the BEST Kauai itineraries you'll find anywhere! These are the itineraries I use on my trips to Kauai (plus a few tweaks because hindsight is 20/20 right?) and they're perfect for first time and repeat visitors who want to see the very best of Kauai.
Check it out here.
I've included everything from the best snorkeling spots, beaches, and excursions and it's all broken down by each part of the island so you won't waste any time backtracking.
So what exactly do you get? With Kauai Bound, you'll get FOUR six day itineraries: 1) classic Kauai itinerary, 2) Kauai honeymoon itinerary, 3) Kauai for adventure seekers itinerary, and 4) Kauai foodie itinerary. I'm not just talking about a bullet point list of to dos. Each itinerary comes with 10-15 pages of commentary explaining why I recommend doing certain things (plus various options to suit your interests). Each itinerary also comes with its own Google Map (broken down by day). You'll also get an itinerary template that you can use to make your own, along with extensive tips on creating your own itinerary, a huge list of things to do on Kauai, and directions for making your own Google Maps.
This is basically vacation in a box, friend! Just add a bit of salt water and you're in for the trip of a lifetime!
Click here to grab the Kauai Bound itinerary bundle.
Love this post? Pin it for later!
Save
Save
Save
Save
Save
Save