6 Dreamy Kauai North Shore Beaches Where You're Going to Want to Stick Your Toes in the Sand
Most people come to Kauai for sunshine and beaches…and you'll find plenty of both. Besides gorgeous golden sand and dreamy blue water, Kauai's beaches have some of the most gorgeous backdrops you'll find anywhere in the world.
The north shore is my favorite part of the island and it's home to many of my favorite beaches on Kauai. This is the lushest part of the island, but that's because it's the wettest. That means beautiful beaches but not always the best beach weather. But when everything falls into place, it's like magic.
A word about Kauai's beaches though (everywhere, not just the north shore)…surprisingly, many of Kauai's beaches aren't considered swimmable or they have rough currents and riptides that you need to watch out for. Always check conditions before you get in the water!
My Favorite Kauai North Shore Beaches
With that being said, here are some of my favorite Kauai north shore beaches that you just might want to check out:
Ke'e Beach
This is as far as you can go on the north shore. This is an excellent snorkeling and swimming beach as it's completely protected by a reef. It also has great amenities (restrooms, showers, picnic tables, etc.) and it's the trailhead for the Kalalau Trail (the famed Napali Coast hike).
If part of your group wants to opt out of the four-mile hike, this is an excellent place to hang out.
Parking used to be first come first serve, but after the massive flooding in April 2018, the county took the opportunity to redo the infrastructure when they redid the road. You now either need a parking reservation or a reservation on the shuttle from Princeville to arrive at Ke'e Beach.
Tunnels Beach
Also called Haena Beach Park, a little ways down from Ke'e Beach is what's probably the best snorkeling on Kauai. It's hard to find the entrances (two dirt roads with minimal parking), but what you'll notice are all the "no parking" signs. That's how you know you're near. The beach is wide and gorgeous and the green mountains form the perfect backdrop down at the west end.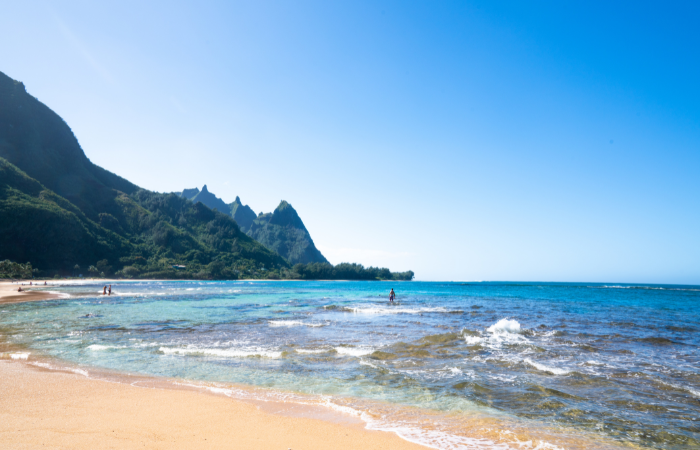 There's a fairly large parking lot to the west at Haena State Park and you don't need a reservation, however it fills up pretty quickly and they're very strict about handing out tickets for parking illegally. It's roughly a half mile walk from the parking lot. There aren't any facilities at the beach itself, but there is a lifeguard.
Lumahai Beach
South Pacific made this golden stretch of sand famous and it's a stunner to stop and see, but not much good for swimming.
Side Note: If you're looking for a rental car for your trip, I LOVE Discount Hawaii Car Rentals. They're seriously the only company I ever use. They'll give you the very best prices, you don't have to reserve with a credit card or pay until you show up, you can cancel and re-book anytime if you find a better rate, and they usually have a special that adds additional drivers for no fee. It's a no brainer. Click here to check rates for your trip.
Hideaways
Just finding this beach is an adventure in itself. It's in Princeville (make the turn into the resort area where you see the sign for the Princeville Resort off the main road). You'll go about two miles through Princeville and then turn right into a tiny little parking lot just before you reach the guard shack at the resort. Just outside the parking lot, you'll see a small pathway between the two fences. You'll need good shoes to do this little trail (not flip flops!). There's a pretty sketchy staircase you have to navigate before you get to the series of rope handles that will lead you to the hidden beach. Don't miss this one!
Anini Beach
This is probably the best overall beach on the north shore, especially for families. It's very accessible (plenty of parking and good facilities) and the large reef leaves the wide beach pretty protected for swimming, even when there's large waves on the north shore.
On Another Note: If you're looking for a condo or vacation rental for your trip, I always book with Vrbo. They've got the largest selection of rentals you'll find anywhere and you can easily filter to find exactly what you're looking for. Need a specific number of bedrooms and bathrooms? Narrowed it down to a certain location? Want flexible cancellation terms? Need to stay under a fixed budget? Click here to search for Kauai vacation rentals for your trip.
Hanalei Bay
Hanalei Bay has got to be one of the most special places in Hawaii. Hanalei is the cutest little town you've ever seen and the wide bay has a two mile stretch of beach. Not only is it one of the best places to watch sunset on the island, but there are four distinct beach areas for pretty much every occasion. Don't miss the famous pier in the center and the snorkeling along the west end at Waikoko Beach. Hanalei Bay is a great place for kayaking and paddle boarding when conditions are calm and surfing when the waves are big.
Want to read more? Don't miss some of my most popular (and favorite) posts about Kauai: my personal Kauai favorites, a breakdown of where to stay on Kauai comparing Princeville vs Poipu, my favorite restaurants in Poipu, the best places to watch sunset on Kauai, 5 day Kauai itinerary, my review of the Grand Hyatt Kauai, everything you need to know about Napali Coast boat tours leaving from Port Allen (south side) and Hanalei (north shore), my best Kauai travel tips, all about hiking the Kalalau trail (Kauai's best hike), Maui vs Kauai, the best things to do on Kauai and more specifically in Hanalei and Poipu, whether you should see the Napali Coast via boat or helicopter, my best (and specific) condo recommendations on Kauai, everything you need to know about Kauai helicopter tours, Kauai's best north shore beaches, where to play tennis on Kauai, how many days you should spend on Kauai (plus other FAQs), the best spas on Kauai, and my review of the Smith Family Luau.
Save
Save
Save
Save
P.S. Thanks for sticking around and reading this whole post! If you have ANY questions about planning your trip to Hawaii, you can join my free Facebook group here. I'm there answering questions every day and there are 7500+ other friends who have a ton of Hawaii information to share!
Also, if you want to follow along on my travel adventures in real time, you can follow me on Instagram (@caitylincoln). My post captions are full of travel tips and I have a ton of story highlights and videos with great info. And please share my account with your friends that are headed to Hawaii! Your support really helps me keep this blog running!