25 Things to Do in Kona (the Gold Coast of Hawaii's Big Island)
Hawaii's "Big Island" (not the main island…that's Oahu) is actually named "Hawaii", but since that's also the name of the state and a tiny bit confusing, it mostly just goes by its nickname OR its most recognizable town…Kona.
Kona is the largest town on the island (and where you'll find Costco, Target, and the main airport although there's another one in Hilo). But because it's such a large island and things are so spread out, the term "Kona side" is used to refer to pretty much the entire western side of the island.
The Kona side of the island is dry, sunny, and where most of the beaches are and as a result…where most of the hotels, resorts, condos, and visitors end up. So if you're looking for traditional "Hawaii vacation" activities (snorkeling, surfing, beaches, boat tours, luaus, etc.) this is where you'll find them.
For the purposes of this post, I'm defining "Kona" as everything in Kona town and including both the areas north up through the Kohala Coast (including Waikoloa) and south to Kealakekua Bay and the Pu'uhonua O Honaunau National Historical Park.
That's a big area! From downtown historic Kona, that's up to an hour in either direction (northern and southern limits) so just because I've grouped all of these activities into the Kona section, you'll still want to make good use of a Google map when planning out your days to make sure you're not backtracking or spending too much time in the car.
This post may contain some affiliate links, which means I'll make a little money on anything you choose to purchase. But of course, I only recommend my absolute favorites to you. Thank you for supporting the brands that make the Lincoln Travel Co possible.
25 Things to Do in Kona
So now that you've got a point of reference, here are 25 things to do in Kona (plus recommendations on where to stay and restaurants):
Things to Do in Kona
Let's start with Kona "proper"…
Ali'i Drive in Downtown Historic Kona
The bustling tourist hub of Kona is its waterfront historic district. It's the kind of place where the cruise ship shuttles people to if you get my drift. If you've been to Maui, it's a bit like Lahaina…but not quite as nice.
Anyways, Ali'i Drive is the main drag right on the water and it's lined with shops and restaurants.
If you happen to be on island for the Kokua Kailua Monthly Stroll, I think it's the best way to experience this area. They close the street and hundreds of vendors show up plus there's usually live music and plenty to eat. It's one Sunday a month (usually the third Sunday but double check the schedule online).
It's a great place to have a sunset dinner overlooking the water. Huggo's on the Rocks is pretty popular (owned by the same company as my beloved Lava Lava Beach Club in Waikoloa) and the kalua pork nachos are supposed to be the thing to get. I LOVE Island Lava Java for breakfast, but I'm sure dinner is great too. Foster's Kitchen has good food and drinks and Fish Hopper is well reviewed plus Gertrude's Jazz Bar looks fun.
Hulihe'e Palace
A former vacation home for Hawaiian royalty, the palace is now operated by the Daughters of Hawaii and they run docent guided tours by reservation Wednesday through Friday and self guided tours on Saturdays.
I haven't been inside, but it's lovely on the outside. Find out more here.
Ocean Rider Seahorse Farm
This is one of my FAVORITE things in Hawaii. It's not everyday that you get to hold a seahorse!
The Ocean Rider Seahorse Farm in Kona breeds seahorses (to discourage aquariums from pulling them from the ocean since they mate for life) and is making great strides in their conservation efforts.
The fee you pay to tour their facilities goes towards research and conservation and not only do you get to see lots of species of seahorses, but at the end of the tour you submerge your hands into a tank and let one of the seahorses wrap around your finger.
I've done this tour twice and it's seriously always a trip highlight.
**Update: I've done this tour twice in the past and it cost $25/person which I always felt was WELL worth it. It's now $78/adult and $73/child (5-10) which is…steep. I still think it's an amazing thing to do, but this knocks it down from "recommendable to everyone" to "recommendable to those with a big interest in marine life/seahorses/conservation and extra cash."
Find more info here.
Kanaloa Octopus Farm Visit the world's first octopus farm
If you thought the seahorse farm sounded cool, just wait until you hear about THIS. Kanaloa Octopus is the world's first octopus farm and they're a "conservation-minded cephalopod aquaculture research facility."
Their mission is to study and understand how cephalopods grow from the paralarvae stage to maturity so they can raise octopus in an eco conscious way that will help drastically decrease how many species are taken wild from the ocean.
It's an interesting field of science and you can read more about it here.
I haven't toured the farm yet, but it's at the top of my list of things to do on my next trip. One hour tours are $60/adult and $40/child (6 and under). Find out more here.
Night Scuba (or Snorkel) with Manta Rays
Diving with manta rays is an experience that's unique to the Big Island (none of the other Hawaiian Islands have this phenomenon). It only happens at night (mantas are most active at night when there's more plankton to feed on), but it's not seasonal so you can catch them all year long.
I'll admit…I haven't quite worked up the nerve to do this yet (being in the ocean at night seems a little scary haha), but here's the scoop on where to go.
There are two main spots where the mantas hang out at night…
"Manta Village" at Keauhou Bay (near the Sheraton) and "Manta Heaven" near the airport.
Manta Heaven has more mantas but is more crowded with boats. Manta Village statistically has fewer mantas showing up every night, but also fewer boats. I think it all evens out. And here's the thing…the mantas are very social and curious (plus they're eating) so they pretty much stay in the area and swoop and circle the entire time. So even if there's just ONE manta, you're going to be seeing it pretty much continuously.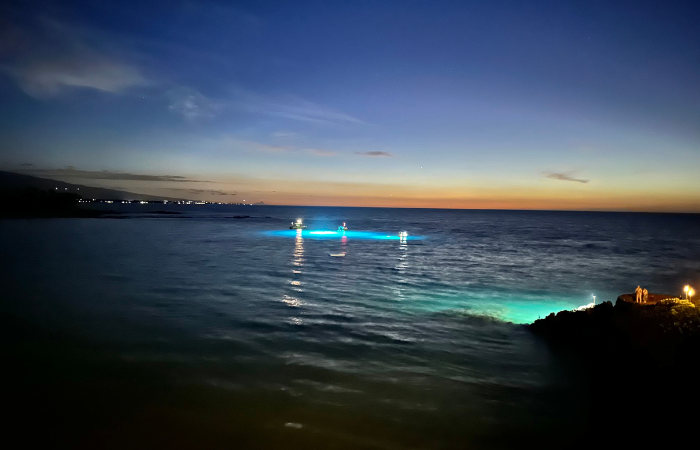 NOW…if and when I do this, I will go with Manta Ray Advocates on their "Moonlight Swim with the Mantas." This is the only (that I've found) company that departs from the beach to a private manta location.
They leave from the beach at the Mauna Kea Hotel and swim (not too far) to a spot that's rigged with a permanent light to attract the mantas.
It's in a small group of about six and it seems like the way to go. I actually watched the whole thing from the Mauna Kea Beach Hotel and I was really impressed.
Which brings me to…if you're anything like me and swimming in the ocean at night sounds like…the last thing you want to do, there's a place where you can see it all happen FROM DRY LAND.
The Mauna Kea Hotel has a private light set up over a manta feeding station that you can view from a platform above.
We stood for almost an hour and watched them and it was PHENOMENAL. One of my favorite things I've seen in Hawaii. They were so close and they just looped back and forth constantly. And it was even fun to watch the snorkelers come out from the beach.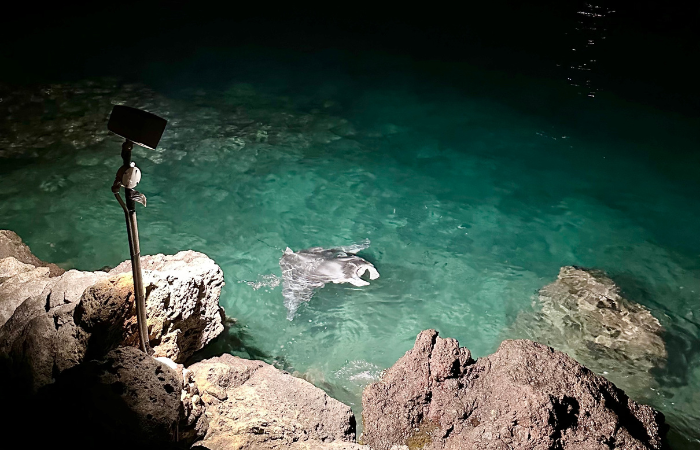 If you're not staying at the hotel, I recommend making dinner reservations at Manta, the hotel's signature restaurant, and making an evening out of it.
Tour a Coffee Plantation
Hawaii is famous for their coffee (Kona coffee anyone?) so of course touring a coffee plantation is a must do on the Big Island. There's plenty to choose from on the Kona side of the island and the best ones will have tasting rooms where you can purchase coffee to take back as souvenirs.
There are a TON of coffee farms near Kona and a lot of them offer tours so you can take your pick, but I would look into Mountain Thunder. They offer complimentary tours every 30 minutes plus they have a lava tube on the property. I don't think they're currently offering it, but when they resume, their Roast Master Experience Tour looks top notch.
Kaloko-Honokohau National Historical Park
Besides Hawaii Volcanoes National Park, the Big Island has THREE National Historical Parks with deep Hawaiian cultural significance. Kaloko-Honokohau is located just north of downtown Kona and they have a perfectly preserved fish pond. At the visitor center you can learn all about water cycles and how sacred water was to the Hawaiian people. From the visitor center, you'll have to hike to see the fishpond (there's actually not much to see at the visitor center, but it's where you'll get your national park passport stamped).
If you park at Honokohau Beach (by the small boat harbor), you'll shave about a mile off of the hike. From the parking lot, it's a short hike to the first fishpond and then there's another one farther down.
Kona Brewing Co.
Kona Brewing Co is one of the most popular craft beer brands in the world and I think that means that you practically must visit their headquarters. It's close to downtown Kona (walkable from the King Kamehameha Hotel) and it's in a more revitalized area. They've got great food, their whole collection of beers on tap, and an overall really nice facility complete with a merch stand.
You can do a one hour brewery tour several times a day. $20/person (15 and up only). Tour includes four 4 oz samples for guests 21+. More info here.
Side Note: If you're looking for a rental car for your trip, I LOVE Discount Hawaii Car Rentals. They're seriously the only company I ever use. They'll give you the very best prices, you don't have to reserve with a credit card or pay until you show up, you can cancel and re-book anytime if you find a better rate, and they usually have a special that adds additional drivers for no fee. It's a no brainer. Click here to check rates for your trip.
Things to Do South of Kona
Going south from Kona, here are a couple of places you're definitely not going to want to miss…
Snorkel Kealakekua Bay at Captain Cook's Monument
One of the Big Island's best snorkel spots also happens to be where Captain Cook first landed when he came to Hawaii in the 1700s.
Dozens of large snorkel boats take tourists to the bay to snorkel, but the best way to see it is by kayak. Only a couple of companies have permits to land vessels at the monument and snorkel from land (everyone else just drops anchor or floats around) and the best ones leave early to beat the afternoon crowds.
Read about my experience kayaking to and snorkeling at Kealakekua Bay here and then you can book the same tour here.
Pu'uhonua O Honaunau National Historical Park
This is one of three National Historical Parks on the Big Island and while they all have great cultural significance, this is my favorite one.
Not only is there so much to learn, but it is absolutely BEAUTIFUL.
The site is right on the water and it's just completely dreamy with palm trees everywhere you look and white sand beaches.
Here's a bit about the cultural significance of Pu'uhonua O Honaunau: The Pu'uhonua was a place of refuge for those who had broken the law (and faced a punishment of death), defeated warriors, and sometimes even civilians during times of war.
Once refuge seekers reached the Pu'uhonua, they were protected. Hawaiians believe the Pu'uhonua was/is protected by Lono, the God of Life.
The Pu'uhonua is still considered an active religious site by Native Hawaiians (kanaka maoli) and while the National Park Service maintains the temple (heiau), descendants of the ancient Hawaiians continue to practice traditions there today making it a modern religious site.
It's $20/vehicle to enter the park (it's covered by the annual American the Beautiful pass) and the site has a video presentation and some exhibits to explain the significance to visitors.
Since it's considered a sacred site, be sure to be on your best behavior! No swimming from the beach, sunbathing, running around, etc.
Snorkel at Two Step
Just north of the National Park is one of the best snorkeling spots on the Big Island. You'll need to bring your own gear and I'd come earlier in the day because although there's a decent amount of parking, it's probably not enough for all of the people trying to come here.
The entry point isn't from a beach, it's all rocks so if you're wanting to hang out in the area, you'll probably want something to sit on. The rocks seem pretty big and smooth-ish so I don't think water shoes are essential, but if you have sensitive feet, you may want them for before/after you get in/out of the water.
Things to Do North of Kona (Waikoloa & the Kohala Coast)
Leaving Kona and heading north towards the resort areas of Waikoloa and Kohala, there's plenty to do!
Hike to the Pololu Valley
Drive up the Kohala Coast as far as the road goes and you'll be rewarded with one of the best scenic lookouts on the island. If you're up for a sweat, make the short (but steep!) hike down to the black sand beach at the bottom. On the drive there, stop in the cute town of Hawi and take a look around.
Helicopter Tour from Kohala
While most Big Island helicopter tours leave out of Hilo for the volcano, Blue Hawaiian operates a tour that departs from Kohala and does a fly over of the gorgeous north shore on the way to the volcano. If you're looking to splurge on one big experience, this is it!
Visit the Puako Petroglyph Archaeological Field
Hike the 1.5 mile Malama Trail to view petroglyphs, some of which date back to the 16th century!
Pu'ukohala Heiau National Historical Park
The third National Historical Park on the Big Island is all the way up north in Kohala. This heiau (temple) was built in 1790 right before Kamehameha the Great set out to conquer the neighboring islands.
The education at the site focuses mostly on King Kamehameha, four Hawaiian prophecies that he was believed to have fulfilled, his ascension to power, and the political climate in Hawaii at the time.
Zipline through a Hawaiian Forest
Kohala Zipline has some of the best zipline courses in Hawaii. If you're looking for adventure, you'll definitely find it here!
Golf at Mauna Kea
Recently ranked #19 of Golf Magazine's top 100 golf courses, if you're a golfer, you'll definitely want to snag a tee time here!
Play Tennis at Hawaii's Best Tennis Resorts
Surprisingly, Hawaii doesn't have a huge tennis culture like other sunshine-y places like Florida, California, or Arizona and the courts, clubs, and programs on Kauai, Maui, and Oahu range from decent to meh.
But the Big Island has some pretty amazing tennis resorts! Mauna Kea Hotel, the Fairmont Orchid, and Mauna Lani Resort all have top notch tennis clubs with regular schedules for daily drills, lessons, match play, etc.
Best Beaches in Kona & the Kohala Coast
Anaehoomalu Beach
This gorgeous golden beach is a photographer's dream at sunset. Orangey pink sunsets and palm tree silhouettes? Yes please. Also do yourself a favor and don't miss sunset mai tais at the Lava Lava Beach Club!
Hapuna Beach
This is hands down my favorite beach on the Big Island. It's a state park so there's a $10 fee per vehicle to enter. It's large, stunningly beautiful, and perfect for swimming. There's also a decent amount of shade to be found which is rare at a lot of beaches. And the Westin Hapuna Beach Resort sits at one end of the beach if you find yourself in need of a tropical cocktail.
Kua Bay (Manini'owali Beach)
This stunning white sand beach is beautiful and a bit secluded. If you're a beach lover, you're definitely not going to want to miss this one.
On Another Note: If you're looking for a condo or vacation rental for your trip, I always book with Vrbo. They've got the largest selection of rentals you'll find anywhere and you can easily filter to find exactly what you're looking for. Need a specific number of bedrooms and bathrooms? Narrowed it down to a certain location? Want flexible cancellation terms? Need to stay under a fixed budget? Click here to search for Kauai vacation rentals for your trip.
Extra Things to Do in the Kona Area
Here are a few "must dos" no matter what Hawaiian island you're on…
Learn to surf (or paddleboard)
Book a private or small group surf lesson and you'll be surprised how quickly they'll have you standing up on the board and catching waves!
Whale watching
Humpback whales migrate to the warm waters of Hawaii to mate and give birth every winter (season is usually December 15-April 15) and they're really something to see! If you'll be in Hawaii during the season, you'll for sure want to go out on a whale watching expedition for the best chance of seeing them.
Go to a luau
For most people, attending a luau is a must do Hawaiian experience and you've got plenty of options on the Big Island.
My #1 choice would be the luau at the Mauna Kea Hotel. It is so well done and the setting is really lovely. Plus you can check out the manta rays after!
If you're wanting to stay closer to Kona, the Island Breeze Luau at the Courtyard Marriott King Kamehameha's Kona Beach Hotel is definitely a favorite on the island. Its location right on Kona Bay makes it not only picturesque but also super convenient.
Want to read more? Don't miss some of my most popular (and favorite) posts about the Big Island: 28 things to do on the Big Island (that you can't do anywhere else in Hawaii), plus things to do in Kona and in Hilo, a breakdown of where to stay on the Big Island comparing Kona and Hilo, the Big Island's best beach resorts ranked, my favorite places to eat on the Big Island, my perfect 7 day Big Island itinerary, one day in Hilo, one day in Hawaii Volcanoes National Park, four National Parks on the Big Island, stargazing at Mauna Kea, snorkeling and kayaking at Kealakekua Bay, a roundup of the best condos on the Big Island, my best Big Island travel tips, and reviews of the Fairmont Orchid and the Hilton Waikoloa Village.
P.S. Thanks for sticking around and reading this whole post! If you have ANY questions about planning your trip to Hawaii, you can join my free Facebook group here. I'm there answering questions every day and there are 7500+ other friends who have a ton of Hawaii information to share!
Also, if you want to follow along on my travel adventures in real time, you can follow me on Instagram (@caitylincoln). My post captions are full of travel tips and I have a ton of story highlights and videos with great info. And please share my account with your friends that are headed to Hawaii! Your support really helps me keep this blog running!