16 Things to Do in Hilo, Volcano & Along the Hamakua Coast
This post may contain some affiliate links, which means I'll make a little money on anything you choose to purchase. But of course, I only recommend my absolute favorites to you. Thank you for supporting the brands that make the Lincoln Travel Co possible.
Most visitors to Hawaii's Big Island stay on the Kona side because it's where the sunshine, beaches, and resorts are, but you definitely need to visit the Hilo side for at least a day.
If you're more the explorer type than the lay on the beach type, you may even want to spend several days in Hilo. There's just so much to see and do.
**Also, let me preface this…I'm referring to "Hilo" as the Hilo side of the island which is more or less the whole eastern half of the island, not just the city of Hilo. In this post I'm going to cover the Hamakua Coast (north shore of the island) going into Hilo and south to include Hawaii Volcanoes National Park all the way down to South Point (the southernmost point in the US).
The Hilo side of the island is the "non-touristy" side and it rains a lot but it's also the side of the island that's green, lush, and…honestly, what most people expect Hawaii to be like.
Hilo is where you'll find the jungles and waterfalls plus if you're looking for a more convenient basecamp for exploring Hawaii Volcano National Park and the famous colored sand beaches, it's a great place to stay. Just don't expect luxury resort life. Hilo is definitely a lot more "local," but that's what makes it worth visiting.
21 Things to Do in Hilo
Whether you're spending part of your vacation in Hilo or just planning to drive over for the day, here are 21 things to do in Hilo, Volcano, and along the Hamakua Coast plus recommendations for where to stay and the best restaurants.
Also, this post isn't put together in order of "don't miss" importance. I'll tell you about things starting in Waipio Valley and working clockwise down to South Point.
Along the Hamakua Coast (The Big Island's North Shore)
If you're driving over from the Kona side of the island, you'll definitely want to drive along the north shore, also called the Hamakua Coast. It's lush, green, and totally dreamy. Just the drive is an attraction.
Besides being one of the prettiest drives in Hawaii, here are some specific things that you may want to stop and do/see on the way:
Waipio Valley
Lush and tropical, Waipio Valley is one of the prettiest spots on the Big Island. The hike down into the valley is SUPER STEEP and there's not a lot to see at the bottom (mostly private property) unless you're on a guided tour. Since February 2022 the valley has been closed to visitors (on tours and individual hikers) because of safety concerns on the road, so for now you'll have to settle for the overlook.
Zipline over a waterfall
If ziplining through the jungle and seeing countless waterfalls is on your bucket list, this is the place to make it happen. There are a handful of companies that operate ziplines on this part of the island, but I would book with either Hawaii Zipline Tours that zips over Kolekole Falls or Umauma which flies over 9 lines and 14 different waterfalls. Umauma also has combo ATV tours.
Akaka Falls
Hawaii's most famous waterfall is about 11 miles north of Hilo and it's a DO NOT MISS. Akaka Falls is over 400 feet tall and accessible via an easy half-mile hike through a lush jungle. $5 entrance fee per person plus $10 parking per vehicle.
Hawaii Tropical Botanical Garden
Just 7 miles north of Hilo, these botanical gardens are generally said to be the most beautiful in Hawaii. Well, I haven't been to every botanical garden in Hawaii so I couldn't say for sure, but I have been here and WOWZER.
I'd say this is a don't miss attraction in Hilo and even if you're not the type to generally enjoy a botanical garden, I think you'll like it. It's more like walking through a jungle that just happens to have a wide variety of tropical flowers EVERYWHERE. Plus the location right next to the ocean makes for a magnificent view. Admission is $25/adult, $12/child (6-16), 6 and under are free.
Side Note: If you're looking for a rental car for your trip, I LOVE Discount Hawaii Car Rentals. They're seriously the only company I ever use. They'll give you the very best prices, you don't have to reserve with a credit card or pay until you show up, you can cancel and re-book anytime if you find a better rate, and they usually have a special that adds additional drivers for no fee. It's a no brainer. Click here to check rates for your trip.
Things to Do in Hilo
Hilo Farmers Market
If you're in Hilo on a Wednesday or Saturday, you've got to stop by this outdoor market with over 200 local farmers and vendors. It's a great way to get out and walk around historic downtown Hilo plus there are usually plenty of food trucks around.
The Farmers Market itself is pretty local (TONS of produce) so as a visitor there may not be much for you to actually buy (it's fun to buy different types of fruit to try though!), but there's an arts and crafts market across the street that has more to offer PLUS there's just way more buzz going on during Farmers Market days so I think it's more fun to visit even if you're just walking around.
Poke n Sides is across the street and it's open every day.
Two Ladies Kitchen
Okay, this is probably my #1 thing to do in Hilo. It's a bakery, but I think it's also an attraction.
Since almost ⅓ of the population of Hilo is Asian, it's a great place to have a unique cultural experience that's likely very different from anything you have at home. And Two Ladies Kitchen is the place to do it.
This small family run shop has been making mochi (a Japanese confection with a Hawaiian twist) for over 20 years and it's incredibly popular with locals and visitors alike.
The shop is pretty unassuming, but you know it's something special from the line out front. It's a good mix of tourists and locals (mostly from other islands, because the Hilo locals know to call their orders ahead of time to avoid the line).
They have a wide selection of mochi and you can do a custom order, selecting every piece or grab a pre assorted box from the counter. Whichever way you go, your mochi is pretty much guaranteed to be made within the last hour.
They're most famous for their strawberry mochi (it has a whole strawberry inside), but they've got an impressive selection of traditional mochi and modern mochi. You can see their menu online here, but in the store they do a really good job of explaining exactly what everything is with extensive menus, definitions and pictures.
I selected six different mochi (strawberry, brownie, lilikoi, butterfly, plum flower, and Okinawan sweet potato). The strawberry and brownie were by far my favorites, but it was fun sampling them all.
When I visited (mid December), strawberry was the only fresh fruit one they had, but during different seasons they have different offerings.
Tip: If you're flying interisland or to the mainland on Southwest Airlines and hoping to take your mochi, you'll have to check the fresh fruit mochi in your luggage instead of carry on.
Two Ladies Kitchen is open 10AM to 4PM and closed on Sunday and Monday. It gets pretty busy and although the line to order usually moves pretty quickly, the wait to pick up is what gets long.
I would recommend ordering as soon as you get to downtown Hilo, then go have lunch or walk around and come back to pick up your order. You can call and order on the phone if you know exactly what you want, but if you've never been before I think you're going to want to look everything over in person.
If you're short on time, they have boxes with premade assortments on the counter that you can walk out with immediately (still very fresh), but none of those have any of the fresh fruit mochi in them.
Liliuokalani Park and Garden
This lovely garden is the largest authentic ornamental Japanese garden outside of Japan and is free to the public. It's right on the water and it would be a nice place to eat a picnic lunch.
Rainbow Falls
Located right in Hilo town, this 80 foot waterfall is best seen in the early morning (on a sunny day) when you'll have the best chance of seeing a rainbow. But it's beautiful any time of day really. It's also very accessible. You can park and walk right up to it.
Take a Helicopter Tour
The most popular helicopter tours on the Big Island depart from Hilo and include a fly over of the volcano (the easiest way to see lava if there's a flow on the ground!) before circling back towards Hilo for a tour of the jungle and waterfalls. My favorite flight is this one with Blue Hawaiian.
Richardson Beach Park
While there aren't many beaches on the Hilo side of the island, Richardson's is your best bet for swimming and snorkeling. It's a black sand beach but it does have tiny flecks of green (olivine) in it.
Carlsmith Beach Park
There's no sand (there is a nice grassy lawn to lay out on) but the lava rocks and reef create a nice little protected swimming area that's good for snorkeling.
Pacific Tsunami Museum
Dedicated to the 1946 and 1960 tsunamis that devastated Hilo, the small museum is worth an hour or two of your time.
Historic Palace Theater
Built in 1925, the Palace Theater screens indie movies and also hosts concerts and other events.
Lyman Museum and Mission House
The Lyman Museum is affiliated with the Smithsonian and is a world-class museum cataloging the history and culture of the Hawaiian people. Admission to the museum ($10) also includes access to the mission house next door built in the 1830s.
Imiloa Astronomy Center
The world's largest collection of astronomical observatories are housed at Mauna Kea, which is a huge nod to the correlation between ancient Hawaiian culture and astronomy. You'll find educational and cultural exhibits as well as a planetarium at the center. Admission is $17.50.
Mauna Loa Macadamia Nut Farm & Factory
Just a few miles south of Hilo is the Mauna Loa Macadamia Nut Farm and Factory. It's the biggest (and most famous) mac nut farm in Hawaii and they have a self guided tour (mostly just some signs to read and a few trees planted in a garden), but it's really mostly just a gift shop.
It's a great gift shop though! They have pretty much everything from the Mauna Loa and Hawaiian Host lines. It's honestly mostly stuff you can find at ABC Stores (or even Costco), but it's pretty impressive seeing it all together.
If you want the full mac nut farm tour experience, I'd go elsewhere, but if you're just casually interested and you're in the area, it might be worth popping in. It's free to walk around and they're pretty generous with the samples.
Panaewa Rainforest Zoo and Botanical Garden
This small zoo is the only zoo in the US actually situated in a rainforest and it's supposed to be pretty quaint and charming. I haven't visited yet because they have pretty limited hours (10AM to 3PM). Admission is free and the zoo can easily be explored in an hour or two. Besides a zoo, it's also a botanical garden so it's supposed to be a pretty place to walk around.
Side Note: If you're looking for a rental car for your trip, I LOVE Discount Hawaii Car Rentals. They're seriously the only company I ever use. They'll give you the very best prices, you don't have to reserve with a credit card or pay until you show up, you can cancel and re-book anytime if you find a better rate, and they usually have a special that adds additional drivers for no fee. It's a no brainer. Click here to check rates for your trip.
Things to Do in Volcano to South Point
The area from Volcano to South Point is without a doubt where the Big Island's most star studded attractions are located. VOLCANOES! Black sand beaches! A GREEN sand beach! And an almost guaranteed turtle sighting!
THIS is why you come to the Big Island and if you're staying at one of the fancy schmancy resorts north of Kona, I absolutely DEMAND that you spend a day over here exploring. This is Hawaii.
Hawaii Volcanoes National Park
This is the single biggest reason why people come to the Big Island. There just aren't that many active volcanoes in the world, let alone ones that are safe to be around.
Now I'll warn you…if your idea of a volcano = lava then you may be disappointed. It IS possible to see lava on the Big Island (or at least a fiery glow after dark), but it's been hit or miss lately.
From 1984 to 2018 there was a fairly continuous (and predictable) flow of lava coming out of Kilauea and into the ocean which made for pretty marvelous sightings and honestly, we got pretty spoiled. You could hike to it, take a boat to see where it spilled into the ocean, and take a helicopter tour right over the top of it. Since 2018, the volcanoes have been less predictable. Sometimes it's SPECTACULAR and sometimes there's not much going on on the surface.
But regardless of what's going on with Kilauea and Mauna Loa (the island's two active volcanoes), Hawaii Volcanoes National Parks is 100% worth visiting all year long.
Don't miss Halemaumau Crater at the summit of Kilauea, the Thurston lava tube, Volcano House, and the drive down Chain of Craters road to the Holei sea arch.
Read my full post about Hawaii Volcanoes National Park here.
Punalu'u (Black Sand Beach)
The Big Island has some really lovely beaches, but I think Punalu'u is the crown jewel. You can see a regular old white sand beach anywhere, but how many places can you see a black sand beach? It's a don't miss.
It's pretty accessible with plenty of parking and restrooms.
And there are almost always turtles resting on the beach!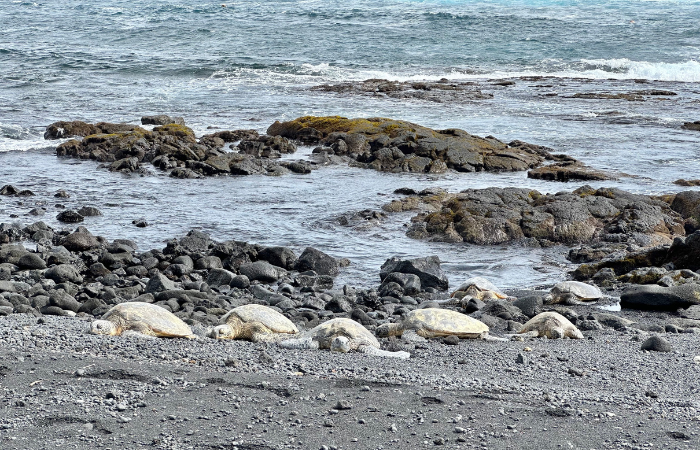 South Point
The southernmost point in the US honestly feels kind of like a party spot, but you may want to stop for a photo. It's not super well marked once you turn off the main road, but as you're presented with choices when the road forks, go right both times.
Papakolea (Green Sand Beach)
There are only a handful of green sand beaches in the world so this really is one of the most unique beaches in Hawaii.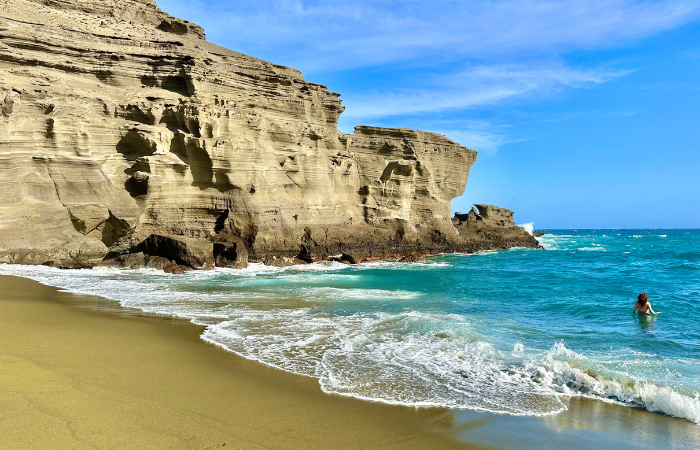 And it's an adventure to get to it! Located down at South Point (the southernmost point on the Big Island AND the US), you'll either need to do a long, dusty, hot hike along the coast or pay for the "local shuttle" at the trailhead.
If you do the hike, be prepared for about 6 miles round trip in extremely windy and hot conditions. There is NO shade (even at the beach) and while it's not much of an incline, I would take a gallon of water per person and big shade hats.
Here's the deal about the shuttle…it's controversial. It's technically illegal, but it's allowed to operate. The land is owned by the Department of Hawaiian Homelands so the guys who run the shuttles (all native Hawaiian) feel like they have the right to do what they're doing. It's controversial because all the offroading has torn up the land and many feel that it has "desecrated" an important Hawaiian cultural site.
Whatever you decide…it's $20/person and the driver takes you out and waits for about an hour and brings you back. It takes about 30 minutes each way to drive. And of course, it's completely uninsured ; )
However you do it, once you get there, it's pretty spectacular. The beach is down in a caldera and you have to climb a little bit to get down to the sand.
I go back and forth between whether the sand looks green or not. It definitely depends on how the light hits it. And while it's not bright LIME green, it for sure has green undertones and kind of sparkles.
And unlike the black sand beach at Punalu'u or the black and red sand beaches on Maui which all have a thick, coarse sand (almost like really tiny pebbles), the sand at Papakolea is so smooth and soft under your feet.
On Another Note: If you're looking for a condo or vacation rental for your trip, I always book with Vrbo. They've got the largest selection of rentals you'll find anywhere and you can easily filter to find exactly what you're looking for. Need a specific number of bedrooms and bathrooms? Narrowed it down to a certain location? Want flexible cancellation terms? Need to stay under a fixed budget? Click here to search for Kauai vacation rentals for your trip.
Where to Stay in Hilo (and Volcano)
SCP Hilo Hotel: An eco-concious boutique hotel in Hilo. If I were going to stay in the Hilo area for a few days, this is probably where I would stay.
Grand Naniloa Hotel: This has been considered the "nicest" place to stay in Hilo for a long time. It's a DoubleTree and it's probably the best option if you want a traditional hotel.
Volcano House: If you're a National Park junkie, you'll definitely want to stay here. It's a little dated but pretty charming. The original Volcano House (literally a grass hut) was built on its location in 1846 but the property as you see it today was cobbled together over the years with a pretty extensive overhaul in 2013. You can probably find nicer places to stay in Volcano, but none with this history and certainly none with this view. When Kilauea's crater is glowing with lava, you can see it from your room!
Vrbo & Airbnb Options in Volcano: The tiny town of Volcano is packed with Vrbo and Airbnb options like luxury tree houses, cottages, and cabins. This is your best option for a "nice" place to stay in the area (including Hilo).
Where to Eat in Hilo (and Volcano)
I've already mentioned Two Ladies Kitchen. It's a must.
If you're wanting to see historic Hilo, but don't have any real plans, I would do lunch at Pineapples or Jackie Rey's Ohana Grill. They're both casually nice sit down restaurants that cater more towards visitors than locals, but have good food and a nice experience.
For breakfast, (or local food all day), head to Ken's Pancake House or Cafe 100 for over 30 varieties of loco moco.
If you're poke obsessed, Poke n Sides across the street from the farmers market is the easiest place to get it, but if you want a very local experience, head to the Suisan Fish Market. It's sold by the pound at the counter with rice. There are some tables and chairs outside, but take it across the street to Lili'uokalani Park.
For a nice dinner, make reservations at Moon and Turtle in advance. It's never worked out for me to have dinner here yet (they're always booked up by the time I know I'm coming), but it's high on my list. It's a small (and very popular) Asian/Hawaiian fusion restaurant and probably at the top of the "don't miss restaurants in Hilo" list.
If you want to check out Volcano House in the National Park, their restaurant (The Rim) is a great place to go for breakfast, lunch, or dinner. Now I'll be honest…it's not going to be winning any major awards for the food and it's definitely all about the view, but we really enjoyed the experience. If you want to see the glow off the crater (assuming there's a glow to see), go for dinner. We went for breakfast to warm up a bit after being at the crater for sunrise and it was a nice break.
If you're doing the volcano and the black and green sand beach all in one day, I would time it to hit lunch at Hana Hou in Na'alehu. They've got plate lunch specials every day plus pizza, salads, sandwiches, burgers, etc. It's a nice local spot to recharge in the middle of a big day. And Punalu'u Bake Shop across the street has great malasadas. The glazed lilikoi and the chocolate are the most popular.
Want to read more? Don't miss some of my most popular (and favorite) posts about the Big Island: 28 things to do on the Big Island (that you can't do anywhere else in Hawaii), plus things to do in Kona and in Hilo, a breakdown of where to stay on the Big Island comparing Kona and Hilo, the Big Island's best beach resorts ranked, my favorite places to eat on the Big Island, my perfect 7 day Big Island itinerary, one day in Hilo, one day in Hawaii Volcanoes National Park, four National Parks on the Big Island, stargazing at Mauna Kea, snorkeling and kayaking at Kealakekua Bay, a roundup of the best condos on the Big Island, my best Big Island travel tips, and reviews of the Fairmont Orchid and the Hilton Waikoloa Village.
P.S. Thanks for sticking around and reading this whole post! If you have ANY questions about planning your trip to Hawaii, you can join my free Facebook group here. I'm there answering questions every day and there are 7500+ other friends who have a ton of Hawaii information to share!
Also, if you want to follow along on my travel adventures in real time, you can follow me on Instagram (@caitylincoln). My post captions are full of travel tips and I have a ton of story highlights and videos with great info. And please share my account with your friends that are headed to Hawaii! Your support really helps me keep this blog running!