Hawaii is one of the top honeymoon destinations in the world and for good reason…it's tropical, it has all of the amenities and activities you could want, and it's relatively easy to get to for being on the other side of the world. Kauai is popular with honeymooners because of its laid back vibe and secluded nature.
Before I let you in on my favorite Kauai honeymoon resorts, here's my biggest tip for planning the best honeymoon…pick the right time of year to go. Hawaii is an extremely family friendly vacation destination so when kids are out of school, expect even the swankiest resorts to have a pool full of kids. While a lot of places have adults only pools, kids are always around everywhere else you go, so if you're looking for a quieter time to go, pick spring or fall (or at least avoid the summer and winter holidays). I'm not telling you this to make you think Hawaii isn't the perfect honeymoon destination (it is), but many people mistakenly believe that by staying at a super expensive beach resort they'll limit the kids (noise) around, but that's not necessarily the case. When you go has more to do with it than where you stay.
RELATED: Not very familiar with Kauai? Read up on the lay of the (is)land here.
That being said, here are 5 amazing Kauai honeymoon resorts…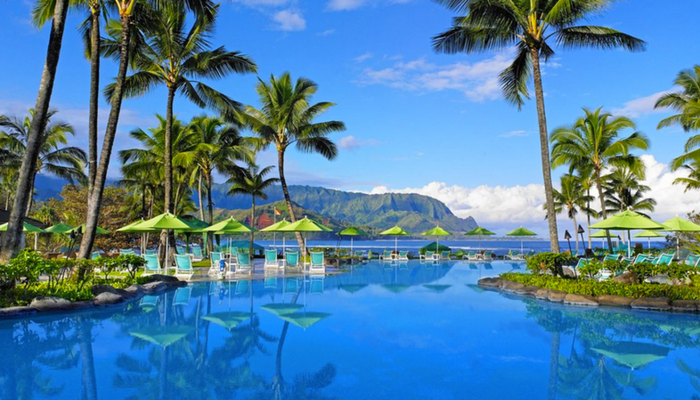 St. Regis Princeville: If you're honeymooning on Kauai during the summer months (roughly April to October) there's no place better than the St. Regis. It's located on Kauai's stunning north shore which is without a doubt the prettiest part of the island (although it rains a LOT in the winter months). The pool at the St. Regis boasts the BEST view of any resort in Hawaii hands down, and the luxe vibe is perfect for a honeymoon. Pricing starts at $515/night. Click here to check pricing and availability during your stay.
Ko'a Kea Hotel and Resort: Ko'a Kea is located on Kauai's best beach (in my opinion) in sunny Poipu. If you're visiting Kauai during the winter months, this is probably the best place on the island to stay. It's luxurious and swanky and it's well situated for day trips to Waimea Canyon and the north shore. You're also likely to see turtle and Hawaiian monk seals basking in the sun just steps from the resort. Pricing starts at $449/night. Click here to check pricing and availability during your stay.
Grand Hyatt Kauai: If lounging by the pool is a big priority for your honeymoon, you're going to love the Grand Hyatt. The resort grounds are immaculate and sprawling and there are enough pools and grottoes to keep you busy for a week. The beach isn't great (too rough for swimming), but it's just down the way from Poipu beach and you'll find plenty of shopping and dining (don't miss Tidepools!) nearby as well as a great spa at the resort itself. Pricing starts at $450/night. Click here to check pricing and availability during your stay.