Best Resorts in Ka'anapali & Kapalua, Maui
So many visitors flock to West Maui and it's easy to see why. West Maui is usually sunny and dry, making it perfect beach weather, there's a wide range of accommodation options so whether you're looking to splurge on a beachfront resort or save on a condo, you've got options, there's a lot of development and things going on, and it's absolutely stunning with those jagged green mountains rising up in the background not to mention some of the best beaches on the island. Drive time from the Kahului airport (OGG) to the Lahaina area is about 45 minutes.
This post may contain some affiliate links, which means I'll make a little money on anything you choose to purchase. But of course, I only recommend my absolute favorites to you. Thank you for supporting the brands that make the Lincoln Travel Co possible.
Here's how "West Maui" breaks down:
Ka'anapali: Maui's original resort area where tourism first developed in the 1960s. Mega resorts, condo-tels, golf, shopping, restaurants. It's a little vacation paradise.
Lahaina: The historic whaling village turned tourist hotspot. Front Street caters to tourists with endless shops, restaurants, art galleries, and other sites to see, but it "feels" like a cute town instead of a resort area.
Kapalua: The exclusive and secluded resort area known for its golf also offers some luxury resorts, gorgeous beaches, and a great tennis facility.
Napili: Napili, Honokowai, and Kahana are a stretch of mostly older condo based developments.
Now, if you want to keep things simple, you can read about my 15 favorite resorts on Maui (including several options on the west side).
Here's your warning: THIS post is going to get super nitty gritty. Lots of details, lots of options depending on if you like a beach resort, a condo resort, luxury, budget, etc. And I'm all about comparing and contrasting so you'll know which picks are best for YOU in each category. So buckle up to find out the best resorts in Ka'anapali and Kapalua.
If you've just started researching where to stay on Maui and you're stuck between whether south Maui (Wailea and Kihei) or west Maui (Ka'anapali/Lahaina/Kapalua) is better, read this post.
Final Note (and a big favor to ask): If you find my blog and info AT ALL helpful, the absolute best thing you can do to help me out is to book through the links in this post. I make a small commission on your bookings and if you're going to book a hotel anyways, it's a WIN WIN. Thanks so much!
Where to Stay in Lahaina
Lahaina (an old whaling village turned tourist hot spot) is where many choose to spend a lot of their time (especially evenings) on Maui. Although not many accommodations are right in Lahaina town, it's the hub of activity for the west side. Front Street is packed with shops and restaurants (many offering ocean views) and has a nice vibe that makes it a "hang out" spot for people in the evenings. The docks in Lahaina are also where a lot of the water excursions leave from (whale watching, glass bottomed boats, submarines, and ferries to Lanai). Lahaina is a short drive away from Ka'anapali Beach, Napili, and Kapalua so you don't necessarily have to stay right in town to take advantage of the amenities. BUT if you want to be right in Lahaina, here are a couple of places I like:
Lahaina Shores Beach Resort: Just a short walk from the heart of Front Street and Lahaina Harbor, the Lahaina Shores Beach Resort is the only beachfront condo resort within walking distance to town. If you don't have a car, this is your best option. Find specific condo units here.
Aina Nalu by Outrigger: Not located on the water, but just a block or two from Front Street, this updated property has a swanky feel and a nice pool. If you want close proximity to town, but don't care about being on the sand (or water for that matter), this is a great pick. Find specific condo units here.
Best Resorts on Ka'anapali Beach
Originally developed in the 1960s, Ka'anapali was the first tourist hub on Maui and it's still the place to be. Just a few miles north of Lahaina town, although it comes nowhere near it in terms of crowds, I would call it the Waikiki of Maui. Fronting it are the big name resorts you would expect (Sheraton, Westin, Marriott, and Hyatt to name a few) plus a bunch of condo resorts. There's also a nice outdoor mall with plenty of shopping and dining right on the beach. The three-mile beachfront promenade makes it easy to get around and it seems like there's always something to do. Catamarans pull right up to the beach to take passengers out on snorkeling excursions and there's good snorkeling at Black Rock. This stretch of beach is my top pick for a location on west Maui.

Ka'anapali Beach vs North Ka'anapali (Kahekili Beach)
While the whole Ka'anapali area is technically one big resort area, it's kind of split in two distinct parts. There's the main Ka'anapali Beach which is everything south of Black Rock from the Sheraton to the Hyatt. Then there's North Ka'anapali Beach (also called Kahekili Beach) which is north of Black Rock. Ka'anapali Beach is the main hub, but the resorts on the north side are technically connected with a walking path that links the two beaches through the Sheraton. I prefer Ka'anapali Beach. It's where the best resorts are, it's got Whalers Village, and it's really just where everything is going on. The resorts on North Ka'anapali and Kahekili Beach are mostly condos and the beach is narrower in some parts than others. It's less crowded which is nice, but there's also less going on.

The Big Three on Ka'anapali Beach
Okay, there are three main resorts on Ka'anapali Beach that are my "favorites." The Westin, Sheraton, and Hyatt Regency. I think they're good all around resorts that deliver the "Hawaii experience" that the majority of visitors are looking for. Now, these aren't luxury resorts, but they're solid mid range resorts. Think grand and welcoming properties, efficient and friendly service (but not necessarily personalized), lots of amenities, and lots of people. These are the big box stores of the resort world. All of these resorts have nice pool areas, multiple restaurants, a spa, beach amenities (chairs, paddleboards, snorkeling rentals, etc.). They're full fledged resort properties. They're also USUALLY all within the same price range. Now, if you're doing the math for your dates and one of these resorts is significantly cheaper than the other two, that's probably the one I would go with since they're all fairly comparable. But I will get into the pros and cons of each specific resort in case there's something that's super important to you that one does better than the others.
These three resorts all sit on Ka'anapali Beach in the same general vicinity. The Sheraton is at the far north end in front of Black Rock, the Hyatt is at the far south end and the Westin is in the middle right next to the Whalers Village. They're all connected by a beachwalk so no matter which one you're staying at you're not very far from the others and from everything that Ka'anapali has to offer (including the golf course). So when I mention locations below, just know that I'm being super nit picky since these are all in the same area. On Google maps it says it's almost a mile to walk the length of Ka'anapali Beach, but it never feels that long when you're walking the beach pathway.
Westin Maui Resort & Spa: Here's what I love about the Westin: it's right smack in the middle of Ka'anapali Beach and next door to Whalers Village so it has the best location of the three if you consider being in the middle of the hubbub the "best." It's been EXTENSIVELY renovated over the last couple of years so overall the property is sparkling and probably the most top notch on Ka'anapali Beach, but part of the renovation included the addition of the Hokupa'a Tower. This new luxury tower not only offers more upscale rooms, but also exclusive access to amenities like the Lanai (a gathering area with a private pool and lounge). It's the only thing like it in Ka'anapali so if your tastes skew towards luxury, the Westin should for sure be your number 1 pick. The not so great: well, it's crowded. All of these resorts tend to be on the crowded side, but because the Westin sits in the middle of the beach and it's next door to Whalers Village it seems to get more foot traffic than the other two resorts.
Book the Westin Maui here.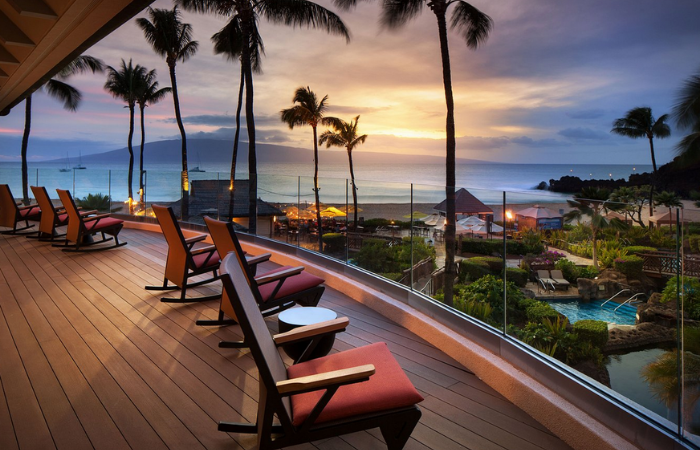 Sheraton Maui: What I love about the Sheraton: It's down at the end of the beach in front of Black Rock which is a super popular snorkeling spot (it's good but it's also super accessible which I think accounts for most of its popularity). The waves tend to be a little calmer down at that end of the beach. You don't have to be staying at the Sheraton to use the beach in front, but if you're staying down at the Hyatt it's probably a hike to do more than once. The property feels quieter than the Westin because it's on the edge. It's an updated property but it's also one of the original resorts built in the 1960s and to me it very much has that Elvis/Blue Hawaii vibe. The not so great: for kids, the pool isn't quite as entertaining as the Westin or the Hyatt and overall the resort feels a little dated (if you're not taken in with the vintage vibe).
Book the Sheraton Maui here.
Hyatt Regency Maui Resort: What I love about the Hyatt: In a word…the penguins. It sounds crazy, but seven African black-footed penguins have taken up residence in the hotel's atrium lobby and they're a sight to see! They have feedings every day. It's pretty magical. Okay onto the bigger stuff…the Hyatt also underwent a huge renovation in 2020 and it's pretty spectacular. I think it actually has the best pool area of the three (there's a grotto swim up bar in addition to a whole kid friendly complex). It's a huge resort and there's a lot of people staying there so it feels crowded even though it doesn't get the passing foot traffic like the Westin since it's down at the end of the beach. It also has one of the best luaus in Ka'anapali, but you don't have to be staying there to attend. The not so great: there's not much of a beach in front of the resort. It's pretty narrow.
Book the Hyatt Regency Maui here.
So in a nutshell…
Best pool for kids: Westin or Hyatt
Best beach and snorkeling: Sheraton
Best location (in the middle of the action): Westin
Best location (out of the way): Sheraton or Hyatt
Best resort for adults: Westin in the Hokupa'a Tower
Best resort for kids: Westin or Hyatt
For most circumstances, I think my preferred order is Westin > Hyatt > Sheraton but honestly they're all three pretty neck and neck.
Side Note: If you're looking for a rental car for your trip, I LOVE Discount Hawaii Car Rentals. They're seriously the only company I ever use. They'll give you the very best prices, you don't have to reserve with a credit card or pay until you show up, you can cancel and re-book anytime if you find a better rate, and they usually have a special that adds additional drivers for no fee. It's a no brainer. Click here to check rates for your trip.
Ka'anapali Beach on a Budget
There are a couple of places I like on Ka'anapali Beach that are great if you're on a budget. They're not on the same level as the Westin, Sheraton, or Hyatt, but they're also quite a bit cheaper.
Ka'anapali Beach Hotel: Located in between the Sheraton and the Westin, the Ka'anapali Beach Hotel calls itself the "most Hawaiian hotel" and it is very vintage and charming. It's a full fledged resort though with pool, beach activities, restaurants, luau, cultural activities, etc. If you want the full resort experience, but the "big 3" on Ka'anapali Beach are out of your budget, this is a great pick.
Book the Ka'anapali Beach Hotel here.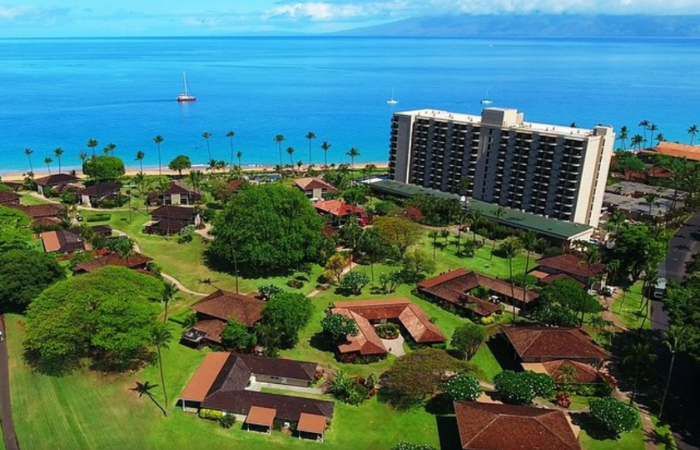 Royal Lahaina Resort: This 25-acre resort is technically on North Ka'anapali Beach (Kahekili Beach), but it's JUST north of Black Rock and the Sheraton and there's a walking path that connects it to the Sheraton so I feel like it still has that primo location. It's got everything you'd want at a resort including three outdoor pools, two hot tubs, a full service restaurant, even a luau. But my favorite part is the tennis ranch. The Royal Lahaina has one of the best tennis programs on the island so that's a big plus for me. The Royal Lahaina was built in the 1960s (it was actually the first resort built in the area) and I'm not going to lie it's a little dated, but depending on the price and your expectations, it's a good option. I would definitely book a room in the Lahaina Kai Tower though.
Book the Royal Lahaina Resort here.

Condos & Condo Resorts on Ka'anapali Beach
Sometimes a big resort isn't what you're looking for. Good news…if you want a condo where you can spread out and have amenities like a full kitchen and washer and dryer…you've got options!
First up, there are a couple of vacation club/timeshare properties that are MAJOR resorts. You'll get the best of both worlds…condo style rooms with the full resort experience.
Marriott Ocean Club: The Marriott has a great location on Ka'anapali Beach that will keep you in the middle of the action while still staying at a familiar property (if you track points through Marriott, that may be of interest to you). This place is huge and has everything you could ever want, especially for families.
Hyatt Residence Club: Similar to the Marriott, staying here will leave you feeling pampered like you're at a big time beach resort, but with more space.
As far as which is better between the Marriott Ocean Club or Hyatt Residence Club, I would go with whichever one you have loyalty with (if you track points and status). If you don't track, then you'll probably find a better deal at the Marriott because it's a much larger property.
Then there are some options that are more what you think of as far as condos (although most have quite a few resort amenities). I'm going to introduce these in the order that I would recommend them.
Ka'anapali Ali'i Resort: Sitting on a prime spot on Ka'anapali Beach next to the Westin, this is probably the best spot if you want a phenomenal location and great pool complex for a deal. Find specific condo units here.
The Whaler on Ka'anapali: Right next to Whalers Village (the shopping and dining complex that anchors the area), the Whaler has a nice collection of condos. The grounds are lovely, but the pool is primitive if that's a necessity. It feels like less of a "resort" than a lot of options in the area. Find individual rentals through Vrbo.
Ka'anapali Maui at the Eldorado by Outrigger: Located in the Ka'anapali Resort area, this property looks out over the golf course, but it's still nearby the beach and your daily resort fee covers amenities such as a golf course shuttle, BBQs, and a private cabana area on the beach. Find specific condo units here.
Best Resorts on North Ka'anapali Beach
All of the resorts on North Ka'anapali/Kahekili Beach are what I would call Condo Resorts or Condo-tels. They're full fledged resort properties but with condo style rooms. I think they fall into two categories though…condo resorts (a more standardized experience where you feel like you're staying in a resort with better rooms) and condo-tels (individually owned condo units but the overall property has nice amenities like a pool, picnic areas, and maybe even a restaurant, etc.
Let's start with the Condo resorts…
Honua Kai Resort & Spa: This is my go to recommendation If you want to be in the Ka'anapali area and have the full resort experience, but with way more space to spread out. Book the Honua Kai Resort here.
Westin Ka'anapali Villa Resorts: If you're a Marriott Bonvoy points tracker, pay attention! There are two separate Westin villa resorts on North Ka'anapali Beach: the Westin Ka'anapali Ocean Resort Villas (KOR) and the Westin Nanea Ocean Villas. Nanea is a little newer, but KOR is a little bigger. They're next door to each other (and just south of the Honua Kai) and you can use the pools and amenities at both resorts. They're both pretty nice and I would probably just go wherever I found the better deal.
Book the Westin KOR here.
Book the Westin Nanea here.
Okay, now onto the condo-tels…
Aston Maui Ka'anapali Villas: Just north of Black Rock, this spacious beach resort has a great pool area and a fun little oceanfront restaurant. Check pricing and read reviews here.
Aston Ka'anapali Shores: Another good beachfront option…choose your unit carefully as some are a little dated. Check pricing and read reviews here.
Where to Stay in Napili
Napili Bay is one of the best beaches in Maui, but it can get pretty crowded due to the number of condos and small hotels surrounding it. It's a difficult beach to visit if you're not staying within walking distance because parking is so limited. The snorkeling is decent here and there are often sea turtles. When sitting at this beach (and neighboring Kapalua Beach), it's usually possible to see whales breaching in the channel with Molokai in the distance. A lot of the properties in this area are older, but they have a certain charm.
Napili Kai Beach Resort: This is a strong contender if you want an old Hawaii vibe right on a great beach. It's a resort, but the property has multiple bedroom units. The Napili Kai by far has the best (and most spacious) grounds in the area and it's a great place to stay if you have kids. Book the Napili Kai here.
The Mauian Hotel: Also a hotel that offers some condo style accommodations, they do have one bedroom units and all studios have a kitchenette. Rooms here are a bit more modern than most in this area and a lot of rooms have great ocean views. Book the Mauian Hotel here.
Want to read more? Don't miss some of my most popular (and favorite) posts about Maui: my Maui favorites, the best Maui itinerary, how many days to spend on Maui, Maui vs Kauai, where to see turtles on Maui, my favorite road to Hana itinerary, guide for sunrise at Haleakala National Park, how to bike down Maui's volcano, my review of the Maui Pineapple Tour, 20 of the best adventure activities on Maui, 5 Maui day trips, and the best things to do on a Maui honeymoon.
Where to Stay in Kapalua
Okaaaaay, we've made it all the way up the westside to Kapalua. Not only is Kapalua the home to Hawaii's most exclusive golf resort (the whole area is called the Kapalua Resort), but it's also home to a couple of the island's most luxurious resorts. If you want luxury (I'm talking true 5 star luxury), Kapalua is the only place you'll find it on the west side (most of Maui's luxury resorts are concentrated in Wailea on the south side). Unlike Ka'anapali, Kapalua doesn't have as much beachfront real estate (a lot of condos have golf course views or they have ocean views but they're cliffside), but Kapalua's two resorts have beach access at two of Maui's finest.
So here's the deal…if your hardest decision has come down to choosing between the Ritz Carlton or the Montage, you're doing okay in life. But because I like a little drama in life, let me throw a wrench in your gear. When you're looking at staying in Kapalua (not Ka'anapali, not Napili, not Lahaina, but Kapalua specifically), I would recommend just doing a quick check and making sure Wailea isn't a better fit. No wrong answer really, but Wailea and Kapalua are more directly comparable than Wailea and Ka'anapali. Check out this post for a more in depth comparison. Here's what I don't love about Kapalua: because of its location in the West Maui Mountains, it can be cloudier and sometimes rainier than just a couple miles south in Ka'anapali. Now, this is super nitpicky because there is not a monsoon in Kapalua everyday, but it's an observation that locals and people who have spent a lot of time on the west side of the island often make. 100% possible to spend a week in Kapalua and have nothing but sunshine and blue skies though. Now, if you're a golfer…Kapalua is hands down where you want to be. They also have a really nice tennis facility. Also, Kapalua is the most remote resort area on the island which could be a good or a bad thing depending on your personal preference.
If you've decided Kapalua is the place for you, here's the resort situation…
Ritz Carlton Kapalua: The Ritz Carlton Kapalua exudes luxury (just like you'd expect) and it has just about everything you'd want at a Maui beach resort: a sprawling pool area, multiple restaurants, a top notch spa, nearby tennis facilities, and not to mention the stellar golf situation. Book the Ritz Carlton Kapalua here.
Montage Kapalua: Quite possibly Maui's most luxurious resort, the Montage is a sprawling property, but it manages to feel quiet and secluded (like, you might feel like you're the only ones there). It has a really small number of rooms compared to the size of the property (like 50 or so) and they're mostly one and two bedroom units. Book the Montage Kapalua here.
So which one is better? Eh, it's hard to say. The Montage is pretty over the top spectacular but still manages to feel so intimate. If you're on your honeymoon or you really value privacy, it's hard to beat the Montage. If you want the full resort experience (lots of restaurants, hopping pool area, etc.), I'd probably go with the Ritz Carlton. Neither is directly on the beach (they kind of sit back a bit which is great because it makes them feel more private), but the Montage has access at Kapalua Bay which is one of the best beaches on the island and the Ritz has access at DT Fleming which is nice, but often pretty rough. Can't really go wrong with either, though!
Want to read more about where to stay on Maui? I've written a ton of posts that will help. I'd start with my 15 favorite resorts and hotels on Maui. Also, you're going to want to decide between staying on the south side or the west side so this post about Wailea vs Ka'anapali is golden. Read about my favorite luxury resorts, boutique hotels, honeymoon resorts, family friendly resorts, and condos (many under $100/night!). If you've narrowed down the area of the island you want to stay, but need help picking a specific hotel, read these posts about where to stay in Wailea, Kihei, Ka'anapali, Lahaina and Kapalua, and Hana. And if you just want more details (more! More! more!), read my reviews of staying at the Four Seasons and the Fairmont Kea Lani.
P.S. Thanks for sticking around and reading this whole post! If you have ANY questions about planning your trip to Hawaii, you can join my free Facebook group here. I'm there answering questions every day and there are 7500+ other friends who have a ton of Hawaii information to share!
Also, if you want to follow along on my travel adventures in real time, you can follow me on Instagram (@caitylincoln). My post captions are full of travel tips and I have a ton of story highlights and videos with great info. And please share my account with your friends that are headed to Hawaii! Your support really helps me keep this blog running!