Of all the amazing resort areas in Hawaii, Wailea – a resort community in south Maui – is by far my favorite.
If you're never been to Maui before, chances are it's exactly what you think Maui would be like – manicured and lush, quiet and luxurious with gorgeous beaches and world class resorts. It's definitely not "local," but it's the stuff Hawaii vacation dreams are made of. Plus, unlike some resort communities on other islands, Wailea isn't super isolated. It's right next to Kihei, a more local town, albeit very touristy, and not a far drive to town (Kahului) or the north shore.
If you've just started researching where to stay on Maui and you're stuck between whether south Maui (Wailea and Kihei) or west Maui (Ka'anapali and Kapalua) is better, read this post. But spoiler, south Maui (Wailea specifically) is my favorite. Read on for the best Wailea resorts and restaurants plus my favorite things to do in Wailea:
This post may contain some affiliate links, which means I'll make a little money on anything you choose to purchase. But of course, I only recommend my absolute favorites to you. Thank you for supporting the brands that make Hulaland possible.
Wailea Resorts & Hotels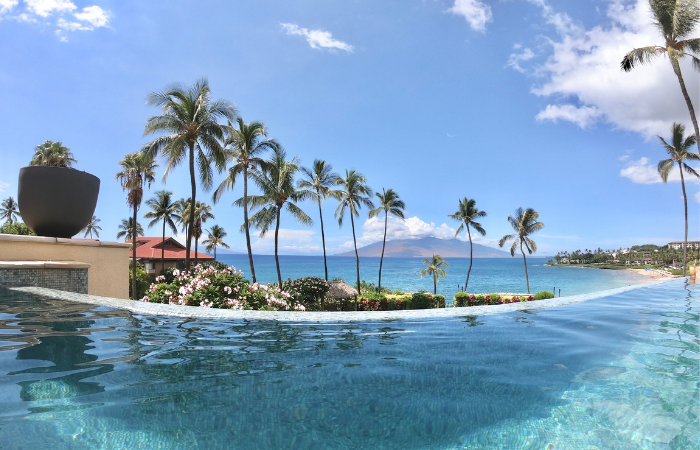 Four Seasons Maui: The Four Seasons is the granddaddy of them all and definitely my #1 pick for a Maui honeymoon (any occasion really!). The resort is super luxurious and it's located in Wailea which is much quieter (and more upscale) than the west side. The spa, the pools, the restaurants, and the beach…they're all phenomenal. The only problem with staying here is you probably won't ever want to leave the resort. Pricing starts at $550/night. Read my full review of my stay at the Four Seasons Maui here. Click here to check pricing and availability during your stay.
Grand Wailea: This is my number one hotel recommendation for families visiting Maui. While this is a world class resort for anyone (gorgeous open air lobby, plenty of shops, dynamite spa, amazing dining, and one of the island's best beaches), it's especially great for families. The Grand Wailea has one of the best pool complexes on Maui (probably anywhere really). The nine different pools include tons of water slides (they actually just opened a new "lava slide", a rope swing area, a rapid river, water elevator, hot tubs, a swim up bar, and an adults only pool. The Grand Wailea also has a kids club, a teen club, a gaming lounge, and a ton of cultural activities to participate in. Pricing starts at $350/night. Click here to check pricing and availability during your stay.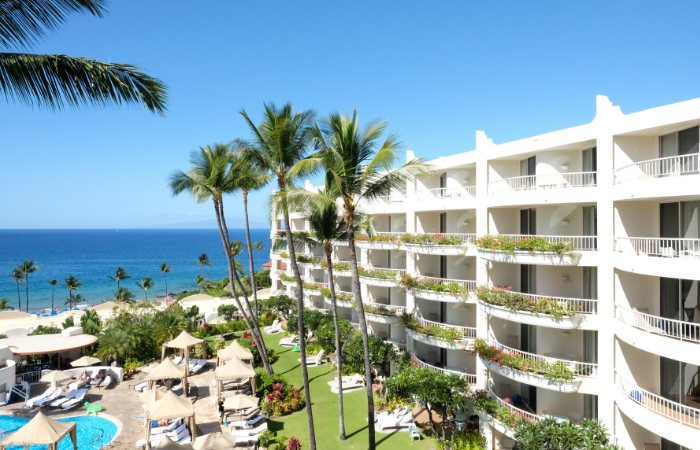 Fairmont Kea Lani: The Fairmont Kea Lani is the only resort on Maui that is exclusively suites so you'll get quite a bit of space for a pretty penny. It's located on beautiful Polo Beach, which is connected to Wailea beach and Ulua beach via a walkway. Click here to check pricing and availability and read my full review from my latest stay here.
Andaz Maui: This boutique property by Hyatt is located on one of my favorite beaches on Maui and has a very young, hip vibe. The whole property is very luxe with Asian influences and the pool area especially feels very trendy and posh. If beach and pool time are at the top of your must do list, you'll love the Andaz. Pricing starts at $450/night. Click here to check pricing and availability during your stay.
Wailea Beach Resort: Marriott's around the world are known for being family friendly, but the one in Wailea (south Maui) is something special. Sitting between Ulua and Wailea Beach, the Marriott has some super swanky pools including four pretty big waterslides as well as a few shorter slides for the keiki. There's no kids club but there are some specialty designed spaces for parents and kids to hang out together including a family game center, arts and craft area, and game center. Pricing starts at $350/night. Click here to check pricing and availability during your stay.
Hotel Wailea: Hotel Wailea is the only "adults only" hotel on Maui, so if your honeymoon is during the busy summer or holiday season, this is a great option. It's nestled in Wailea on the slopes of Haleakala (great views but not beachfront). While there is a luxury shuttle service to take you down to the beach, you may not want to leave the quiet and luxurious pool area. Pricing starts at $320/night. Click here to check pricing and availability during your stay.
Residence Inn by Marriott Maui: If you're most comfortable staying in familiar hotel chains (maybe you're a points tracker?) and want more space to spread out, you'll love the Residence Inn Wailea. Swanky suites just a short walk from the beach plus an outdoor pool with ocean views are what you'll find here. Pricing starts at $234/night. Click here to check pricing for your dates.
RELATED: Not very familiar with Maui? Read up on the lay of the is(land) and where to stay and my favorite condos, luxury resorts, and boutique hotels plus my area specific guides (including where to stay, eat, and things to do) for Wailea, Ka'anapali, the north shore, and upcountry and my review of staying at the Four Seasons Maui.
Vacation Rentals & Condos: There are quite a few NICE beachfront (and non) condo properties/resorts in Wailea. You can rent individual units directly through Vrbo. Wailea Grand Champion Villas, Polo Beach Club, Wailea Beach Villas, Wailea Ekahi Village, and Wailea Elua Village are all nice properties.
Wailea Restaurants
Monkeypod: This was one of my go to spots when I lived in Maui. They've got good happy hour specials and killer mai tais. This spot serves up a "bar menu" of chef Peter Merriman's creations (you'll recognize him from his fine dining, establishment, Merriman's, right on Kapalua Bay). Get dressed up or go casual, anything goes at the Monkeypod. They have great pizzas but I love the kalua pulled pork sandwich and previously mentioned mai tais. If you sit on the side patio, you'll have a distant ocean view. This place wins for best food in Wailea.
Four Seasons Lobby Lounge: If you want to check out the famed Four Seasons resort, but don't want to drop the big bucks to dine in one of their high end restaurants, stop by the lobby lounge for drinks and appetizers.
Restaurant at Hotel Wailea: Hotel Wailea is quickly becoming one of Wailea's swankiest spots (and that's saying something!). The restaurant at this up and coming adults only resort is definitely one to make reservations for if you appreciate the finer things in life.
Ko Restaurant: The Fairmont Kea Lani's flagship restaurant draws its inspiration from the ethnicities of Maui's sugar cane plantation days. 90% of the menu's ingredients are sourced locally, and the open air atmosphere of the restaurant makes for a nice evening.
Ferraro's: This lovely Italian spot at the Four Seasons is located poolside. It's terraced down towards the ocean. Make reservations well before sunset because you'll want to see this place in the daylight.
Ka'ana Kitchen: This family style farm to table restaurant serves breakfast and dinner daily at the Andaz Resort. This spot also has a chef's table experience as well as an interactive cocktail experience.
Gannon's: With some of the most dramatic views in Wailea, Gannon's might be my number one pick for a nice dinner in Wailea. The food is classic Hawaiian regional cuisine (Chef Bev Gannon has several popular restaurants on Maui) and you'll be plenty impressed by it, but it's really the sweeping views of the ocean that you'll remember most.
Duo: This steak and seafood restaurant at the Four Seasons is upscale dining at its finest. You'll get the top notch service that the Four Seasons is known for as well as really good food served up right on the pool deck with epic views of swaying palms and gentle crashing waves. This place wins for the best pool/beachside dining in Wailea.
Pint & Cork: A nice place for a lowkey dinner at the Shops of Wailea, you'll find pub fare and craft brews as well as plenty of TVs for sports fans.
Longhi's: There's not a lot of options for sit down breakfasts in Wailea outside of the resorts, but Longhi's (located in the Shops at Wailea) has a nice breakfast/brunch.
Mulligan's: You wouldn't expect to find an Irish pub on Maui, but this one is pretty good and very lively in the evenings!
Bistro Molokini: Located at the Grand Wailea, Bistro Molokini is a good spot to go if you want the experience of dining at one of Wailea's super luxe beach resorts without shelling out the big bucks. You'll still want to make a reservation but this place is much more laid back than others. Try the fish and chips. You won't be disappointed! This place wins for best "budget" resort restaurant.
Island Gourmet Markets: Owned by ABC Stores (a chain you'll become very familiar with in Hawaii), you'll find not only a nice selection of snacks and groceries here but also a kitchen that makes hot and fresh to go items for breakfast, lunch, and dinner.
Honolulu Coffee: This Hawaii chain (located in the Shops at Wailea) is a great spot to get your morning coffee.
Manoli's Pizza: If you're feeling like a more casual meal, you can't go wrong with pizza!
Things to Do in Wailea
Molokini Snorkel Trip: Take a catamaran out to Molokini for some of Maui's best snorkeling. Book with Kai Kanani for the quickest ride over (they leave out of nearby Makena so you won't have to drive all the way to Ma'alaea) and they make a stop at Turtle Town on the way back (where you're almost certainly guaranteed to see turtles!).
Kayak Eco Adventure: If kayaking is more your speed, paddle out with Makena Turtle Town Eco Adventure for snorkeling and turtle spotting (and whales in season!).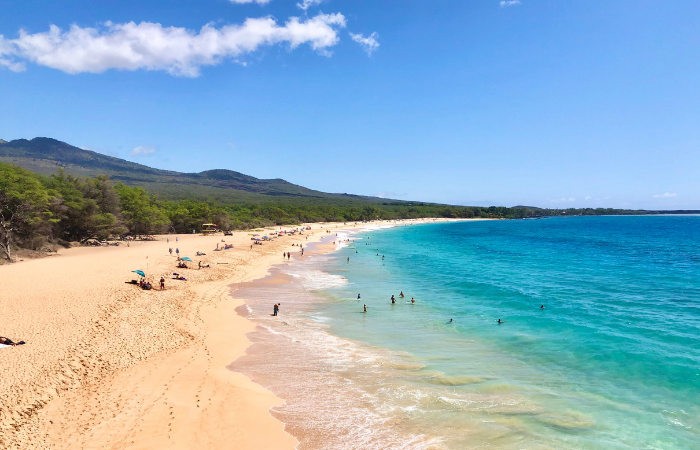 Beaches: Wailea has some of the loveliest beaches on Maui. Wailea, Polo, and Mokapu/Ulua are the major beaches in the area (all with nice resorts situated on them). Keawakapu is a long (and often quiet) stretch of sand between Wailea and Kihei that's one of my favorite spots for a long walk. Big Beach is one of Maui's most stunning beaches (it has huge waves!), Secret Beach (just past Big Beach) is a cozy little cove and the most popular spot for weddings on the island, and Maluaka beach is likely the best spot for turtle sightings (it's very near Turtle Town).
Wailea Beach Walk: This beachfront walkway between Polo beach (Fairmont Kea Lani) and Mokapu beach (Andaz) is 1.5 miles each way. Whether you're a jogger or just a stroller, you'll definitely want to do the whole path.
Shops at Wailea: This open air shopping mail has everything from high end luxury brands (Louis Vuitton, Gucci, etc.) to surf shops (Billabong, Roxy, etc.) and a few local shops as well.
Tennis: The tennis academy at the Four Seasons is probably the best in Hawaii. Find more information here and read about my experience attending a clinic here.
Golf: The Wailea Golf Club has three championship golf courses which is more than enough to keep even the most avid golfer busy on vacation.
RELATED: 20 Bakeries and Food Trucks on Maui
Complete Guide to Upcountry Maui
Where to Snorkel on Maui (and Find Sea Turtles)
Side Note: If you're looking for a rental car for your trip, I LOVE Discount Hawaii Car Rentals. They're seriously the only company I ever use. They'll give you the very best prices, you don't have to reserve with a credit card or pay until you show up, you can cancel and re-book anytime if you find a better rate, and they usually have a special that adds additional drivers for no fee. It's a no brainer. Click here to check rates for your trip.
Horseback riding: Makena Stables offers morning and sunset rides on Ulupalakua Ranch just above La Perouse Bay and the Ahii Nature Preserve.
La Perouse Bay & lava fields: The drive down to the end of the road through Makena is one of my favorite parts of Maui. You'll pass through a lava field and end at a beautiful bay where it's quite common to spot spinner dolphins.
Snorkeling at Ahii Nature Preserve: On your way to La Perouse Bay, pull over to the side of the road to snorkel in one of the pristine and calm pools at the Ahii Nature Preserve.
Water Rentals: Each resort in Wailea has rentals for paddle boards and snorkel gear so you can get out and enjoy life on and under the water in the lagoons.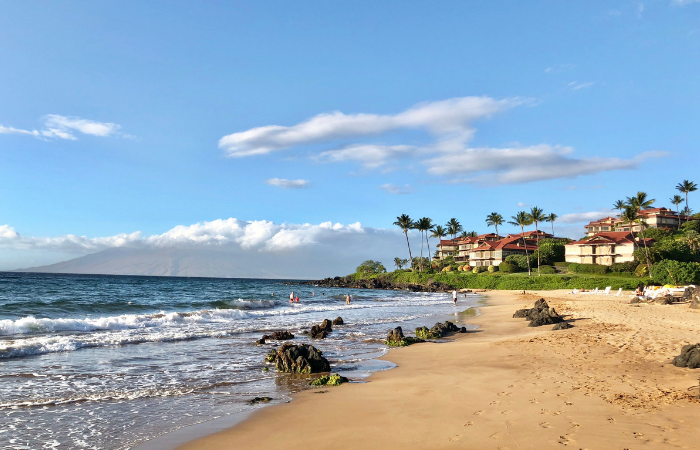 Pros and Cons of Staying in Wailea
Pros: This side of the island stays even drier and sunnier than the West side (hence why they've starting building it up more). The beaches in South Maui are way less crowded and quite a bit more accessible than those on the West side (more parking and better marked). Wailea is a lot quieter than most spots on the west side, but there's still plenty to do (resorts, restaurants, etc.). I think it has a much more upscale feel than west Maui. The whole area is super lush and manicured and looks like the Hawaii of your dreams. When I've driven people down to Wailea after seeing other parts of the island, they've said "now THIS is what I thought Maui would look like." Wailea (south Maui in general) is also closer to sites like Haleakala and the Road to Hana than the resort areas on the west side.
Cons: Wailea is picturesque but expensive (unless you're in a condo off the beach) and there's honestly not a lot going on (which can be a pro too). Everything is more upscale but there's less of it. And although Haleakala looks super close (you can practically reach out and touch it) there's no road that connects with the elusive backside of the Road to Hana (it look so close on a map!!) so you still have to drive up through Kahului to get to the North Shore, Upcountry, and Road to Hana.
Thanks for sticking around and reading this whole post! It's always my goal to provide a TON of value to YOU. To that end, lately I've been packing my Instagram (@hula.land) FULL of content and adventures that you might want to check out. A lot of my post captions are like mini blog posts with travel info, I've got IGTV review videos for luaus and excursions, and helpful story highlights like grocery store prices and hotel reviews. Not to mention that my feed is pretty much the ultimate tropical eye candy! You can follow me here and share my account with your friends! Your support really helps me to keep this blog running!
Also, if you have ANY questions about planning your trip to Hawaii, you can join my free Facebook group here. I'm in there answering questions every day and there are 5000+ other friends who have a ton of Hawaii information to share!