Maui's Road to Hana is one of the most famous (or infamous) drives in the world and in my opinion is the #1 don't miss thing to do on Maui.
What makes this drive so special? The Road to Hana is over 50 miles along Maui's rugged north shore and east side with 600+ tight turns and about 50 one-lane bridges. Sound fun? It is! While it has the reputation among many as being a hair raisingly dangerous adventure, driving the Road to Hana is certainly a once in a lifetime adventure but not nearly as treacherous as many make it out to be.
I've driven the Road to Hana at least a half dozen times. I've done it by myself, with a car full (including a baby in a car seat!), in a Jeep, in a sedan, and even in a full sized pickup. I've even done the backside of the Road to Hana (the road past Hana) many times! I'm pulling together everything I've learned driving the Road to Hana from the very best stops to make to tips about what to expect. So…here we go!
UPDATE: For real time coverage of my latest road to Hana trip with geotags, videos, and pictures of food truck menus, watch the "Road to Hana" highlight on my Instagram account (@hula.land).
What to Expect
I've already mentioned the 600+ sharp turns and 50+ single lane bridges so you probably already have a pretty harrowing image in your head right? Don't worry, it's really not so bad! The entire road from Paia to Hana (and even beyond) is entirely paved and two lanes. The bridges are not two lanes, however there's an understood rule of letting 6-7 cars on either side pass at a time. In general, while the road is very winding, it's relatively flat and there are very few drop offs (and there are guard rails protecting the few you will find).
What you can expect along the Road to Hana is plenty of beauty. You'll see colorful, lush vegetation, wide sweeping views and so many waterfalls. Perhaps the most important thing to understand about driving the Road to Hana is that it's about the journey, not the destination. Hana itself isn't much to speak of. It's a quiet little town with a gas station, a general store, and not much else. So this drive is less about "hurry up and get to Hana" and more about enjoying the adventure.
Now, on to the good stuff.
RELATED: Not very familiar with Maui? Read up on the lay of the is(land) and where to stay and my favorite condos, luxury resorts, and boutique hotels plus my area specific guides (including where to stay, eat, and things to do) for Wailea, Ka'anapali, the north shore, and upcountry and my review of staying at the Four Seasons Maui.
Stops on the Road to Hana
North shore spots: The Road to Hana officially begins in Paia (a cute little town on the north shore), but don't plan on spending much time at any spots in the Paia/Haiku area on the day you do the Road to Hana. This includes exploring Paia town, stopping at Ho'okipa overlook, or hiking to Twill Falls. These are all things you should do, but do them on another day. Getting to the north shore from Kihei or Lahaina isn't all that far. You'll need the FULL day to see all of the highlights on the eastern side of the island. So grab breakfast in Paia, pick up a picnic lunch, fill up your gas tank, and hit the road!
Rainbow eucalyptus trees: Between mile marker 6 and 7, you'll find a grove of rainbow eucalyptus trees. I love these guys! Parking is a little tricky and if you want to get out and see them (instead of just doing a drive by), you'll need to park past them and walk back. But there's a much easier place to see them. Further down the road at the Keanae Arboretum there's a grove of them. There's parking across the street and it's a short walk back the arboretum. No charge.
Bamboo forest trail: Around this same spot (mile marker 6 & 7), you'll come across a bamboo forest. If you're driving to Hana, you'll see little trail heads (holes in the bamboo) along the right hand side of the road. If you're planning to hike the Pipiwai Trail (a don't miss for me), skip this stop as there's a bamboo forest there as well.
Waikamoi Ridge Trail: Just past mile marker 9, the first "trail" on the Road to Hana stops quite a few drivers (there's also a bathroom here), but I say skip it as it's just a short hike through the forest with no waterfalls or open views.
Keanae Peninsula: This peninsula (you'll take a left to drive down to the water between mile marker 16 and 17) is home to some quaint little town (village really). The view at the bottom is so lovely. Stop at Aunty Sandy's roadside stand for some fresh fruit or banana bread. If you don't drive down to the water, the view from the top is still pretty spectacular.
Halfway to Hana: This roadside stand is a popular one because it's, well, halfway to Hana! Great banana bread.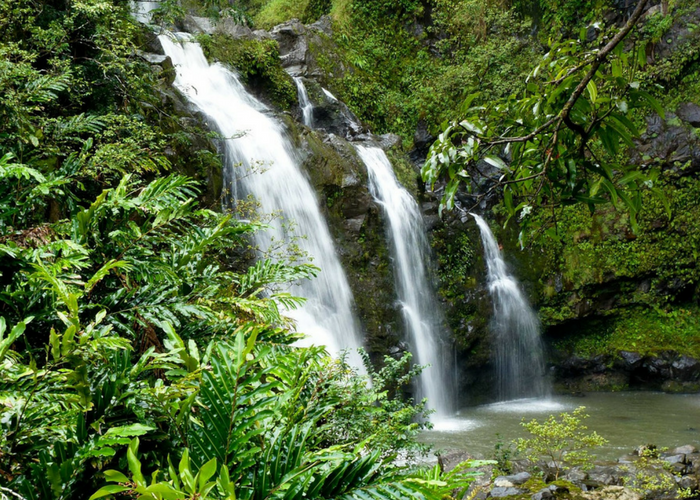 Upper Waikani Falls (Three Bears Falls): These falls at mile marker 19.5 are some of my favorites. It's a "drive by waterfall" meaning you can see it from the road but you can also park past it and walk back for a longer look (although you're just walking down the road-it's not protected). You can also climb down under the bridge and make your way to the pool at the bottom but I would probably just settle for a look and keep going.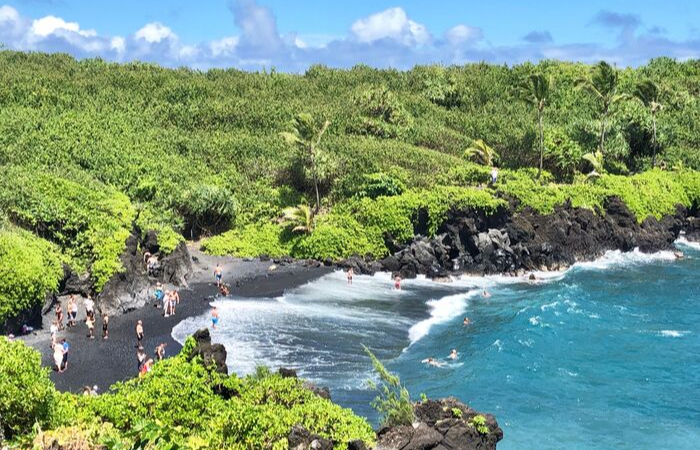 Waianapanapu (black sand beach): Update: Starting 3/1/21 reservations are required to visit the beach (in an effort to cut back on overcrowding in recent years). You can make reservations two weeks in advance here. $5/person entry fee. As you near Hana, this is the first "epic" stop you'll make. While there is a black sand beach (albeit a little more grey) in south Maui, this one is over the top dramatic. You'll find it around mile marker 32 (you can't miss the signs). There's a large parking lot. Don't miss the blowhole, sea cave, and overlook spots. And of course you've got to feel that sand between your toes.
Hana Town: You've made it! There's not much in Hana (you might find a gift shop or two-if they're open), but be sure to stop in Hasegawa's General Store for a cold drink. Also, if you didn't pack your lunch, I recommend the Braddah's BBQ Hut food truck. You'll find it just past Hana "town." Be prepared for a line of locals and tourists alike.
Red sand beach: Accessed from right in the middle of town, for me, this is THE highlight of the Road to Hana. It's tricky to find and a bit of a hike but oh so worth it. As you're coming into Hana town, take a left on Hauoli road (you'll pass a church and some tennis courts) and then turn right when the road dead ends at the Hana Community Center. Park along this street and walk across the open lawn of the Community Center. You should be able to pick up a trail through the bushes (if this sounds downright crazy to you, you might be better off to wait for people who look like they know what they're doing to come along and follow them!). Whatever you decide to do, just remember that after your initial descent down to the trail, keep going to the left. There will be a narrow beach of rock and red sand below you and a lot of people stop here but keep going. You'll know it when you see it. You will be floored.
Side Note: If you're looking for a rental car for your trip, I LOVE Discount Hawaii Car Rentals. They're seriously the only company I ever use. They'll give you the very best prices, you don't have to reserve with a credit card or pay until you show up, you can cancel and re-book anytime if you find a better rate, and they usually have a special that adds additional drivers for no fee. It's a no brainer. Click here to check rates for your trip.
RELATED: 15 Things to Do on Maui
Hamoa Beach: This lovely swimmable beach just outside of Hana is the perfect place to picnic.
Wailua Falls: As you leave Hana and head to Oheo Gulch (Seven Sacred Pools), you'll pass Maui's most photographed waterfall. You can't miss it as it's right by the side of the road. And there's plenty of parking here. Watch out for crowds as it's a popular stop with the tour buses.
Kipahulu: Part of Haleakala National Park (you'll pay $25 per vehicle to get in but keep your receipt because you can also use it at Haleakala summit), Kipahulu is home to the famous Seven Sacred Pools (Oheo Gulch) and the spectacular Pipiwai Trail. Kipahulu is about 10 miles past Hana town and the road gets interesting but it's all paved (the tour buses come back here y'all so it can't be that bad!). The Seven Sacred Pools are great for swimming (you'll want water shoes), but they can get crowded. You pick up the Pipiwai across the road from where you park (you'll see signs). About four miles round-trip (it always seems farther!), the trail takes about 2 hours to hike and winds up through a bamboo forest and ends at the spectacular 400 foot Waimoku Falls. The trail is a truly stunning experience but requires good time management on the front end of the day to make it here and still have time for the full hike.
Bold statement here ; ) If you're not going to hike the Pipiwai Trail, I'm not sure I'd spend the time to drive out (10 miles past Hana) just to see/swim in the pools. If you've got plenty of time, give it a go, but remember it costs $25/car and if you're going to reverse course and drive back through Hana anyways, it adds quite a bit of time to the day.
This is where most people turn back on the Road to Hana and if you continue on, you'll officially be on the "backside" of the Road to Hana.
Should I Drive the Backside of the Road to Hana?
I get asked this question all. the. time. Apparently there's still a lot of hype out there about how terrible and scary this road is.
Mostly this stems from rumors (I like to call it an urban legend, hmm maybe I'll call it a "jungle legend" lol) about it being illegal to take rental cars back this way. Maybe at one point that was true, but it's not anymore. I've yet to see a current rental car contract that even mentions where you can or can't take the car on Maui (the recent one I had with Dollar certainly didn't). If you ask them directly, they'll hem and haw and basically what it comes down to is "they won't come and get you if you have a problem." If you think any rental car company is going to come get you if you have a problem ANYWHERE, you have more faith in them than me. It's possible that some companies offer roadside assistance coverage that you can purchase additionally and maybe this portion of the road isn't included in that. I carry AAA independently (plus my auto and credit card cover this) so I always decline all extra insurance. Yes, it would not be fun to break down on the backside of the road to Hana or have a flat tire, but guess what? It wouldn't be fun to do that on the front side with all the traffic and narrow winding roads!
So on to the practicalities: the 3-5 miles just past Kipahulu (the National Park, AKA Seven Sacred Pools) are the worst, but it's not unlike the last few miles leading up to Kipahulu on the other side (there are literally signs posted telling you to honk as you go around the blink corners). The road is narrow and winding and there are quite a few blind corners, but generally speaking, the road also isn't very high up in these portions as it is on the front side as it follows pretty close to the shore. The road is very comfortable for one car to drive on, the problem comes when you pass another car. You just have to keep your sight lines open and watch for cars coming in the other direction. In any one stretch of the road, there is a spot big enough for your car to pull over so the oncoming car can pass. So when you see a car coming, yield and pull over even if they're a ways away. It'll avoid the uncomfortable situation of figuring out how you're going to squeeze past (or backing up) once you're on them. And because if you're driving clockwise around the island, you will need to yield to them since they're on the outside lane (which means you have the inside lane and it feels MUCH safer). I've written a lot here about this and I don't want it to sound scary, but I also want you to know EXACTLY what you're signing up for.
Here's my best tip for driving past Hana: always try to follow a car in front of you. While a lot of the guides/apps say to try to be the first car in a line while driving through the front so you don't have to watch their brake lights too closely while you're looking around, I think the opposite is true when you're driving past Hana. Driving in a caravan (even when you don't know the other people) takes away a LOT of the stress of creeping around blind corners plus the lead car has to sort out all of the passing issues with other cars ; )
Once you pass this portion, it clears up nicely into paved roads (albiet sometimes rough) with wide open views. I will say, the paved road is still pretty narrow even though it's wide open, so if you see a local coming to meet you, pull over and stop where you can because they will come BLAZING through.
The backside road is very different from the front road and definitely worth experiencing. If the front side is lush and jungle-like, the backside is dry and desert-like. Once you leave the National Park, the next and last stop until you get to Ulupalakua (Maui Wine and the Ranch Store) is the Kaupo Store. It's the quintessential Hawaiian mom and pop shop and it's a great place to grab a cold drink and use the restroom. If they're open ; ) I'll note here that the National Park does NOT have water or snacks for sale so since the Kaupo Store is undependable, make sure you have everything you need once you leave Hana.
I say if you're brave enough to get to Hana and Kipahulu, you might as well go the whole way around! It's a completely different adventure than driving the front side. Also, once you're at the National Park, it's quicker to drive the back way instead of backtracking through Hana and around with all the traffic. Once you leave the national park, it's less than an hour and a half drive to Kula (back to civilization). I personally don't like to be on the road after dark at all, but once I make it to Kula (really even Ulupalakau), it's fine driving back in the dark. And to finish with my most solid argument, if a big tour bus can drive the backroad to Hana, so can you ; )
ALL OF THIS BEING SAID…if this makes you nervous, if you're not an easy driver, if you're not used to trail driving or driving outside of a city, if you have an overwhelming fear of heights or significant anxiety, or if you question the safety for ANY reason, it's always best not to go!
Should I drive it myself or take a guided tour?
Since this whole post is about DRIVING the road to Hana, I think you can guess my opinion. While tours can be lovely, it's my opinion that you'll miss out on some of the best sites on that side of the island if you're on a tour bus. Namely, you won't make it to the red sand beach or get to hike the Pipiwai Trail. And as you can gather, I don't consider it a dangerous road to drive. So rent a car from Hawaii Discount Car Rental (that's an affiliate link which means if you make a booking, I might make a little money), and strike out on your own adventure. I just can't stomach paying $100s of dollars to be on a tour bus all day when the fun is all in the adventure.
If you want to do the drive yourself, but still have a bit of a tour guide, I strongly suggest downloading the Shaka Guide GPS App. This app will narrate your drive turn by turn, let you know when picture worthy vistas are just ahead, guide you to the best hidden waterfalls, and provide a lot of information about the island. I used it on my last drive to Hana, and it definitely adds a lot to the trip. You download the tour before you leave so you won't need cell service, but it will EAT your phone battery so you'll want a car charger as well as a USB or AUX connector if your car doesn't have Bluetooth (don't assume the rental will). It's a little clunky, and in my experience, the passenger has to spend a fair amount of time messing with it, but it does provide a lot of value. However, I still don't think you can download the app and strike out without a plan. The narrator sometimes makes suggestions about whether or not you should stop depending on the time or what else you plan to do, but you could get in a jam where you spend all your time at the front end and don't have time for some of the best stuff at the end. So I recommend still knowing roughly where you want to stop and managing your time so you'll be able to fit everything into your day.
Spending the Night in Hana
I get asked a lot about spending the night in Hana to break up the drive. I don't generally recommend it for a few reasons:
There aren't a lot of places to stay in Hana. The Travaasa is amazing, but not budget friendly if you're just looking for a place to spend the night. There's also the Hana Kai Maui Resort (not super cheap either) as well as a few small b&bs/inns but other than that you're looking at a vacation rental.
What are you going to do with your luggage? DO NOT leave anything in your car at any stop along the road to Hana that you don't mind never seeing again. Even if it's locked in your trunk. Petty theft is common in Hawaii and thieves know that cars parked at the side of the road in certain spots mean their owners are away hiking and swimming and not likely to be back quickly. Break ins happen in SECONDS. Also, rental cars are easy to spot. So either you have to drive straight to your place in Hana to drop off your luggage (which means you can't stop at all on your way there), or you have to book a double night while you're in Hana and leave your luggage at your hotel/condo on the other side of the island and just take an overnight bag (that you'll have to carry with you on your hikes).
Unless you have 10+ full days on Maui, there is just soooo much else to see and do on Maui that I don't think an overnight in Hana is necessary.
The exception to all of this may be if you're an avid hiker. The majority of the hikes on Maui are on this side of the island, so if you're wanting to hit a bunch of them (more than you can do in a day) and don't mind spending a good part of your trip out in the jungle, then that may be the way to go.
Tips for Driving the Road to Hana
Start as early as possible. I wouldn't want to be leaving Paia any later than 8 or 8:30. Pick up a picnic lunch from a company in Paia or stop at the Kua Store to get your own.
Make sure you have a full tank of gas when you leave Paia. There's a gas station in Hana but you'll pay an arm and a leg for gas.
Take cash if you want to stop at any of the roadside stands.
Take motion sickness medicine beforehand if you're prone to it.
Smaller cars (shorter length) are preferable to bigger cars for negotiating tight spots (this pretty much goes for anywhere in Hawaii).
Drive slow, there's no need to rush. Let locals pass. They're be driving much faster than you. Don't try to keep up.
You'll have limited cell service, and no cell service on the backside.
Dress for hiking, not going to the beach. You'll want sturdy shoes but probably ones you don't mind getting wet.
Pack sunscreen and bug spray.
Plan your stops in advance and budget your time so you'll get to see it all and get back before dark.
Thanks for sticking around and reading this whole post! It's always my goal to provide a TON of value to YOU. To that end, lately I've been packing my Instagram (@hula.land) FULL of content and adventures that you might want to check out. A lot of my post captions are like mini blog posts with travel info, I've got IGTV review videos for luaus and excursions, and helpful story highlights like grocery store prices and hotel reviews. Not to mention that my feed is pretty much the ultimate tropical eye candy! You can follow me here and share my account with your friends! Your support really helps me to keep this blog running!
Also, if you have ANY questions about planning your trip to Hawaii, you can join my free Facebook group here. I'm in there answering questions every day and there are 5000+ other friends who have a ton of Hawaii information to share!
Save
Save
Save
Save
Save
Save
Save
Save