The Best Spas on Kauai: A Full Review of the Grand Hyatt's Anara Spa + Other Options
Some people like to hike, snorkel, and do all of the activities on vacation and some people like to lay in the sun, visit the spa, and not do all of the activities. Now I'm not going to say one is right and one is wrong, but you know who you are. If you're a relaxer, this post is for you.
The ultimate form of relaxing has got to be a visit to the spa. Well, unlike some of the other Hawaiian Islands, Kauai doesn't have quite so many luxury spa options, but all you really need is one, right?
I'm nothing if not a dedicated researcher, so I took one for the team ; ) and tried out what is widely regarded as the best spa on Kauai.
The Best Spa on Kauai
Keep reading for a full review of the Anara Spa at the Grand Hyatt Kauai plus a roundup of some other spa options on the island:
Anara Spa at the Grand Hyatt Kauai
On my last trip to Kauai, I stayed at the Grand Hyatt, so it seemed like the perfect time to make a visit to the resort's Anara Spa.
Here's my first tip: Book your treatments well in advance. If you show up on vacation and call to make an appointment, there's a very good chance that the spa will already be all booked. I know it can be a drag to plan ahead, but the islands are incredibly busy and travel just isn't how it used to be.
I booked my facial about two weeks in advance and got the day and time slot that I wanted, but I was also traveling during a "slower" season so if you're traveling over the summer or holidays, maybe book even more in advance.
I booked the 50 minute Anara facial ($190). I don't really love a massage plus I get pretty regular facials at home so I feel like I'm better able to decide if the treatment is a well done, special experience, or if it's just an average facial in a resort spa setting.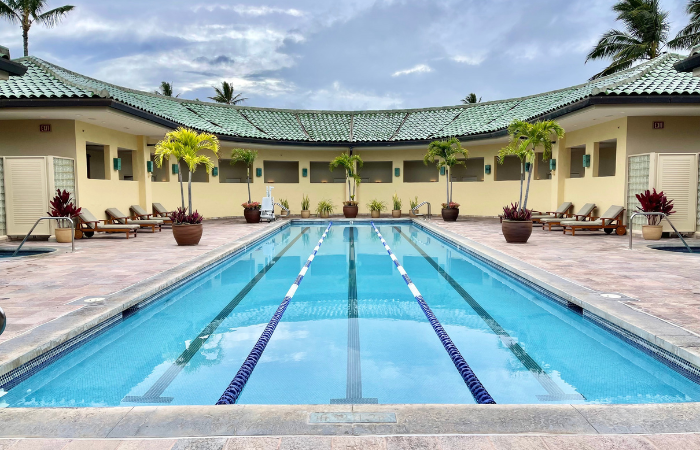 I checked into the spa about 45 minutes before my facial. The Anara Spa is situated in the northwest corner of the resort and it's a bit of a hike, so I made sure to pack up at the pool in plenty of time. It was a pretty standard check in experience…check in at the main desk where someone leads you back to another desk in the women's locker room and the attendant gives you a little tour, provides you with a robe and slippers, and shows you to your locker.
The facilities are exactly what you'd expect from a large resort like this. The locker rooms are pretty plush and they provide everything you could need including plenty of showers. The eucalyptus steam room, the sauna, and the whirlpool are all centered around the lounge area where there are a few loungers and a small seating area near the obligatory lemon and cucumber water urn and spa snacks (almonds, dried fruit, etc.).
My favorite part of resort spas lately is the eucalyptus steam room (these seem to be fairly common, at least in Hawaii). And the one here is intense! It was so steamy (it pumps in new steam periodically) that I only stayed in for about 10 minutes or so but if you've never used one of these you're in for a trip!
I laid in one of the loungers for a while and read until I was called for my treatment.
The treatment rooms are really nice here. They all have floor to ceiling windows/doors that open out onto a courtyard so it feels open air, but it's still very private.
Now about the treatment itself…I'll be honest…I didn't go in with super high expectations. Like I said, I get fairly regular facials at home and have a great esthetician so I have a frame of reference with different offerings, etc. And there's not a lot offered at Anara in terms of variety of treatments. There was more or less a basic facial (the Anara facial) and a hydrafacial offered. Since I get hydrafacials at home for about $100 less than the spa was charging (and it's a more technical treatment), I decided to go with the Anara facial hoping it would be a more classic "spa like" relaxing facial.
Long story short…it was good, not great. The facial is "customized" in the sense that the esthetician decides which product line she's going to use on you, but otherwise it follows a pretty tight formula. I asked for more of a focus on facial massage (lymphatic drainage, gua sha, etc.), but didn't really get it. It certainly wasn't a bad facial and overall was pretty relaxing, but it was nowhere near the top of my list.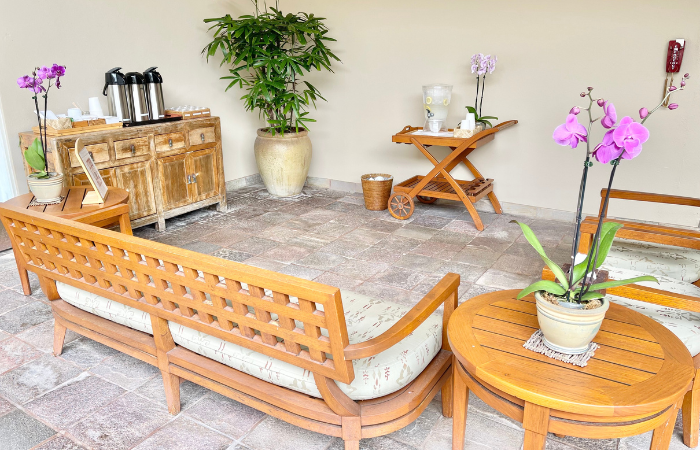 Now like I said…I didn't go in with super high expectations. And that was largely because of what was offered on the spa menu. I like to see a spa menu that offers signature treatments that seem special and unique to the area or property and not just something that you can get at your neighborhood day spa. Now I know that depending on what they offer at your neighborhood day spa it can really change your standards, but overall I feel like when you're in a luxury resort setting (paying resort prices) you hope for something a little more memorable. But overall I kind of got what I expected.
If you've never had a facial before, or have them rarely and don't have expectations, I think you'll be happy with the experience. If you do have facials often and know what you like, I just wouldn't expect much customization and it's probably not going to be life altering ; )
Now I will say…other family members opted for the 50 minute sports massage and said it was one of the best they'd ever had.
I wasn't unhappy with my spa experience here, but it wasn't exactly a rave review. So is the Anara Spa really the best spa on Kauai? Well, yeah.
First of all, there just aren't as many options on Kauai as there are on the other Hawaiian Islands, and I would say that what's offered isn't really on par with what's offered on the other islands either. If you're an experienced spa goer (is that a thing haha?) with high standards, you're probably not going to be super impressed with the island's offerings. If you just want a relaxing spa experience and you're okay with the prices, it's a very nice way to spend an afternoon.
P.S. If you're an "experienced spa goer" looking for something special and you're not committed to Kauai, you'll definitely want to check out the Willow Stream Spa at the Fairmont Kea Lani on Maui. It has a treatment menu that will make you sit up and pay attention and regularly wins awards.
Side Note: If you're looking for a rental car for your trip, I LOVE Discount Hawaii Car Rentals. They're seriously the only company I ever use. They'll give you the very best prices, you don't have to reserve with a credit card or pay until you show up, you can cancel and re-book anytime if you find a better rate, and they usually have a special that adds additional drivers for no fee. It's a no brainer. Click here to check rates for your trip.
Other Spas on Kauai
The Spa at 1 Hotel Hanalei Bay
The long awaited renovation and reopening of the old Princeville Resort (previously the St Regis) into the new 1 Hotel Hanalei Bay keeps getting delayed, but I'm hoping that's because it means it's going to be FABULOUS. The resort is supposed to have a spa and I bet it's going to be a great one since the hotel's brand is so heavily focused on wellness. I'll report back once it opens and I've got details.
Read more about the 1 Hotel Hanalei Bay here.
Hanalei Day Spa
If you're on the north shore, this currently seems like the best option for a day spa/resort like experience. Located at the Hanalei Colony Resort, it's about as isolated as it gets on Kauai, which could be the perfect setting to unwind with a treatment.
Find out more about the Hanalei Day Spa here.
Hanalei Bay Massage
If you're mostly focused on a great treatment and you're not as concerned about the resort spa-like experience, head to this place. It's in the town of Hanalei and their prices are more on par with what you'd expect to pay for a good massage in your hometown (not at a resort).
Find out more about Hanalei Bay Massage here.
The next three spots probably wouldn't be my pick for a spa experience on Kauai. They're all in the price range of the Grand Hyatt's Anara Spa, but not in the ballpark experience wise. But depending on where you're staying on the island, here are some other options to check out:
Spa by the Sea
Located at the Waipouli Beach Resort on the east side of Kauai, this could be a good option if you're staying in the area or want to take advantage of their add ons for beach services.
Find out more about the Spa by the Sea here.
On Another Note: If you're looking for a condo or vacation rental for your trip, I always book with Vrbo. They've got the largest selection of rentals you'll find anywhere and you can easily filter to find exactly what you're looking for. Need a specific number of bedrooms and bathrooms? Narrowed it down to a certain location? Want flexible cancellation terms? Need to stay under a fixed budget? Click here to search for Kauai vacation rentals for your trip.
Hawaiian Rainforest Spa
Located at the Kauai Beach Resort, find out more about the Hawaiian Rainforest Spa here.
Alexander Day Spa
A good day spa with locations on the east side (Royal Sonesta Kauai) and south side (Marriott's Waiohai Beach Club). Find out more info about the Alexander Day Spa here.
Want to read more? Don't miss some of my most popular (and favorite) posts about Kauai: my personal Kauai favorites, a breakdown of where to stay on Kauai comparing Princeville vs Poipu, my favorite restaurants in Poipu, the best places to watch sunset on Kauai, 5 day Kauai itinerary, my review of the Grand Hyatt Kauai, everything you need to know about Napali Coast boat tours leaving from Port Allen (south side) and Hanalei (north shore), my best Kauai travel tips, all about hiking the Kalalau trail (Kauai's best hike), Maui vs Kauai, the best things to do on Kauai and more specifically in Hanalei and Poipu, whether you should see the Napali Coast via boat or helicopter, my best (and specific) condo recommendations on Kauai, everything you need to know about Kauai helicopter tours, Kauai's best north shore beaches, where to play tennis on Kauai, how many days you should spend on Kauai (plus other FAQs), the best spas on Kauai, and my review of the Smith Family Luau.
P.S. Thanks for sticking around and reading this whole post! If you have ANY questions about planning your trip to Hawaii, you can join my free Facebook group here. I'm there answering questions every day and there are 7500+ other friends who have a ton of Hawaii information to share!
Also, if you want to follow along on my travel adventures in real time, you can follow me on Instagram (@caitylincoln). My post captions are full of travel tips and I have a ton of story highlights and videos with great info. And please share my account with your friends that are headed to Hawaii! Your support really helps me keep this blog running!