Luxury on a Budget: How to Save Money on Hotels
Here's a question I love to get asked…how do you afford to stay at (fill in the blank)?
It's a little awkward because everybody has a different money situation (and also what they're willing to spend/what they value), BUT I have developed a few tricks over the last several years of traveling so much.
So I'm finally going to sit down and put together a detailed write up of my process for how to save money on hotels.
Luxury on a Budget
First up…my travel style. Since I travel for work, I'm often on the go a lot and don't love paying a lot of money to stay in a nice hotel if I'm not going to be there very much. But also…since I travel a lot I don't love staying in places that aren't what I would consider nice ; )
I am very much accommodation focused when I book a trip (and always assumed everybody else was too). After years of travel blogging, answering people's questions, and doing research however, I've realized that people are usually one of three types:
People who know where they want to go, when they want to (or can go), and where they want to stay and THEY JUST BOOK IT. Example…a family of four wants to go to Hawaii for the kids' spring break. The dates are hard set so they book flights that will work with their schedule and they do a little research and see that the Grand Wailea is the best place to stay on Maui if you have kids so they book a room. Done and done. It costs what it costs. This works for more budget conscious travelers too though, but maybe for different destinations. You generally know what's possible in YOUR budget and you book a trip that fits. That could be Hawaii or that could be Destin.
People who are flight shoppers. These people amaze me : ) They know they want to go to a certain destination AT SOME POINT but they're pretty flexible on the dates. So they do somewhat intensive research on when the cheapest time of year flights generally are. They know which airlines have the best routes and which airports are cheaper to fly out of. They use apps that track when flights are expected to go up and down and have insider tips or theories for the day and time of week that prices are lowest (Tuesday night??). And then they wait. And when a deal pops up THEY SPRING INTO ACTION. These are the people that find those $99 airfares to Hawaii. They're incredible. Their trip dates are determined by their flights and then they see what they can find in their budget for accommodations on those dates.
People who book their hotel or resort (or condo or vacation rental) first and then find flights that work for their dates. This is me. Hi!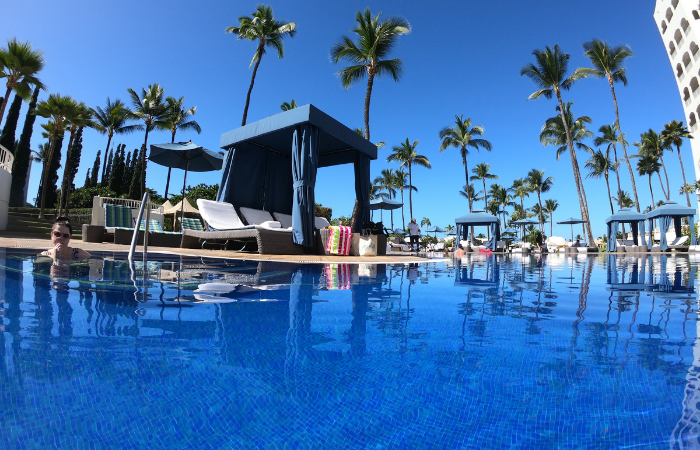 Here's where I'm coming from (and how most people who take this approach think): where I stay on a trip is REALLY important to me. When I see people in Facebook Groups or forums say "who cares where you stay…you're only there to shower and sleep" I think…"these are not my people!" haha. Now I'll be honest…I'm not spending a ton of time in my actual room when I'm on vacation, but (especially in beach destinations) I do like to spend a lot of time at the beach, at the pool, and just taking advantage of the resort amenities in general. Plus, I don't know about you but when I've been out going hard all day and come back to the hotel hot and tired, it's a pretty big bummer to be staying at a place that's…not that nice.
This is not to say that I only stay at 5 star luxury hotels when I travel (a girl can dream), but I'm very accommodation focused when I'm planning a trip…even if it's on a budget. I almost always shuffle things around and give more consideration to finding the right place to stay over flights. And when you're looking at mid-range to luxury hotels, you'll usually save a lot more money picking your dates based on your accommodations than you will picking them based on flights.
*Also, I should note here that there may be a fourth group of people. One time, my dad actually would not book a trip to Maui until it was confirmed that he could get a dinner reservation at Mama's Fish House during the dates discussed. You know…priorities ; )
OKAY SO…this post is for you TYPE 3 people. Type 1s don't need my help. They're comfortable doing what they can afford (on both ends of the spectrum) and type 2s are going to be bound to their flight dates.
But if you're a type 3 (accommodation focused traveler), here's my process:
RELATED: How Much Does a Trip to Hawaii Cost?
When is the Best Time to Go to Hawaii?
Which Hawaiian Island Should You Visit?
How to Save Money on Hotels
There's three big things I do to save money on hotels: 1) split my stay, 2) pick the best time of year, and 3) pick the best specific dates.
Split Your Stay
So honestly, my ideal trips are usually about 4 nights. I know shocker. But I travel a lot and actually like being at home so I don't LOVE trips that are super long. Now if we're talking Hawaii, that's not super practical coming from the midwest (much more doable from the west coast), so for trips that are 5+ nights (or to a destination where I'm going to be out doing a lot of exploring), I like to split the trip up.
Let's use Hawaii for an example. Most people that are traveling all the way to Hawaii, while wanting a beach vacation, also want to SEE Hawaii (totally different from places like Mexico where you're mostly there to lounge). If this is you, I suggest splitting your trip and spending the first part of your trip at a more affordable place while you do the majority of your activities and exploring. Then move to a nice resort for the last part of your trip to spend a few days just relaxing and "being on vacation."
On one of my last trips to Maui, I went with a girlfriend who had never been before so we planned to do a lot of things but we also wanted the big Maui resort experience. We spent the first three nights at an Airbnb on the north shore and did the Road to Hana, sunrise at Haleakala, the upcountry, the north shore, etc. and then moved to the Four Seasons for three nights and did…nothing. Just kidding but we really only stayed around the resort doing the beach, the pool, the spa, the tennis, the shopping, the eating. You know. We actually did an early morning snorkeling trip that picked up right near the resort too. You get the idea. It was the perfect trip. We got EVERYTHING we wanted from a Maui vacation and ended up saving a lot of money.
So it's not all or nothing when you pick a place to stay.
Choose the Best Time of Year
Most destinations have peak seasons and then either an off season and shoulder season or just a shoulder-ish season. The Florida panhandle (30a, Destin, etc.) sees high season during the summer and spring break. Off season is during the winter because it's actually pretty cold, but there's a shoulder season in the fall when the weather is still pretty warm but there's very few visitors because the kids have all gone back to school.
Hawaii's peak season is summer and the winter holidays. There's really not an off season in Hawaii because the weather is pretty perfect year round and there's so many international visitors, but the winter months (after the holidays) and the spring months are usually less than peak season. And the end of August (when the kids go back to school) up through the start of the holidays is slower as well.
Now here's my secret: the end of August through September is when you'll find the absolute lowest resort prices of the year. People in the tourism industry call it "couples season" because family travel dries up considerably. Demand is down and prices reflect it. So if you're dreaming of staying at a nice resort on the beach, but can't quite stomach the prices you're seeing during summer or peak winter months, have a look at August and September.
Side Note: If you're looking for a rental car for your trip, I LOVE Discount Hawaii Car Rentals. They're seriously the only company I ever use. They'll give you the very best prices, you don't have to reserve with a credit card or pay until you show up, you can cancel and re-book anytime if you find a better rate, and they usually have a special that adds additional drivers for no fee.
Pick Your Dates Strategically
The price of any hotel can change pretty drastically throughout the month and even the week. While September is pretty much the cheapest you'll find rates for any resort in Hawaii, there's still a lot of variation within that month and at other times of the year. Here's my hack for finding pockets of days where the price is sometimes over HALF OFF:
***The dates and numbers I'm using as an example in this post are from October 2021, but the concept applies anytime. Also, there's still considerable price surging due to COVID so these numbers are NOT a reflection of what prices are normally.
Google the name of the property you're thinking about. Let's do "Four Seasons Oahu."
While there are a ton of results that come up, the one we're most interested in is the Google listing (it's usually in the sidebar on desktop or the first listing below the ad on mobile). SEE THE SCREENSHOTS.
When you click the box for the check in date, it will take you to a price calendar where you can see the average nightly rates for the whole month (for many months in the future). This is gold.
Looking at the month of October (several months from now), I can start to pick out which days would be cheapest. So if I'm interested in staying at the Four Seasons Oahu for six nights in October, choosing Oct 3-8 ($4,938 total) would save almost 60% from choosing October 9-15 ($12,479). Ummm what?
That's probably the difference between a stay at the Four Seasons being doable or not. If you just put in random six night dates in October, the pricing may be so high that you decide you can't afford the Four Seasons when really you can't afford the Four Seasons during those dates.
**Also, remember you can cut that in half again by staying somewhere more affordable the first three nights!
So why does the price fluctuate so much? It could be demand pricing meaning dates around holidays or peak travel times are more expensive (this could be getting into "fall break" territory" or it could mean that standard rooms are all booked for certain nights and all that's available is a suite. Remember: if the standard room category (aka the cheapest) is sold out for just one of the nights you're searching for it's going to bump you up to the next available category for the whole stay which usually means a significant amount of money.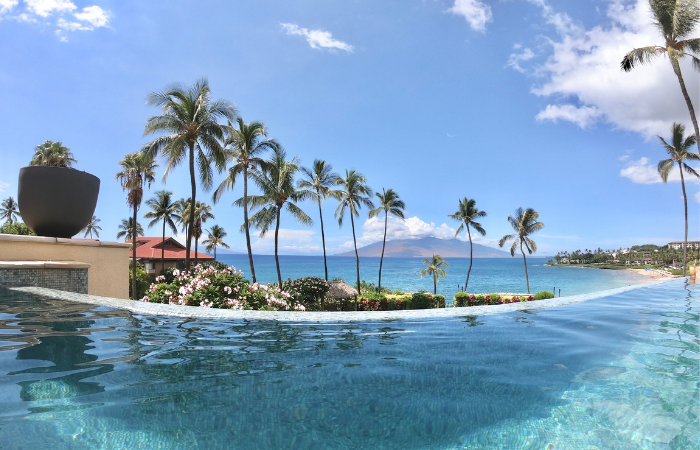 Check for Promotions
This doesn't happen all the time but sometimes if you book directly, the hotel will have a promotion like "book three nights get one free." Well if you picked three good dates, that's a pretty big add on perk.
RELATED: Where to Stay on Maui
Where to Stay on the Big Island
Plan Your Splurges
Those are my big tips for saving money on luxury (or just expensive) hotels, but if you're worried about the prices of meals or activities, here's some advice: plan your splurges in advance. If you want to have nice dinners out, but you're not used to spending that kind of money, plan out your splurges.
Are you a big breakfast person? Do you want the $50/person lavish breakfast buffet or the on property muffin, fruit cup and mocha that ends up costing $25/person at the hotel lobby kiosk? If you do a little research, you may be happy stopping in the ABC Store or local market and picking up a few things to snack on and put the money you save towards your dinners. Or find a local breakfast place 5 minutes away where you can get a hearty breakfast for $15/person.
Just because you're staying at a resort doesn't mean you can't ever leave.
Also as far as nice dinners, I would plan them ahead of time instead of just blindly walking into a place. Do some research ahead of time to make sure you pick a good place. There are plenty of tourist traps in Hawaii (any resort area really) that will cost you an arm and a leg and leave you disappointed. If you're going to spend some money, make sure it's a good spot first.
Is the (Four Seasons, St Regis, JW Marriott, Grand Hyatt, fill in the blank) really worth it???
This is the last thing I'll comment on here. My short answer when asked whether or not ANYTHING is worth it is…if you're asking then probably not. This is true of anything (luau, $125/person dinner, helicopter tour, etc.) but as far as luxury resorts go…in my experience people fall into three categories (3!! It's always 3!!!):
1) money is no object so it's not a decision factor. Let's book the best!
2) I would/could never in my life pay that much money to stay at a hotel. That's obscene and not possible for me.
3) Wow…that's a lot of money, but it's a once in a lifetime trip and we'd like to splurge on the best…so if this is really it then we'll book it buuuuut how do we get the best deal and how do we stretch our dollar while we're there.
If you're a type 3 (hi! Nice to meet you! So am I!)…I hope you found this post helpful. It was for you.
If you're a type 2…I hope you have a great trip wherever you end up. You do not have to stay at a luxury resort to enjoy Hawaii and you're going to have a fabulous time. And if you're feeling overwhelmed about spending the money it costs to stay at a fancy pants place and it makes your stomach hurt…IT'S NOT WORTH IT FOR YOU.
And if you're a type 1…you're probably not even reading this post (haha!) but enjoy your trip! And also let me know if you ever need anybody to tag along ; )
Save
P.S. Thanks for sticking around and reading this whole post! If you have ANY questions about planning your trip to Hawaii, you can join my free Facebook group here. I'm there answering questions every day and there are 7500+ other friends who have a ton of Hawaii information to share!
Also, if you want to follow along on my travel adventures in real time, you can follow me on Instagram (@caitylincoln). My post captions are full of travel tips and I have a ton of story highlights and videos with great info. And please share my account with your friends that are headed to Hawaii! Your support really helps me keep this blog running!