You probably think that after you book your flights, your accommodations, and your rental car, you've got it made in the shade, right? Not so fast. Surprisingly, many people find laying out a daily itinerary for their trip the trickiest part!
While Maui has some of the best beaches you'll find anywhere, it's too far to go and too expensive to just lay around and work on your tan the whole time. Most visitors want to get out and really explore the island. But how do you know how much you can you do in a day? What are the "don't miss" spots and what's overrated? Do you need to do organized tours or can you see everything on your own? And how can you see it all and still have time to lay on the beach (because you need to come home with a tan, right?)???
Don't panic! ; ) I'm going to break down everything you need to know so you'll be able to see all the best things to do in Maui!
Island Breakdown
First up, you need to know a little bit about how Maui is laid out. Maui is the second largest Hawaiian Island and it's a lot bigger than most people think. It has a lot of unique geographical areas as well. It's divided into five areas:
West Side: The west side is the largest (and oldest) resort area and includes the historic whaling town of Lahaina, the resort complex of Ka'anapali, and the planned golf resort community of Kapalua. This side has plenty of gorgeous beaches and so many shops and restaurants but can feel a little isolated from the rest of the island.
South Side: The south side is the driest and sunniest part of the island, and it's home to Kihei (an area with a boat load of affordable condos), and Wailea (Maui's most upscale resort area). This side has plenty of swimmable beaches and shops and restaurants, yet feels a bit quieter than the west side.
Central Maui: Most tourists don't see much of central Maui besides the airport and Costco (both in Kahului) since until recently the valley has mostly been used for sugar cane production.
North Shore/Upcountry: Maui's north shore and upcountry towns (Paia, Makawao, Haiku, and Kula) feel very "local" but are a still a big draw for tourists wanting to see the "real Maui." These former plantation and ranch towns are full of restaurants, boutiques, and art galleries.
East Maui: Mostly jungles and waterfalls, east Maui is typically experienced via the Road to Hana. While some choose to stay overnight in Hana (or for a few days), it's very "off the grid" and most visitors see east Maui on a day trip.
RELATED: Not very familiar with Maui? Read up on the lay of the is(land) and where to stay plus my favorite beach resorts, budget hotels, Airbnbs, honeymoon resorts, family friendly resorts, luxury resorts, and boutique hotels.
Don't Miss List
West Side
Ka'anapali Beach: This bustling beach (its three mile stretch is home to Maui's mega resorts) is probably Maui's most popular beach. There's excellent snorkeling near Black Rock.
Kapalua Beach: A beautiful, calm bay, this is the perfect place to wile away an afternoon, swimming, snorkeling, and paddle boarding.
Snorkeling Honolua Bay: Summer months are perfect for snorkeling in this bay where you'll almost always see plenty of fish and turtles. It's a rocky beach though, so not a place where you want to hang out.
Old Lahaina Luau: If you want to do a luau on Maui, make it this one!
Whale Watching Trip: If you're visiting during whale season (October through April), then a whale-watching trip with the Pacific Whale Foundation is a must.
Explore Lahaina: This historic whaling town is full of shops, restaurants, and art galleries just begging to be explored.
Wish you had a go to resource for the latest Hawaii news, brand new things to do, special weekly deals and promotions? My newsletter is just that! Whether it's the latest conditions with the volcano or construction updates, you'll hear about it in my newsletter. I'll also keep you in the know about the latest booking specials and deals and highlight some of my favorite vacation rentals every week.  You don't want to miss out on this! So sign up below!
South Side
Big Beach: Maui's prettiest beach is also one of its most dangerous. Waves here break big and on the shore so watch out when entering and exiting the water!
Wailea Beach: A calm and tranquil beach if ever there was one. Not only is it a gorgeous beach, but it's fronted by two of the poshest resorts on Maui, the Four Seasons and the Grand Wailea.
Snorkeling at Molokini and Turtle Town: Snorkeling at Molokini Crater is a bucket list experience for many people, but I think Turtle Town steals the show. Do a snorkeling excursion that stops at both.
Central Maui
Iao Valley: Iao Valley is one of the lushest and prettiest spots in Maui. These jagged green peaks will remind you of scenes from Jurassic Park.
RELATED: Best Maui Snorkeling Spots
25 Things to Know Before You Go to Maui
Complete Guide to Road to Hana
North Shore/Upcountry
Sunrise at Haleakala: This is the number one don't miss experience on Maui! Seeing the sun rise through the clouds at the summit of Haleakala is a moving experience for many people.
Ali'i Lavender Farm: Come for the farm, but stay for the views. You can see practically the whole island from up here.
Maui Wine: Get a dose of old fashioned Hawaiian hospitality at Maui's only winery. They have an exceptional tasting room and offer several complimentary tours daily.
Ho'okipa Beach: A big surfing beach, don't miss the sea turtles that nest at the east end of this beach. In the early evenings, I've seen as many as 25!
Explore Paia & Makawao: These charming towns (a surf town and cowboy town respectively) are not to be missed. You'll find local boutiques, art galleries, and good food.
Dinner at Mama's Fish House: If sunrise at Haleakala is the #1 don't miss experience on Maui, dinner at Mama's Fish House is my #2. It's that good. Go before sunset (and make reservations!).
East Maui
Black & Red Sand Beaches: These are two of the most epic stops on the Road to Hana and you definitely shouldn't miss either.
Waterfalls: You'll see countless waterfalls on the Road to Hana. Some are drive-bys (seen from the road) and some require a hike. My favorites are the upper Waikani Falls, Wailua Falls, and Waimoku Falls.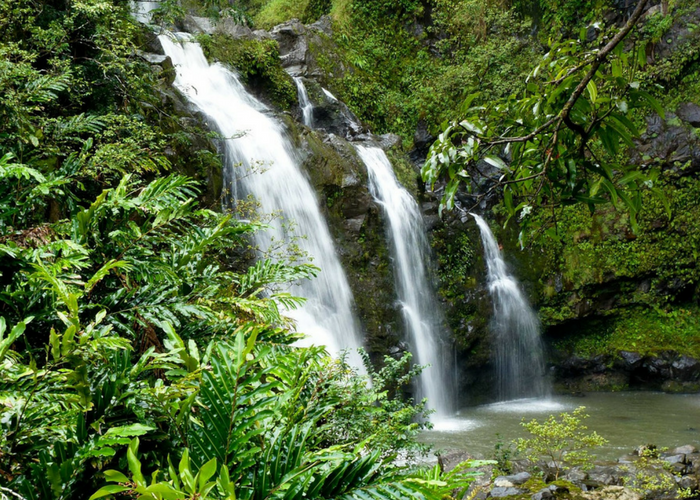 Pipiwai Trail: This favorite hike on Maui takes you through an incredible bamboo forest before depositing you at the bottom of a 400-foot waterfall. It's only about 3 miles round trip but it always feels longer.
Tips for Creating an Itinerary
Try not to over plan. Only plan 1-2 "must dos" a day.
Don't underestimate how long it can take to get around the island.
Focus on one part of the island each day.
Absolutely do not miss sunrise at Haleakala and the Road to Hana.
Book your activities before you arrive and schedule snorkel tours and other excursions early in your trip in case they need to be rescheduled due to weather.
Read reviews on restaurants ahead of time so you don't end up at overpriced tourist traps.
Be flexible on switching days around. Maui is such a large island that you'll likely have different weather on different sides of the island. Be flexible and switch up your days according to the weather.
Struggling to put together the perfect itinerary that lets you see all of Maui's highlights while still having time to chill at the beach?
I've got something to help you out.
Maui Bound! I've put together the BEST Maui itineraries you'll find anywhere! These are the itineraries I use on my trips to Maui (plus a few tweaks because hindsight is 20/20 right?) and they're perfect for first time and repeat visitors who want to see the very best of Maui.
Check it out here.
I've included everything from the best snorkeling spots, beaches, and excursions and it's all broken down by each part of the island so you won't waste any time backtracking.
So what exactly do you get? With Maui Bound, you'll get a 3, 4, 5, and 6-day itinerary and I'm not just talking about a bullet point list of to dos. Each itinerary comes with 10-15 pages of commentary explaining why I recommend doing certain things (plus various options to suit your interests). Each itinerary also comes with its own Google Map (broken down by day). You'll also get an itinerary template that you can use to make your own, along with extensive tips on creating your own itinerary, a huge list of things to do on Maui, and directions for making your own Google Maps.
This is basically vacation in a box, friend! Just add a bit of salt water and you're in for the trip of a lifetime!
Click here to grab the Maui Bound itinerary bundle.
Love this post? Pin it for later!
Save
Save
Save
Save
Save
Save