Things to Do in Paia & Haiku on Maui's North Shore
Home to big wave, surfers, hippy towns, and so many sea turtles, Maui's north shore is a region that you definitely don't want to miss. Even if you're staying in the resort areas in south and west Maui, it's worth at least a day trip to see the sites.
There are three main towns/areas that make up the north shore: 1) Paia: right on the beach, this surf town is packed with shops and restaurants 2) Haiku: located further up in the jungle, Haiku is more off the beaten path for tourists, but there's still quite a bit to see and do 3) Haliimaile: not really a town, but an old pineapple plantation, if you blink you'll miss it!
So here's a rundown of my favorite things to do in Paia and Haiku on Maui's north shore:
Things to Do in Paia & Haiku
Hang out in Paia town: This "hippy" town on the North Shore has some of the best shopping and dining on Maui. It's laid back vibe makes it feel more local than other parts of Maui but it has all of the amenities that make it a fun place to spend the day. Great local boutiques and plenty of diverse restaurants all a stone's through from beautiful Baldwin beach are a great reason to make the trip up to Paia from your resort.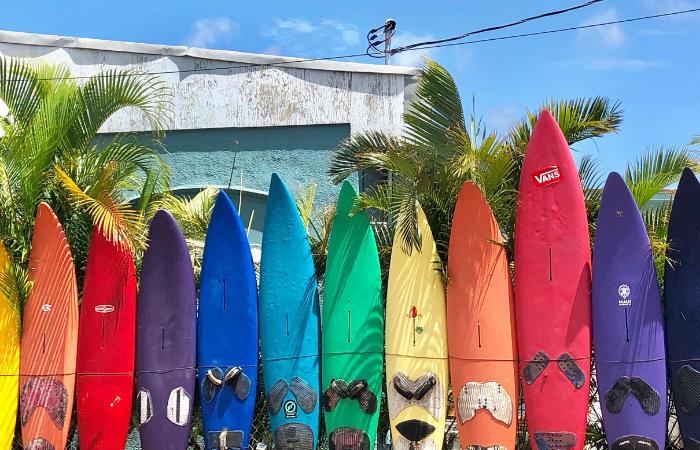 Make sure to stroll up Baldwin Avenue to see the colorful surfboard wall in from on the Maui Aloha Hostel.
Maui Pineapple Tour: Book a tour of the small plantation that produces the Maui Gold pineapples. It's WAY more authentic than the Dole Plantation on Oahu and you can also combine it with lunch at the Haliimaile General Store across the street and a tour of the Haliimaile Distillery. I recommend booking the morning tour for the coolest weather. This is hands down one of my favorite "paid" tours/things to do on Maui and I highly recommend it. Read my full review here.
RELATED: My favorite restaurants in Paia & Haiku
Bike the Volcano: One of the most popular tourist attractions on Maui is Haleakala, a large dormant volcano, and while tons of people ascend to the summit each morning to watch the sunrise, the lucky ones get to follow it up with a downhill bike ride from summit to sea. It's a bucket list adventure and most companies (my favorite is Maui Sunriders) have their headquarters (where you'll end your tour) in Paia or Haiku. Read all about biking the volcano here.
Baldwin Beach & Baby Beach: Right in Paia town, this gorgeous white sand beach is usually too rough for swimming, but it's fun to watch the wind and kite surfers. But the far west end of Baldwin beach has a protective shelf that makes for good swimming conditions plus a strong current if you get further out that makes for a good resistance pool. It's called "Baby Beach" and on a good day (sunny, no wind) it's packed with local families. While it's possible to park at the main lot of Baldwin beach and walk down to Baby beach, it's quite a hike! This beach is better accessed through the neighborhood. If you're heading into Paia from Kahului, it's the last "shoreline access" sign you'll see before you come to Paia. It's not marked coming the other direction. There are no amenities at Baby beach.
Ho'okipa Beach: Ho'okipa beach is a resting area for the Hawaiian green sea turtles. Every afternoon they will swim up onto the beach (the far East end) to sun themselves while they nap. A volunteer group has taken it upon itself to protect the turtles by enforcing a perimeter around them, but this is the perfect spot to see a whole herd of turtles (usually around 20) both in and out of the water. Ho'okipa is also a popular surfing beach and on good days you're guaranteed a show from the outlook where there are usually at least a couple of food trucks parked.
Side Note: If you're looking for a rental car for your trip, I LOVE Discount Hawaii Car Rentals. They're seriously the only company I ever use. They'll give you the very best prices, you don't have to reserve with a credit card or pay until you show up, you can cancel and re-book anytime if you find a better rate, and they usually have a special that adds additional drivers for no fee. It's a no brainer. Click here to check rates for your trip.
Tavares Bay: Ho'okipa is the most famous place for spotting turtles, but there's an even better spot close by. Tavares (Kuau) Bay is just east of Paia town. There's a small parking lot and you'll know you're in the right spot when you see the big blue tile house. You're almost always guaranteed to see turtles here and they view isn't obstructed like it is at Ho'okipa. But keep your distance! Don't get closer than 10 feet from these turtles as they're protected by law. If you're lucky, you might even get a rainbow in the background of your picture.
Twin Falls: Many people do Twin Falls as their first stop on the road to Hana, but it's so close to Paia and Kahului that it makes more sense to do it on another day. The short hike is one of the best places to swim under a waterfall if that's on your bucket list. There's also a farm stand at the entrance that has great tropical fruit and smoothies.
Pauwela Cannery: Several shopping and dining options are available in this old converted pineapple cannery (Baked on Maui is my favorite). There's also a shopping center in Haiku town made of another cannery (where you'll find Colleen's at the Cannery).
On Another Note: If you're looking for a condo or vacation rental for your trip, I always book with Vrbo. They've got the largest selection of rentals you'll find anywhere and you can easily filter to find exactly what you're looking for. Need a specific number of bedrooms and bathrooms? Narrowed it down to a certain location? Want flexible cancellation terms? Need to stay under a fixed budget? Click here to search for Maui vacation rentals for your trip.
Take a Yoga Class: This part of the island is practically crawling with yoga studios, but my favorite is actually a barre studio (they do yoga as well) in Paia: Infusion Barre Maui.
Hui No'eau Visual Arts Center: See exhibitions, attend classes and events, and tour the historic estate.
Watch the Surf at Jaws: One of the largest surf breaks in the world, Jaws (called Pe'ahi in Hawaiian) is an impressive site to see when it's breaking. Which unfortunately isn't very often. The lookout is beautifully situated on top of a cliff on the north shore, but it's not easy to get to. Between mile marker 13 and 14, turn towards the ocean on Hahana Road. It's about 1.5 miles down the road. The road has pretty deep ruts in it and it's advisable to drive it only if you have 4WD or at least a vehicle with high clearance. Here's the thing: if Jaws isn't breaking, it's probably not worth going out there just to look at the ocean. If it is breaking, it's usually pretty crowded so you either need to get there super early to be able to drive in and park, or you'll end up hiking three miles round trip. If it's been raining, it will be MUDDY. And obviously, as it's in the middle of a pineapple field, there are no facilities. If you decide to head out to Jaws, be respectful of the land and people's property.
Want to read more? Don't miss some of my most popular (and favorite) posts about Maui: my Maui favorites, the best Maui itinerary, how many days to spend on Maui, Maui vs Kauai, where to see turtles on Maui, my favorite road to Hana itinerary, guide for sunrise at Haleakala National Park, how to bike down Maui's volcano, my review of the Maui Pineapple Tour, 20 of the best adventure activities on Maui, 5 Maui day trips, and the best things to do on a Maui honeymoon.
P.S. Thanks for sticking around and reading this whole post! If you have ANY questions about planning your trip to Hawaii, you can join my free Facebook group here. I'm there answering questions every day and there are 7500+ other friends who have a ton of Hawaii information to share!
Also, if you want to follow along on my travel adventures in real time, you can follow me on Instagram (@caitylincoln). My post captions are full of travel tips and I have a ton of story highlights and videos with great info. And please share my account with your friends that are headed to Hawaii! Your support really helps me keep this blog running!