National Parks & National Historical Sites on the Big Island: 4 Places to Get Your Passport Stamped!
If you're a National Park junkie like me and you go out of your way to visit National Parks, National Monuments and National Historical Sites wherever you go (gotta get those passport stamps!), then you're going to LOVE Hawaii's Big Island.
You probably already know about Hawaii Volcanoes National Park…but the Big Island is also home to THREE other National Historical Parks that preserve and celebrate ancient Hawaiian culture and history.
National Parks on the Big Island
Here's everything you need to know if you're visiting the Big Island and trying to collect all of your stamps…
Hawaii Volcanoes National Park
Let's start with the big guy. This is the single biggest reason why people come to the Big Island. There just aren't that many active volcanoes in the world, let alone ones that are safe to be around.
There are actually FOUR active volcanoes on the Big Island: Mauna Kea last erupted about 5000 years ago, Hualalai last erupted in 1801 (Kona International Airport is built on top of its latest flow), and Mauna Loa (the world's largest volcano) and Kilauea (the island's youngest volcano) both saw impressive eruptions in 2022.
Parts of Mauna Loa and Kilauea both lie in the National Park although most of what visitors are able to see and experience in the park centers around Kilauea.
Let me tell ya…we've been downright spoiled by Kilauea. From 1984 to 2018 there was a fairly continuous (and predictable) flow of lava coming out of Kilauea which made for pretty marvelous sightings.
You could hike to the lava flow, take a boat to see where it spilled into the ocean, and take a helicopter tour right over the top of it.
Since 2018, it's been less predictable. Sometimes it's SPECTACULAR and sometimes there's not much going on on the surface.
In November 2022, Mauna Loa erupted for a few weeks (it had been quiet since 1984) and on almost exactly the same day in December 2022, BOTH volcanoes stopped erupting.
Currently (as of writing this in December 2022) there's no active lava flow on the Big Island and not even anywhere to see a "glow" after dark.
But part of what makes this National Park so exciting is that it's literally "alive." And what happens can change at any moment.
Obviously you're going to want to keep an eye on changing conditions (major eruptions almost always make the national news, but I like to follow the park on Instagram to get updates), but part of what makes these volcanoes (and the park) so special is that the eruptions are usually fairly predictable (they have a little warning before it happens) and while they're exciting and spectacular to see, they're not crazy dangerous like volcanoes in other parts of the world. Up to this point.
Basically, all of that means…while in a lot of places in the world when a volcano erupts, people need to flee, in Hawaii when a volcano erupts, everybody comes to see it : )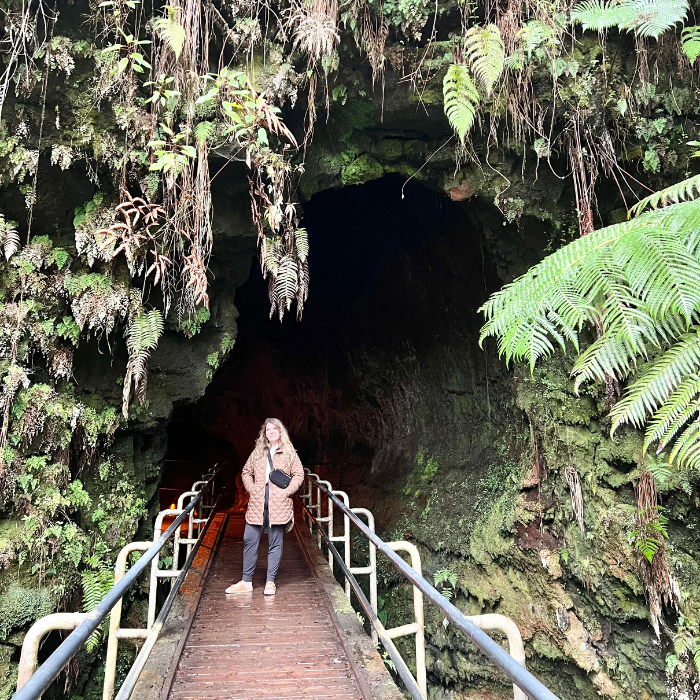 Okay, BESIDES lava and active eruptions (which may or may not be happening during your visit), there is a LOT to see at Hawaii Volcanoes National Park.
On my latest trip to the park (when there was no eruption or glow to see), we spent about six hours in the park and didn't even do much hiking.
You'll want to see Halemaumau Crater at the summit of Kilauea, the Thurston lava tube, Volcano House, and the drive down Chain of Craters road to the Holei sea arch.
Read my full post about spending the day at Hawaii Volcanoes National Park here.
Kaloko-Honokohau National Historical Park
Kaloko-Honokohau is located just north of downtown Kona and they have a perfectly preserved fish pond.
At the visitor center you can learn all about water cycles and how sacred water was to the Hawaiian people.
From the visitor center, you'll have to hike to see the fishpond (there's actually not much to see at the visitor center, but it's where you'll get your national park passport stamped).
If you park at Honokohau Beach (by the small boat harbor), you'll shave about a mile off of the hike. From the parking lot, it's a short hike to the first fishpond and then there's another one farther down.
I haven't had time to do the hike yet, but it's on my list for my next trip. I will say though…if you don't hike out to the fish ponds, there's really not much to see here besides the gift shop, getting your passport stamped, and talking with the park rangers.
Pu'ukohala Heiau National Historical Park
This one is all the way up north of Kona in Kohala. If you're staying at the big resorts in Waikoloa and Kohala (Mauna Kea Beach Hotel, Westin Hapuna Beach, Fairmont Orchid, Mauna Lani, Hilton Waikoloa Village, etc.) this is pretty close by.
The heiau (temple) was built in 1790 right before Kamehameha the Great set out to conquer the neighboring islands.
The education at the site focuses mostly on King Kamehameha, four Hawaiian prophecies that he was believed to have fulfilled, his ascension to power, and the political climate in Hawaii at the time.
There is a lot to read here and the exhibits are pretty well done. You can walk down a path towards the heiau, but you can't get very close to it.
If you've traveled up this way and you're not staying in the area, pair a visit here with a hike at Pololu Valley (or just go to the overlook) and mai tais at Seafood Bar and Grill or even a half day trip over to Waimea.
Pu'uhonua O Honaunau National Historical Park
While all three National Historical Parks on the Big Island have really important cultural significance, this is my personal favorite.
And I have to say, if you only have time to visit one, make it this one.
Not only is there so much to learn, but it is absolutely BEAUTIFUL.
The site is right on the water and it's just completely dreamy with palm trees everywhere you look and white sand beaches.
Here's a bit about the cultural significance of Pu'uhonua O Honaunau: The Pu'uhonua was a place of refuge for those who had broken the law (and faced a punishment of death), defeated warriors, and sometimes even civilians during times of war.
Once refuge seekers reached the Pu'uhonua, they were protected. Hawaiians believe the Pu'uhonua was/is protected by Lono, the God of Life.
The Pu'uhonua is still considered an active religious site by Native Hawaiians (kanaka maoli) and while the National Park Service maintains the temple (heiau), descendants of the ancient Hawaiians continue to practice traditions there today making it a modern religious site.
It's $20/vehicle to enter the park (it's covered by the annual American the Beautiful pass) and the site has a video presentation and some exhibits to explain the significance to visitors.
Since it's considered a sacred site, be sure to be on your best behavior! No swimming from the beach, sunbathing, running around, etc.
This one is about 35 minutes south of downtown Kona. It's just south of Kealakekua Bay (Captain Cook) so you could pair it with a snorkeling trip there if you're doing the hike or the super popular snorkeling spot Two Step is also just north of the park (you can see it from the park).
As far as places to eat nearby, try Teshima's Restaurant for Japanese comfort food, Kaaloa's Super J's for authentic Hawaiian food or Rebel Kitchen for Hawaiian/Southern fusion.
The Best Way to Visit All Four Parks
Since the island is so big and spread out, you'll need a plan of attack if you're wanting to visit all four parks. I definitely wouldn't plan on trying to do all of them on the same day (even the three smaller National Historical Parks). I would work them into your daily itinerary as you explore different parts of the island.
Want to read more? Don't miss some of my most popular (and favorite) posts about the Big Island: 28 things to do on the Big Island (that you can't do anywhere else in Hawaii), plus things to do in Kona and in Hilo, a breakdown of where to stay on the Big Island comparing Kona and Hilo, the Big Island's best beach resorts ranked, my favorite places to eat on the Big Island, my perfect 7 day Big Island itinerary, one day in Hilo, one day in Hawaii Volcanoes National Park, four National Parks on the Big Island, stargazing at Mauna Kea, snorkeling and kayaking at Kealakekua Bay, a roundup of the best condos on the Big Island, my best Big Island travel tips, and reviews of the Fairmont Orchid and the Hilton Waikoloa Village.
P.S. Thanks for sticking around and reading this whole post! If you have ANY questions about planning your trip to Hawaii, you can join my free Facebook group here. I'm there answering questions every day and there are 7500+ other friends who have a ton of Hawaii information to share!
Also, if you want to follow along on my travel adventures in real time, you can follow me on Instagram (@caitylincoln). My post captions are full of travel tips and I have a ton of story highlights and videos with great info. And please share my account with your friends that are headed to Hawaii! Your support really helps me keep this blog running!