Hawaii is one of the top honeymoon destinations in the world and for good reason…it's tropical, it has all of the amenities and activities you could want, and it's relatively easy to get to for being on the other side of the world. And of all the islands, Maui is definitely the most popular with honeymooners. It has everything you could want…beautiful beaches, truly luxurious resorts, a laid back vibe, natural beauty, and all of the amenities you're looking for in a great vacation. Read on for everything you need to know about planning a Maui honeymoon…
This post may contain some affiliate links, which means I'll make a little money on anything you choose to purchase. But of course, I only recommend my absolute favorites to you. Thank you for supporting the brands that make Hulaland possible.
Things to Do on a Maui Honeymoon
While some Maui honeymooners choose to see and do it all like a normal vacation, for many, a honeymoon is a chance to slow down or indulge in the finer side of what the island has to offer. Here are some of the top romantic things to do on Maui as well as some pretty luxurious experiences:
1.Stay at the Four Seasons.
Nothing sets the mood for a once in a lifetime vacation like a luxurious place to stay, and nobody does luxury like the
Four Seasons
. Spend afternoons lounging around the adults only infinity pool that overlooks the ocean being pampered with five star service. Read my review of my stay at the Four Seasons
here
and find more recommendations for where to stay on Maui
here
.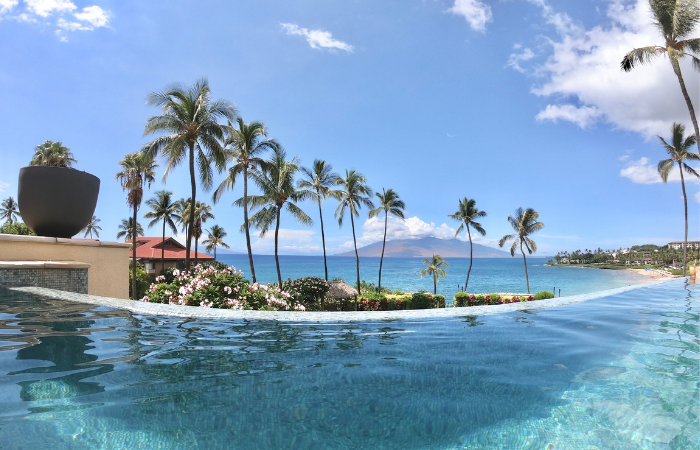 2.Have dinner at Mama's Fish House. Mama's Fish House, the epitome of relaxed fine dining, is a don't miss for all visitors to Maui, but especially those on their honeymoon. Located beachfront on the north shore, the setting, service, and food all contribute to an unbelievable experience at Hawaii's most memorable restaurant. Read more about Mama's here.
3.Get a couple's massage. The classic honeymoon activity. There are quite a few top notch spas in Wailea all a stone's throw from one another. I'm not terribly "in the know" when it comes to spas but I've done extensive research (including polling friends who work there) and the general consensus is that the treatments are best at the Fairmont Kea Lani and the Andaz. The Grand Wailea hands down has the best spa facilities. I personally wasn't super impressed with the spa at the Four Seasons. The Andaz seems to have the best combo of good treatments and facilities. On the west side, the Ritz Carlton and Montage are the lap of luxury.
RELATED: Trying to figure out where to stay on Maui? I've got you covered: read up on where to stay on Maui (breakdown of the island plus specific hotel recommendations), 50+ best condo rentals on Maui (many under $100/night!), 10 best luxury resorts in Hawaii, 12 favorite boutique hotels in Hawaii, area specific guides (including where to stay, eat, and things to do) for Wailea, Ka'anapali, Kihei, the north shore, upcountry, and Hana, plus my reviews of staying at the Four Seasons Maui and the Fairmont Kea Lani.
4.Go beach hopping. Honeymoons are mostly about relaxing and there's no better place to do that than at the beach. Read about my favorite Maui beaches here.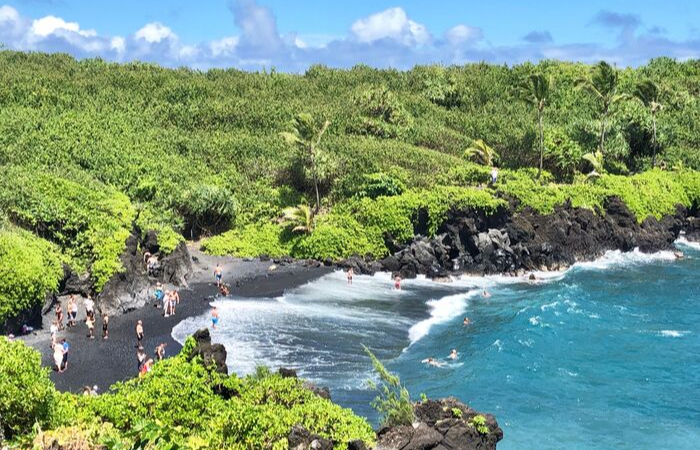 5.Take a tour through the upcountry. I think Maui's most unexplored region is its most special. You might think you were in the hill country of Texas or the high meadows of Colorado if you couldn't look out and see the ocean. Maui's upcountry (mostly cowboy country and ranch land) is full of special drives, epic views, and local spots to explore. Read my full upcountry guide here.
6.Watch sunset at Haleakala. Watching a sunset anywhere is super romantic, but watching one atop a 10,000-foot dormant volcano is pretty special. Most people come for sunrise, but sunset has its own beauty and it's less of a hassle than going up for sunrise (i.e. no 2AM wakeup call, 60 day in advance reservation, or sub arctic temperatures). Read all of my tips for catching sunrise at Haleakala in this post.
RELATED: Maui vs Kauai
Maui Travel Tips: What to Know Before You Go
How to Survive the Long Flight to Hawaii
The Ultimate Hawaii Packing List
7.Spend the night in Hana. Driving the road to Hana is probably the most popular activity on Maui, but while most visitors do the whole thing in one day, it's a lot more relaxing if you spend the night in Hana and break the trip up. The Travaasa Hana is the most posh place to stay in Hana (it's actually the only hotel), but there are a ton of condos/rentals. Read more about driving the road to Hana here.
8.Take a helicopter tour. Seeing Maui from the air is truly awe inspiring. It's not normally on my "must do" list for most visitors on Maui just because it's not a cheap thing to do, but for a special trip, it's definitely the most splurge worthy excursion. I like to fly with Blue Hawaiian.
9.Play golf or tennis. Kapalua is the huge golf destination (always the first stop of the PGA tour) although there are some amazing courses in Wailea as well. There's also a tennis academy at the Four Seasons in Wailea.
Side Note: If you're looking for a rental car for your trip, I LOVE Discount Hawaii Car Rentals. They're seriously the only company I ever use. They'll give you the very best prices, you don't have to reserve with a credit card or pay until you show up, you can cancel and re-book anytime if you find a better rate, and they usually have a special that adds additional drivers for no fee. It's a no brainer. Click here to check rates for your trip.
RELATED: Where to Snorkel on Maui (and Find Sea Turtles)
Top 20 Adventure Activities on Maui
10.Visit some of Maui's breweries, distilleries, and wineries. Maui Brewing Company offers several daily tours at the Kihei location. Ocean Vodka Distillery and Haliimaile Distillery both offer tours. And Maui Wine (tours and tasting room available) is situated upcountry on one of the prettiest pieces of land on Maui. It's definitely a must see.
11.Stroll down Front Street. Lahaina's Front Street is so picturesque. The old whaling town has a lot of charm and the main drag is right along the water. There are plenty of restaurants, shops, and art galleries to keep you busy. Don't miss the huge banyan tree!
12.Have a sunset dinner. You'll have a great view at any waterfront spots on the west and south sides of Maui, but my favorites are Merriman's in Kapalua, Fleetwood's (rooftop lounge) in Lahaina, and Gannon's and Ferraro's in Wailea. Read about my 11 favorite fine dining restaurants on Maui here.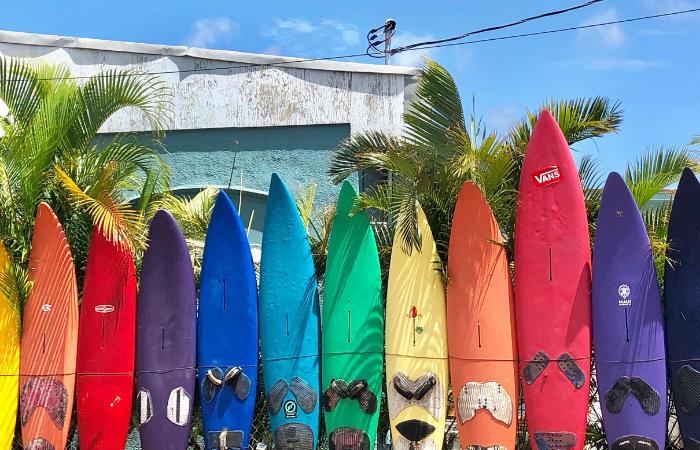 13.Do plenty of shopping. You'll find top notch shopping at the Shops at Wailea and at Whaler's Village on Ka'anapali Beach, but my favorite shopping on Maui are the local boutiques in Paia and Makawao.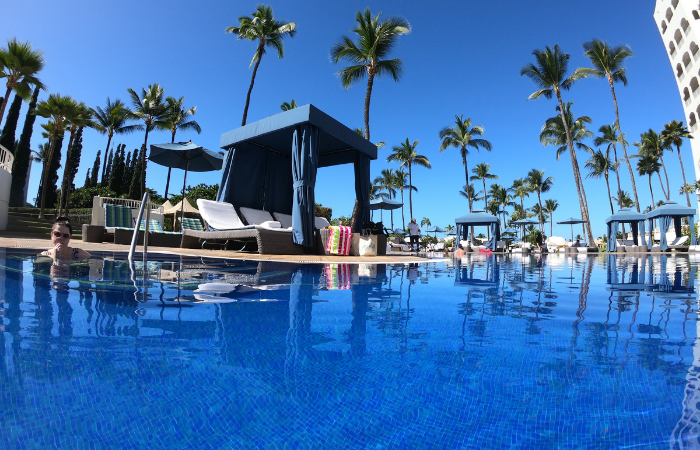 14.Go resort hopping. Even if you're not staying at a fancy beach resort, popping in for a drink before sunset is one of my favorite ways to spend an evening. In Wailea, the Four Seasons, Andaz, and Wailea Beach Resort are all phenomenal. In Kapalua, the Montage and the Ritz Carlton are pretty spectacular. I love poking around luxury resorts (even when I'm not staying there) so if you're the same, definitely stop by the Four Seasons, Andaz, Wailea Beach Resort, Fairmont Kea Lani, and Grand Wailea. All of them have shops, jaw dropping lobbies, lush landscaping, and an all around swanky atmosphere. If you like photo ops, don't miss the large ALOHA letters at the front of the Wailea Beach Resort. Drinks at the Four Seasons lobby bar are a must and happy hour at Humble Market Kitchin at the Wailea Beach Resort is pretty good. My all time favorite is Monkeypod just up the road.
RELATED: Which Hawaiian Island to Visit
How to Find Cheap Flights to Hawaii
Hawaii on a Budget: Money Saving Tips
How Much Does the Average Trip to Hawaii Cost?
15.Attend a luau. No trip to Hawaii is complete without experiencing a luau, and there are some truly spectacular ones on Maui. The Old Lahaina Luau is my favorite overall luau, but Feast at Lele (they're owned by the same people) takes it to another level with a more luxurious feel. You'll be seated at a table with just your party and the meal is actually served plated (not buffet style) for more of a culinary experience.
5 Best Maui honeymoon Resorts
If it's in the budget, you'll LOVE any of these Maui luxury resorts:
Four Seasons Maui: The Four Seasons is the granddaddy of them all and definitely my #1 pick for a Maui honeymoon. The resort is super luxurious and it's located in Wailea which is much quieter (and more upscale) than the west side. The spa, the pools, the restaurants, and the beach…they're all phenomenal. The only problem with staying here is you probably won't ever want to leave the resort. Pricing starts at $450/night. Read my full review of the Four Seasons Maui here. Click here to check pricing and availability during your stay.
Andaz Maui: This boutique property by Hyatt is located on one of my favorite beaches on Maui and has a very young, hip vibe. The whole property is very luxe with Asian influences and the pool area especially feels very trendy and posh. If beach and pool time are at the top of your must do list, you'll love the Andaz. Pricing starts at $450/night. Click here to check pricing and availability during your stay.
Hotel Wailea: Hotel Wailea is the only "adults only" hotel on Maui, so if your honeymoon is during the busy summer or holiday season, this is a great option. It's nestled in Wailea on the slopes of Haleakala (great views but not beachfront). While there is a luxury shuttle service to take you down to the beach, you may not want to leave the quiet and luxurious pool area. Pricing starts at $320/night. Click here to check pricing and availability during your stay.
Montage Kapalua: One of Maui's most luxurious resorts is located in the quiet resort community of Kapalua on the west side of Maui. This 5-star resort only has about 50 rooms so it never feels crowded and it's located right on one of Maui's most beautiful beaches. Pricing starts at $750/night. Click here to check pricing and availability during your stay.
Travaasa Hana: For honeymooners wanting to get off the gird and truly escaped for a while, you'll definitely want to check into the Travaasa in Hana. Located on the secluded Hana side of the island, the rooms here don't have clocks or televisions, leaving you focused on connecting with each other and Hawaii. The spa is amazing and the resort offers a lot of experiences like guided nature walks and cultural activities. Pricing starts at $350/night. Click here to check pricing and availability during your stay.
Romantic Restaurants on Maui
Mama's Fish House (Paia, $$$$)
Merriman's (Kapalua, $$$$)
Ferraro's Bar e Ristorante (Wailea, $$$$)
Ko Restaurant (Wailea, $$$$)
Restaurant at Hotel Wailea (Wailea, $$$$)
Ka'ana Kitchen (Wailea, $$$)
Lahaina Grill (Lahaina, $$$)
Pacifico (Lahaina, $$$)
Gannon's (Wailea, $$$)
More Restaurant Recommendations:
11 Best Fine Dining Restaurants on Maui
23 Favorite Restaurants on Maui
Mama's Fish House: Is It Worth It?
Thanks for sticking around and reading this whole post! It's always my goal to provide a TON of value to YOU. To that end, lately I've been packing my Instagram (@hula.land) FULL of content and adventures that you might want to check out. A lot of my post captions are like mini blog posts with travel info, I've got IGTV review videos for luaus and excursions, and helpful story highlights like grocery store prices and hotel reviews. Not to mention that my feed is pretty much the ultimate tropical eye candy! You can follow me here and share my account with your friends! Your support really helps me to keep this blog running!
Also, if you have ANY questions about planning your trip to Hawaii, you can join my free Facebook group here. I'm in there answering questions every day and there are 5000+ other friends who have a ton of Hawaii information to share!