How Much Does the Average Trip to Hawaii Cost?
This post may contain some affiliate links, which means I'll make a little money on anything you choose to purchase. But of course, I only recommend my absolute favorites to you. Thank you for supporting the brands that make Hulaland possible.
How much does the average trip to Hawaii cost? This is one of the questions I get asked the most often. While for many people, Hawaii is the ultimate vacation destination, a lot of people don't even have a vague idea how much a Hawaiian vacation costs. Most conversations go something like this: "I know airfare is really expensive because it's so far away. And all of those fancy beach resorts can't be cheap right? And I've heard the food is really high. Tell me, how much does it cost anyways?"
Well that's a loaded question. There are so many factors that can determine the price of a trip to Hawaii least of which would be: what time of year are you going? Where are you flying from? What kind of place do you want to stay at? And are you looking to have a full blown tourist experience or willing to do things a little differently?
As you can imagine, there's a pretty large spectrum of what a trip to Hawaii can cost, but in this post I'm going to drop some general guidelines of what you can expect plus what to budget when you're planning your trip. But before I get into specific numbers, there are a few factors that will affect the cost of your vacation:
When you go: Read this post to nail down the absolute cheapest times to go to Hawaii. If you're at all flexible with your dates, picking a certain time of year to travel will be the #1 biggest money saving tip.
Which island you visit: If you're up in the air about which island to visit, read this post to help decide. While there are expensive and less expensive parts of each island, vacations on each island are all in the same ballpark pricewise. But you'll want to know exactly what you're looking for before you start working the budget.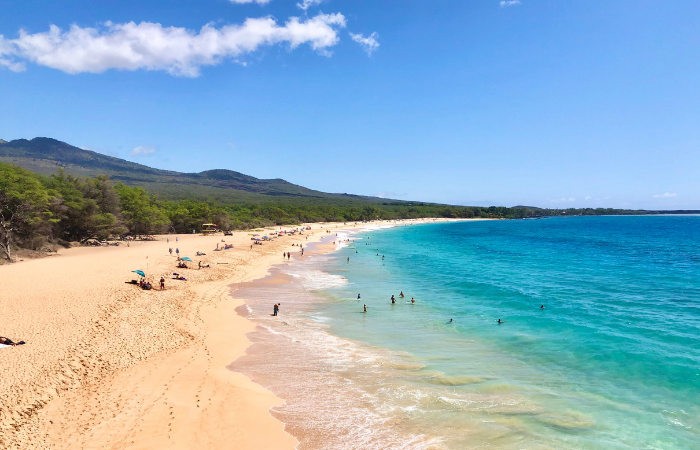 Once you've got that settled…
How much does airfare to Hawaii cost?
This is where most people start researching their Hawaii trip. Just getting to Hawaii is usually the most overwhelming part of the planning process for a lot of people. Airfare prices to Hawaii fluctuate WILDLY depending on where you're flying from.
Flights from the west coast are the cheapest you'll find. Direct flights can usually be found in the $400 range (as cheap as $200 if you find a stellar promotion).
Flights from the east coast are obviously quite a bit more (often in the $700-800 range).
Flights from the midwest are usually the most expensive (usually in the $800-1000 range).
What's the best airline to fly to Hawaii?
So now that you have some ballpark numbers…down to the specifics. I often get asked what is the best airline to fly to Hawaii. The answer is…it depends! It depends on which airport(s) is your home airport and which island you're trying to get to.
No matter which coast you're flying from, the cheapest/best flights will always be direct routes. So while Hawaiian Airlines is an amazing airline in general, if you're flying out of Dallas it's not the best option because they don't actually fly out of Dallas. You'd have to fly from Dallas to another city where you could get a connecting flight to Hawaii on Hawaiian Airlines. Whereas if you go with American Airlines, you can fly directly from Dallas to Oahu, Maui, or the Big Island. That's a big difference in time, convenience, and money! So when you're first starting to research your trip, look at your home airport (and surrounding airports) and see what airlines have the most options (i.e. if you're flying from Dallas you'll most likely fly American, if you fly from Atlanta you'll most likely fly Delta, if you fly from Houston you'll most likely fly United, etc.) and what direct flights are offered. While west coast cities have a lot more options, airlines are adding more and more direct flights from cities on the east coast and midwest. And depending on what flights are offered from your home airport, that might impact which island you choose to visit. If you're flying from Boston, the direct flight on Hawaiian Airlines from Boston to Honolulu may mean you choose to vacation on Oahu instead of taking a second flight to another island once you arrive in Honolulu.
Now, while direct flights are usually cheaper….sometimes taking a flight with multiple connections can save you money. For example, flying from Tulsa, OK…my preferred flight is always Tulsa to Dallas to Maui on American Airlines. But usually a flight from Tulsa to Dallas to Los Angeles to Maui is about $100 cheaper. For me, the longer travel day and risk of missing a connecting flight isn't worth the $100 savings. But if you're flying a family of four and you're on a strict budget, it might be worth it to you.
For more tips on how to find the cheapest (and best) flights to Hawaii, read this post.
Are hotels expensive in Hawaii?
Your accommodations will likely be the biggest cost variable of your trip. In Hawaii, you can go cheap, middle of the road, or downright lavish.
Cheap: While there are some budget/cheap hotels in Hawaii, if you're looking for places in the $100-200/night range you're going to be looking for a condo. I've written detailed posts on my favorite condo complexes on Maui, Oahu, Kauai, and the Big Island (including options under $100/night). Like most accommodations, you can find condos in all price ranges. As a general rule of thumb…on Oahu you'll find the cheapest condos in Waikiki, on Maui you'll find them in Kihei, in Kauai you'll find them in Kapaa and on the Big Island you'll find them in Kona.
Mid Range: In the mid price range, ($300-$500/night) you'll be able to start finding rooms at a lot of nice beach resorts, especially chains (think Sheraton, Westin, Hyatt, Hilton, etc.). To find the best prices, you may have to scout around and look for specials or promotions. Also, if you're part of a loyalty rewards program for Starwood Resorts or Marriott, that may be a good option to pursue.
Luxury: The sky is the limit! Hawaii has some of the best luxury beach resorts in the world (Four Seasons, Ritz Carlton, Waldorf-Astoria, etc.) but they don't come cheap. These start at $500/night during the offseason and go up from there (most seem to average $800/night for a standard room). Check out my favorite luxury resorts in Hawaii.
If you have your heart set on staying at a nice resort, but the ballpark prices for the mid range and luxury resorts seems a little staggering, my biggest tip is to look at dates end of August through September. It's when you'll find the rock bottom prices at resorts. I like to use the Google price calendar feature because it shows you prices for the whole month. Then it's easy to find pockets of days where the nightly price can fluctuate by hundreds of dollars.
Also, don't forget to factor hidden fees into your budget. Many resorts have a daily resort fee anywhere from $20-40 that covers things like Wi-Fi, etc. and most hotels in Hawaii charge for parking (up to $40/night). And if you're choosing a condo, don't forget to factor in the cleaning fee (sometimes it's not revealed until the final stages of booking).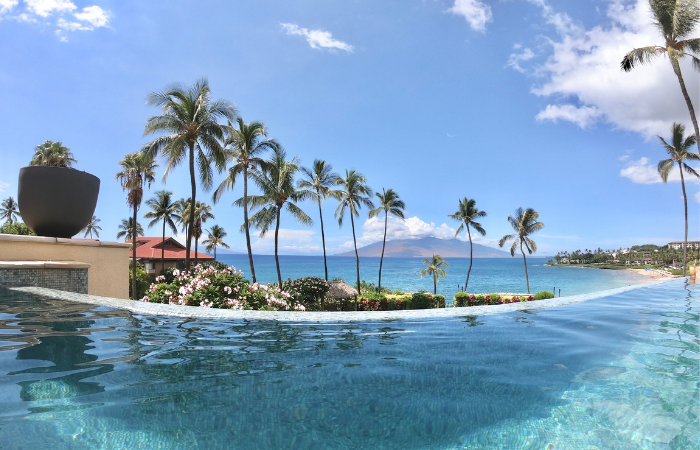 Now that you have an idea of what to expect, read my recommendations for my favorite places to stay on Maui, Kauai, Oahu, and the Big Island.
Do you need a rental car in Hawaii?
I feel pretty strongly about needing a rental car in Hawaii. Read this post for all of my reasons. Rental car pricing in Hawaii can seem insane when you're first pricing it out but generally it's anywhere from $20-$80 a day depending on the type of car and how far out you book. Prices during the holiday season can skyrocket but if you're willing to dig around, you can usually find a pretty good deal. This of course depends on the time of year and type of car. And don't wait too long to book or during high season you may find yourself with low to no availability. I always book through Hawaii Discount Car Rental to get the best prices. They're seriously the only company I ever use. They'll give you the very best prices, you don't have to reserve with a credit card or pay until you show up, you can cancel and re-book anytime if you find a better rate, and they usually have a special that adds additional drivers for no fee. It's a no brainer. Click here to check rates for your trip.
RELATED: Hawaii Trip Planning Timeline
When is the Best Time to Go to Hawaii?
Which Hawaiian Island Should You Visit?
How to Find Cheap Flights to Hawaii
Is food expensive in Hawaii?
This is another category where you can spend as much or as little as you want. I've had $2 tacos from a food truck and $125/person lavish meals at a premiere beachfront restaurant.
Most people make Wal-Mart, Target, Costco, or a grocery store their first stop to pick up some staples and even if you're not going to be cooking full meals, you may want to grab a case of water and snacks to have in your room or pack in your backpack for the day. If you want to see exactly what to expect for grocery prices, check out this Instagram story highlight for pictures. See Costco prices here.
As a general rule of thumb, restaurants in resort areas will be pricier than elsewhere and they may not be the best quality for the money either. If you want to go out for a nice dinner, it's worth doing your research ahead of time to make sure you pick a good spot. If you're sticking to resort areas and not sharing meals, you can expect to pay $15-$20/person for breakfast, $15-$25/person for lunch, and $30-$50/person for dinner. If you're willing to veer off the beaten path and go to more "local" places, you can do MUCH better pricewise. And the nice thing about Hawaii is that there are sooooo many places to eat that you'll always be able to find something to suit your tastes and budget. While there are definitely plenty of high priced resort restaurants, that's definitely not all there is. Most people that visit Hawaii from major US cities (or high cost of living areas) don't find the food and grocery prices shocking at all. People coming from small towns or certain places in the midwest tend to be the ones with sticker shock.
Read up on some of my favorite spots to eat in Hawaii.
How much are tours and excursions in Hawaii?
How much you spend on things to do in Hawaii is entirely up to you. It's possible to keep these costs at basically $0 or spend up to $1000/person. If you're a true beach bum, you won't find better free entertainment. The awesome thing about Hawaii is there's so much nature to explore. Every beach looks different and each island is so diverse that it's possible to spend at least an entire week on each island just driving around, hiking, snorkeling off the beach, and exploring.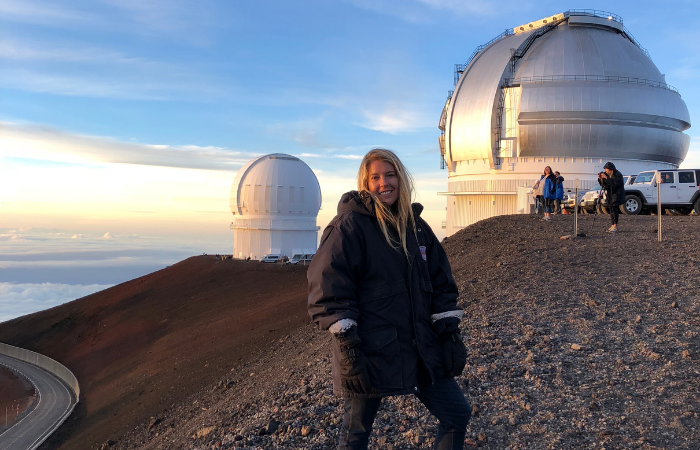 When you start throwing in excursions is where it can start to add up. There's so much to do in Hawaii! Snorkeling tours, surf lessons, helicopter tours, luaus…the list is endless! Pick and choose your favorites or go all out! Since there's so much competition for tourist dollars on the islands, they probably won't cost as much as you might think. Shop around to find the best prices and don't wait too long to book. Depending on length of trip and a bunch of other factors, plan to spend $50-$200/person for these types of activities, except helicopter tours. You'll pay more for those and don't EVER go with a cheap one!! Read more on the best activities and things to do on Maui, Kauai, Oahu, and the Big Island to get an idea of what things cost.
Save
Save
Save
Save
Save
Save
Save
Save
Save
Save
Save
Save
Save
P.S. Thanks for sticking around and reading this whole post! If you have ANY questions about planning your trip to Hawaii, you can join my free Facebook group here. I'm there answering questions every day and there are 7500+ other friends who have a ton of Hawaii information to share!
Also, if you want to follow along on my travel adventures in real time, you can follow me on Instagram (@caitylincoln). My post captions are full of travel tips and I have a ton of story highlights and videos with great info. And please share my account with your friends that are headed to Hawaii! Your support really helps me keep this blog running!