My Review of Aulani: Disney's Resort in Hawaii
Everybody's known for something right? You've got your friend who always does marathons and races. Your friend who's obsessed with wine. The one who's been to every single Taylor Swift tour.
Well most of my life I've pretty much been known for two things 1) Disney and 2) Hawaii. Especially online, I'm kind of the go-to Hawaii girl. And people that have known me in real life since I was a kid remember my awkward phase of carrying around Disney World guide books everywhere I went ; )
So anyways….when Disney built its Aulani Resort and Spa in Hawaii, it's like they were building it just for me. And it's since become my home away from home. I mean really…Disney AND Hawaii. What could be better???
Aulani, a Disney Resort & Spa Review
Usually when I write hotel reviews, I'm basing them off of one particular trip, but I've stayed at and visited Aulani many many times, so this is a bit of a compilation of all of my experiences. Enjoy.
Location
Opened in 2011, Aulani (pronounced ow-LAH-nee) is located on the west side of the island of Oahu in the resort community of Ko Olina. If you're not super familiar with Hawaii, Oahu is the main island (but not the "Big Island") and where you'll find Honolulu (the main city and state capitol) and Waikiki (a resort/tourist oriented neighborhood in Honolulu).
Daniel K Inouye International Airport (HNL) is the airport you'll be flying in and out of (whether you're coming from the US mainland, a neighboring island, or somewhere international).
Ko Olina is about 20 miles west of Honolulu, but it feels like a world away. While Honolulu and Waikiki are the pulse of the island, full of hustle and bustle and all manner of goings on, Ko Olina feels like a true island getaway.
Lobby & Check In Experience
Aulani makes a great first impression. The drive up to the portico feels pretty grand and the valet staff is always super prompt to greet guests and help with bags. They also seem to know/expect many guests to show up with grocery bags (or a trunk full of loose items from Costco) because they have large plastic bins that they unload your car into to take to your room.
You'll also be greeted with flower leis for the ladies and kukui nut leis for the gentlemen plus there's a nice water station at the entrance.
The lobby's vaulted ceiling and open air atmosphere is pretty grand and rich with details, but it all gives way to what you really came for…the view.
The check in desk is over to the side and like everything Disney does, it's pretty orderly. Staff is always pleasant and they try to move everyone along as quickly as possible since there's often a high volume of guests checking in.
And if there's a bit of a line, there's a convenient little room with kids chairs and a tv playing cartoons just beside the desk.
Rooms
Technically there are two different sides of the Aulani resort, the hotel side and the Disney Vacation Club (timeshare) side. If you're booking through the resort and paying cash, all room types are open to you.
The standard rooms on the hotel side are, well, pretty standard hotel rooms. Two queen beds or one king with a bathroom that's pretty nice.
On the DVC side, they've got studios and one, two, and three bedroom units. The studios are fairly comparable to the standard hotel rooms but have a minibar situation and some have a pull out bed instead of a second queen.
The one, two, and three bedroom units all have full kitchens, living rooms, and washer and dryers.
I've stayed in rooms on both sides of the resort (regular hotel rooms and one bedroom units on the DVC side) and there's not much that separates them as far as quality or decor. I'd just book the type of room option that suits you best.
A couple of notes about beds…I'm not terribly fussy about mattresses and I've never noticed much personally about the beds at Aulani, but a LOT of people say that the beds are really hard and uncomfortable.
Also something good to know…all of the one, two, and three bedroom units have pullout beds in the living room couches (as well as a small pulldown bed under the tv that's a good size for a kid) and while at most hotels I avoid pullout beds like the plague, the Disney ones aren't bad at all.
They have the same type of pullout beds in all of their DVC properties and they all have a platform that opens/slides out that a foam mattress rests on top of (instead of a bar and spring situation) so they're actually not uncomfortable at all.
Service
In general, the service at Aulani is pretty good and works exactly how it's designed to. To clarify, while Aulani is expensive and a GREAT hard product, it's not a luxury resort. So you're not going to get true luxury service like you would next door at the Four Seasons.
While there are plenty of cast members (what Disney calls their employees) around who are always super friendly and ready to help, a lot of the amenities at Aulani are designed for you to serve yourself. Examples: you get your pool towels and wristbands at a kiosk, go to quick service places and windows to get food and drinks, etc.
Dining
In my opinion, dining is where Aulani has the biggest room for improvement. They still haven't returned to "normal" since the reopening so here's to hoping for some improvements in the coming year or so, but in the meantime, here's the situation:
The strongest dining option is Makahiki. This was previously a buffet for breakfast and dinner and it's not yet returned to that, but when it is a buffet, it's GOOD. A lot of options and well done.
I don't think I would pay the prices for the preplated version that they're currently offering though.
For breakfast, Makahiki has characters which is either a good thing or a bad thing depending on what you like.
The resort's "signature" restaurant (aka fancy) is AMA AMA and while it has an undeniably gorgeous location, I've never been terribly impressed. The food isn't bad, it's just not outstanding and for the prices (and other options within walking distance) it needs to be. Since the reopening, it's now a $125/person (not including alcohol, tax or tip) prefix menu which I don't love the idea of. For that kind of money, I want to order exactly what I want.
AMA AMA used to be open for breakfast, which was a GREAT option, but that hasn't reopened yet.
The quick/counter service options are all centered around the pool and they're solid and kind of the most reliable part of Aulani's dining scene. They serve the audience (families spending all day at the pool) well.
A huge "pro" to the food situation at Aulani are all of the off property options within walking distance. The Four Seasons next door is where you'll find the best higher end restaurants plus the shopping center across the street has a lot of casual options and my personal favorite restaurant, the Monkeypod.
Facilities & Amenities
This is where Aulani shines. Aulani's pool complex is second to none. Multiple pools including zero entry options for families, an infinity pool overlooking the ocean, an adults only pool and hot tub, a kids play area, a huge lazy river, multiple slides (including one with tubes), and a saltwater reef snorkeling experience will keep you busy for days.
Not to mention the beach lagoon.
There's a great luau on site and the spa facilities are some of the best on the island. Even if you're not a "spa person," you may want to consider checking it out.
And Aulani just does sooooo much with entertainment. Besides regular meet and greets with your favorite Disney characters, grab a copy of the Daily Iwa to find out the schedule of all of the daily activities.
Style
I know a lot of people dismiss Aulani because they want an "authentic Hawaiian experience" and not "Disney in Hawaii" but I've got to tell you…the style and design of Aulani are so on point. The way that they've represented Hawaiian culture and history is, in my opinion, the most "authentic" you'll find anywhere in Hawaii.
It's not a "Mickey Mouse version of Hawaii." The designers consulted and worked with so many experts in aspects of Hawaiian culture and history (from linguistics to architecture and design to flora and fauna) to get it just right and a lot of locals were really impressed with what they came up with.
It manages to feel grand and immersive but really relaxed and welcoming at the same time.
Value for the Money
This is what it all comes down to, right?
Well, frankly, Aulani isn't cheap. It was hard to find it for less than $500/night before the pandemic and those days seem long gone. It's hard to tell when or if prices will normalize, but I will say that while Aulani is expensive, it's not out of line with the price of other resorts in Hawaii (especially outside of Waikiki).
Would I pay Aulani prices if I'm on Oahu to see and explore the island and spend the majority of my time away from the resort? No.
Would I pay Aulani prices for a few days for a nice resort vacation where I'm fully committed to taking advantage of all of the property's amenities? Yes.
I've written a full post on whether or not Aulani is "worth it" here.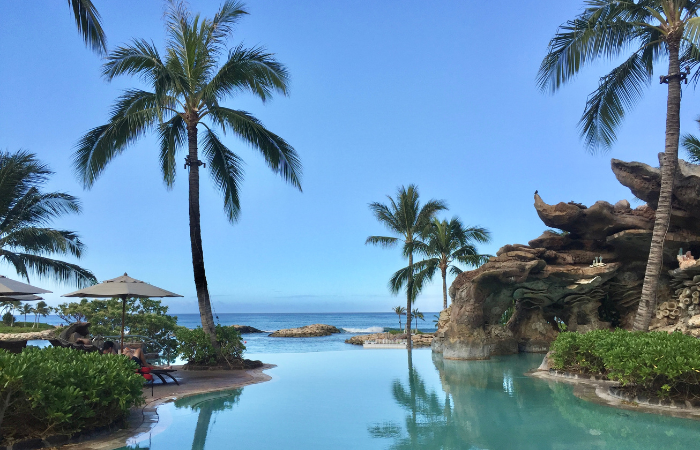 Bottom Line
If you're looking for the full resort experience on Oahu with all of the trappings to keep you busy for days on end (ESPECIALLY if you have kids), you'll be hard pressed to find a better resort than Aulani.
Where to Book
Click here to book and check rates at Aulani.
Want to read more? Don't miss some of my most popular (and favorite) posts about Oahu:
If you're trying to figure out where to stay, you're going to want to look at my favorite boutique resort in Waikiki and the lowdown on where to stay on Oahu besides Waikiki. Plus I've got the scoop on how to avoid illegal vacation rentals and a roundup of where to stay in Ko Olina and reviews of the Laylow and Disney's Aulani Resort. And a LOT more on Aulani like is Aulani worth it?, tips for staying at Aulani, how many days to spend, and the best things to eat and drink at Aulani.
If you're researching luaus on Oahu, I've written quite a bit. First, I've got a full breakdown of the best luaus (and the worst) on Oahu. Then I've got complete reviews of Paradise Cove, the Polynesian Cultural Center, and Aulani's Ka Wa'a Luau. And if you've narrowed it down to the top two most popular on the island and still can't decide, here's Paradise Cove vs Polynesian Cultural Center.
If you're trying to put together an itinerary full of the best things to do, take a look at my best 5 day itinerary, and roundups of the best things to do in Waikiki, "secret" things to do on Oahu, plus my favorite things to do in Kailua and the windward coast, in Ko Olina, and on the north shore. And if you're looking for food recommendations, I've got the best restaurants in Ko Olina and where locals eat in Waikiki.
And last but not least, some of my favorite things on Oahu like Jurassic Park at Kualoa Ranch, Shangri La and the Honolulu Museum of Art, tips for visiting Pearl Harbor, easy hikes on Oahu, and the best spas on Oahu. And everything you need to know BEFORE you go to Oahu.
Save
Save
Save
Save
Save
Save
Save
Save
Save
Sa
Save
Save
Save
Save
Save
P.S. Thanks for sticking around and reading this whole post! If you have ANY questions about planning your trip to Hawaii, you can join my free Facebook group here. I'm there answering questions every day and there are 7500+ other friends who have a ton of Hawaii information to share!
Also, if you want to follow along on my travel adventures in real time, you can follow me on Instagram (@caitylincoln). My post captions are full of travel tips and I have a ton of story highlights and videos with great info. And please share my account with your friends that are headed to Hawaii! Your support really helps me keep this blog running!
P.S. If you want to follow along on my travel adventures in real time, you can follow me on Instagram (@caitylincoln). My post captions are full of travel tips and I have a ton of story highlights and videos with great info. And share my account with your travel loving friends! Your support really helps me keep this blog running!