This post may contain some affiliate links, which means I'll make a little money on anything you choose to purchase. But of course, I only recommend my absolute favorites to you. Thank you for supporting the brands that make Hulaland possible.
Of all the amazing resort areas in Hawaii, Wailea – a resort community in south Maui – is by far my favorite.
If you're never been to Maui before, chances are it's exactly what you think Maui would be like – manicured and lush, quiet and luxurious with gorgeous beaches and world class resorts. It's definitely not "local," but it's the stuff Hawaii vacation dreams are made of. Plus, unlike some resort communities on other islands, Wailea isn't super isolated. It's right next to Kihei, a more local town, albeit very touristy, and not a far drive to town (Kahului) or the north shore.
If you've just started researching where to stay on Maui and you're stuck between whether south Maui (Wailea and Kihei) or west Maui (Ka'anapali and Kapalua) is better, read this post. But spoiler, south Maui (Wailea specifically) is my favorite.
Where to Stay
Photo from Thomas Hawk via Flickr.
Four Seasons Maui: The Four Seasons is the granddaddy of them all and definitely my #1 pick for a Maui honeymoon. The resort is super luxurious and it's located in Wailea which is much quieter (and more upscale) than the west side. The spa, the pools, the restaurants, and the beach…they're all phenomenal. The only problem with staying here is you probably won't ever want to leave the resort. Pricing starts at $450/night. Click here to check pricing and availability during your stay.
Grand Wailea: This is my other number one hotel recommendation for families visiting Maui ; ) This is your best south side option. While this is a world class resort for anyone (gorgeous open air lobby, plenty of shops, dynamite spa, amazing dining, and one of the island's best beaches), it's especially great for families. The Grand Wailea has one of the best pool complexes on Maui (probably anywhere really). The nine different pools include tons of water slides (they actually just opened a new "lava slide", a rope swing area, a rapid river, water elevator, hot tubs, a swim up bar, and an adults only pool. The Grand Wailea also has a kids club, a teen club, a gaming lounge, and a ton of cultural activities to participate in. Pricing starts at $350/night. Click here to check pricing and availability during your stay.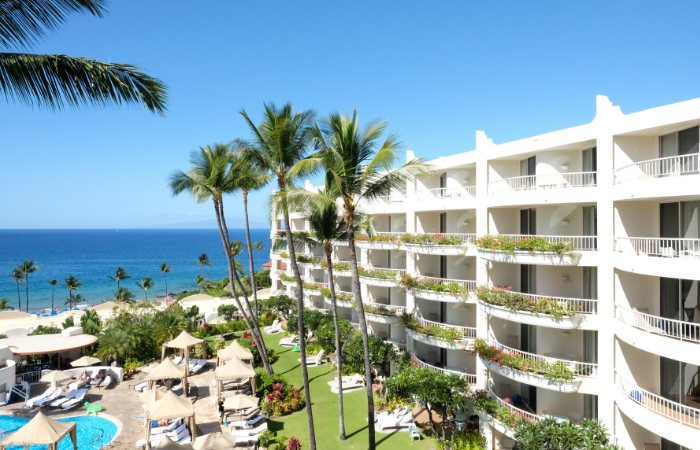 Fairmont Kea Lani: The Fairmont Kea Lani is the only resort on Maui that is exclusively suites so you'll get quite a bit of space for a pretty penny. It's located on beautiful Polo Beach, which is connected to Wailea beach and Ulua beach via a walkway. Click here to check pricing and availability and read my full review from my latest stay here.