Looking for Something a Little Unique? Here are the Best Boutique Hotels in Hawaii
Admittedly, the most challenging part of planning a trip to Hawaii is picking the perfect place to stay. Hawaii pretty much has it all…mega beach resorts, Airbnbs, super swanky luxury resorts, tree houses, campgrounds, etc. But one of my favorite types of places to stay is in a boutique hotel.
Boutique hotels are smaller properties that tend to have a somewhat limited number of rooms, quite a bit of personality, and often more attention to the individual guest experience than you'll get at a larger resort. While they have a smaller room count, boutique doesn't mean cheap. There are actually boutique hotels that cover the price spectrum from budget to luxury.
So if you're looking for accommodations with character and a bit of local charm, here are my favorite boutique hotels in Hawaii…
This post may contain some affiliate links, which means I'll make a little money on anything you choose to purchase. But of course, I only recommend my absolute favorites to you. Thank you for supporting the brands that make the Lincoln Travel Co possible.
Hawaii Boutique Hotels
Maui
This "adults only" hotel is situated in Wailea up on the slopes of Haleakala. It has great sweeping views, but it's not beachfront. While there is a luxury shuttle service to take you down to the beach, you may not want to leave the quiet and luxurious pool area. This place has great amenities (including restaurants) and feels quite removed despite being so close to all of the other shops, restaurants, and resorts in Wailea. Check pricing and read reviews here.
Paia is Maui's perfect little "hippy" town on the north shore. It's got a great surf culture, a ton of boutique shopping, amazing restaurants and beautiful white sand beaches. This little inn is right in the middle of the town so you can walk everywhere (including the beach). Check pricing and read reviews here.
If you really want to get off the grid and truly escape for a while, you'll definitely want to check into the Travaasa in Hana. Located on the secluded Hana side of the island, the rooms here don't have clocks or televisions, leaving you focused on connecting with each other and Hawaii. Pamper yourself at the spa, hike through nature, or soak up the sun at nearby black sand beach. Check pricing and read reviews here.
Located in the rustic Upcountry Maui, this property was originally a retirement home for World War I veterans and is now an educational retreat for those who wish to connect and discover themselves. Specializing in transformational travel, Lumeria offers classes in yoga, dance and movement, meditation, horticulture, and more as well as a Wellness Spa and farm to table meals. Click here to check pricing and availability during your stay.
The Montage is about as decadent as it gets. If you want the full lavish resort experience but with highly personalized service and fewer guests, you'll love the Montage. With just 56 bedrooms in the exclusive Kapalua resort area, the ambience is polished and private. The hydrotherapy section at the Spa Montage is pretty spectacular and Cane and Canoe serves up modern Hawaiian dishes made from fresh catches. Check pricing and read reviews here.
Side Note: If you're looking for a rental car for your trip, I LOVE Discount Hawaii Car Rentals. They're seriously the only company I ever use. They'll give you the very best prices, you don't have to reserve with a credit card or pay until you show up, you can cancel and re-book anytime if you find a better rate, and they usually have a special that adds additional drivers for no fee. It's a no brainer. Click here to check rates for your trip.
Oahu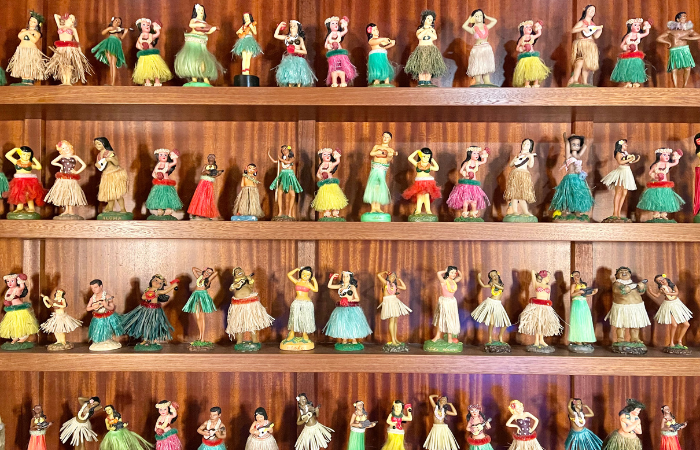 This is probably one of the trendiest places to stay in Waikiki/Honolulu. Located on the edge of Waikiki (near the harbor), this resort is, as its name suggests, very modern. It's low key luxurious and a bit fresher than a lot of what you'll find on the main Waikiki strip. A rare independent property, the quirky character of this hotel is evident by the in-room ukuleles. Combining style and swagger, this is for urbanites that want the best of both worlds-city life and Pacific Ocean views. They also offer in-house dining and spa facilities for a sophisticated vacation experience. Check pricing and read reviews here.
The Surfjack is an Instagramer's dream. Every space in this small boutique hotel is styled to perfection. It's not beachfront, but it's also one of the best bargains in Waikiki. The curated art pieces, antique coffee tables, and denim couches lend a trendy retro vibe to the place. One of the most photographed spots at the hotel is the plunge pool that has a stylized "Wish You Were Here" message at the bottom. Don't miss riding around on their complimentary sea blue cruiser bikes. If your trip is all about getting out and exploring the island, this is a great home base. Check pricing and read reviews here.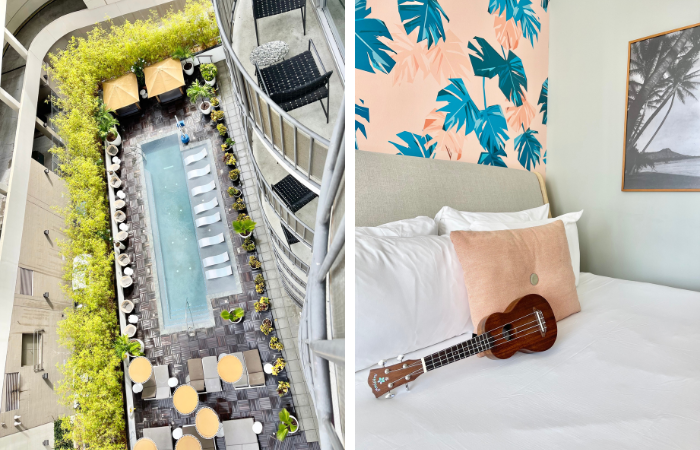 Part of the Marriott Bonvoy portfolio, this 1960s-inspired Waikiki hotel is found on the bustling Kuhio Avenue, right next to the International Market place. This mid century modern hotel has been called "Hawaii's Most Instagrammable Hotel" and for good reason. A wall of colorful hula girl figurines greets you at the front desk and sets the vibe for your stay. The bold monstera wallpaper and contemporary furnishings transport you back in time, while the cute gift packages and high-tech designer rooms offer you all the comforts of a modern living. Click here to check pricing and availability during your stay.
Located at the quiet end of Waikiki, this boutique hotel recently underwent massive renovations to unveil an eclectic look in February 2021. Bright colors, gallery-style walls of mismatched art and new upcycled furniture in the lobby invite guests to enjoy the modern boho aesthetics. Embrace "culinary casual dining" at the Hau Tree. And for surfing enthusiasts, exclusive lessons from the famous Kai Sallas is a once in a lifetime opportunity! Right now it looks like only the suites have been renovated, but the whole place should be in tip top shape soon. Check pricing and read reviews here.
Kauai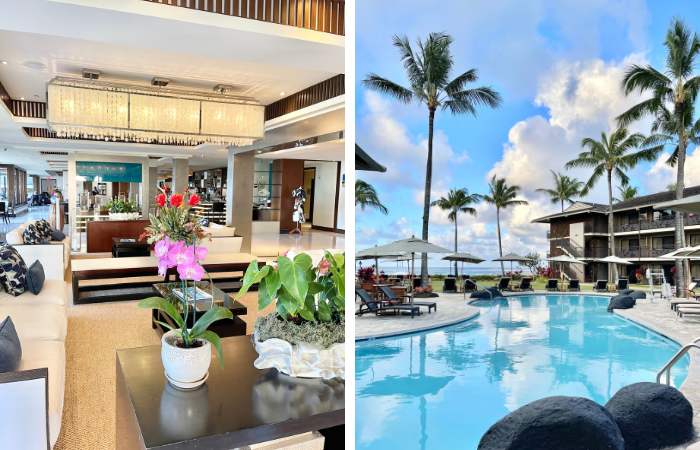 Ko'a Kea is located on Kauai's best beach (in my opinion) in sunny Poipu. If you're visiting Kauai during the winter months, this is probably the best place on the island to stay. It's lowkey luxurious and well situated for day trips to Waimea Canyon and the north shore. You're also likely to see turtle and Hawaiian monk seals basking in the sun just steps from the resort. Check pricing and read reviews here.
This haven for barefoot luxury is a dream destination. Panoramic views across sprawling grounds encompass the three "neighborhoods:" cottages, bungalows and villas. Everything about this place feels exclusive. You'll get access to the Club's amenities – custom treatments at the Hi'ilani Spa, private golf games with an ocean vista, fresh produce from The Farm, and dips in the serenity pool. Besides personalized bucket-list excursions, the new intensive Kaua'i Adventures program by Huaka'i Outfitters are guaranteed to fulfill your cravings for that adrenaline rush. Check pricing and read reviews here.
Nestled on the Western Shore, Waimea Plantation Cottages' secluded location lets you explore western Kauai in a relaxed style. The charming rustic cottages built on heritage plantations feature private lanais and fully functional kitchens. Wade in the outdoor pool, laze in a hammock, and end the day with a stroll along the black sand beach. Check pricing and read reviews here.
Big Island
The only hotel located inside Hawaii Volcanoes National Park, the original building on the property was built in 1846 and the modern hotel opened in 1941. There are now some guest rooms that feature a crater view and you can watch the pretty glow from the hotel's premier restaurant. For those who want to connect with nature, the campsites amongst the fragrant eucalyptus groves are a must-stay. Satisfy your appetite with gourmet dining at Uncle George's Lounge or The Rim at Volcano House, against a dramatic backdrop of billowing smoke from the Halema'uma'u Crater. Be sure you book well in advance to get reservations! Check pricing and read reviews here.
Lava Lava Beach Club is my favorite spot on the Big Island. Located on lovely Anaeho'omalu Bay, this "toes in the sand" restaurant is both upscale and completely relaxed at the same time. And now you can stay and play at the contemporary beach cottages on the property. Check pricing and read reviews here.
This picturesque boutique hotel is set on the slopes of Mount Hualalai in the heart of the Kona Coffee region. At 1,400 feet above the coastline, the Estate has grand Pacific views. The B&B includes six guest rooms, the Red Barn and the secluded Cottage, all with traditional Polynesian designs. Your stay includes a gourmet breakfast every morning. With packages for every kind of traveler, this hideaway is private, exclusive and ideal for those looking for a bit of R&R. Check pricing and read reviews here.
Centrally located between the Hawaii Volcanoes National Park and Pu'uhonua `O Honaunau National Historic Park, this award-winning full service luxury boutique hotel is all about making Hawaiian Culture matter. Begin the day with Estate grown Kaʻū coffee and locally sourced organic meals from the Farm to Table Breakfast. Immerse yourself in native Hawaiian traditions with classes on feather arts and weaving. Or simply unwind with a massage at the Cupola after a sunny day at one of the many beaches in the vicinity: Papakolea (green sand ), Ho'okena and Honomalino (gray sand), and Punalu'u (black sand). Check pricing and read reviews here.
Along the North Kohala Coast, this eco-boutique hotel and wellness spa lets you settle into nature among the oceanfront, wild groves, and ancient valley trails. Choose from bungalows, suites, and yurts furnished with turn-of-the-century-Hawaiian interiors. The Maluhia Spa offers various unique treatments and you can even try your hand at classes on hula, Qi Gong, yoga and lei aloha at the outdoor spa pavilion. Check pricing and read reviews here.
Molokai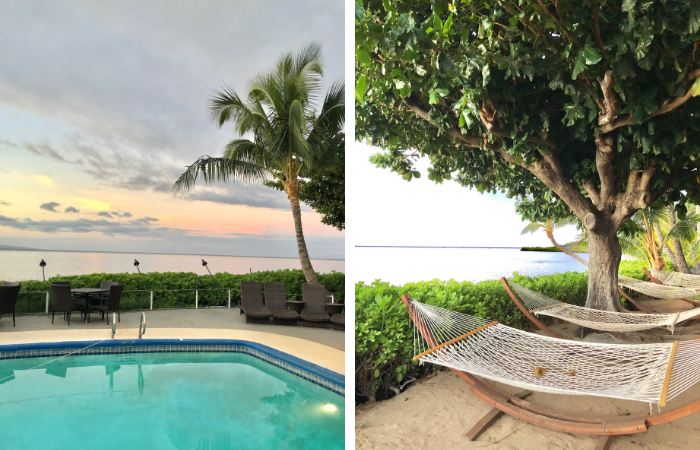 Come to Molokai to discover the "real Hawaii." Wake up to the sound of roosters just minutes away from the birthplace of Hula and spend your days getting to know the locals. Molokai is not a big island, and this is definitely THE place to stay. While many hotels in Hawaii feel Polynesian inspired, this place just feels authentic. Updated but classic bungalows are scattered throughout the open air hotel which is set up like a Polynesian village. The pool, hammocks, beach bar, and restaurant all sit right on the small beach. Check pricing and read reviews here.
Lanai
This plantation-inspired island retreat is a fusion of vintage and modern styles. Hotel Lanai features only 11 rooms and you'll have access to some of the island's best adventures from off-roading, beach adventures, hiking, horseback riding, archery and shooting, there is never a dull moment while staying here. Reserve your seats at the Lanai City Bar and Grille for a night of global flavors inspired by the island. Sip a handcrafted cocktail while you dine on authentic island cuisines under the stars and Cook pine trees. Check pricing and read reviews here.
P.S. Thanks for sticking around and reading this whole post! If you have ANY questions about planning your trip to Hawaii, you can join my free Facebook group here. I'm there answering questions every day and there are 7500+ other friends who have a ton of Hawaii information to share!
Also, if you want to follow along on my travel adventures in real time, you can follow me on Instagram (@caitylincoln). My post captions are full of travel tips and I have a ton of story highlights and videos with great info. And please share my account with your friends that are headed to Hawaii! Your support really helps me keep this blog running!