This post may contain some affiliate links, which means I'll make a little money on anything you choose to purchase. But of course, I only recommend my absolute favorites to you. Thank you for supporting the brands that make Hulaland possible.
It would seem like the bulk of your trip expenses are paid for before you show up (accommodations and airfare), but you'd be surprised how quickly the other stuff adds up. You'll be bombarded with activities and excursion opportunities from the minute you arrive at the airport so how do you know where to save and where to splurge? Listen up, here's what you need to know:
In my opinion, there are a few paid tours/excursions on the Big Island that are absolutely worth doing. However, many tours and excursions are actually things you can do yourself or things that maybe aren't worth doing. I'll break down the activities on the Big Island that I think are worth paying for, the ones you can do yourself, and the ones you should skip.
To clarify, this post is breaking down the best PAID activities/tours. For more ideas, check out the best FREE things to do in Hawaii and my favorite general things to do on the Big Island.
Must Dos
Night Snorkeling/Diving with Manta Rays: This is also the only island where you can do a night dive with manta rays, which is an incredible experience. Most companies will guarantee manta sightings or they'll let you come again, so be sure to schedule this early on in your trip.
Sunset & Stargazing at Mauna Kea: If you only have room in the budget to do one paid tour/excursion on the Big Island, make it a tour to Mauna Kea summit! You can read all about my experience here. It's not cheap (it'll run you about $200/adult), but it's unlike anything you'll experience anywhere else in the world. It's also not something that's easily done on your own. You have to have 4WD to make it all the way to the summit (and there's only a couple of rental car companies who will allow their vehicles up there). Also, in terms of value, by the time you're picked up and dropped off, you'll get 6-7 hours of activity.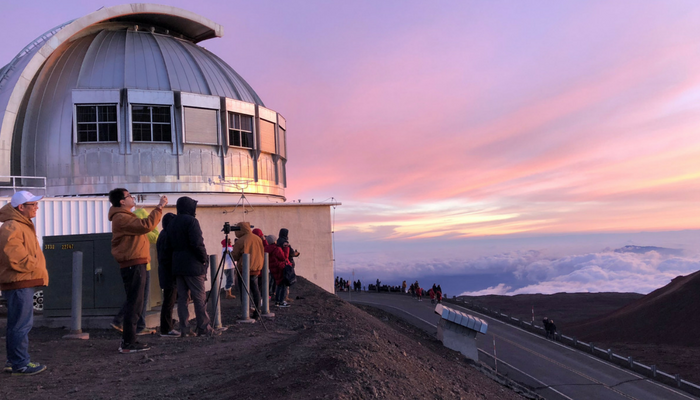 Helicopter Tour: If there's an active lava flow on the island, there's nothing like seeing it from the air. Tours that leave out of Hilo (which is most of them) are MUCH cheaper than those that leave out of Kona.
Lava Boat Tour: Conditions have to be just right for one of these tours to work out, but when they do there's nothing like it. All of these tours leave out of Hilo.
Waipio Valley Tour: I'll preface this recommendation by saying that I wouldn't put an excursion down into Waipio Valley on my short "must do" list, BUT if you're set on going down into the valley then I think a tour is a must do. I would probably opt for a horseback riding one. The valley is largely private property and there's not a lot to see if you're not with a tour.
Oceanrider Seahorse Farm: This quick one hour tour through the seahorse farm is one of my favorite things on the Big Island. It's ~$40/person, but I consider it mostly a donation towards the farm's conservation work. You'll learn so much about seahorses in the wild as well as the farm's breeding programs but the real highlight is when you get to hold a seahorse at the end!
RELATED: How Much Does a Trip to Hawaii Cost?
How to Save $1000 on Your Trip to Hawaii
Sign up for my newsletter and I'll send you the latest and greatest Hawaii news, brand new things to do, special weekly deals and more. You don't want to miss out on this! So sign up below!
Do on Your Own
Snorkeling Kealakekua Bay: Arguably some of the best snorkeling in Hawaii, this pristine bay is a must do, but recent protective legislation has made it much more difficult to access. Read more about snorkeling Kealakekua Bay and how to get there in this post. In a nutshell, the way to go is either on a kayak excursion that has permits to land at Captain Cook's monument or hiking down to the bay and snorkeling on your own. If you're highly interested in snorkeling here and you're not doing many other excursions, do the kayak trip. If you're keeping a tighter budget, rent snorkel gear and do it on your own.
Guided Tour of Hawaii Volcano National Park: I think Hawaii Volcanoes National Park is best explored on your own. The best bits of the park require some short hikes which may not be doable on a bus tour. The NPS has two driving tours that you can use to DIY (Crater Rim Drive & Chain of Craters Road).
Skip
Circle Island Tours: I'm not a big fan of a circle island tour on any island. Just rent a car, do some research, and chart your own course. You'll have so much more fun than being herded around with a crowd of people and you'll be able to control how much time you spend and where.
Feeling a little overwhelmed with trying to plan the perfect Hawaii itinerary? I've got just the thing for you!
Hawaii Bound! I've put together the BEST Hawaii itineraries you'll find anywhere! These are the itineraries I use on my trips to Hawaii (plus a few tweaks because hindsight is 20/20 right?) and they're perfect for first time and repeat visitors who want to see the very best of each of the Hawaiian Islands.
Check it out here.
I've included everything from the best snorkeling spots, beaches, and excursions and it's all broken down by each part of the island so you won't waste any time backtracking.
So what exactly do you get? With Hawaii Bound, you'll get FOUR different six day itineraries for EACH of the four main Hawaiian Islands (Maui, Oahu, Kauai and the Big Island). Specifically, for each island there's a: 1) classic 6-day itinerary, 2) 6-day honeymoon itinerary, 3) 6-day adventure seekers itinerary, and 4) foodie itinerary. I'm not just talking about a bullet point list of to dos. Each itinerary comes with 10-15 pages of commentary explaining why I recommend doing certain things (plus various options to suit your interests). You'll also get a tutorial for making your own Google Map plus tips for customizing your own itinerary.

This is basically vacation in a box, friend! Just add a bit of salt water and you're in for the trip of a lifetime.
Click here to grab the Hawaii Bound itinerary bundle.
Love this post? Pin it for later!
Save
Save
Save
Save