Top 20 Adventure Activities on Maui
If sitting on the beach and soaking up the sun is not your idea of fun, there are plenty of activities to keep you busy on Maui. From water sports to full day adventure excursions, here are some of the top adventure activities on Maui:
This post may contain some affiliate links, which means I'll make a little money on anything you choose to purchase. But of course, I only recommend my absolute favorites to you. Thank you for supporting the brands that make Hulaland possible.
Maui Adventure Activities
1.Snorkel Molokini & Turtle Town. Molokini Crater is Maui's famed snorkeling spot and a short boat ride away from South Maui. This crescent shaped crater creates a protected refuge and ideal spot for snorkeling with countless species of fish and some of the most impressive coral formations in Hawaii. Boat trips to Molokini usually also include a stop at Turtle Town close to Makena. I love doing the sunrise sail with Kai Kanani out of Makena Beach, which is the closest point to Molokini so they'll get you there fast and you'll have plenty of time in the water before the other big boats start showing up for the day. If you're looking for a more economical option (or a cruise that leaves closer to Lahaina), check out this tour.
2.Snorkel Honolua Bay. During the summer months, Honolua Bay (north of Kapalua in West Maui) has some of the best snorkeling in Maui (during the winter, it's one of Maui's most legendary surf spots). While the bay is accessible from the shore (if you come by car, check out the overlook before you pull off down the trail and park), a lot of snorkeling excursions leaving out of West Maui (especially those that operate from Ka'anapali Beach) will include stops here. Check out this catamaran snorkel cruise.
3.Sunrise at Haleakala. Haleakala's summit hits 10,000 feet making it an excellent place to watch the sunrise. Actually, this is one of THE most popular things to do on Maui, but it's not for the faint of heart. The summit is a good 2-hour drive from most of the Maui resort areas and you'll need to be up there well before sunrise to stake out a spot so depending on the time of you, you may need to leave your resort in the wee hours of the morning to make the trip. But it is spectacular. And soooooooo cold. Like seriously cold, not just cold by Hawaii standards. Bundle up. You must make reservations to go up for sunrise 60 days in advance (they sell out in minutes) through the National Park. Seriously, create an account and get logged in before spots become available or you may miss out. They also release a hand full of last minute tickets at 7AM (HST) two days in advance. Once you have your tickets, you still have to pay the entrance fee ($30/vehicle) at the gates. If you'd rather go with a guide, check out this tour that includes breakfast. Read everything you need to know about doing sunrise at Haleakala here.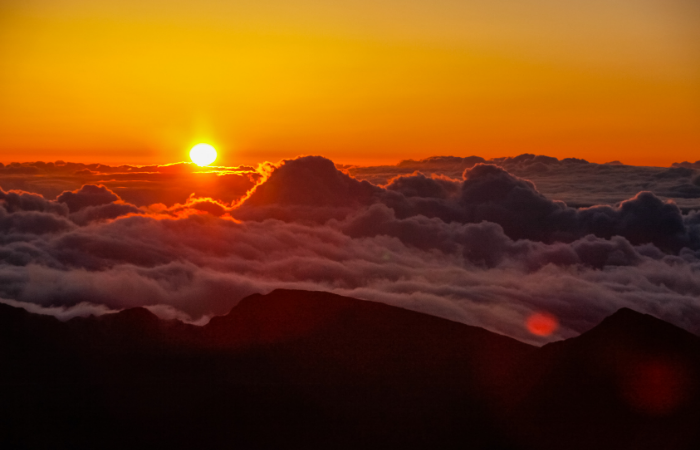 4.Hike the Crater. The summit of Haleakala offers a landscape that is quite "other worldly." You may think you're on Mars instead of Earth. There are many hiking trails that traverse the landscape of the crater. From the visitor's center, you can hike down into the crater on the Sliding Sands trail. It's 11 miles all the way across, but you come to the first overlook after ½ mile. Find more information on hiking in the national park here.
On Another Note: Trying to figure out where to stay on Maui? I've written a ton of posts that will help. I'd start with my 15 favorite resorts and hotels on Maui. Also, you're going to want to decide between staying on the south side or the west side so this post about Wailea vs Ka'anapali is golden. Read about my favorite luxury resorts, boutique hotels, honeymoon resorts, family friendly resorts, and condos (many under $100/night!). If you've narrowed down the area of the island you want to stay, but need help picking a specific hotel, read these posts about where to stay in Wailea, Kihei, Ka'anapali, Lahaina and Kapalua, and Hana. And if you just want more details (more! More! more!), read my reviews of staying at the Four Seasons and the Fairmont Kea Lani.
5.Drive the Road to Hana. Tales of the harrowing drive along narrow and windy roads along cliffs, through jungles, and past waterfalls have only built up the folklore surrounding Hawaii's most popular drive, the Road to Hana. And taking part is practically a right of passage when visiting Maui. Set out early, stopping to grab a picnic lunch in Paia town and see all the sights along the way. Your journey past rainbow eucalyptus trees, bamboo forests, black and red sand beaches, 400 foot waterfalls, and Hana town itself will give you a taste of the real Hawaii. Old Hawaii. Of all the things to do in Maui, you really shouldn't miss this one. Read this post about my favorite stops on the Road to Hana. If you'd rather go with a local guide, consider booking this small group tour.
6.Take a helicopter tour. Seeing Maui from the air is truly awe inspiring. It's not normally on my "must do" list for most visitors on Maui just because it's not a cheap thing to do, but it truly does offer a perspective of the island you won't get anywhere else. A Maui helicopter tour will usually either do one of two routes: 1) Haleakala and the Hana rain forests or 2) the West Maui Mountains and Molokai sea cliffs. I would probably pick the second route unless you have a special interest in the first. I like to fly with Blue Hawaiian.
7.Hike Waihee Ridge Trail. One of Maui's most spectacular hikes, besides a helicopter tour, this is the best view you'll get of the West Maui Mountains. Located just past Wailuku, the turn off for the trail is across from Mendes Trail. You'll find a sizable parking lot almost a mile up the road. It's a four mile out and back hike, and can be done in 2-3 hours depending on your pace. Earlier is better here as clouds often roll in mid morning. Also, be prepared for a muddy trail (hey, the rain is what makes all of those gorgeous waterfalls). It's a moderate hike, but not terribly strenuous.
Side Note: If you're looking for a rental car for your trip, I LOVE Discount Hawaii Car Rentals. They're seriously the only company I ever use. They'll give you the very best prices, you don't have to reserve with a credit card or pay until you show up, you can cancel and re-book anytime if you find a better rate, and they usually have a special that adds additional drivers for no fee. It's a no brainer. Click here to check rates for your trip.
8.Drive the Kahekili Highway. While the Road to Hana has the reputation for being a harrowing road, the Kahekili highway around West Maui puts it to shame. While not as tropical, this drive around the West Maui Mountains offers spectacular views and glimpses into remote Hawaiian villages that have been much secluded from Maui tourism. There are also plenty of places to stop off at local fruit stands and even an art gallery on the route. But be warned…this road (especially the end closest to Wailuku) is a single narrow lane with a steep drop off in many places. Don't miss Honolua Bay, the Olivine Pools, and the Nakalele Blowhole. That's the order you'll pass the sites leaving from Kapalua and driving clockwise. This route also puts you on the inside lane of traffic which makes the cliffs a little easier. If you're leery about the drive but want to see the blowhole, start in Kapalua, go clockwise, see the blowhole and then just reverse your route. The really scary part of the road is between Wailuku and the blowhole.
9.Take surf lessons. Surfing has a long and rich history in Hawaii so taking lessons while you're there is definitely a must do. Paddle out into the lineup and you'll be hanging ten like the pros in no time. Dozens of surf schools line the beaches of Kihei and Lahaina, where ideal beginner surf conditions can be found nearly every day. Most schools will provide some on land instruction as well as all of the gear you'll need to enjoy a morning out on the water. I like to go with Maui Surfer Girls.
10.Go Paddleboarding. You can rent paddleboards by the hour at most resorts around Maui even if you're not staying there. Kapalua bay is one of my favorite spots for paddleboarding. There's a stand on the beach where you can rent boards and get a few tips before you paddle out.
11.Try wind surfing or kite surfing. The north shore of Maui is world famous for its wind and kite surfing. There are several schools that give lessons, but don't expect to pick it up in a couple of hours. Most programs require quite a few lessons.
12.Bike down the volcano. I think the most unique adventure on Maui is biking down Haleakala (Maui's dormant volcano). I strongly recommend going with Maui Sunriders. Even though they don't do a sunrise tour, they're a family owned business, safety always comes first, and they really are the best on the island. You'll load up in the van and they'll drop you off just outside the entrance to the National Park and then you ride back down to Paia at your own pace. You'll ride past a lavender farm, a eucalyptus forest, and through Makawao town (a great place to stop for lunch!). This is the best way to experience upcountry Maui (with the breeze in your face), and just might be the highlight of your trip. Read more about biking the volcano here.
Want to read more? Don't miss some of my most popular (and favorite) posts about Maui: my Maui favorites, the best Maui itinerary, how many days to spend on Maui, Maui vs Kauai, where to see turtles on Maui, my favorite road to Hana itinerary, guide for sunrise at Haleakala National Park, how to bike down Maui's volcano, my review of the Maui Pineapple Tour, 20 of the best adventure activities on Maui, 5 Maui day trips, and the best things to do on a Maui honeymoon.
13.Hike Iao Valley. Don't miss the Iao Valley for a little light hiking. This is the best/easiest spot to gaze at Maui's jagged green mountains (the most Kauai like views you'll get), and it's gorgeous! Parking is $10 (there's limited street parking) and there's a $5/person entrance fee. This is the site where King Kamehameha I defeated Maui's army and united the Hawaiian Islands. There's a 0.6 mile paved walkway that leads to an overlook of the Iao Needle. There's also a small botanical garden where you can learn about the plants brought to the valley by the Hawaiians who first settled there.
14.Go scuba diving. If you're a diver, you'll find Maui to be an underwater paradise. The backside of Molokini is a fantastic wall dive, but you'll also find a lot of great scuba sites just off the beach.
15.Go spearfishing. If regular fishing isn't enough of an adventure for you, you should try out spearfishing! Sign up for lessons with a guide and try you hand at this version of the sport.
16.Rappel down a waterfall. Some people settle for gazing at waterfalls, and some people would rather rappel down them. Rappel Maui has a canyoneering and waterfall tour as well as the option to add ziplining.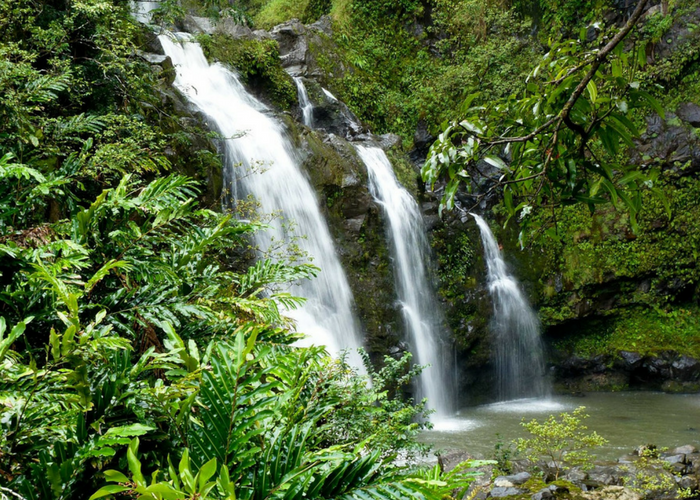 17.Go out on a raft to whale watch. If you're visiting Maui anytime between December and April, you're almost guaranteed some whale sightings. While you'll likely be lucky enough to see a breach or two from shore, nothing beats being out on a boat and watching them play in the water right alongside. Book a tour on a Zodiac raft to get up close and personal encounter with these amazing creatures but find out plenty about their behaviors and personalities.
18.Take a kayak tour. If you're looking for a more adventurous version of a snorkel trip or whale watching trip, try doing it from a kayak! There are several companies that lead kayak/snorkel excursions out of south Maui where turtle sightings are common, and when it's whale season, you're in for a double treat.
19.Go horseback riding. There are horseback riding stables offering trail rides all over Maui, but I suggest going where the cowboys go. Most people think of beaches and waterfalls when they think of Maui, but the Maui "upcountry" has been ranchland for centuries. Saddle up and take a ride through the rolling green hills. It's just a bonus when you can look out and see the ocean.
20.Zipline. I don't normally recommend ziplining in Hawaii, because there are so many things to spend your money on that I recommend experiences that are unique to the island. And if you've ever been ziplining in places where it's truly a must do (looking at you, Costa Rica!), you likely won't be that impressed, however a lot of people really enjoy ziplining in Hawaii and Maui certainly has plenty of courses to keep you busy!