This is a question I get asked a lot. A trip to Hawaii isn't cheap and it's a long haul over there so most people want to make sure they're picking the best time to go. While I think anytime is a perfect time, some months are better than others depending on what's important to you. When choosing dates to travel, most people are driven by price, weather, or wanting to experience something seasonal (like seeing the humpback whales).
When is the best weather?
As far as weather goes, Hawaii is pretty temperate year round, but their seasons technically match ours on the mainland. Our summer is their summer and our winter is their winter. "Winter" is a relative term in Hawaii, but what it mostly means are big waves and more rain. Winter is the wet season in Hawaii so while most resort areas on the Hawaiian islands occupy the leeward (dry and sunny) side of the island, if you're venturing to the north shore or any jungle areas, you'll likely experience more rain in the winter months. It'll also be much lusher and greener and you'll see more waterfalls.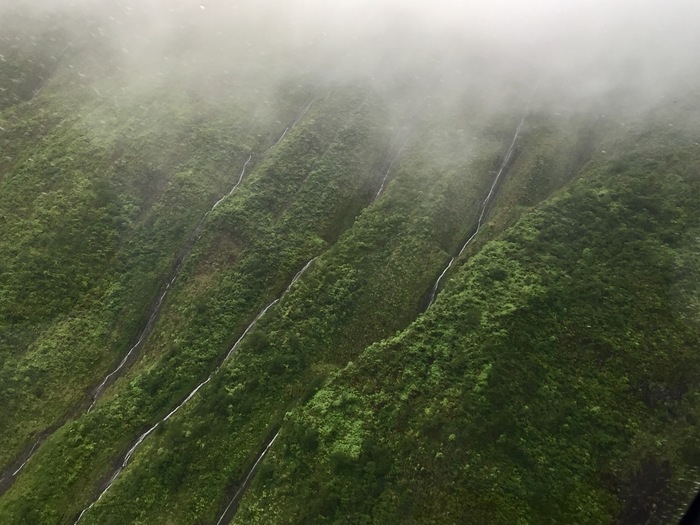 The winter months also bring big swells and surf competitions (on Oahu) and many stellar snorkeling spots (Honolua Bay on Maui, Waimea Bay on Oahu, and Tunnels on Kauai) aren't snorkelable (is that a word??) in the winter. But you will get to see some of the best surfers in the world taking on some of the world's most famous breaks.
The difference is "winter" and "summer" is a bigger deal to locals than tourists. Unless you're visiting the higher elevation areas of Maui and the Big Island, you aren't likely to notice a difference. Just remember, winter generally means more rain. And while hurricane season in Hawaii is technically June-November, hurricanes are extremely rare.
When is the cheapest time to go?
The biggest factor in saving money on your airfare to Hawaii will be picking the right time of year to go. I know sometimes you don't have any options with this…you're working around school breaks, holidays, and work schedules, but if you have ANY flexibility about when you schedule your trip to Hawaii, this will be your biggest savings point.
There is no "off season" in Hawaii. The weather is pretty consistent and people from all over the world flock to Hawaii year round. I like to classify the 3 distinct travel periods to Hawaii as peak holiday season, peak summer season, and shoulder season.
Peak Holiday Season
The winter holidays (Christmas and New Year) are the most popular time to visit Hawaii and also, the most expensive. Airfare skyrockets this time of year and you'll pay a premium at every resort and condo in the islands. If you're traveling on a budget, avoid Christmas! I would block out the last two weeks of December and the first week of January.
Peak Summer Season
June, July, and the first half of August are when summer crowds flock to Hawaii. Though nothing like Christmas in terms of crowds and prices, the summer months still attract a fair number of visitors and airfare prices sometimes reflect that. If you're working with some kind of external factors (school schedules, ability to take vacation days from work, etc.) summer is still a good time to plan a trip to Hawaii. You may not find airfare at its rock bottom, but you can still find plenty of bargains during this time of year.
While summer is cheaper than the holidays, it's still quite crowded (kids are out of school) and while not as expensive, also isn't the cheapest time of year to go.
Shoulder Season
There are two main shoulder seasons in Hawaii: between the peak holiday and peak summer seasons (this would include stretches from January to May) and between the peak summer and peak holiday seasons (this would include stretches from mid August to mid December). There are a couple of exceptions during these periods including the spring break period in March (no specific dates since it's regional but this generally affects the 2nd and 3rd weeks of March the most), the week or so around Easter in April, and Thanksgiving in November.
So assuming you're going to travel to Hawaii during shoulder season (that's when you'll find the best airfare bargains!), when is the ideal (and cheapest) time to go? I mean, that shoulder season is almost 6 months out of the year! Of course, much of the "perfect time" will likely depend on your personal calendar, but here's my two cents:
Mid January-Early March: This window will keep you away from holiday and spring break crowds (and airfare hikes), but will still allow you to escape a cold mainland winter for a little tropical sun. This is also prime whale season in Hawaii (the humpback whales migrate to the warm waters of Hawaii during the winter months). The only draw back to visiting Hawaii during the winter is that it's the "rainy season." You likely won't notice this in the resort areas because they tend to be built on the driest and sunniest sides of the island, but if you're venturing to the north shore or jungly parts of the island, this is the time of year they experience the most rainfall. It's also when they'll be greenest, lushest, and flowing with the most waterfalls. Another negative is that if you're a major snorkeler or diver, many popular spots will be blown out with major surf.
April & May: This window is one of the cheapest times of year to visit Hawaii. You'll find some great airfare deals. Humpback whales are often spotted well into April (especially around Maui) so this is a great time to see whales on a budget ; ) By this time of year, Hawaii is starting to see "summer weather" meaning less rain and calmer water, especially in popular surfing areas which often are great snorkeling spots during the summer. The only con to visiting Hawaii this time of year is that a tropical getaway may seem slightly less enticing as temps start to warm up on the mainland!
Mid August to mid October: This is the other "cheapest time of year to go to Hawaii." You can find great airfare bargains during this time. Kids have just started back to school (an end to the summer travel season) and holiday travel hasn't started yet so it's a nice little lull. You'll have mostly summer weather although October is usually the transition month. This mostly affects some snorkeling spots (Waimea Bay on Oahu, Honolua Bay on Maui, and some places on the north shore of Kauai) as well as some activities like doing a Napali Coast boat tour that leaves out of Hanalei Bay on the north shore (they'll move to south shore routes in the winter which are less spectacular). The only drawback to visiting Hawaii during this time period is that it's technically hurricane season, but hurricanes are extremely rare around Hawaii so this isn't much of a factor.
Mid October to Mid December: With the exception of Thanksgiving (which isn't all that bad), this is a surprisingly slow time of year to visit Hawaii. You'll be able to escape cooling mainland temperatures while still being able to score airfare bargains. You'll also be able to catch the humpback whale migration. The only "con" to visiting during this time of year is that this is the beginning of winter meaning it's the "rainy season." This won't affect you as much in the resort areas of the islands because they're usually built on the sunnier sides of the islands. But expect more rainfall in the jungle areas (more waterfalls though!) and north shore.
Not sure where to begin with putting together an itinerary for your trip? It's a big task! I mean, how much can you really do in one vacation? And how do you plan things so you're not backtracking all over the island trying to fit everything in? I'm letting you in on ALL of my itinerary planning secrets in. Sign up below to grab my FREE 7-page Hawaii itinerary planning guide that will lead you through planning the perfect Hawaii itinerary. Click the graphic below to sign up!
When are the whales in Hawaii?
Humpback whales migrate to the Hawaiian Islands every winter to feed, breed, and have their babies. The first ones usually arrive by late October or early November and they'll stick around through April with February being the peak of the season.
Now that you've got the low down on the factors that can influence the best time of year to go to Hawaii, I'll let you in on MY favorite time of year to go to Hawaii. I think the best time of year to go to Hawaii is in the spring. March and April are ideal months to visit the islands as the weather will be transitioning from winter to summer.  You'll have longer and sunnier days, although you'll still see the side affects of a rainy winter (everything is still green and lush). Crowds are low during this time of year and it's one of the cheapest times to visit. And bonus…you'll catch the tail end of whale season (did you catch that pun there?)!
Love this post? Pin it for later!
Save
Save
Save
Save
Save
Save