If you don't have the budget for a beach resort, or you want more amenities (multiple bedrooms, full kitchen, washer and dryer), I highly recommend considering a vacation rental. While most people think condos when they think Hawaii vacation rentals, there are actually more options than just condos (although you'll easily find plenty, and in every budget!). It's also easy to find entire houses as well as apartments attached to a main house and guest cottages (ohanas).
There are soooo many vacation rental options in Hawaii that it's important to know the best sites to look for them as well as to narrow down your search before you even start.
Before you start looking, I recommend having already decided on the general area of the island that you'd like to stay in as well as some general criteria like number of bedrooms and bathrooms, proximity to the beach, etc. Here's a breakdown of each island by area and where you'll want to look for different types of vacation rentals:
Best Areas to Stay
Oahu: By far the majority of visitors to Oahu stay on Waikiki, because it's the island's main resort area. Waikiki/Honolulu is like many major cities where you'll find a bit of everything (low to high price range), but what you won't find much of is space. If you want to stay in a high rise condo with resort or hotel amenities, Waikiki will likely be your cheapest option. You'll find more house and apartment rental options around Kailua and the north shore, which are two of my favorite places to stay. You'll get a much more local (but still completely Hawaiian) experience.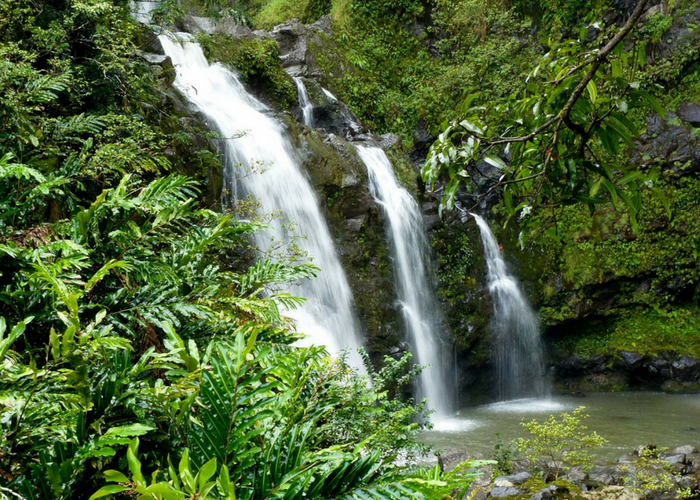 Maui: Most visitors to Maui find the hardest part of planning their trip is deciding whether to stay on the south side or the west side. Both sides have higher end sections as well as budget areas. In south Maui, Wailea is the high-end resort area (although you can find good deals on condos if you're willing to go off beach) whereas neighboring Kihei is where you'll find all the bargains on condos (and food!). In west Maui, Kapalua is the high-end resort area and while Ka'anapali is quite popular, you'll find a lot of condo bargains while still feeling like you're in a resort area. Napili (the area between Ka'anapali and Kapalua) is where you'll find a lot of bargain beachfront rentals. Most are older but well maintained. If you're willing to stay away from the beaches and you're looking for something more laid back and local, you can find great vacation rentals (mostly houses and apartments) along Maui's north shore and upcountry.
Kauai: Kauai is a quiet "country" island so generally speaking comparable accommodations to what you'll find on Maui and Oahu will be cheaper here. Your best budget finds will be around the Kapa'a and Lihue area, which makes a great base camp, as it's equidistant between the north and south shores. On the north shore, Princeville is the main resort area and while there are some high-end properties (like the St. Regis), there are also a bunch of bargain condos although not much that's beachfront. A lot of the oceanfront properties are built up on a cliff. You'll also find a lot of vacation rentals and Airbnbs in this area. Po'ipu on the south shore is full of condos and you'll find some great deals (especially if you're willing to go off beach).
Big Island: The Big Island is probably the most rustic and undeveloped of the islands so bargains abound everywhere. Kohala (on the Kona side) is the island's high-end resort area, but other than that the entire island is a bargain hunter's dream (both in Kona and Hilo). You'll find plenty of moderately priced condos, and house/apartment rentals on both sides.
Not sure where to begin with putting together an itinerary for your trip? It's a big task! I mean, how much can you really do in one vacation? And how do you plan things so you're not backtracking all over the island trying to fit everything in? I'm letting you in on ALL of my itinerary planning secrets in. Sign up below to grab my FREE 7-page Hawaii itinerary planning guide that will lead you through planning the perfect Hawaii itinerary. Click the graphic below to sign up!
My Favorite Sites to Book Vacation Rentals
There are so many sites out there to book condos and vacation rentals in Hawaii, so I recommend limiting your search to these sites:
VRBO: This is my old standby and usually the first place I look when I'm in the market for a condo or vacation rental, especially in Hawaii because there are sooo many options. You'll find condos listed directly by the owners as well as by property managers. You'll also find a lot of full houses and ohanas (guest cottages or apartments). You can narrow your search to a particular region of the island as well as by number of bedrooms/bathrooms and price. Many owners keep their calendar updated n real time so you'll know what's available right away. You'll be able to communicate (and pay) with the owners through the website's portal so it's very low risk. If you've never stayed in a vacation rental or condo before, I recommend booking through VRBO. You can often find condos located in resort properties (Marriot Beach Club, etc.) so you'll have resort amenities at a fraction of the price.
Airbnb: Airbnb works similarly to VRBO but it has some added options as well. Read this post that breaks down the benefits of staying at Airbnbs in Hawaii. Besides being able to rent condos, houses, and apartments, Airbnb also gives you the option of staying in a room in somebody's house (kind of like a b&b), which of course can be a huge savings. If that sounds a little too "out there" for you and you prefer more privacy, you can filter your search results to just show "entire homes/apts." If you're looking for a stylish and local (and affordable) place to stay, I highly recommend giving Airbnb a look. Get $35 off your stay when you use this link.
FlipKey: FlipKey is a competitor of VRBO (they work exactly the same), but it is powered by Trip Advisor, so it uses their AMAZING traveler reviews database. You'll find the same kinds of properties on FlipKey that you will on VRBO, it just gives you more options! I recommend starting with one or the other and then moving over to the other one if you don't find what you're looking for.
What to Look for When Booking a Vacation Rental
Whether you book through one of these sites or another one, here are some things you'll want to be aware of before booking:
Know what part of the island you want to stay on. These sites will turn up hundreds (if not thousands) of results on each island so it will help if you have it narrowed down a bit before you even start.
Know how many bedrooms/bathrooms you'll need.
Decide if you want to be right on the beach or if you're willing to go inland a bit for a cheaper price.
If it's a condo, find out if it comes with use of the resorts amenities. This can be a big bonus!
Find out if the owner provides gear for you to use during your stay. Most places should have chairs, umbrellas, coolers, boogie boards, snorkel gear, etc.
Know what the payment terms are. When is the first payment due? Final payment? Is there are security deposit?
Factor in a cleaning fee. Many places will tack this on.
Know the cancellation terms. They are often more strict than when staying at a hotel.
Ask about parking. Condos and apartments in Waikiki may charge extra for parking and in some neighborhoods you may be limited to what you can find on the street.
Make sure you're okay with the house rules. Airbnb hosts often have "rules" that they expect their renters to abide by (like no loud noises after 9PM). Make sure you're okay with them.
Love this post? Pin it for later!
Save
Save
Save
Save
Save
Save
Save
Save
Save