If you don't have the budget for a beach resort, or you want more amenities (multiple bedrooms, full kitchen, washer and dryer), I highly recommend considering a vacation rental. While most people think condos when they think Hawaii vacation rentals, there are actually more options than just condos (although you'll easily find plenty, and in every budget!). It's also easy to find entire houses as well as apartments attached to a main house and guest cottages (ohanas).
There are soooo many vacation rental options in Hawaii that it's important to know the best sites to look for them as well as to narrow down your search before you even start.
Before you start looking, I recommend having already decided on the general area of the island that you'd like to stay in as well as some general criteria like number of bedrooms and bathrooms, proximity to the beach, etc. Here's a breakdown of each island by area and where you'll want to look for different types of vacation rentals:
Best Areas to Stay
Oahu: By far the majority of visitors to Oahu stay on Waikiki, because it's the island's main resort area. Waikiki/Honolulu is like many major cities where you'll find a bit of everything (low to high price range), but what you won't find much of is space. If you want to stay in a high rise condo with resort or hotel amenities, Waikiki will likely be your cheapest option. You'll find more house and apartment rental options around Kailua and the north shore, which are two of my favorite places to stay. You'll get a much more local (but still completely Hawaiian) experience.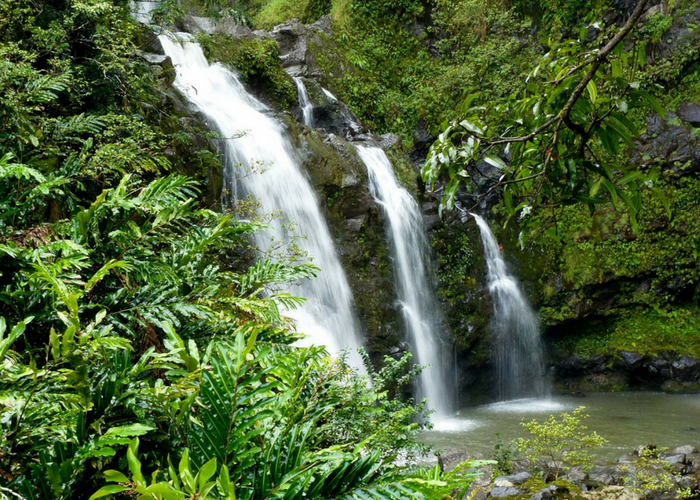 Maui: Most visitors to Maui find the hardest part of planning their trip is deciding whether to stay on the south side or the west side. Both sides have higher end sections as well as budget areas. In south Maui, Wailea is the high-end resort area (although you can find good deals on condos if you're willing to go off beach) whereas neighboring Kihei is where you'll find all the bargains on condos (and food!). In west Maui, Kapalua is the high-end resort area and while Ka'anapali is quite popular, you'll find a lot of condo bargains while still feeling like you're in a resort area. Napili (the area between Ka'anapali and Kapalua) is where you'll find a lot of bargain beachfront rentals. Most are older but well maintained. If you're willing to stay away from the beaches and you're looking for something more laid back and local, you can find great vacation rentals (mostly houses and apartments) along Maui's north shore and upcountry.
Kauai: Kauai is a quiet "country" island so generally speaking comparable accommodations to what you'll find on Maui and Oahu will be cheaper here. Your best budget finds will be around the Kapa'a and Lihue area, which makes a great base camp, as it's equidistant between the north and south shores. On the north shore, Princeville is the main resort area and while there are some high-end properties (like the St. Regis), there are also a bunch of bargain condos although not much that's beachfront. A lot of the oceanfront properties are built up on a cliff. You'll also find a lot of vacation rentals and Airbnbs in this area. Po'ipu on the south shore is full of condos and you'll find some great deals (especially if you're willing to go off beach).
Big Island: The Big Island is probably the most rustic and undeveloped of the islands so bargains abound everywhere. Kohala (on the Kona side) is the island's high-end resort area, but other than that the entire island is a bargain hunter's dream (both in Kona and Hilo). You'll find plenty of moderately priced condos, and house/apartment rentals on both sides.